With the release of WordPress 5.0, Gutenberg editor is part of our lives now. It was a big WordPress update, that was going to end the years-long WordPress classic editor and bring the new one.
If you are confused about how to use the new Gutenberg editor, we have released a detailed guide on how to use Gutenberg editor; I'm sure that article will help you understand it better.
Gutenberg is a block-based editor, WordPress has created different blocks that you need to add to your post and edit it. You have blocks like image, title, paragraph, table, button, etc.
Many other popular platforms are using similar editors such as Medium.com If you have written content on Medium; you will have some idea how it works.
There was a mix reaction to Gutenberg from the WordPress community, while some users are optimistic about the new editor, many users didn't like the new editor and chose to disable it.
While there is an easy option to disable Gutenberg and continue with the old classic editor, I don't think that is a good idea because all the updates and future development will happen around Gutenberg editor.
So, sooner we embrace this editor will be better for us.
Whenever there is a big change, there will be issues and errors, but I'm sure it will alright soon.
We have been using Gutenberg in one of our main sites, and I like the editor. I think it's a good move and we will have a lot of opportunities to create a great looking design for our blog posts.
If you look at the Gutenberg editor, we have amazing flexibility regarding design. It offers some different image layout options for a better presentation.
And with the plugins like Advanced Gutenberg, we can take it to a whole new level regarding how we design our content.
Earlier, we have to add a shortcode to bring in different functions to a page; now it is replaced by the additional blocks that are offered by different themes and plugins.
Overview and Features of Advanced Gutenberg Plugin
As the name suggests, Advanced Gutenberg is a free plugin created by the JoomUnited team that enhances the Gutenberg editor and brings in a number of additional blocks on board.
Another advantage of this plugin is that it will give you the control to assign the access to different blocks depending on the user role.
New Blocks & Enhancements Introduced by Advanced Gutenberg
Advanced Gutenberg plugin comes with a number of advanced blocks that you can use to create a page with amazing control and features.
Here are some of the additional blocks and enhances that you get access to
Accordion Block
Advanced Image Block
Advanced Button
Advanced List
Advanced Table
Advanced Video
Count Up Block
Images Slider Block
Map Block
Recent Posts
Social Links
Summary
Testimonial Block
WooCommerce Blocks
We will have a look at all these blocks one by one before that let's have a look at how to get started.
Getting Started With Advanced Gutenberg Plugin
The process is simple; Advanced Gutenberg is a free WordPress plugin that you can install and activate right from your WordPress admin panel.
Once you activate the plugin, you will get the plugin options on your WordPress admin dashboard.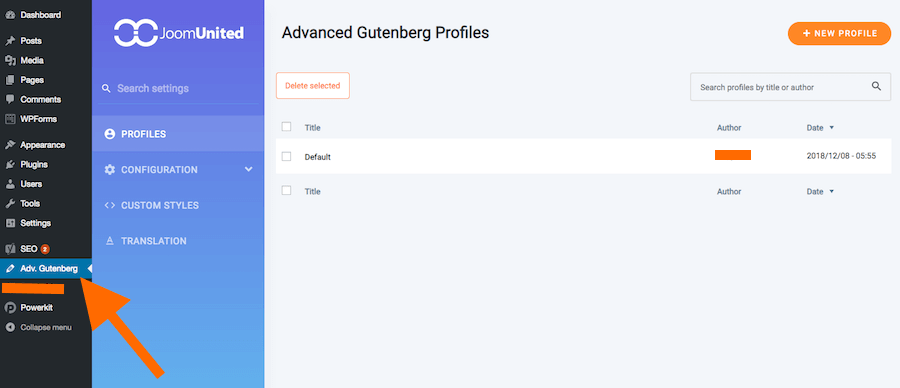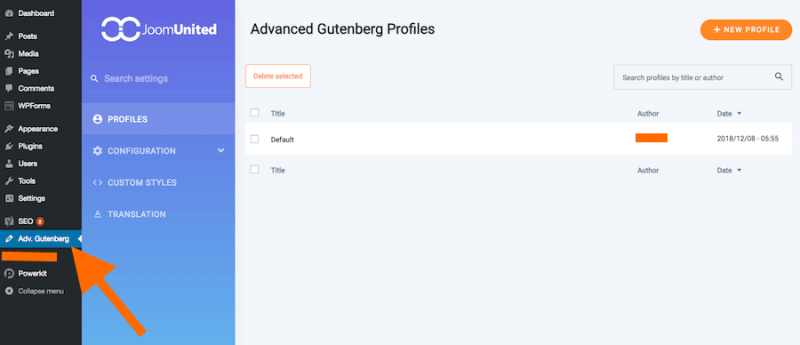 Create Custom Profiles
You are probably aware of different profiles that WordPress comes with, like subscribers, contributors, editors, admin etc. Now, all these user profiles have a different set of permissions which can be changed with additional user role editor plugins.
When you have multiple editors and contributors on your site, you need to give access to them access to the WordPress editor so that they can write content on your site.
In the old classic editor, the contributors could write content, but they didn't have the permission to upload files and images. You had to use an additional user role editor plugin and permit them to upload images.
Now, in the Gutenberg editor; how are you going to control that? If a user has access to the editor, they can place the image block and add an image to your site.
This Advanced Gutenberg plugin makes it simple for you to manage that aspect for your site with the new profile feature.
As you go to the Advanced Gutenberg plugin options panel, you will see an option to add a profile. You can add a new profile as "contributor" or anything else you like and set the blocks that you give access to.
You will see the Advanced Gutenberg block as well as all default blocks in the list below; you just have to choose the blocks that should be available for the new user profile you are adding.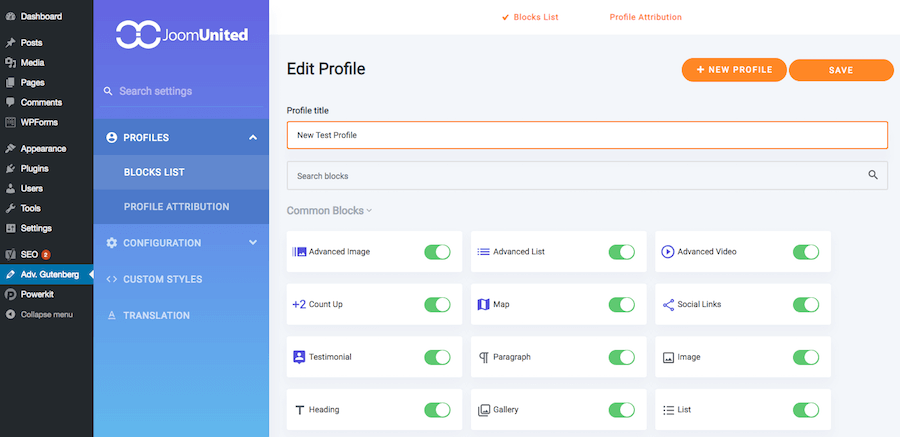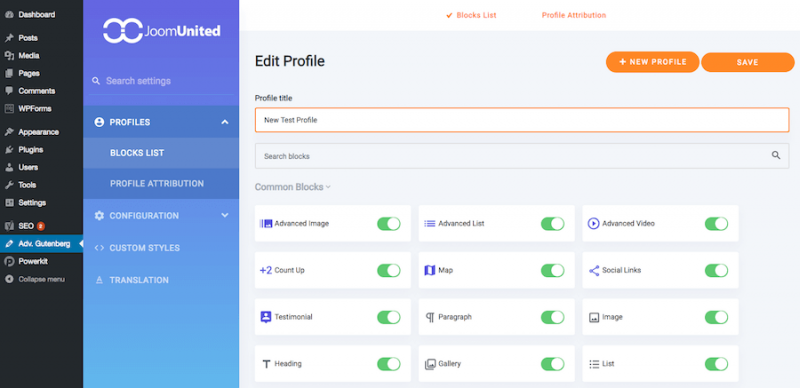 Profile Attribution
In the Profile Attribution tab, you can set the profile group for the new profile that you can have created. You can select any of the options from the default WordPress user roles.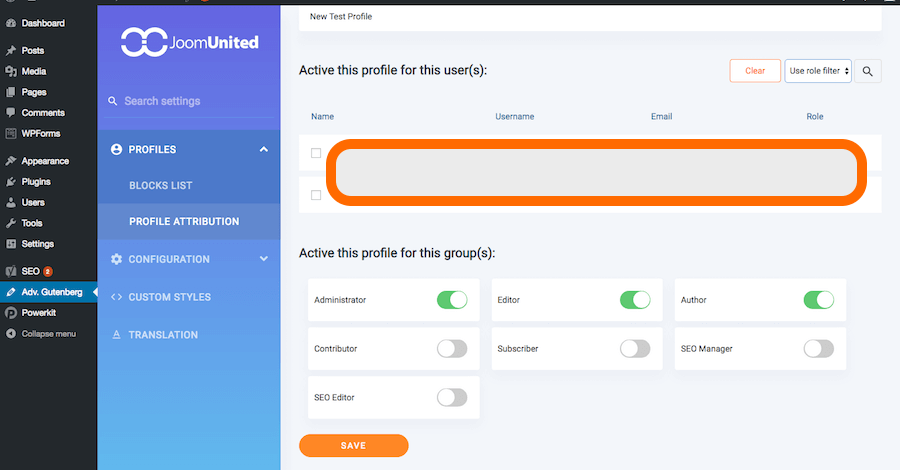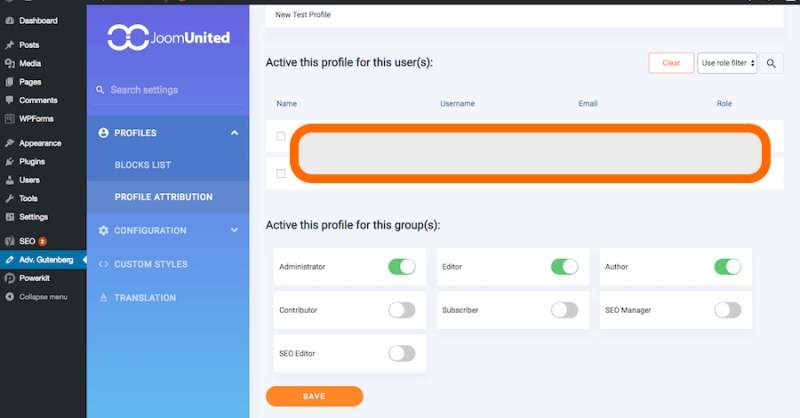 Default Configuration
In the default configuration tab, you have the option to set the default design options for the advanced blocks.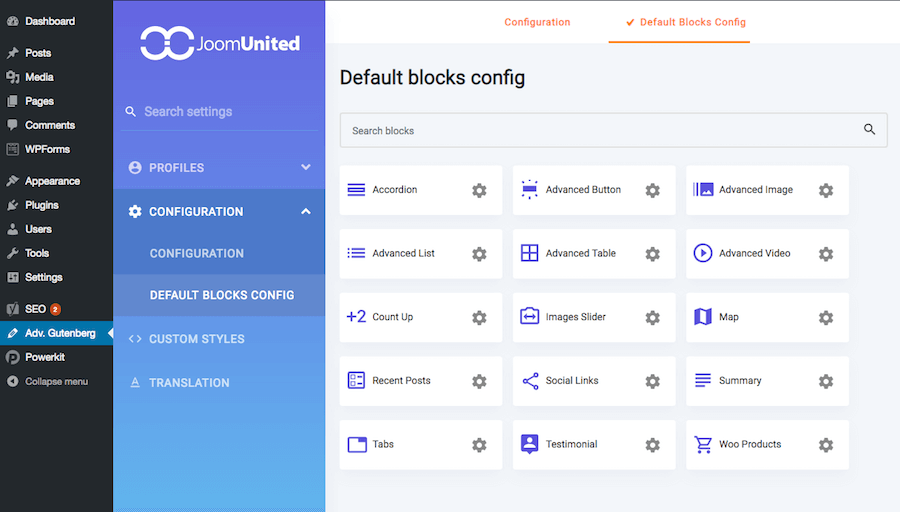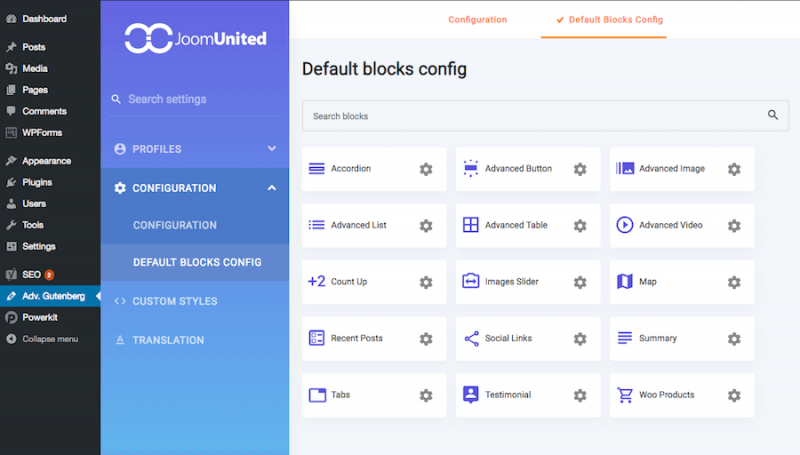 You can select any of the blocks and set your default styling. For example, let's have a look at the Count Up block. You have the option to set the number of columns, set the color options etc.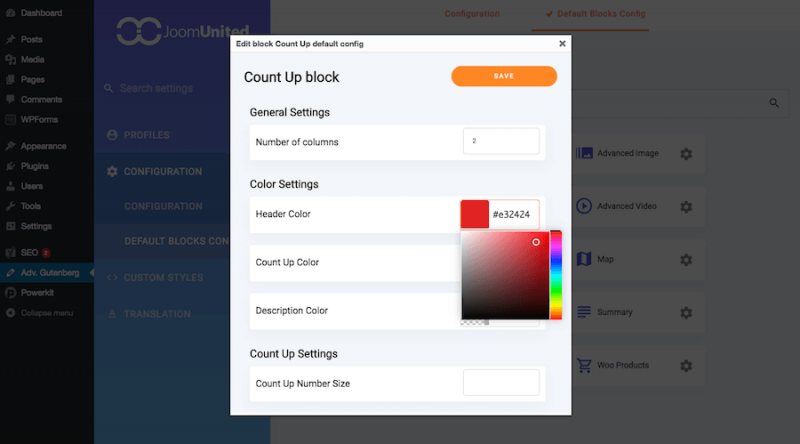 Custom Styles
This is another very useful feature offered by the Advanced Gutenberg plugin, you can add a new class and edit the style with custom CSS to use it in the Gutenberg editor.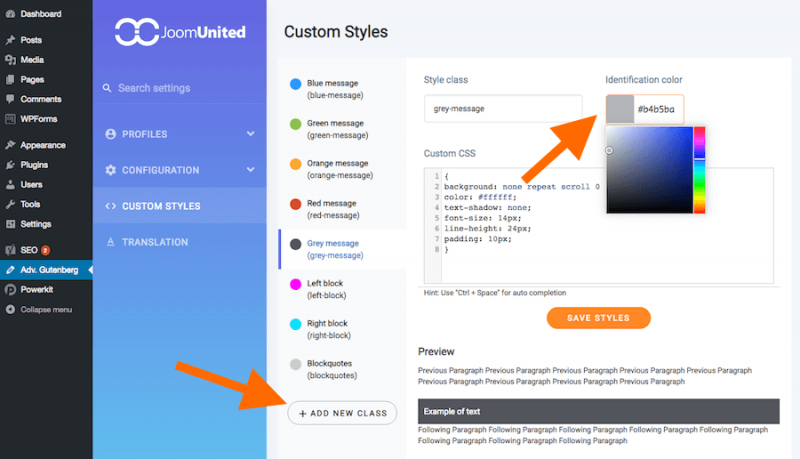 Advanced Gutenberg Plugin In the Editor
Now, let's have a look at how the Advanced Gutenberg plugin works in the editor.
As you start editing a new post, you will new the new Advanced Gutenberg blocks under different block groups.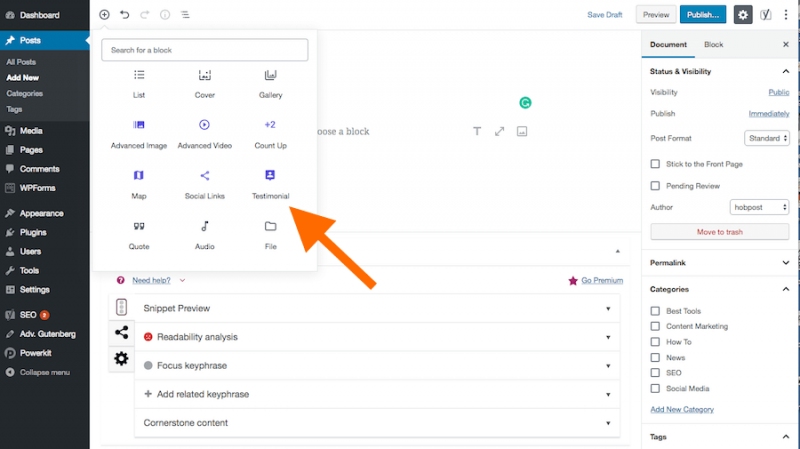 Advanced Buttons
The Gutenberg editor offers you the button block in the default option. The Advanced Gutenberg plugin takes it ahead with a number of additional controls.
You can set the text size, borders, padding, hover effects to the call to action button so that it stands out in the content and attract users to take action.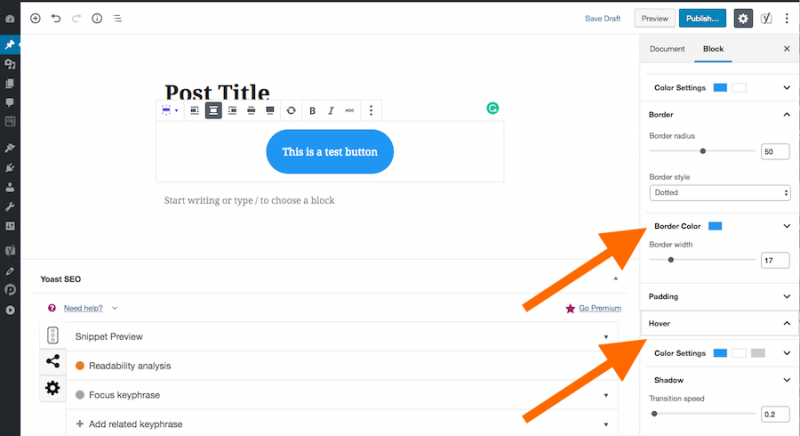 The Advanced List Block
The list is another very important blocks and it is one of the most commonly used elements in any blog posts. Nicely set bullet points make it simple for the readers to understand the content better.
The advanced list block makes it easier for you to set the bullets points to match your site color scheme as well you have the option to fine-tune the overall design of the points.
You have the option to select custom icons for the bullet points, you can set the size, the color of the icons to enhance the overall presentation.
Testimonial Block
You can add testimonials right on your WordPress page or post and you have the option to customize the color, size, image size and more.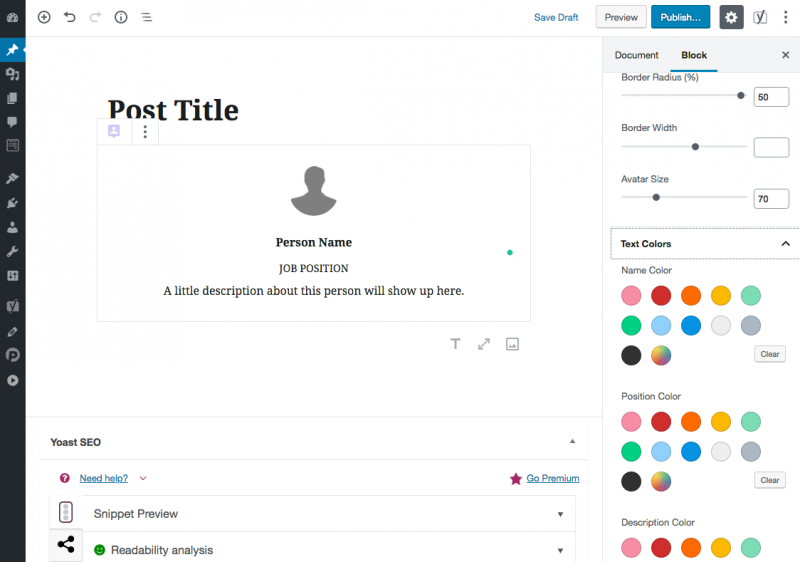 Advanced Table Block
Gutenberg comes with the table block in the default editor, but the design options are very limited. The Advanced Table block helps you to customize the table block as per your requirement.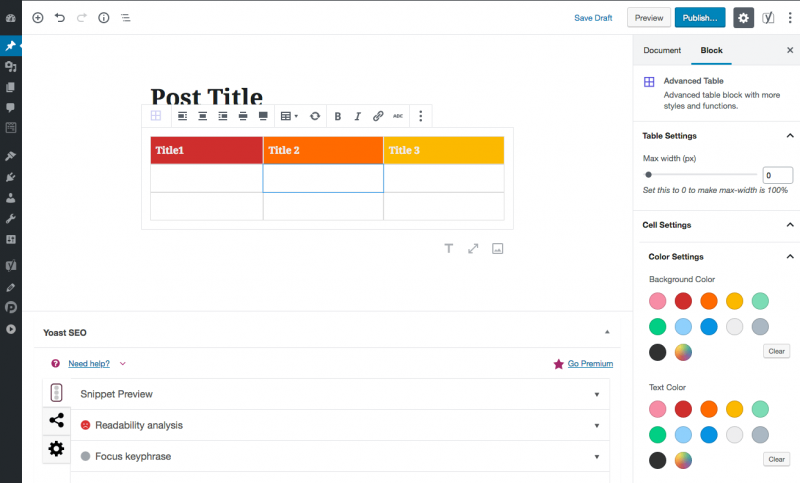 The Advanced Tab Block
The tab block makes it simple and add tabs and edit content ion each tab. You have a number of styling options to make the tabs better.
This can be a very useful feature while you are creating long content and you need to show certain content in the tab form.
Count Up Block
Suppose you are creating a page for advertisement options on your site and you want to show your monthly traffic and other stats, you can use this block to show the numbers in style.
You have the option to set the number of columns, the color of the counter, the color of the description to make it look better.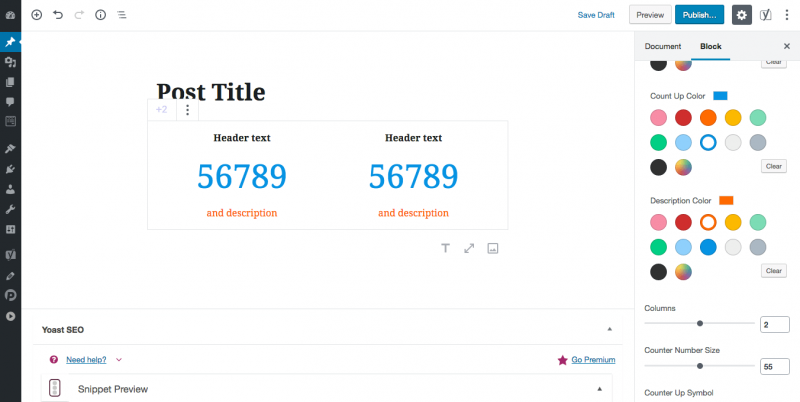 Final Word
There are a number of other interesting blocks that will enhance the overall editing experience on your site. This plugin is a great addition to Gutenberg.
I'm sure, this plugin will help you to create the perfect post design on the Gutenberg editor. The plugin is free to use, you can download it from the WordPress plugin repository and start using it right away.
As Gutenberg is still in the starting phase, this plugin will keep evolving with time and with new interesting blocks.
So, download it now and start creating beautiful looking content on your WordPress site.
Download Advanced Gutenberg Now