Features of AdSpyglass:
Are you spending a lot of time, energy, and resources on finding the right ad network and managing it?
You're not alone. Managing ad networks is one of the biggest challenges for site owners, and keeping track of the analysis further adds up to the work.
Enter: AdSpyglass, an Ad mediation platform that seamlessly provides website owners a single dashboard to manage their ad networks and have an all-in-one place for earnings management and analysis.
AdSpyglass gives a solution to the tiring work of finding the right ad network and following up with their performance. Dealing with multiple factors like CPM and fill rate isn't easy and demands time and attention. AdSpyglass wipes out this problem and gives you a single platform to deal with your analytics.
But is it for you? Let's clear all the doubts in this comprehensive review.
Set up Process for AdSpyglass:
It is a simple four-step process for you to start with AdSpyglass.
Sign-up for AdSpyglass and add your websites to the system.
Add the networks you are already associated with. You can also sign up for new ones.
Get access to creatives of the ad networks and transfer them to your AdSpyglass account.
Once you set the ASpyglass code on your websites you are ready to receive your earnings.
Who is it Suited For?
AdSpyglass is the perfect solution for anyone looking for the maximum utilization of the varying benefits of different ad networks. Here are the primary niches that have found success with AdSpyglass over the years.
Websites facing high volume traffic, such as
Adult websites
Tube sites
File sharing sites
Video hostings
URL shorteners
How does AdSpyglass Work?
AdSpyglass works with seamless ease, reducing the work of the website owners in efficiently managing multiple ad networks.
But how does it facilitate that? Here's a simplified explanation:
It finds the ad networks with the highest CPM among the connected ones.
The algorithm quickly identifies and shows only the highest-paying offers on your website.
It ensures complete profit earning of the ad impressions and filled spots.
It also gives varied ad types for you to choose from

Display and Native banners
Popunders
Instant messages (js code)
Video (slider, in-stream, and out-stream)
Direct Links
Interstitial
In-Page Push
It comes with a user-friendly dashboard that helps you easily manage everything in one place.
AdSpyglass Dashboard: Top Features
AdSpyglass is a user-friendly platform where you can integrate, manage, and analyze your ad networks. Avoiding logging into multiple sites and seeing it all in one place is really a boon to business owners. Here are the top features of AdSpyglass that can make your life much easier.
Website Page – Here you can add and manage multiple websites. It provides codes and control over the performance of the ads.
My Ads section – Includes all the info about the broker's (from Ad Networks, Campaigns, and Marketplace) rotation at your websites.
Ad campaign Page – Is a place to set up targeting rules for the creatives rotation so that ad impressions will be shown at the highest price possible among all the brokers you add here.
Ad networks integration page – This page allows you to add the recommended ad networks to the rotation at your website.
Marketplace – Allows you to sell your traffic to the DSPs that are already integrated with AdSpyglass without registering any accounts. All earnings from the Marketplace are paid by AdSpyglass.
Reports – The attractive part is the report section which comes with insights about your ads' performance. It also lets you customize your reports.
Advanced Tools – This page has access to Anti AdBlock, My media kit, and Top networks.
The Anti AdBlock helps you to prevent your website from getting banned due to violation of the regulation. It is hence a way to increase your income by at least 15%.
My media kit, a ready-to-use tab, helps you build a dynamic web page. It constitutes the links for the advertisers to get access and purchase your traffic directly. The most important thing is – you need no expertise to be able to create these pages.
Top networks tab provides you with insights on the top paying ad networks to be added to the rotation specifically for your top GEOs with a breakdown by ad format.
Referrals – get your bonus from inviting Publishers or Advertisers to join the AdSpyglass eco-system.
– Invite a Publisher and get 5% of their commission fee
– Invite an Advertiser and work with them at no fee for the both of you
News – be up to date with the latest updates on the platform
Help Center – If you feel using the pages is confusing and complex, you can get assistance in the help center. They tend to provide quick solutions for customer queries. You can also make use of the chat option for easy query resolution.
What Does AdSpyglass Help You With?
Doubling your profits from ads with the right configuration of your account
New and curated addition of ads without juggling for codes
Comprehensive real-time statistics on your revenue generation
A bunch of tools, including ad quality scoring, so that you can manage everything in one place
What are the benefits of Using AdSpyglass?
Several cutting-edge features separate AdSpyglass from other platforms. Some of the key elements of AdSpyglass are:
It maximizes the Website Owner's Revenue:
AdSpyglass helps publishers get the best ad networks and ensures continuous filling of their ad spots. So they ensure higher revenue. In addition, their analytics propose the appropriate advertiser's works completely based on the traffic.
With an increased number of advertisers on the platform, publishers will get more money for their ad slots. The slots are made to be filled throughout the year. As a result, they will access a broader range of advertisers, resulting in higher competition and better CPMs. In addition, better parameters ensure better monetization of the traffic.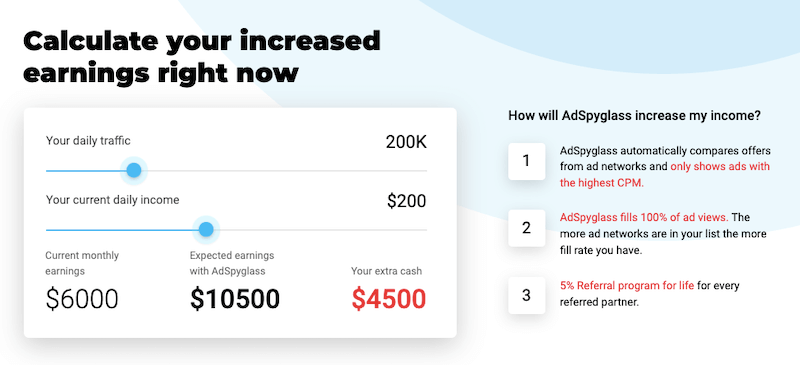 Manage Multiple Ad Networks in a Single Place:
The AdSpyglass platform is compatible with all ad formats, including banner ads, pop-up ads, interstitials, and video ads.
Moreover, AdSpyglass offers website owners the best monetization solution through its advanced demand-side platform Traforama. It makes the management of ad types, networks, and performance easier. It works by establishing direct deals between advertiser and publisher without needless intermediaries to buy traffic via direct campaigns or open RTB.
On-time Payments:
There is no overwhelm or holding of your earnings from AdSpyglass when selling traffic through the AdSpyglass Marketplace. They pay it twice a month. It will be on the 10th and 25th. You will receive your money as soon they receive it from the ad networks.
AdSpyglass also allows withdrawing based on net 0 on a daily basis for those Marketplace activities that are related to direct advertisers and pre-paid demand partners.
And the payouts for the traffic sold through your personal ad networks accounts are paid directly by those ad networks.
In addition, publishers are always in the loop regarding their advertising statistics. They can easily access these through AdSpyglass's real-time reporting tools, allowing them to see where they spend most of their time optimizing their ads or websites/apps.
Optimization Tools:
The dashboard comes with all the customization tools to change your priority according to your demography and other traits. Hence it ensures website-specific analytics to create better conversion and increase in profit.
Publishers get access to AdSpyglass's deep analytics suite, which helps them see where they spend their time to optimize their websites better. In addition to real-time reporting tools, it gives publishers access to detailed statistics for every website they have added to the platform.
Support by the Team of Experts:
AdSpyglass provides only high-quality ad networks suitable for your website, and that actually convert. It means that developers will never have to worry about irrelevant ads which would affect their monetization.
The team of experts at AdSpyglass consists of people who have been webmasters themselves for a long time. All of them, including the co-owner, have a deep understanding of the pains and concerns the publishers have. As well as extensive expertise and broad knowledge in the digital advertising field.
Easy Work With Direct Advertisers:
AdSpyglass makes finding and working with direct advertisers a very enjoyable experience. Using the Media Kits you can easily attract the most relevant advertisers. You won't have to manually integrate them, the platform will do everything for you. And you can manage all your monetization endeavors in one place.
Ad Quality Monitoring:
The quality of the ads you serve to your website visitors is extremely important. One bad ad can ruin your reputation and completely obliterate your monetization efforts. AdSpyglass is integrated with the best ad scoring tools, cooperates with traffic providers, and offers expert help in dealing with bad ads and other quality issues.
User-Friendly Platform:
The AdSpyglass has a fantastic user-friendly dashboard that makes it quite simple and hassle-free in setting up and running your account. In addition, with AdSpyglass, website owners have total control of their ad networks. Also, with the platform's geo-targeting feature, you can target any region of interest, including cities, countries, and continents.
Final verdict!
AdSpyglass is a great platform to use if you want to maximize your revenue through the complete utilization of multiple ad networks and direct advertisers. It offers publishers access to high-quality traffic monetization tools, which helps them increase their earning potential and global reach.
It benefits both the advertiser and the publisher to make more money easily, mainly since it follows an open and transparent policy. AdSpyglass gives its publishers a wide range of traffic monetization tools that help them increase their earnings quickly. Hence it is an easy go and effective tool that comes in handy for every website owner.