LearnDash BlackFriday discount offer is around the corner, so if you were planning to create an eLearning site with a top-quality product like LearnDash, here is your chance to grab the best deal of the year.
LearnDash is a WordPress learning management plugins that you can use to create a complete eLearning site like the top authority sites in this niche.
It offers you all the features and options to create a very professional looking eLearning site with great design and features. It can manage everything from creating courses to distributing certificates to the students.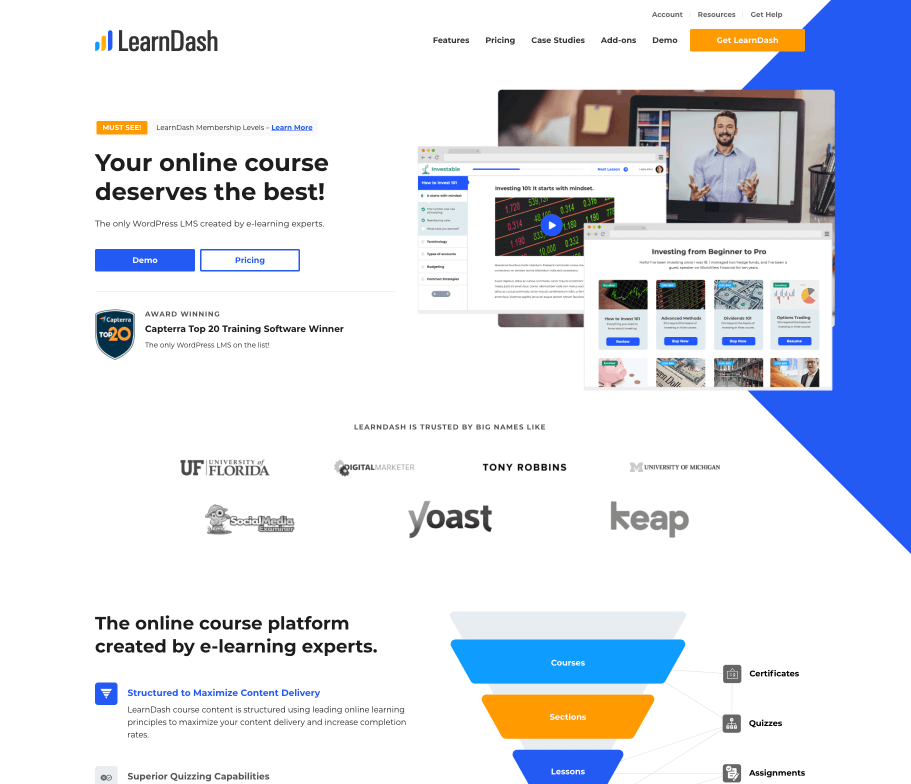 You can read our detailed review of LearnDash to know more about the product as this article is about the Black Friday LearnDash offer 2020.
What is LearnDash?
LearnDash is a WordPress learning management plugin. It is used to create online courses and managing the entire process from student's registration to completing the course to certification.
It is the best eLearning plugin if you wish to create your online course site on the WordPress platform.
This plugin offers you all the features and options that you see on the top eLearning sites on the internet.
What Are The Top Features of LearnDash?
LearnDash is the most reliable name when it comes to creating an eLearning site on WordPress CMS. It offers all the features and options that are required to create a complete eLearning portal.
Create online courses
Manage the entire process of assignments
Manage quizzes
Manage the certification process
Complete control over the course selling process
All payment platforms supported
Integrates with all the top tools and software
What Do I Get in The Black Friday LearnDash Deal?
Learn Dash offers 3 different pricing plans to choose from. The Basic Plan, the Plus Plan, and the Pro Plan. During the Black Friday Deal, you will be getting a 50% discount deal.
You can create unlimited courses, unlimited users and all the other features offered by LearnDash with this deal.
LearnDash BlackFriday Coupon and Discount Details
Here are the details of the LearnDash Black Friday offer 2020.
Get 50% discount on LearnDash plans.
Coupon code: BF2020 (for Nov. 27th, 7AM-4PM EST Only)
Coupon code: CM2020 (for Nov. 30th, 7AM-4PM EST Only)
What Are the Other Top Black Friday Deals 2020