What Are Breadcrumbs?
Breadcrumbs are a secondary navigation system that shows the user's location on a website or web application. Designers may use them to help users navigate the site, search engine crawlers to index pages, and visitors who want to return to pages they have visited before.
The breadcrumb's form is determined by what kind of content is organized. For example, breadcrumbs on a recipe website might show each step of the recipe process as links, while on an e-commerce site, they might provide links back to product pages and categories.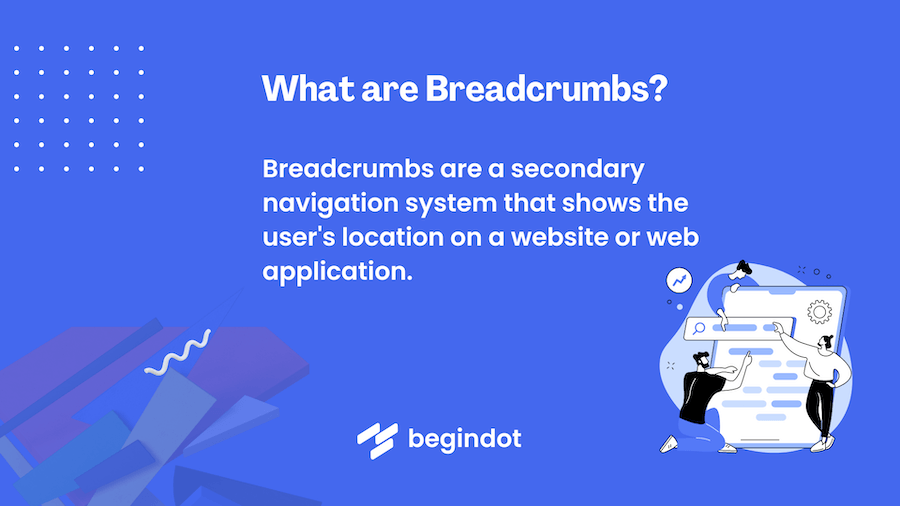 Types of Breadcrumbs Trails
When it comes to most UX experts, breadcrumbs are usually found in 3 types. These include
Path-based breadcrumbs
Hierarchy-based breadcrumbs
Attribute-based breadcrumbs
Benefits of Breadcrumb Navigation
Better crawling
Breadcrumbs help search engines crawl the website more efficiently and find content relevant to the user's query.
Higher SERP ranking
It also helps with higher SERP ranking, providing a clear pathway for visitors to follow through your site. Doing so creates a sense of familiarity with your site, which can positively affect your conversion rates.
Efficient indexing
Breadcrumb navigation helps search engines index your website more effectively, as they can see which pages are linked together and which are not linked to other content on the site.
How to Set Up Your Website's Breadcrumb Navigation System in 3 Easy Steps
Setting up a website's breadcrumb navigation can be tasking. However, you can follow these steps to ensure the safe delivery of navigation.
Create a list of all the pages that you want to include in your breadcrumb navigation system.
Build a list of all the pages that need to be linked with each other.
Add them to your website or blog post by following these simple steps:
Add tags at the end of each page on this list that lead to another page
Copy and paste these tags into the HTML for each page
Add links from one page to another by using
Add Breadcrumbs Using a Plugin
If you are using website-building platforms like WordPress, you get plugins to add breadcrumbs to your site.
You may use the Yoast SEO plugin or Rank Math plugin to add breadcrumbs quickly to your pages.
Why Are Breadcrumbs Important for Websites?
Breadcrumbs were initially designed for people who couldn't see images on computers and had limited computer skills.
Still, it also made it difficult for people to navigate through websites because there needed to be a visual representation of where they were with other pages or links. Breadcrumbs help visitors find their way back to the homepage and make exploring other pages on your site easier.
They also provide an overview of how deep someone is into your site, which can be handy for large sites with lots of content.