YouTube is growing in popularity every year. And currently, it is the second most visited site after Google.
Along with general users, YouTube is one of the most preferred platforms for brands. If you also manage any brand, product business you must consider YouTube as one of your preferred marketing platforms.
YouTube influencer makes a lot of money every month by promoting brands. There are YouTube influencers making millions every month.
If you are still ignoring or procrastinating your YouTube marketing, here are some YouTube facts that will open your eyes
01

. More 2 Billion User Every Month
As per YouTube, it receives over 2 billion monthly logged-in users and over a billion hours of video views each day. This is a huge number when you compare with the total internet users.
Source: YouTube
02

. YouTube is the Second Most Visited Site

YouTube is gaining more popularity with time. In fact, this platform is the second most visited website in the world, only after Google. YouTube is the first choice for most users to consume video content.

YouTube is one of the most active apps on desktops, mobile devices, and Smart TVs.

Source: Alexa
03

. Everyday Users Watch More than 1 Billion Hours of Video
The next interesting statistic is that users on YouTube watch more than 1 billion hours every day. This number surpasses that daily watch time of both Netflix and Facebook Watch.
Namely, users watch about 200 million hours of content per day both on Netflix and on Facebook Watch. This number is still not a match for the watch time of YouTube.
Source: YouTube
04

. Mobile Devices Are The Most Common Source of YouTube Views
The rise of mobile devices is undoubtedly here. In recent years, people use their mobile phones for communication, entertainment, shopping, and everything else they need to do.
This becomes also clear if you consider that 70% of users watch YouTube on their mobile devices. From this, you can understand that it's important to create thumbnails for your videos that can be easily viewed on smaller screens.
Ideal thumbnails for videos with a lot of views are the ones that are easy to read and understand the content. 
05

. YouTubers are More Effective Influencers than Celebrities
The successful YouTube creators have loyal audiences that will trust them. Therefore, when a YouTuber is promoting a brand on his channel, the results will be impressive.
However, the most interesting thing is that YouTubers can convert more users than celebrities. This is because YouTubers take extra care to form a deep bond with their audience.
This, in turn, leads to higher engagement and conversion rates.
06

. More than 90% of YouTube Users Discover New Product on the Platform 
With so many daily active users, it's easy to imagine that many of them use the platform to discover new products. Therefore, YouTube is another great social media to promote their products and services.
07

. 81% of Young U.S Population Watch Youtube Regularly

If you want to reach out to the young population in the United States, YouTube is going to be one of the most important platforms for you because 81% of the young population (15-25 years age group) use YouTube regularly.

YouTube is the most popular video platform in the United States and ranks as the most popular mobile apps as per audience reach.

As of third quarter of 2019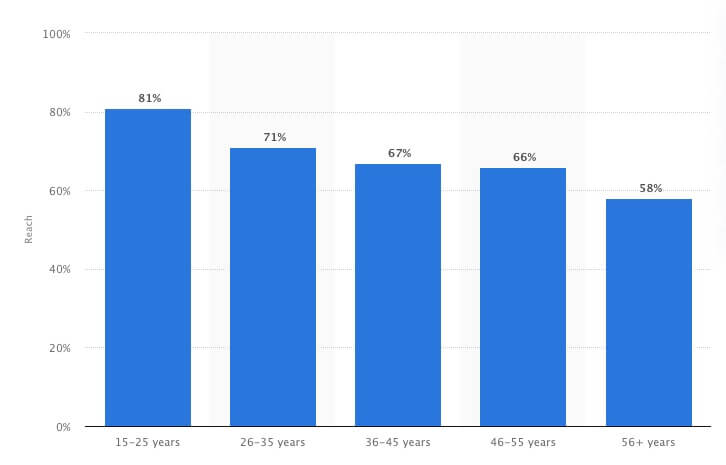 08

. YouTube is Second Largest Social Media Network

Along with being the largest video site, YouTube is also considered as the second-largest social media network after Facebook.

So, you can use this platform to increase your influence by creating engaging videos.
09

. YouTube is One of The Most Preferred Marketing Platforms

Marketers consider YouTube as one of the most preferred marketing platforms. The viewership of YouTube is increasing every year so as the advertising revenue. More than 500 hours of video were uploaded to YouTube every minute as of 2019.
10

. Over 90% of Shoppers Discover Brands Through YouTube

As per this report by Google, over 90% of the users discover new products through YouTube.
---
How to Grow Your YouTube Viewership?
All of the above statistics prove that YouTube is a powerful platform. Now, the important question is how to grow your YouTube viewership?
Here are a few ideas that can help you.
01. Select a Popular Niche
This idea can backfire if you don't do it right. When you select a popular niche, you have to create great quality content as the competition will be fierce. While you will be receiving a lot of viewership if you are able to create quality content, you might get completely sidelined if your content is bad.
02. Create Videos on Trending Topics
There will be trending topics in any niche you select. So, you must keep an eye on the popular discussions around your topic and create videos around those topics.
03. Optimize Your Videos
If you know about YouTube, you probably understand it is a search engine as well. So, you have to optimize your videos so that the users find your videos when they search for the topics.
04. Get The Initial Traction
It is difficult to get the initial push with very little or no subscribers. However, there are services that can help you to get YouTube views to help you take your channel up the ground.
05. Cross-Promote
If you just create your videos and live it there, you are not going to get any views. You must consider promoting your videos on other platforms where you already have followers.
You can share your videos on your Facebook, Instagram as well as Pinterest.
06. Create Content That Educates
Create content that educates your audience. YouTube is big among the users who wants to learn a new skill.
You can create simple and easy to understand step-by-step video tutorial on the topics that you are expert at.
These will help you to get regular views and create an engaging community around your channel.
Don't Miss These articles