Are you looking for reliable tools to help you run your small business effectively?
While there are several business management platforms online, not many can compare to vcita, comprehensive business management and client engagement app designed to help owners of small enterprises to manage growth.
It covers extensively your core financial, scheduling, sales, and marketing operations – you can forget about their tedious, administrative aspects.
Available as a web app and mobile app, vcita holds potent functionalities that can help you streamline managing your small business.
Let's dive into the nitty-gritty of vcita's capabilities.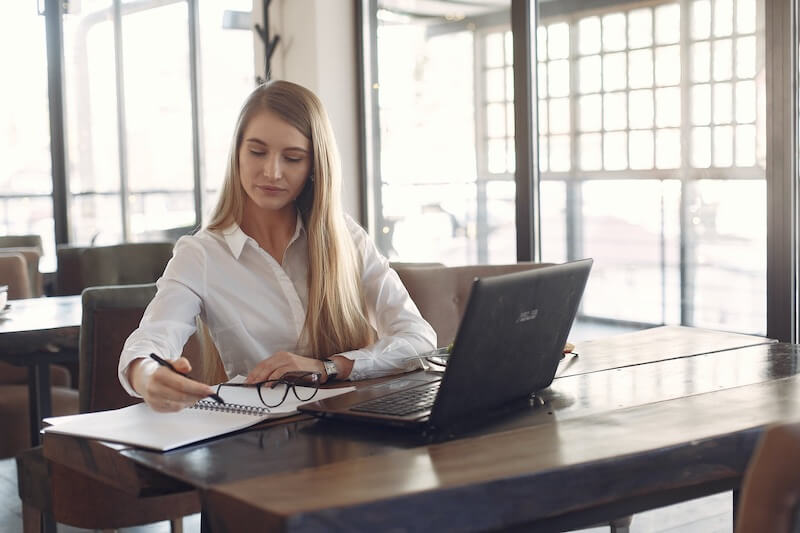 Appointment Scheduling: Self-Service and Synced Up
vcita simplifies appointment scheduling for you and your clients. It lets customers book meetings with you directly on your site, Facebook page, Google business listing, email (using an inserted scheduler link), and more.
Your clients can also choose how to meet you: whether face to face, via phone conference calls, or via Zoom. Thanks to vcita's Zoom integration feature, your clients can easily schedule online video appointments.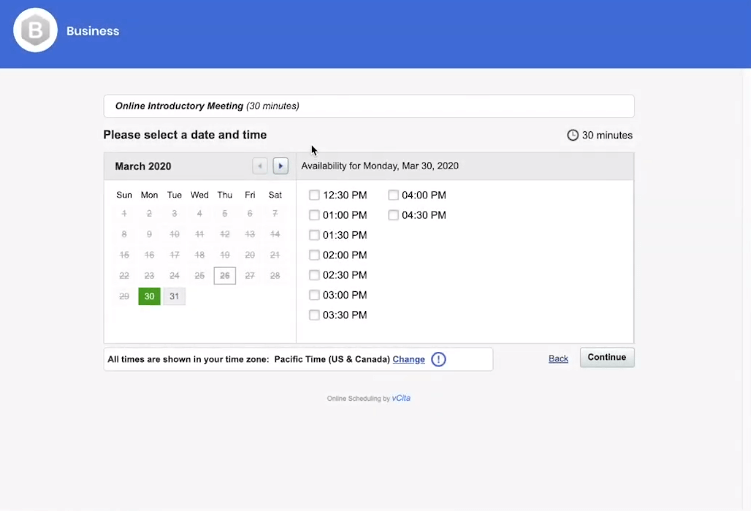 Once they schedule your video conference call, the Zoom integration instantly generates a secure meeting link and emails it, along with other booking details, to your clients.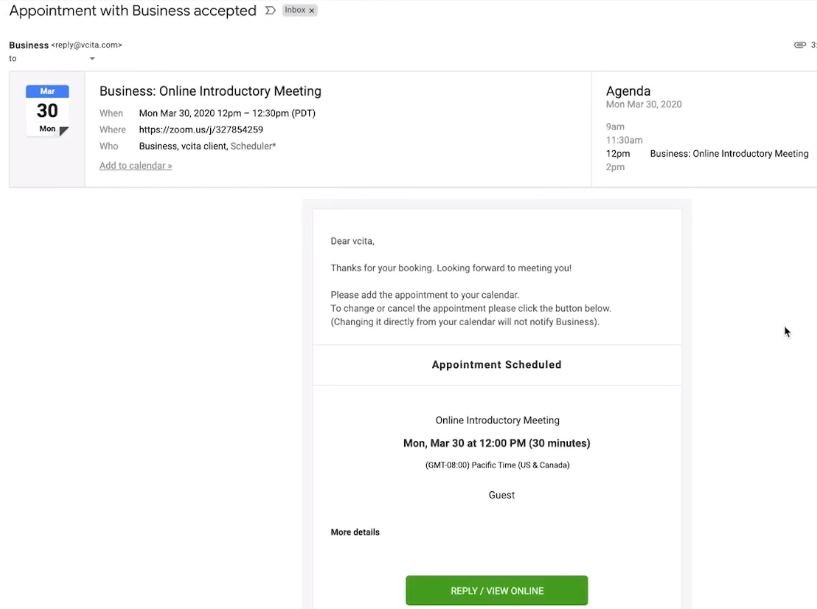 To prevent no-shows and last-minute cancellations, vcita even automates your meeting confirmations and reminders for clients and instantly adjusts your availability to their time zones.
What's more, you can customize your calendar widgets to match your branding and assign different colors to your staff or services for appropriate booking – whether on desktop or mobile.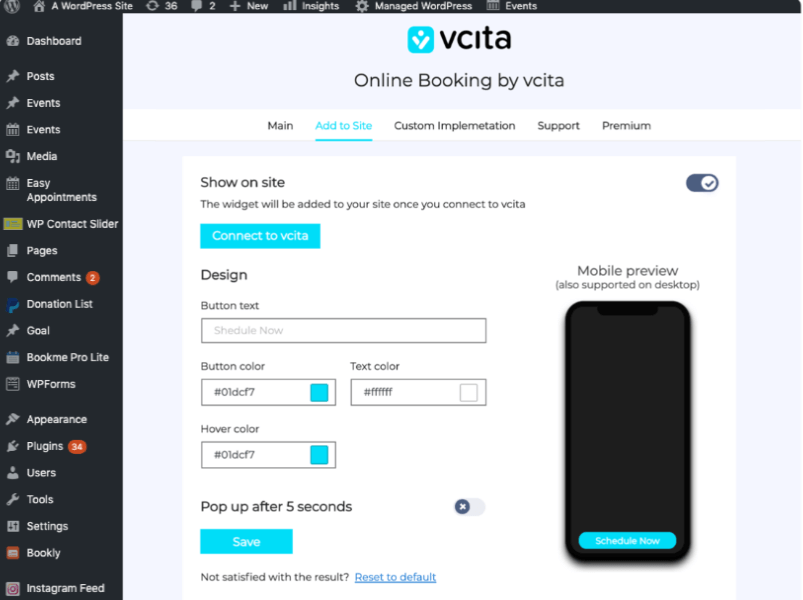 vcita also lets you sync your existing work calendars with the vcita-powered schedule management tools, so that you'll never be double booked and will always be able to see what's next on the agenda.
Payments: Automated, Contactless and Bundled
If your small business struggles with getting client billings paid on time, hasten the process with vcita's easy, comprehensive payment settling and collection features.
For one, vcita supports contactless payments. Your clients can pay online via PayPal or credit card when you add a payment call-to-action (CTA) button to invoices and price quotes.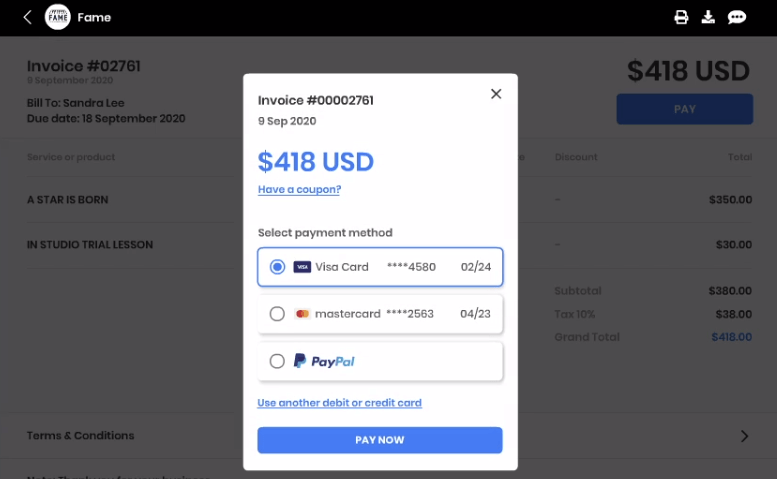 Your invoices then transform into receipts automatically, and the app sends a copy to your customers via SMS or email.
vcita also has the Pay-by-Mobile feature, which lets you insert payment links into your text messages. When your clients tap them, vcita leads them to a payment processing page.
These transactions instantly sync with your vcita account so you can view them in the platform's CRM or appointment list.
Another feature worth mentioning is the Packages. This allows you to bundle several of your services and physical products (often at discounted prices) and sell them all in one go, incentivizing loyalty and boosting cash flow. You can offer Packages on your website or on a vcita-powered customer portal.
In the below example, the vendor offers a beginner's package of 10 fitness coaching sessions for $500, with a physical product – resistance bands – included. This is a great way to offer more diverse types of value to customers.
Besides package details, the presentation includes an attractive CTA button that clients can quickly click to avail of your offer. These and more related vcita functionalities simplify the payment process for you and your clients from the first contact to settlement.
Marketing: Smart Nurture Messaging Across Channels
Promoting your small business can feel like it involves endless time-consuming tasks. vcita offers practical automation and other features to streamline your marketing activities, so that even if you're working solo, you won't need to spend all day drumming up demand.
To boost your email marketing, vcita provides stunning, customizable templates and lets you segment clients by interest, location, transaction recency, or any number of other parameters. You can apply tags to your audience segments, making it easy to see everyone's status and re-engage accordingly.
The messaging design tools allow you to personalize the copy, customize the layouts and to include eye-catching coupons that customers can redeem on your invoices.
Similarly, you can build SMS marketing campaigns with adjustable templates and automated delivery schedules. You can even insert landing page links to your text messages and monitor their performance with vcita's robust SMS analytics.
Client Management: Centralized, Accessible, Effortless Records
Struggling with managing your client relationships?
vcita has you covered with its built-in, centralized CRM that records your contacts' histories – from basic details to appointments, invoices, payments, files, and conversations.
vcita's CRM enables you to label your leads and clients and import existing contacts from your Excel, Gmail, or mobile device.
If you're working with a team, you can ease their contact management and scheduling tasks. With vcita, share client information with them, auto-assign work, set visibility restrictions, and more.
Another helpful functionality for your client management is automation. This lets you provide a flawless customer experience. It provides multiple options for automating related tasks, such as sending thank-you messages, post-meeting follow-ups, payment reminders, etc.
You can also empower your customers to monitor service progress, book meetings, access shared files, review messaging histories, download back invoices or complete their transactions anytime via vcita's client portal.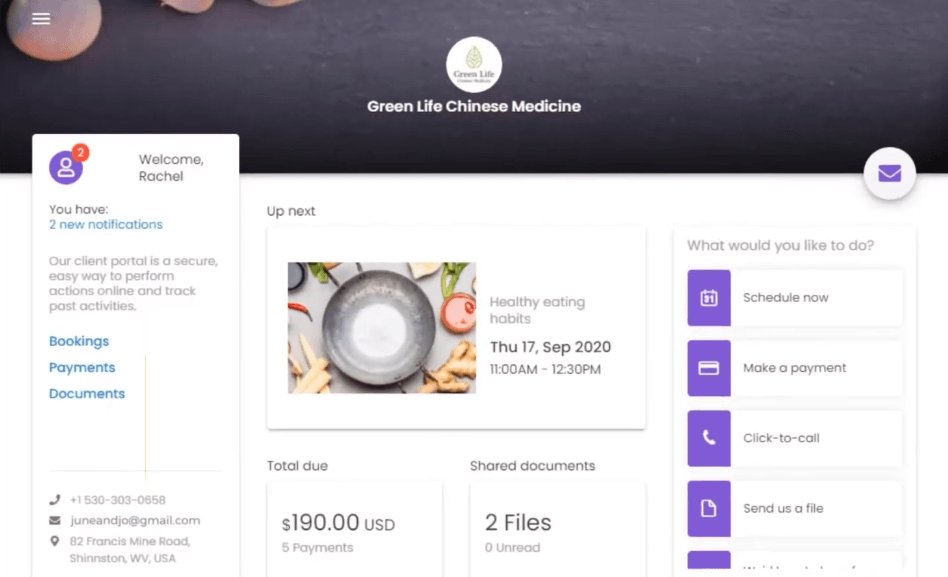 The portal has a user-intuitive dashboard for customers to view previous and the next transactions, including pending payments. This portal also lets them securely share, upload, view, and download files online – on any internet-connected device, whether desktop or mobile.
On your end, you can brand your client portal to help customers recognize and associate it with your small business. Add your logo and use your brand's colors.
Additionally, what's great about vcita's client portal is the personalized experience it gives. The updates your customers see align with their activity statuses so they can act accordingly.
Powerful Sub-Accounts for Consultants
If you're operating as a business consultant or marketing agency, you can join the vcita xperts reseller program.
This allows you to set up payments, appointment booking, CRM and marketing for your clients as a service, educating them over time on how to maintain these aspects of their work on their own. And all the while, you'll earn a cut on their monthly subscription fees.
You will also be able to monitor and get an overview of your sub-accounts' activity from a tidy, user-friendly meta-dashboard.
Here you'll see figures on your clients' bookings, payments, etc., and with just a few clicks, you can log in to these accounts and update coupons, build new email marketing drafts, set up new packages, download payment logs for bookkeeping purposes, or anything else.

By becoming a vcita xpert, you can foster other small businesses' digital transformation, garner more clients, and build a steadier revenue flow for your enterprise.
This Platform Has You Covered, from A to Z
From first contact and lead capture to payment processing and closing of transactions, vcita is a powerful tool that covers your sales and marketing operations.
Leverage it to simplify and boost your performance. widen your clientele, and make operations easier, so you can focus on doing what you love.