Social media can be an exciting avenue to launch your business to a wide range of audience. While social media marketing can be a greatadvertisingmedium, a few wrong moves can prove to be disastrous.
You want to implement the methods that are most safe for marketing while taking advantage of the potential reach social media can offer your business. But more than never, businesses make disastrous moves with their social media marketing campaign. And it often leaves a lasting dent on their reputation.
You're about to join the bandwagon of businesses that are actively using social media to expand their reach online, you betterwatch out for the following mistakes. Making as much as just a single one of them might pose a long-lasting threat to how your business is held in public judgment.
5 Ways to Prevent Social Media Disaster
Here they are:
#1. Avoid "Leveraging" Tragic News for Promotional Benefits
This is one aspect many businesses have shown the world that they are publicity hungry, and only interested in marketing their goods to the afflicted. Just as one would anticipate, this approach usually results in public backlash.
A typical example of situations where businesses have exploited tragic news for purely selfish and promotional virtues is the Hurricane Sandy (seeBusinessInsider's post on it). BI's article covers, extensively, companies that used this method and how people responded to the ploy.
You should learn from the experience of these brands and guide your business's social media marketing strategies through methods that won't outrage people.
#2. Only Make Claims You Can Defend
Social media is one of the online marketing channels that are prone to abuse by companies that make outrageous claims about wonders their products perform. This has left many consumers and prospects skeptical about wild claims on social media.
Since people do not need to meet you physically or experience your product/service first hand before buying from you, you might be tempted to make luring claims about your business which might not be true. The downside of this is that once someone is able to prove that your claims are not true, the next thing you say on social media will be discarded as bogus.
Should people decide not to trust whatever your business says on social media again, then you should know that your business is already done for?
And if you're to make claims on social media to motivate people to patronize your business, be ready to take sincere measures to back them up.
#3. Don't Pay for Reviews
The new era of social media is seeing company earn trusts through user reviews and customer recommendations. Like every other thing on the internet, this form of the vote of trust is very easy to manipulate. Just toss a few dollars to a less busybloggerand positive all-5-star reviews of your brand will be all over the social circles.
As cheap as this might sound, many companies have reduced themselves to the barest and are paying people to give them positive reviews on social media sites. Research says that 20-25% of brands will be paying for reviews in 2016, but that leaves those indulging in the act on the danger side.
Not only are you not sincere with your audience, you'll also be the one fooling yourself by paying for reviews as users will all soon learn how to spot fake reviews.
#4. Avoid Engaging Trolls/Critics
If you are a business that keeps up with your users on social media and you are always responding to their needs/complaints, you should also beware of social media trolls. Social media trolls will come to you as critics and engage you in degrading debates while they fester in the obvious annoyance you're displaying in the public.
In the end, the main goal is not to make your brand extremely vulnerable and help you lose the trust of your loyal customers.
Learning how to handle social media trolls is essential to prevent social media disaster for your business. The first and most important step are to quickly recognize them and avoid engaging such.
#5. Have a Social Media Policy
Having a clear-cut social media policy is a huge step to prevent social media disaster. This is to prevent your employees from making terrible mistakes that could drag your business to the mud on social media.
Not only is it important for you to have a clear social media policy, but you should also bring it to the notice of your employees/partners and ensure that the policy is adhered to.
Social Media Disaster Examples
Let's see some examples of real social media disasters in the past.
#1. Ryanair Facebook Backlash
On 16th August 2012, an angry Ryanair passenger posted a complaint on their official Facebook page, which gathered over 600,000 likes and 31,000+ comments.
What's the problem? The problem is Ryanair's inefficiency in responding to the complaint, leaving customers on Facebook in an uproar.
When you're on social media, you need to actively engage with consumers.
#2. Burger King Friend Sacrifice
Burger King ran a campaign in 2009 where participants had to delete 10 friends in exchange for a Whopper! Not only this, Burger King decided it would also notify the friends who got deleted as a sacrifice for a burger.
The contest was a violation of Facebook TOS too. The campaign generated only 29,000 interested people, much less than their projected numbers.
#3. McDonald
Before you go all out on social media, make sure that your consumers perceive you in a favorable light.
McDonald's launched a campaign on Twitter where consumers can tweet their McDonalds story with the hashtag, McDStories. The company must have thought they were into a winning strategy but they had to pull off the 'promoted trend' within 2 hours. Why? People started posting not-so-good stories with the hashtag.
Be very sure before venturing into social media.
#4. Belvedere 'Rape' Advert
The famous vodka brand, Belvedere, made a social media disaster when they used the image (below) as part of their advertising campaign, among another cluster of images.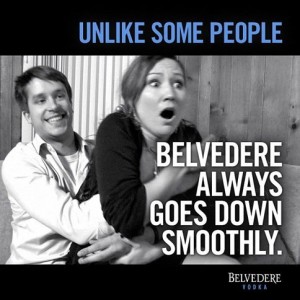 Later, they apologized for the same and stopped using the image in their campaigns.
Endnote
By following the tips in this post, you will be able to prevent social media disaster for your business. What other methods do you think a business should employ to prevent a social media failure?