Building a prominent online presence is a must-have for all businesses. It's especially noticeable with 54% of Social Browsers researching products through social media. But what really is an online presence?
In simple words, it's all the information that can be found about your company on the Internet. This involves:
Websites;
Social media;
Online journals and other sources.
Now think that 87% of shoppers search for new products online. If they see negative information about your company, it is very unlikely that they will make a purchase. That's why you must also remember about online presence management.
In this article, we'll discuss how to increase online presence with eleven tips for success. So read on to grow your business's visibility now!
11 tips to increase your online presence
01

. Create a Mobile-Friendly Website
According to Statista, there are over 4,32 billion mobile Internet users worldwide. Mobile traffic covers 54,8% of all website traffic in 2021, and the number always grows.
A mobile-friendly website is a must-have if you want to boost sales and create a positive online image. Such a resource comes with better accessibility. Also, your audience won't be annoyed by the lack of optimization when visiting the company's website.
One more advantage you'll get is improved SEO. Since 2019, Google has launched a "mobile-first" policy that ranks websites based on their mobile version. You can test your site with Google's mobile-friendly test.
02

. Have a Clear and Original Unique Selling Proposition
A unique selling proposition (USP) is what makes your company different from others.
Imagine that you are a customer and want to get a product. There are dozens of offers on the market, so which one would you choose? Probably, the one with the highest value and most appropriate price.
Some examples of a USP are:
"Free consultations for all clients";
"Highest quality at lowest price";
"America's most popular meal kit."
When creating a unique selling proposition, you must make it memorable, tangible, and customer-focused. That's the real key to differentiation and success.
03

. Improve Your SEO Factors
Weak SEO won't make your business visible. You must cover all possible factors to get higher in the rankings. Here are some factors to consider:
Keywords;
Meta tags;
Unique and engaging content;
Link building;
Images, videos, and others.
Do not neglect search engine optimization. Each component plays a vital role in the way your website is ranked. Thus, a higher position brings better online visibility for your brand.
Serpstat is a tool that can help you with competitor analysis, audit, clustering, text analytics, and other SEO processes. It's an irreplaceable assistant if you want to get to the first page on Google.
You might also want to read our previous article with six practical tips to create efficient SEO strategies. It will help you get a better understanding of what to consider during optimization.
04

. Publish Engaging Content Regularly
How many times have you heard the phrase "Content is king"? Engaging content beats all the records when it comes to visibility on the web.
Regular publications, especially when they involve valuable information, turn your brand into an authority. People eagerly share such materials, increasing brand recognition. As a result, you also get additional online visibility.
Apart from the general benefits, engaging content also brings you a better ranking. Your audience spends more time on the website, improving its behavioral SEO, another important criterion for search engines.
If you're out of thoughts of what to publish, here are the best tools to generate some content ideas that could give your content strategy a second breath. A pretty helpful tool would be a Portent's Title Generator. Test different approaches and see what works out best with your audience!
05

. Focus on the Most Efficient Social Media Channels
Many companies repeat the same mistakes – they spread their resources on every possible platform without any audience analysis. There's no sense in managing a LinkedIn account when all your clients use Facebook. It's the same story with every social media.
You must understand which channels does your audience browse. This may be done by making a poll for your customers or manually analyzing social media demographics.
Focusing on the right channels will help you engage more people and make your advertising budgets even more efficient. It's the only way to stop wasting funds on "blank shots."
Hootsuite can help you manage social media channels and monitor their efficiency. Some of the most prominent features are scheduling posts, mention monitoring, analytical reports, team collaboration, and others. It's a great assistant to take your accounts to the next level.
06

. Collaborate With Influencers
80% of marketers consider influencer marketing to be an effective addition to their campaigns. No wonder brands collaborate with bloggers – people tend to believe them more than anyone else. That's why you should utilize this channel as well.
There are different ways to build an online presence while collaborating with an influencer: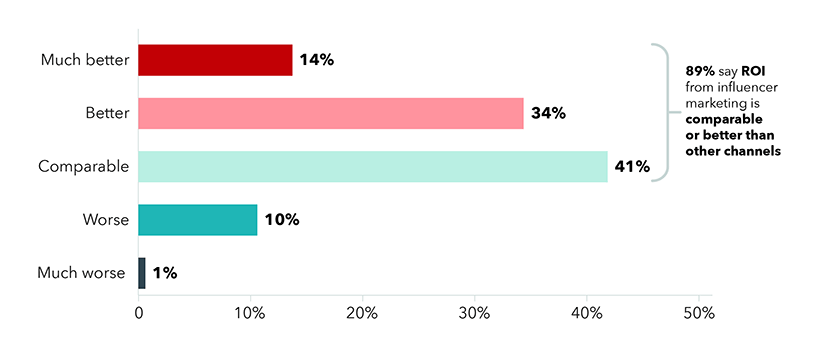 Sponsored content;
Gifting product samples;
Brand ambassadorship.
When bloggers regularly showcase your brand's products, their audience can easily turn into your customers. It all depends on multiple factors like the mean of collaboration and product type.
Currently, there are dozens of tools to analyze influencer profiles. They are a good addition to get real statistics. Some bloggers may send you a fake report, so having such a tool will help you determine their trustworthiness.
07

. Network With Competitors
It might sound controversial, but networking with competitors is what could help you build a strong digital presence. Being in the same industry isn't all about competing; it's also about partnerships.
Imagine that a client asks your company for a product or service that isn't on your list. However, you know that a competitor could handle the request, so you send the customer there. Wouldn't it be nice if this happened vice-versa too? It's only possible when there is a partnership.
Other frequent options are collaborations and common training. Both parties appear in a win-win situation by getting new experiences, covering a broader audience, and growing their online presence. So, don't forget to network with competitors!
08

. Advertise Your Company
How should people learn about your products if you don't advertise? Regular advertisements are one of the most efficient ways to grow brand awareness, increase sales, and be in the flow.
The most popular types of ads are:
Targeted images and videos;
Guest posts;
Integrated ads, and others.
If you work with influencers, you automatically get guest posts and integrations covered. Now you must launch a targeted advertising campaign. To get the best results, you must ensure the promotion is engaging.
74% of marketers say that videos have better ROI, so using this type of content is reasonable. You can easily create an engaging video ad with Fastreel video editor. It's an online application, so all editing is done within a browser without downloading software.
In 2020, 87% of consumers read online reviews before using the services of local businesses. People value the opinions of others, so that's an excellent way to build up a powerful presence online.
You probably know that customers leave their opinions on different resources – Google Maps, Trustpilot, social media. As a brand, your task is to work with reputation management. Remember to thank clients for positive feedback and try to solve the issues of those who left a negative opinion.
Also, customer testimonials are another type of user-generated content for your page. Share the opinions of your clients and highlight their stories. This grows your audience's loyalty. Additionally, you get a perfect option to increase brand visibility.
10

. Apply Email Marketing
Almost every Internet user has an email, so this is an efficient channel to promote your company. The most frequent types of email marketing are:
Welcome messages;
Newsletters;
Promotions;
Abandoned cart reminders;
Brand stories, and others.
All these options build up your online presence. You constantly remind people about your existence, leading them to the thought of checking out your products again. Then the readers browse your stock and become buyers.
However, if you want it to be that simple, then you need to focus on effective marketing copy. We've previously written about 7 tips to consider when writing promotional emails. Check it out to tailor your writing!
One more way to build a strong online presence is by sharing promotions with targeted ads. For example, let's imagine that your brand has got a weekend discount for certain goods. Using this information for advertising is good in several ways:
It's a unique selling proposition;
People love promotions;
You'll grow brand awareness.
The oftener you appear on a consumer's screen, the more they remember your brand. It's beneficial in all ways, so make the most out of this channel.
Conclusion
Now that you know how to create an online presence, try applying the uplisted tips to find the most effective channels. It is best if you combine each and use them as a complex campaign. The results will not keep you waiting.