Gutenix Theme Review, a complete starter theme for WordPress sites with all modern features and options.
Gutenix? What's this? Probably, this was the first question that crossed your mind after reading our heading. We are here to tell you everything you should know about the Gutenix subscription. 
Shortly, Gutenix is a rich package of different products that will help you to build your website quickly and competently. However, you need to be provided with the details.
Then, listen! Recently in May 2020, the Gutenix was just a free WordPress theme, but now it's transformed into the Gutenix subscription. These two products are entirely different.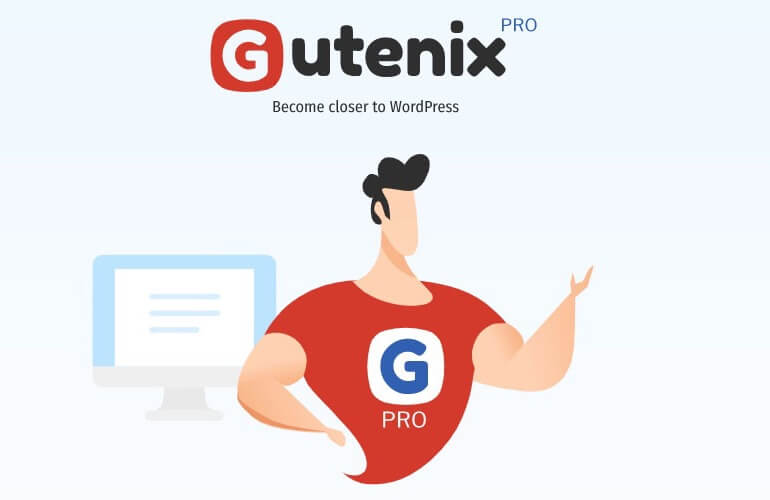 What's the aim of this subscription? Undoubtedly, to simplify the process of page building for people who are fond of using various builders. At your services, there are Elementor, Gutenberg, and Brizy builders. 
Also, the pack of products is extended with the ZeGuten plugin that is a powerful collection of blocks for Gutenberg. The Gutenix subscription has a lot to show, so stay tuned and let us explore each spot of it. 
Moreover, now the Gutenix subscription is available for 50% off, which makes it highly affordable for each user. Especially, if you are a first-time user and are out for a brand-new experience. 
Hot offers by Gutenix
Before purchasing the Gutenix subscription you need to be aware of every detail of the purchase. Then it's time to pass your eyes over the list of tools you will get with the package.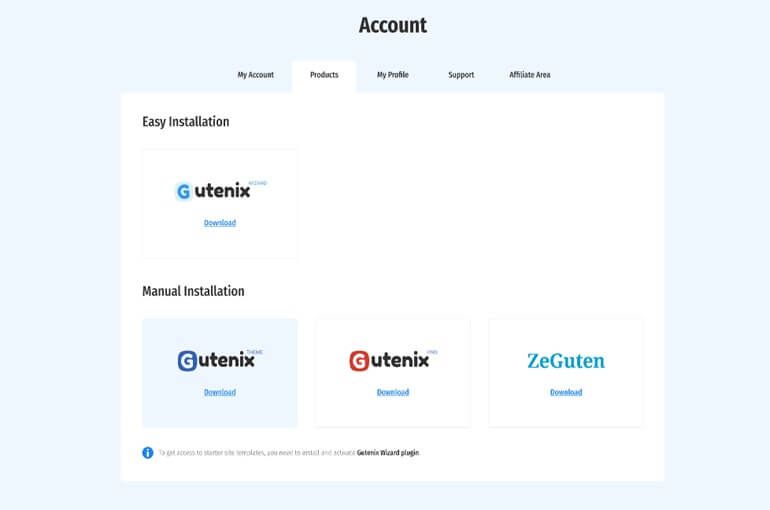 Find out more about this bundle offered products in the block of the article below.
Installation with Gutenix Wizard is easy as a pie
Now it's high time to get to know the Gutenix Wizard installation better. To start working with the Gutenix subscription at all, this point is a key, inasmuch as there is no other way to install the pre-designed templates from the collection.
Let's get started: 
Step 1. After you activate the Gutenix Wizard, you will see this picture. This step offers you two different installation types. In case, you don't have the GutenixPro subscription, get the possibility to try the free Gutenix version.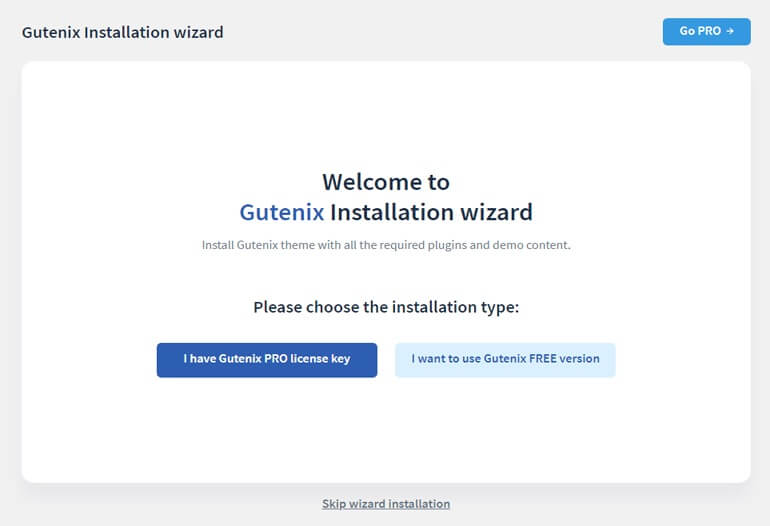 However, don't miss your chance to use the full pack of products with Annual or Lifetime subscription plans.
Step 2. Choosing the license key validation, there will be a field to type the key. Just fill it in and let's go to the following step.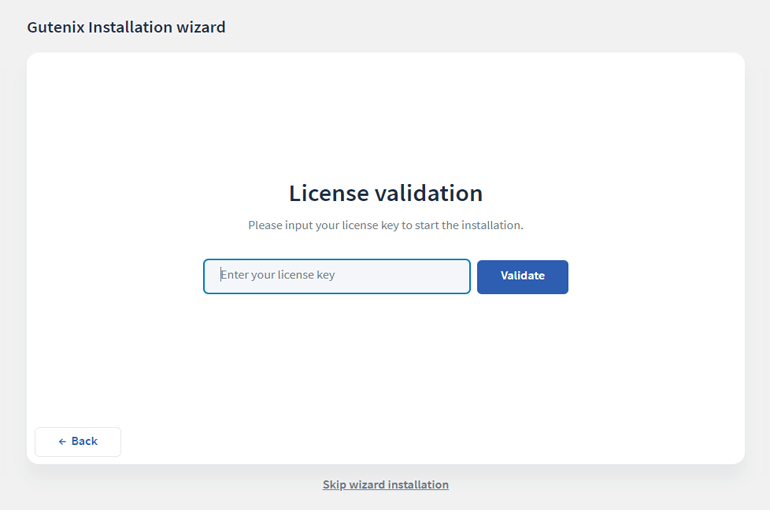 Step 3. Next, in case you don't have the free Gutenix theme, you need to install it. If you already have one, just skip this option. If not, install Gutenix, this is extremely simple and doesn't take much time.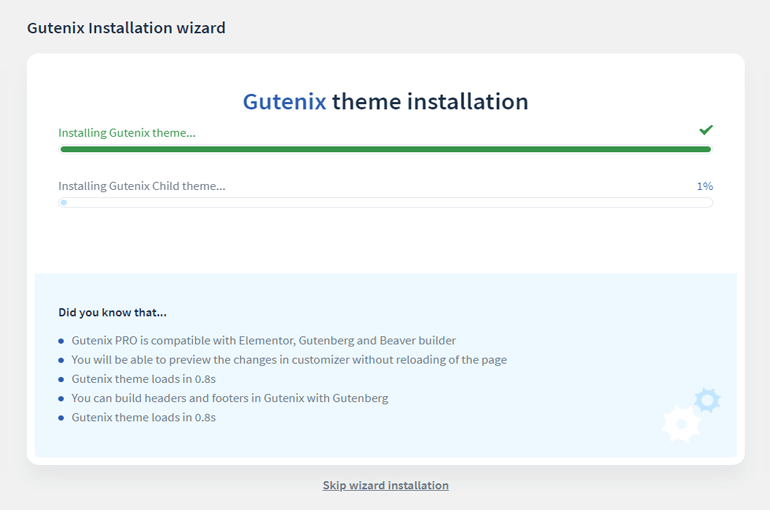 Step 4. Here is a chance to install the child theme. This step will add you confidence that any changes you make with the style won't be lost after the update.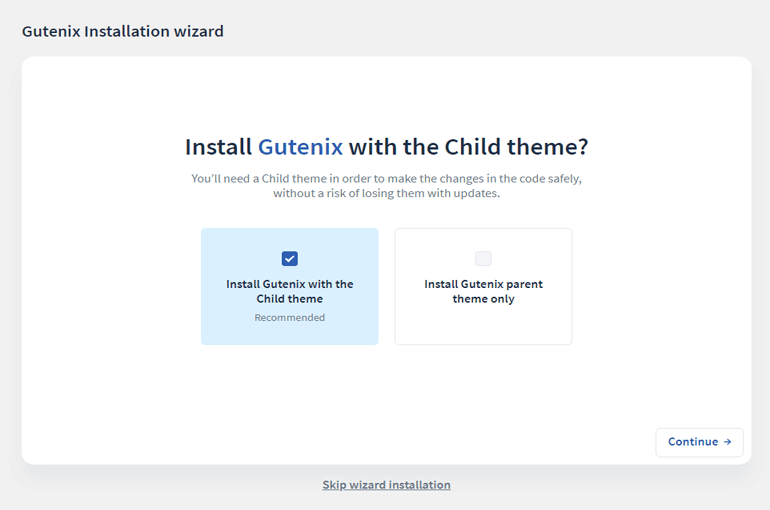 Step 5. As we said, one of the benefits of wizard installation is access to the pre-made templates. You will see the full pack of available starter sites, where you can view the demos and install any template you like. 
Step 6. When you install the template choose to add the new demo content to the existing one or to overwrite it. However, be careful with the last choice. It may make your content to be lost.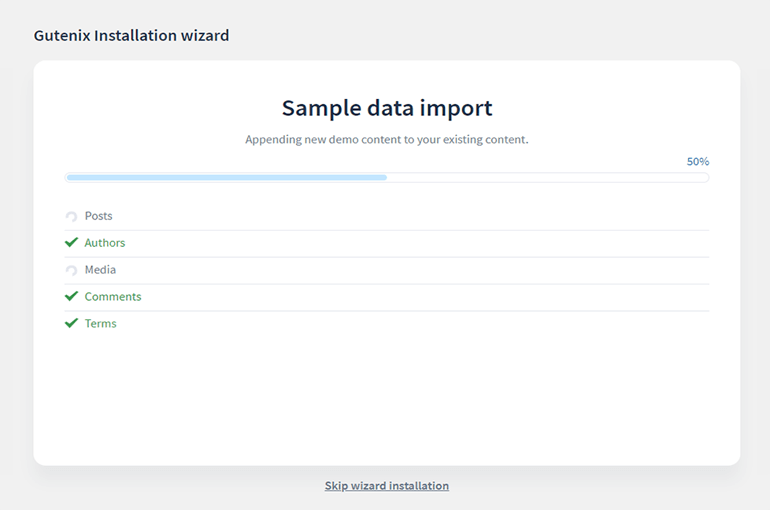 Step 7. Then choose the plugins you need to add to work with. They are an important part of the website building, so don't skip this step.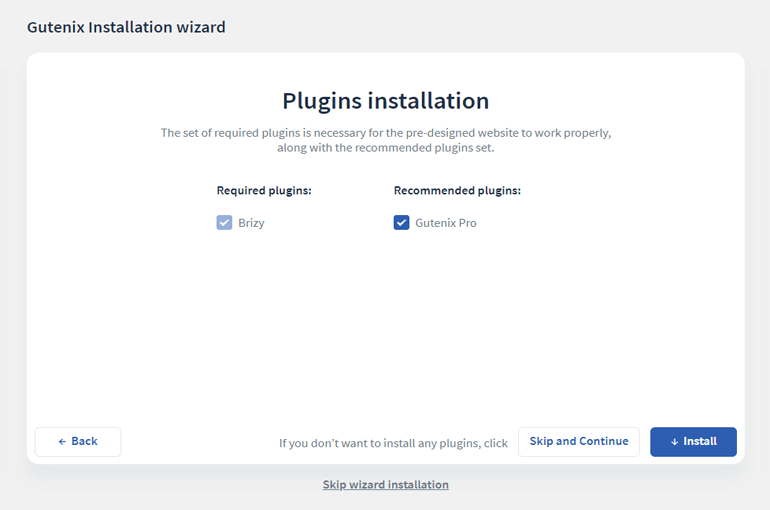 That's all. It won't take you more than 5 minutes and doesn't require any additional skills.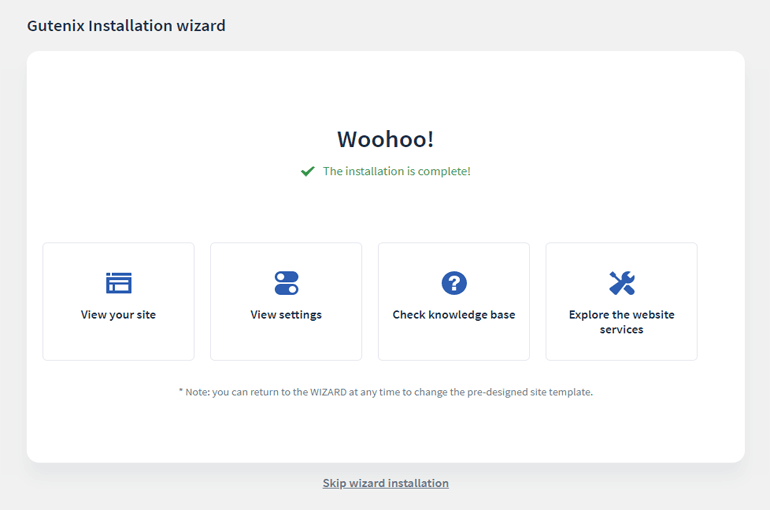 Multi builder WordPress theme is on the top today
What's is special about the Gutenix? Surely, this is a multi builder WordPress theme. That means you can work with some of the page builders simultaneously. The Gutenix offers you to work with the Elementor, Gutenberg, and Brizy builders.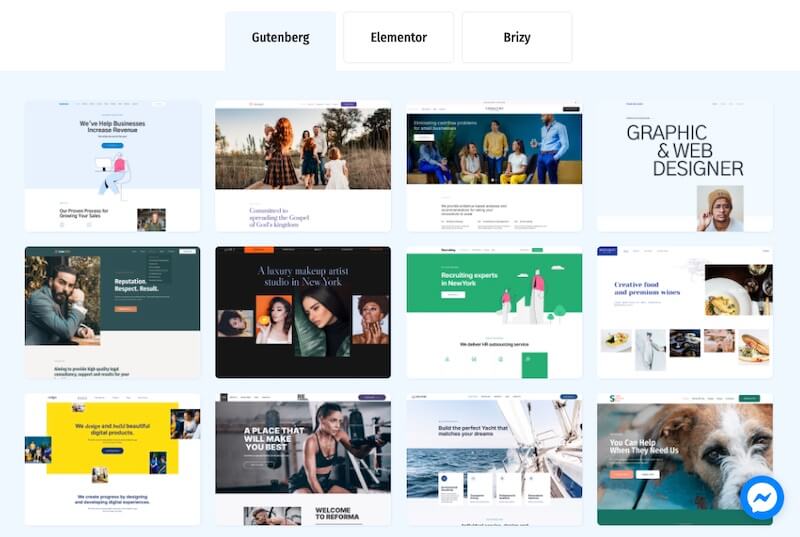 For your attention, there are more than 30 starter sites with unique designs and outstanding functionality. They are fully customizable with the help of free builders versions. Make sure you have them already installed.
Each builder contains its own bulk of templates designed to be different and effective for any of your websites. It can become a triumphant start to the fast and efficient website building.
ZeGuten premium plugin is included
How do you feel about the premium plugin that will ease the process of customization of the Gutenberg templates and add the functions that you can't get from the default blocks? Then meet the ZeGuten plugin with its variety of blocks.
In fact, there are more than 18 blocks.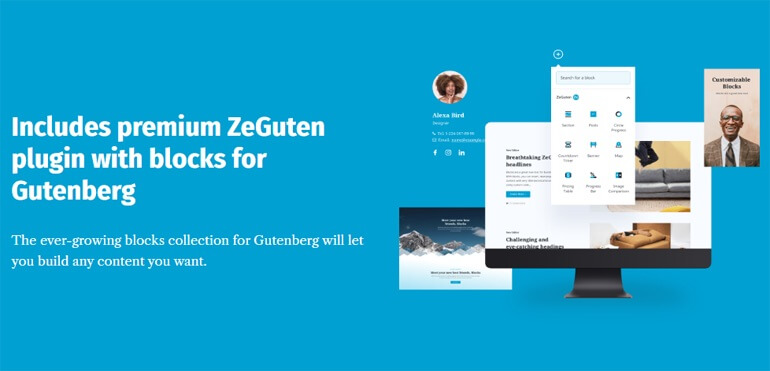 To know more about these blocks read the points below:
Posts. Build the post you need, where it is Posts Grid, Posts Masonry layout, Posts Carousel and Posts Slider, or uneven posts. Use extended stylization options that allow you to create any attractive idea crossed your mind. 

Content organization. For this purpose, there are Sections and Tabs blocks. Important tools to organize the content well. Create as many items as you wish, apply the wide settings that will help you to take control under the style of the tabs.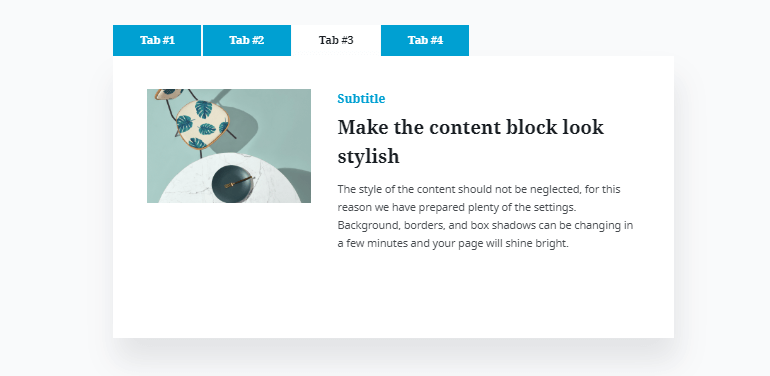 Infographics. Find out Circle Progress, Countdown Timer, Icon List, and Progress Bar blocks. Showcase the information in the elegant design for unique layouts.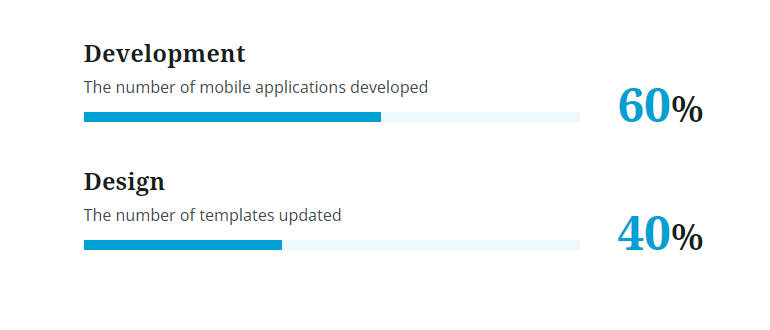 Visualization. Banner, Blurb, Heading, Image Comparison, Carousel, and Animated Box blocks – each of these blocks is created to make your content look engaging and bizarre.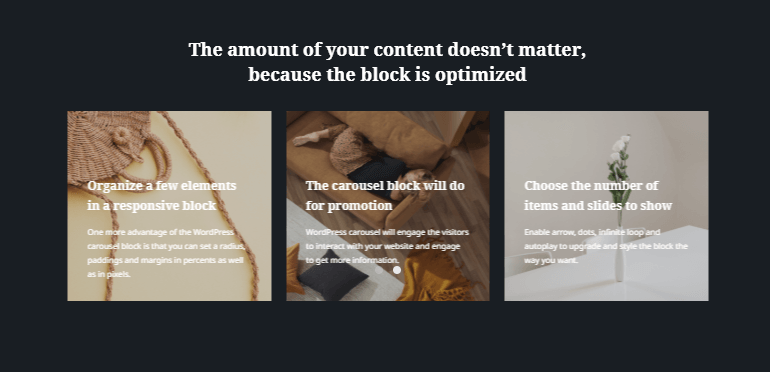 Besides, there is a Slider block unlike the above-listed. Creating one slide you can fill it with an unlimited number of blocks. Add heading, images, paragraphs, and make your slides unusual. 
Integration. Take a look at the Contact form and Subscribe blocks that let you keep in touch with the clients.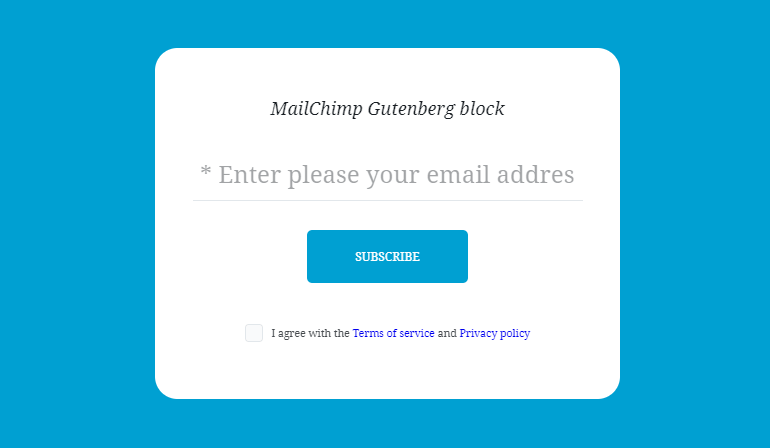 You can learn more about each block through the ZeGuten guide.
The subscription is worth it
Eventually, getting the subscription plans leads you to the full pack of products to build the website from square one. Gutenix is the best value for money because you can pay once and receive free access to multiple templates and additional tools.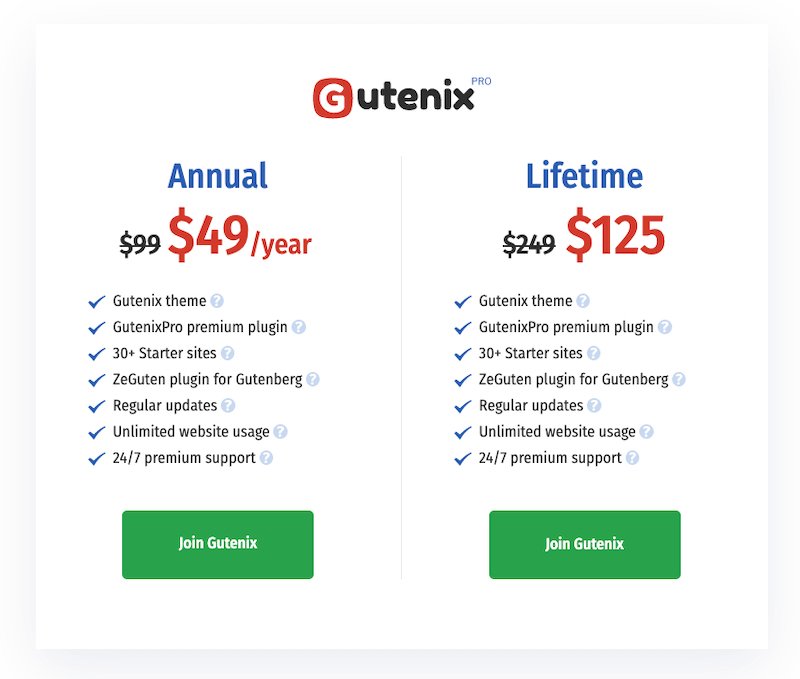 As for plans, there are Annual and Lifetime plans. Each of them includes the same bundle of products, but their distinctive features are the continuance and the price.
The list of products covered by subscription:
To the end of June, you catch the possibility to preorder them with 50% off and save the pocket. Pay $49 for Annual and $125 for Lifetime plans.
Are they worth its cost? Only you can answer this question after using all the products and building a website. Still, if you dive deeper you will ensure Gutenix subscription has a lot to show.  The quality will impress you, just try it.