Instagram is creating opportunities for businesses, brands and marketers to reach 500 million active monthly users, engage and convert them into sales. In the past two years, it has risen as a prominent social media app with a unique graphic niche.
This has attracted a large user base and created an unprecedented opportunity for relevant marketing for a business similar to Facebook and on similar lines with Adwords.
Unlike other social media channels, sponsored posts on Instagram look like any other social post, improving the chances of organic conversions. The ad types instantly become less invasive and thus add greater value to your marketing mix.
But as it is with any marketing strategy, caution is advised!
There should be certain things you must be certain about before starting out with Instagram. These includes questions like:
Is your business suited for graphic/image-based campaigns?
For instance, if you are FMCG brand, clothing house, fitness or beauty brand then Instagram is the place for you. But if you are a CRM provider then you will have to find a unique strategy for Instagram!
Is your target audience active on the media channel?
Do you have the resources for graphic based marketing like designers, proprietary software, etc.?
What is your expected ROI from the campaigns and how feasible is achieving them?
After you have carefully evaluated such parameters, you will create unique content that is attractive to your audiences. The next thing you need to know is how Instagram advertising works.
Here is a step by step process summarizing marketing on Instagram
If you have advertised earlier on Facebook, you are already almost there. The social media giant acquired Instagram in 2012, and since then they have an integrated framework that runs on similar codes. So even though your intent is to run ads on Instagram, all of the ad setup, budgeting, scheduling, and creation is done through Facebook's platform.
PS: It is highly advised that you use your brands Facebook pages to create ad accounts. It is mandatory in case of Instagram Ads.
Once you have opened your advertisement account, here is how everything goes:
#1 Select and Editor
Editors are dynamic drag and drop interfaces that can be used to create powerful ads. Wit Instagram you have three options:
Ads Manager
Power Editor
Facebook Ads API
Depending on your campaign size, you can choose the best editor. For instance, if you are managing a large number of campaigns then Power Editor is the best. However, the Ad Manager suits most marketers' needs.
Now, you can create a new campaign.
#2 Selecting Objectives
Instagram provides you with a set of options to choose the objective of your campaigns. These options aim at various pin point events. Instagram back end evaluates these options and runs your ads with these goals in mind.
These options include many choices including:
Boosting your posts
Send in more traffic to the source website
Increase conversions
Increase app installs
Let's assume from now on that the aim of our example ad campaign is to send more people to your website.
Next, you will be asked to name your campaign.
#3 Finalizing your target audience
This is a very critical step while creating any ad campaign. Many marketers make the mistake of selecting a wide range of people and end up attracting none. Some marketers spend too heavily on very narrowed down people segments and don't get enough ROI.
You have to follow a balanced approach. There some filters you can add such as location, age, gender, language, relationship, work, financial status, generation, interests, life events and more.
Selecting the custom audience options automatically includes those people who have interacted with your business before. Lookalike audience option targets those people who are similar to the ones already in your network.
Facebook offers an audience definition gauge to help you understand your target audience better. This gives you immediate feedback on how narrow or broad your audience is, as well as the estimated reach number of your ad.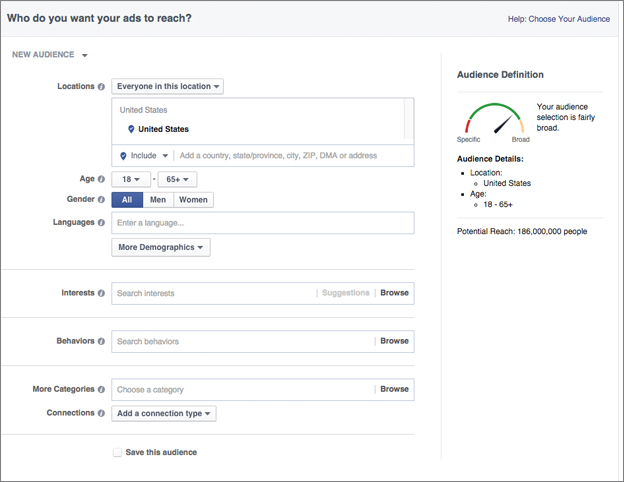 #4 Finalizing Ad Placement
Now that you have finalized the basic elements of your ad, we arrive at ad placements. Just uncheck all boxes except for Instagram and you are done.
After you have finalized an ad campaign, budgeting takes precedence
There are two options available here:
This makes the ads run all day, and your spending amount is automatically spread to meet the need. Keep in mind that there is a minimum daily budget of USD 1 depending on different factors in your campaign.
Over here, you have to specify the time for your campaigns. It may be a week, a month or even six months.
As a marketer, you must understand that efficient scheduling is highly critical for successful campaigns. Therefore, finalize scheduling with utmost planning and precisions.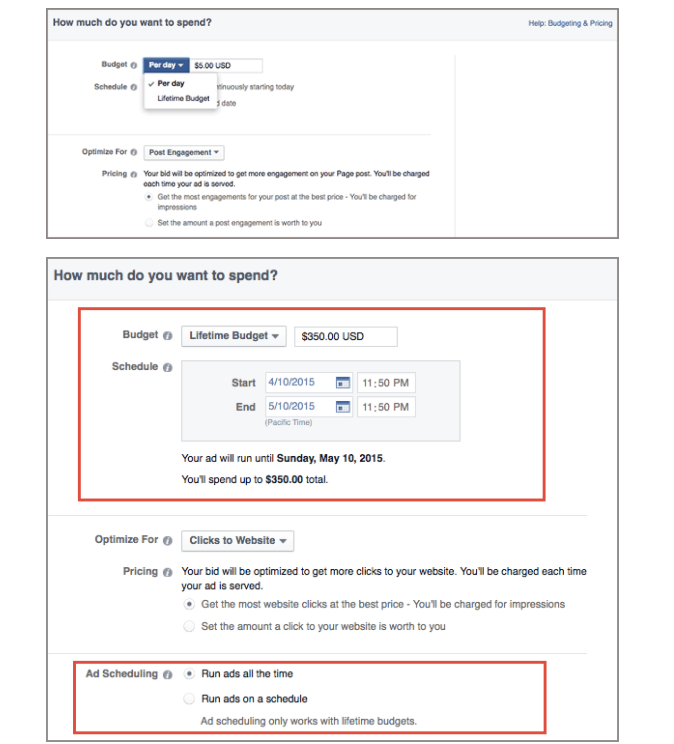 Choosing options that influence who sees your ads
Instagram has pinpoint options that you can choose from keeping your goal in mind. Your choice instructs Instagram to run ads in such a way that specific actions are triggered.
There are 3 choices
#1 Link Clicks
Ads will run with a focus on getting more links on a link.
#2 Impressions
These ads will run longer and multiple times to drive higher impressions from users.
#3 Daily Unique Reach
People see your ads once a day. The prime focus here is to reach a unique audience.
The Budgeting is finalized. You have an idea for the costing. Now it's time to place bids
Your bid amount is the deciding factor when it comes to how your ads will be delivered. It is essentially the time when you officially start competing with other advertisers.
It is kind of a constant auction, which can be manual or automatic. If you select automatic, then Facebook's algorithms decide the best option to get you the most clicks at the lowest cost.
With the manual option, you set the price for link clicks. If you think the ROI is good enough on a cost per click that you have set, then go with it. Ads with higher bids are displayed with higher priority.
After the bidding, you need a delivery schematic for your ads
Do you want ads showing up all day or you want them displayed at specific times? These are variables that depend on the nature of your business and the activity metrics of your target audience.
There are two options:
#1 Standard
Ads are shown all day.
#2 Accelerated
These are time sensitive ads that reach audiences quickly as they pop up when users are active. You can only place manual bids with this option.
After that, you need to name your ad set, which is something for internal tracking purposes.
After these toiling tasks, you need to finalize your ad creative
Now, all that is required your creativity and marketing skills. We will go through steps and options that Instagram gives when it comes to designing and developing attractive ad schemes.
#1 Finalizing Formatting
There are multiple options here including:
Single image, video or slideshow &
Multiple Images or Carousel Ads
Once you have chosen the ad type the next step is,
#2 Uploading your media
Facebook and consequently Instagram follow one standard rule for an ad type: No more text than 20% of ad area. Most other rules are general guidelines that can be read here.
Supported file types:
You can go for square video ads
Recommended Dimensions: 1080×1080 pixels
Minimum requirements: 600×600 pixels
You can also for landscape style image/video ads
Recommended Size: 1200×628 pixels
Minimum requirements: 600×600 pixels
Your Ad Campaigns are ready to run
After you begin advertising on Instagram, another important process begins. This is tracking and analysis or simply overseeing your ad performance to pick out patterns and strays.
Insights related to ad campaigns can be obtained from:
Your Facebook Ads Manager (In the account)
Users get an overview of all their campaigns with insights like data on reach, cost per result, cost per action and conversions. This is just a start, as your campaigns gain more traction, advanced metrics about performance, sales, e-commerce and other variables can also be accessed.
The Marketing software that you use
Marketing Software like HubSpot allows for centralized metric tracking of your entire business including marketing and CRM.
You can easily get information regarding ROI. There are also provisions for unique tracking codes that can be created to track specific marketing channels you are using like Instagram.
In a nutshell, each social media channel that allows business advertising through content campaigns has a similar process of ad outreach and creation. Instagram provides some unique features like completely organic ads and advanced delivery options.
With a large user base, companies and brands that leverage graphic based marketing and reach new customers with unique, high quality and problem-solving campaigns are bound to gradually come on top!