Extra theme from ElegantThemes is one of the most powerful magazine style WordPress themes.
So, if you are looking for a quality design for your site, Extra is undoubtedly a great theme for you. We have used in the theme in the past for one of our main projects, and it really works.
In this article, we will have a look at the Extra theme in detail and understand why it is considered as one of the most flexible WordPress themes.
Extra is one of the most advanced magazine style WordPress themes with Visual Page builder.
After the release of the popular Divi Theme, ElegantThemes took a new turn with their product designs.
They released some really modern and next level products one after another such as the Bloom plugin, Monarch Plugin and the Extra theme.
The Extra theme is a nice combination of rich content design and product reviews.
So, if you are planning to create a site where you wish to review affiliate products and showcase them in the most elegant way, Extra is a great theme option for you.
In this article, we will have a look at the Extra theme in detail and what is has to offer.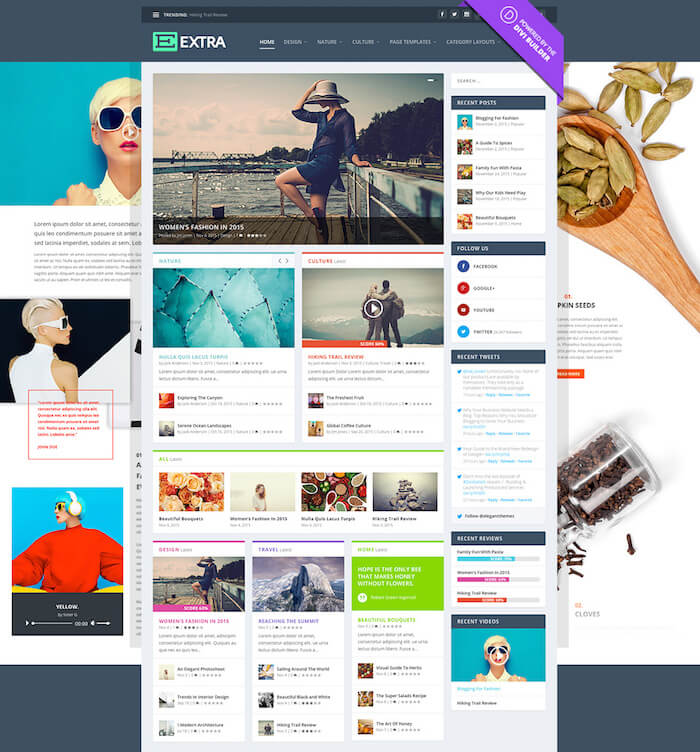 Introduction to Extra Theme
Extra is one of the most popular WordPress themes in the market that you can use for content rich magazine sites or even a simple blog.
The theme is loaded with all the important modern features so that you don't have to depend on tons of additional plugins to make a complete site.
The core power of the theme lies on the Divi Builder which is the backbone of the theme. It is one of the most flexible website builders for WordPress, you can use it to create any kind of design without writing a single line of code.
In fact, Divi is a front-end builder. A user can hover on any section of the page and start editing right away.
We will have a look at the website builder in details in a moment.
Here are some key highlights of Extra
Let's have a look at the important features in detail.
Fully Responsive Design
If your site is still not responsive, you can't even expect your blog posts to do well in the search results.
In fact, a site with great looking and loading speed on mobile devices gets advantage over other sites. Google has already made it clear that every site has to work well in the small screen devices in order to rank better.
The Extra theme is fully responsive and optimized perfectly for the small screen devices.
Divi Builder
As already mentioned, the Extra theme comes with the Divi Builder which is a powerful drag and drop website builder.
The website builder brings along a number of modules that you can use to create your pages.
Here are the modules ready to use on your site.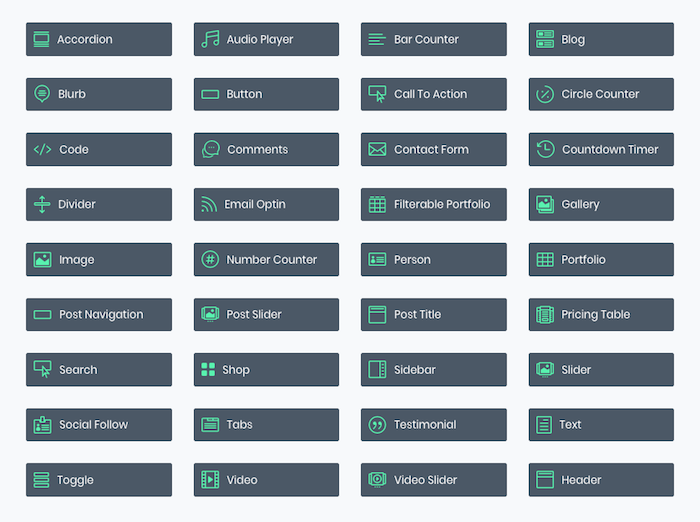 You can simply add any of these modules and start editing it as per your need.
So, you are never restricted to the demo design options. You can create your completely custom design and amaze your users with great looking and flexibility of your site.
Divi Builder offers you high level of flexibility in terms of design. You have control over every element you add on your page and you can make sure that every inch of your site is perfectly set.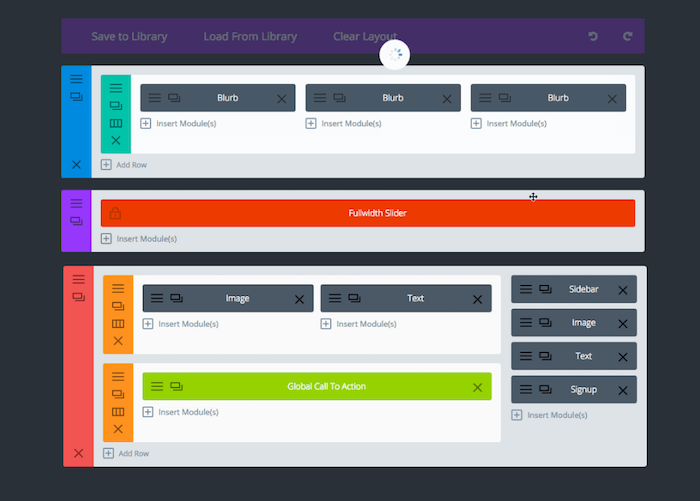 Here are some examples of beautiful designs created with Divi Builder.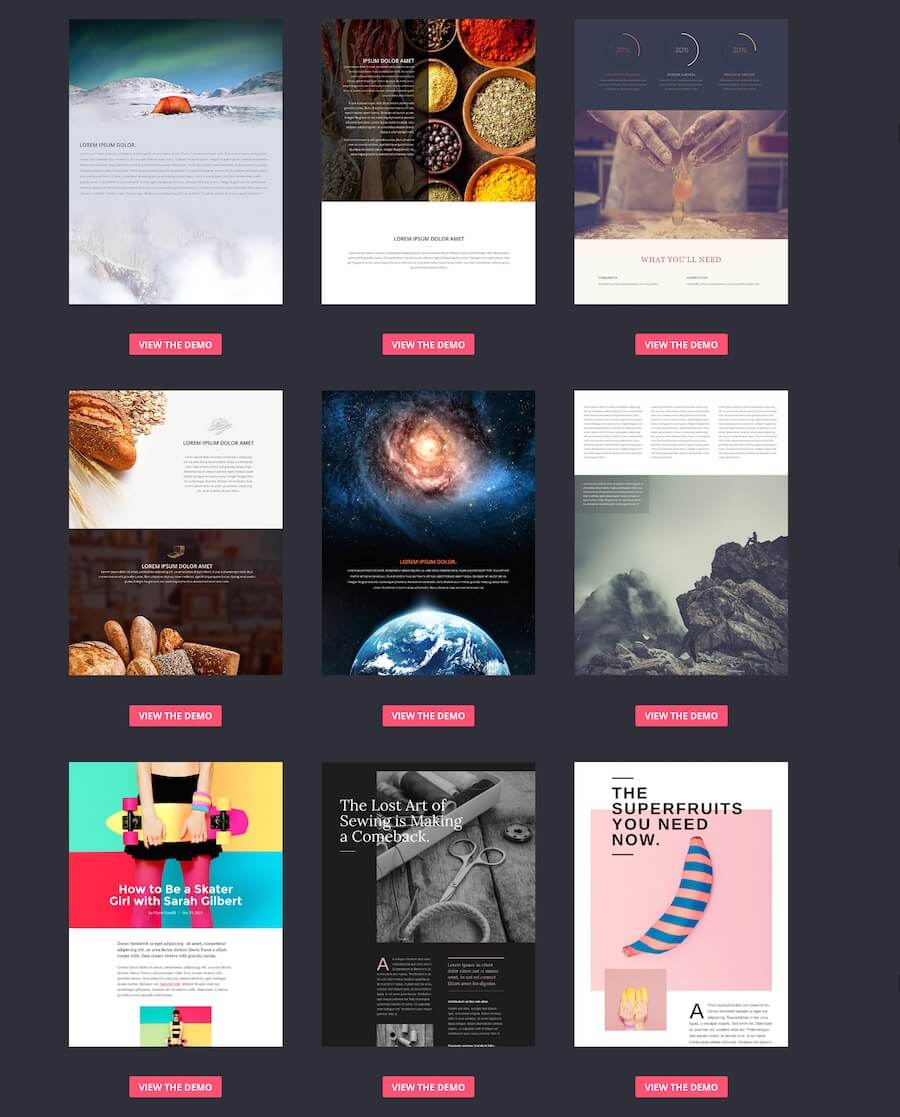 The Post Designer
Generally, the websites builder are good for the pages. But when it comes to the posts, it is restricted most of th times.
However, with Divi Builder you can create great looking posts for your site without any other external tool.
Now, think of a situation that you are planning to launch a new product in a few days and you are writing a post to let your users know about it.
A highly customized post design with countdown timer, email newsletter subscription option, beautiful images will make more sense then a simple text post.
So, with the website builder you will be able to create great looking rich design for your posts easily.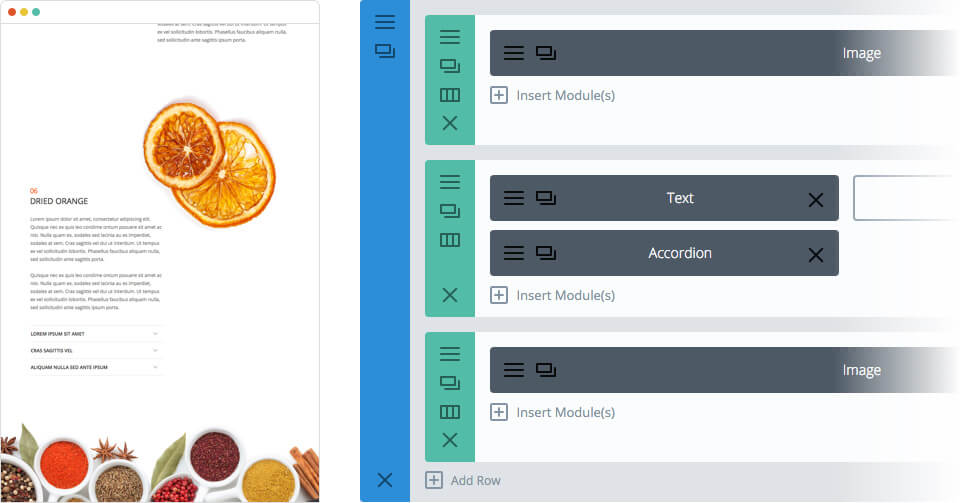 Category Builder
The Extra theme offers you the option to customize the look and feel of your category pages and optimize it perfectly by using the Divi Builder.
You can simply drag and drop any module in the category builder and fine-tune it according to your need to make sure that each of your category pages are nicely optimized and it looks great.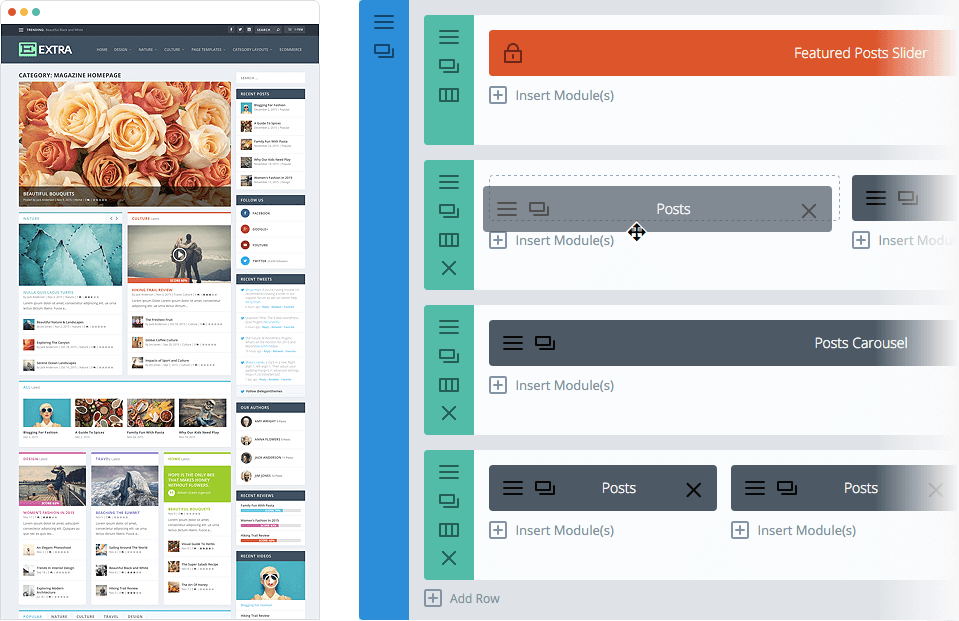 Header Builder
The header section of a site is every important because this is the first visible section of your site. Hence, it has to be good.
Extra theme comes with custom header design that you can set up according to your need.
The Extra theme already offers you multiple header design options. You can play around with the logo and the menu placement to make sure that your header section looks perfect.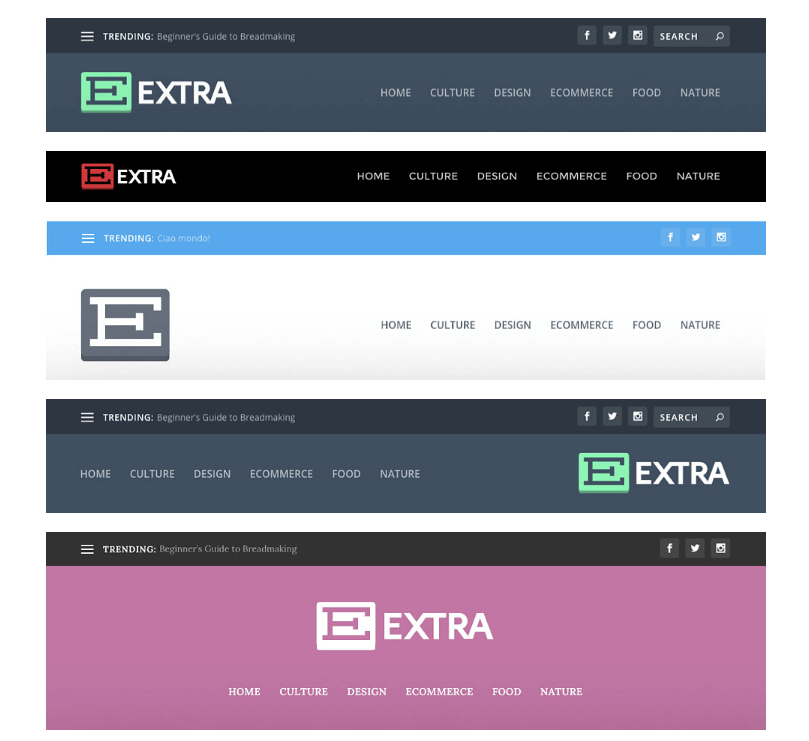 Demo Design Options
I have already mentioned that the Extra theme is powered by the Divi Builder. So, you will never be restricted to a specific design because you can easily create your own design without any issue.
However, you get a few ready to use demo design options to choose from. You can consider these designs as your base and build on it to create the perfect design for your site.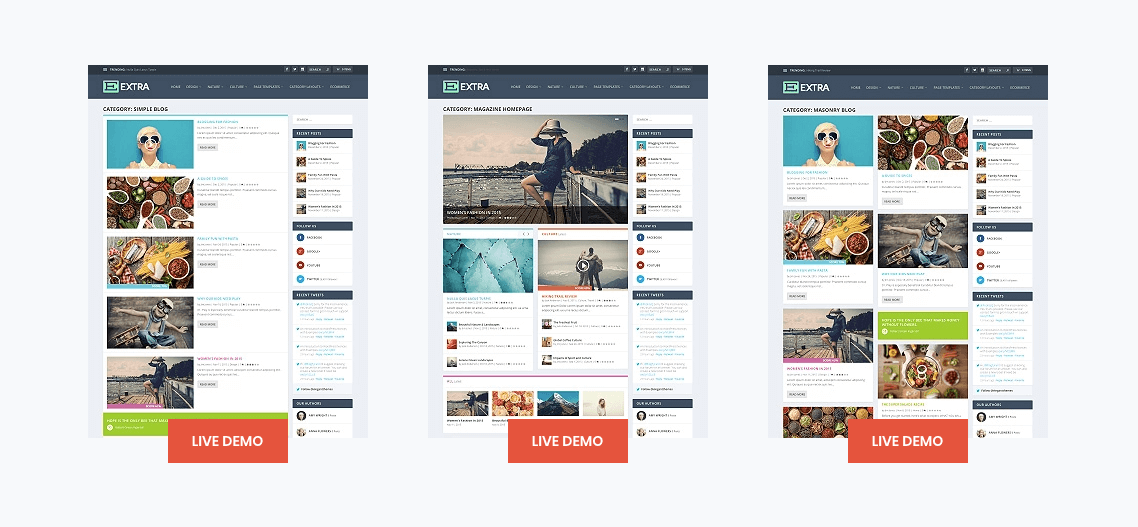 Create Your Online Store
The Extra theme is ready to work with the WooCommerce plugin. And you also have a ready design for your store.
So, creating an eCommerce site is extremely easy with the Extra theme.
You can make use of different Divi Builder modules to enhance the look and feel of your store and make the experience pleasant for your visitors.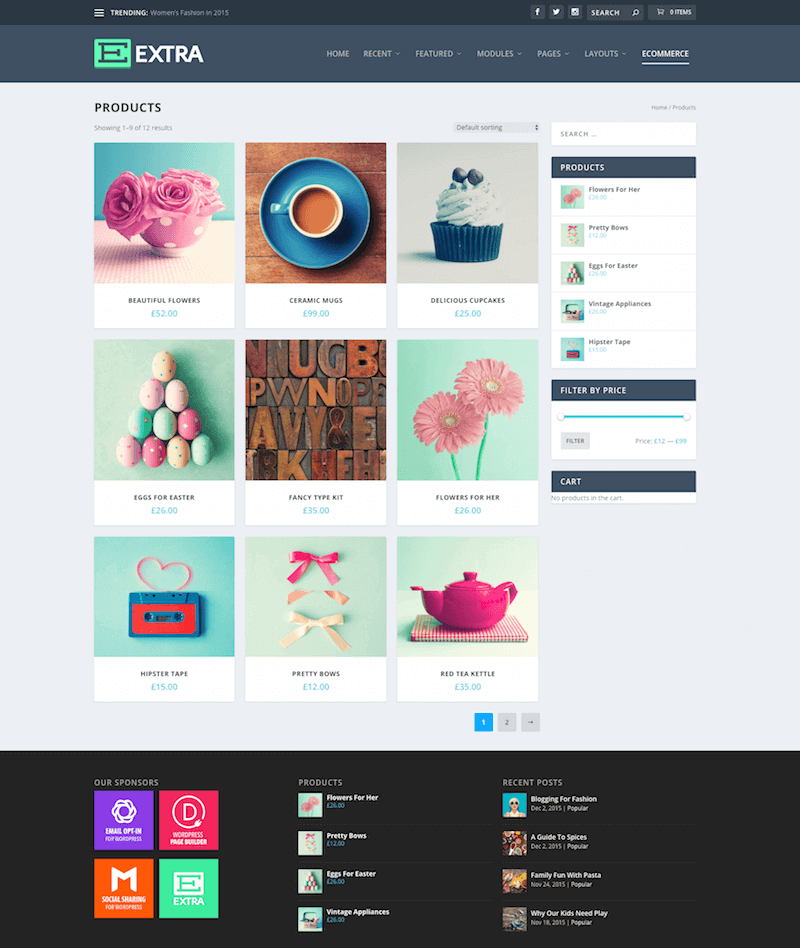 Beautiful Portfolio Design
What if you need to showcase your work on your site? Well, with Extra theme the process is very simple.
You can easily create your own portfolio site using the Extra theme. In fact, you have a ready design for your portfolio site as well.
Also, there are a number of different modules that are very helpful in creating a great looking portfolio site.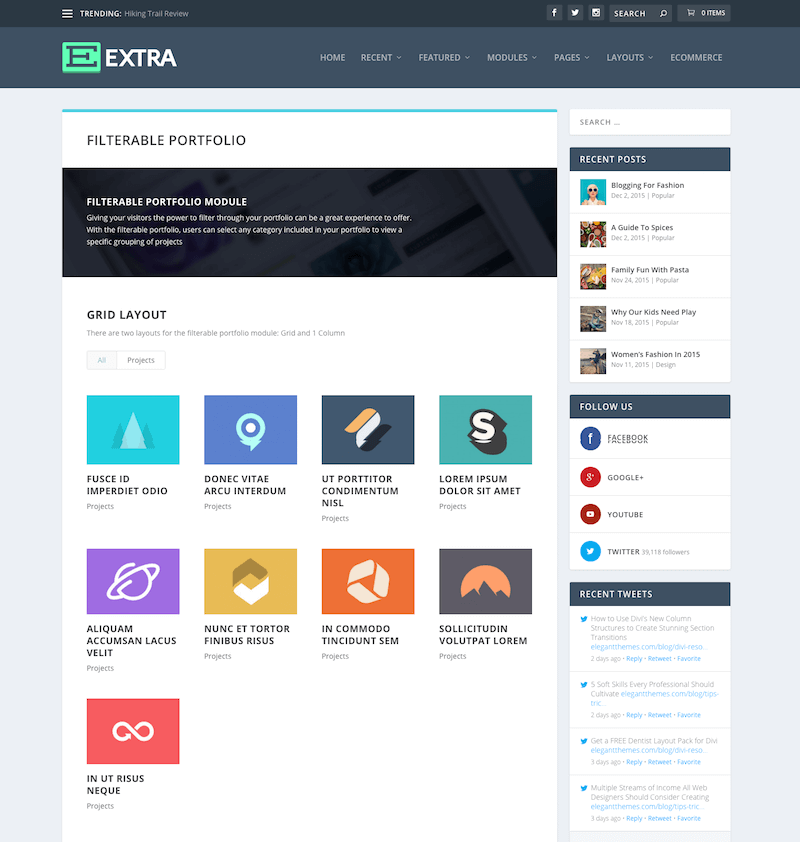 Live Customizer
Other than the website builder, you have plenty of options in the WordPress theme customizer to make sure that you are able to customize your site quickly and easily.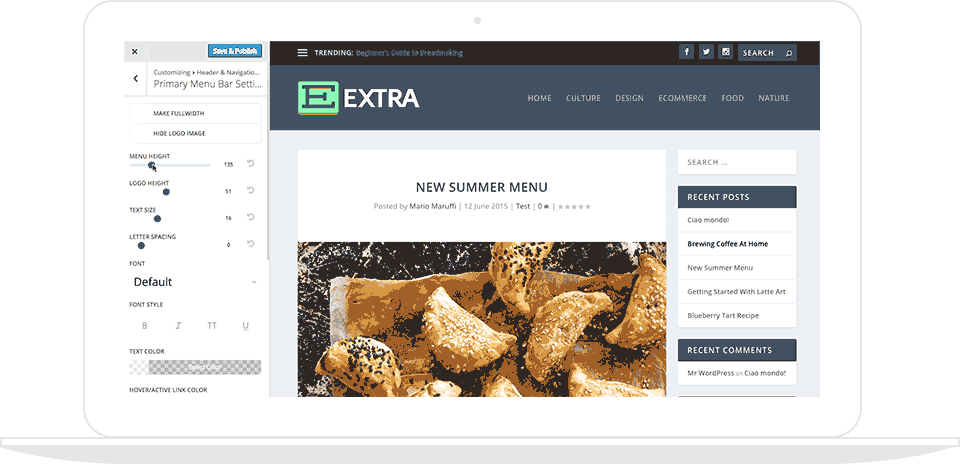 Create A Drak Design
The dark designs are very popular in certain niches like entertainment. So, in case you wish to make your site drak, you have reay option for that.
Here is how the dark version looks like. Though you can customize the design and create your own unique layout for your site.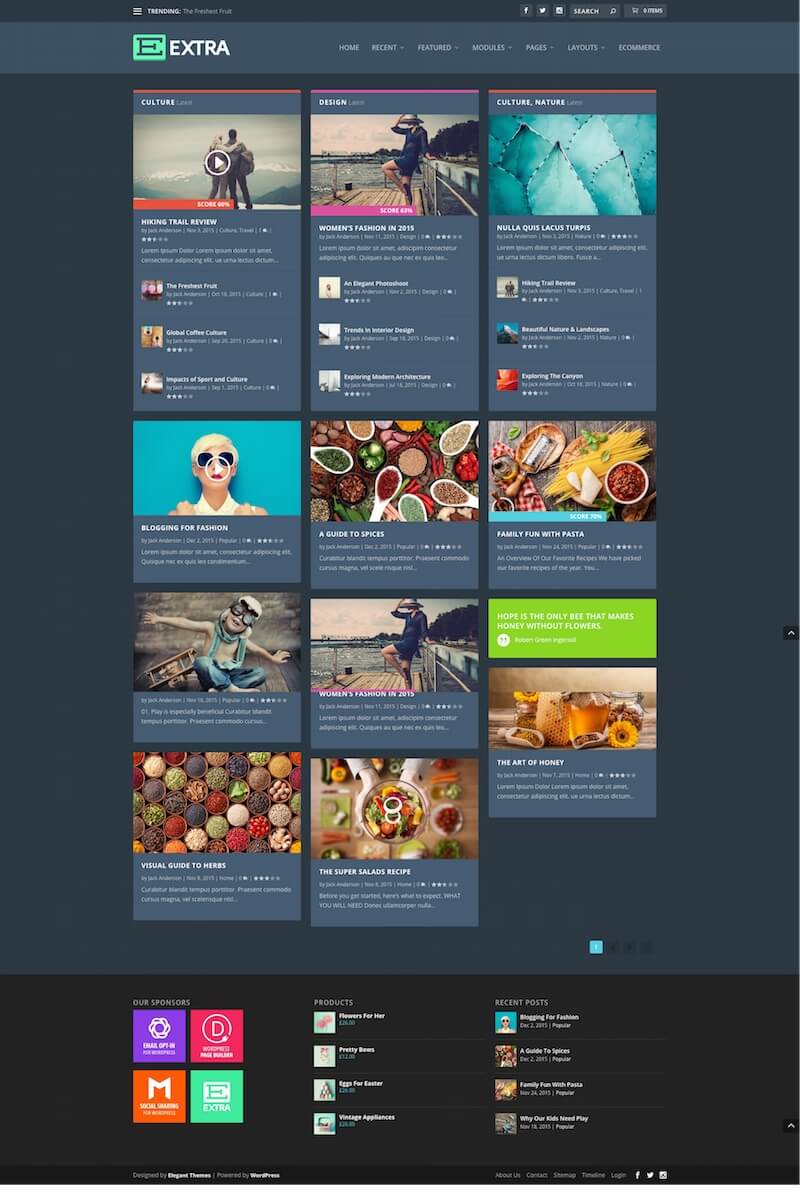 Create Product Review Post
Extra theme comes with ready to use review option so that you are able to create a product review site easily.
A good review site can make good amount of revenue every month. There are example of sites making millions with the review niche.
The best part is that you don't have to own a product in order to create a review site. You can simply join different product companies as an affiliate and start promoting those products.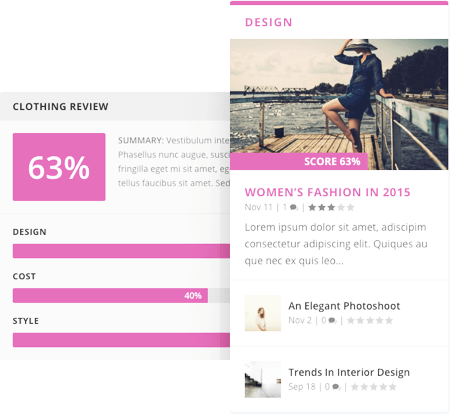 Custom Widgets
The Extra theme comes with multiple custom widgets that you can use throughout the site.
You can use the content widgets in the body section of your site, homepage to showcase your content in multiple different designs.
You can also place the widgets in the sidebar of your site you create an overall engaging site.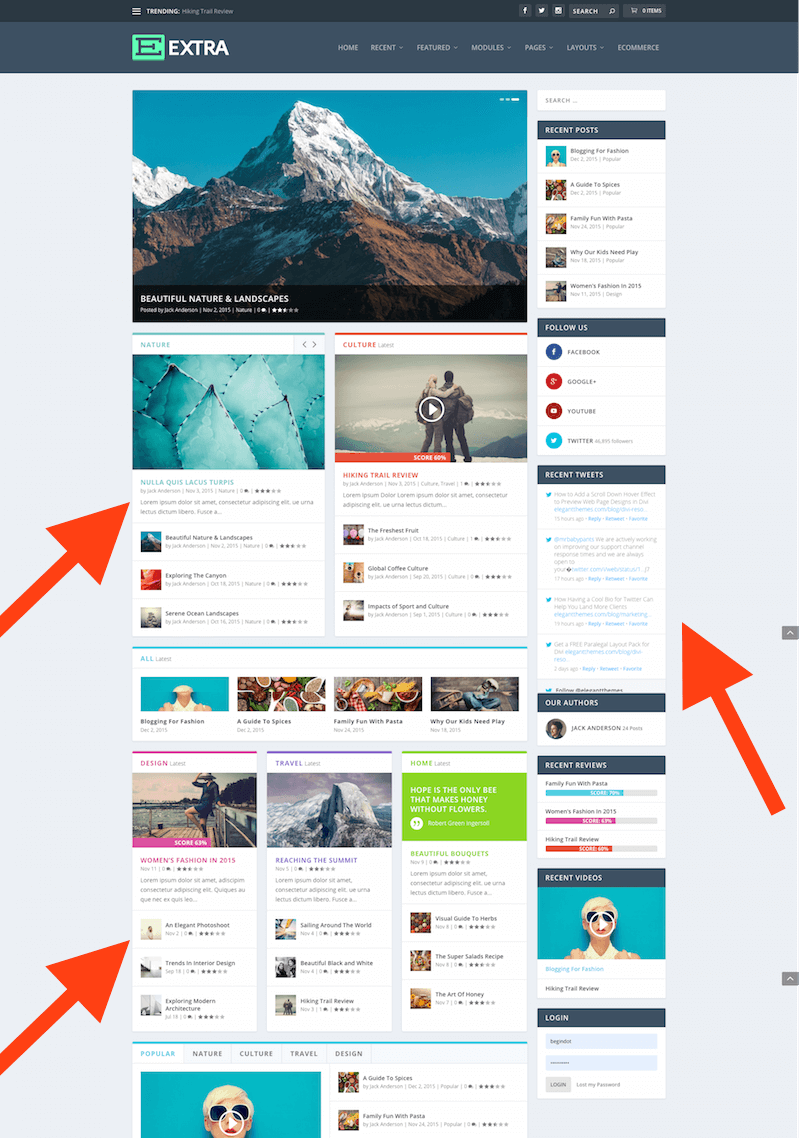 Custom Footer Design
The footer is another very important section of any site. You can use this section to your advantage.
The Extra theme gives you the option to create a custom footer section for your site where you can place ad banners and your important posts to drive more traffic to those pages.

Extra Theme Pricing
ElegantThemes comes with membership model. You have two options to choose from, one is yearly access and the other is lifetime access.
No matter which plan you choose, you get access to all teh products of ElegantThemes such as the Extra Theme, Divi Theme, Monarch plugin, Divi Builder, Bloom plugin and all other products.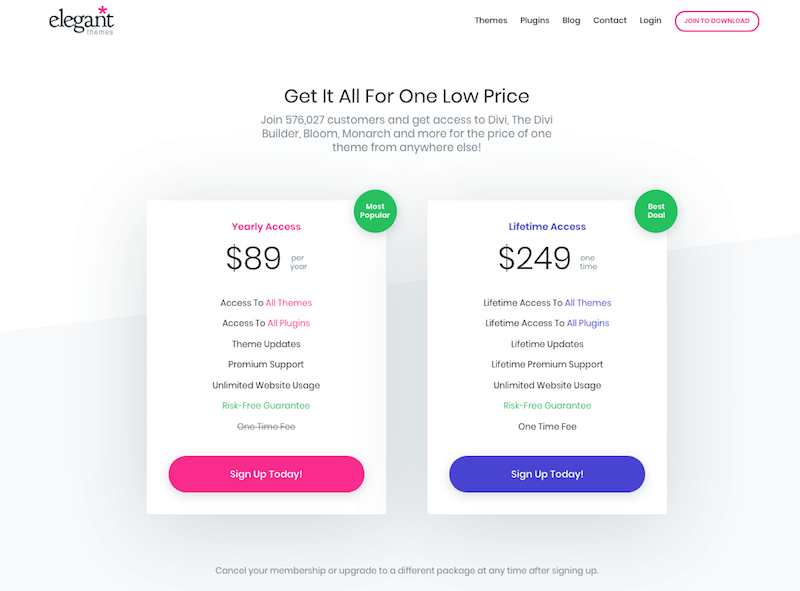 ElegantThemes Discount
Here is the good news for you. With our link you will get 20% discount on the yearly package and 10% discount on the lifetime package.
This is the best discount you can get in the market. You don't need any coupon code, just click the link below and get the offer.
Yearly Deal

Lifetime Deal
final Word
Extra is undoubtedly one of the best WordPress themes in the market. You can create custom design with the theme and use it for any purpose.
I would highly recommend this theme for the content and product review sites because you get the latest features and options along with great support from the ElegantThemes team.
Extra Theme Review

A Product by ElegantThemes