Email marketing is critical to the success of a business whether small, big or a startup, as 77% people prefers this mode of communication inclusive of marketing emails, according to a survey.
Therefore, it becomes utterly essential to optimize your marketing campaigns well, to utilize untapped leads, generate an enormous traffic, increase click-through rate, and promote sales for better revenues. This very fact has caused a massive growth in the emails being sent to the people who opted for it.
However, to create an email marketing campaign that actually works, you will have to think from the perspective of a customer. For that, answer my few queries here.
Also Read:Best Email Marketing WordPress Plugins
Do you treat every email you find in your inbox equally?
Don't you unsubscribe from some of them?
Don't you report spam on those emails that you get even after opting out of them, or maybe those which are irrelevant to you?
Why do you read only some of them or click on the Call-To-Action button and sometimes even recommend it to your friends & relatives?
What makes these selected emails unique?
The answer to why only fewer get your dedicated attention depends solely on these factors:
Brand Value
Consistency
Relevancy
Compelling subject & preview text
Short and punchy message
Graphical representation
If you manage to get these elements included, your email marketing will be deemed effective & efficient.
Here is a detailed guide on how to design an effective email marketing campaign.
Follow me through, and you will learn the best tried and tested tips, tweaks, and tricks that successful business models use to stand out from the rest-
Choose the Best Email Marketing Service Provider
The email marketing service providers follow a freemium system wherein you get a certain number of email quota to send free of cost, and can upgrade later on as you feel the need for more.
Small businesses can choose one of the following services that fit them the best:
MailChimp
Aweber
Constant Contact
GetResponse
Active Campaign
Campaign Monitor
Convertkit
Start with Making Your Mailing List
This is the prominent step that is crucial to the success of an email marketing. It involves making a list by gathering the email ids of potential leads, customers, readers, or anyone who might be interested in your business.
For this, you have to specifically give them the reason as to why they should give their email ids to you.
Tips
If you have a popup opt-in box, set it to trigger after few seconds or when the user reaches the bottom or past 75% of your website.
Install an opt-in widget in the sidebar or footer.
Include a registration link somewhere it cannot be overlooked, preferably in the sub-header. With this, you can get additional details like purchase history, favorites, age, gender, country, which will help you in targeted email campaigns.
Incorporate a sharing option to employ word-of-the-mouth advertising mechanism.
Ask for emails when the user requests for catalogs, additional info, or quotation.
Additionally, email can be taken at POS (point of sale).
Design Your Email in An Inverted Pyramid Fashion
Scientific research shows that on an average it takes only 8 seconds for an adult to decide the fate of an email– Trash bin or read through. This also doesn't mean that you start bombarding them with heavy words and dense information.
The people can scan above the fold content (first visible content on the screen when an email is opened) and if it appeals them with its bright colors, succinct heading, and relevant content, they finally scroll down or reach out to the embedded CTA button.
Utilizing the inverted pyramid model, you can grab the viewer's attention in one go.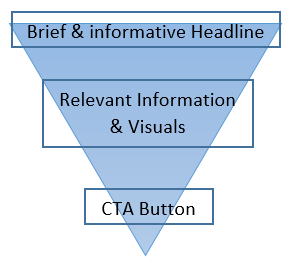 This is an excellent way for Marketing offers and Campaigns (to present only one key information).
Moreover, it can also be used for Newsletters (which convey multiple types of content and reporting) by breaking them into readily absorbable sections followed by their respective CTA buttons (Read more/Listen Now/Get Now).
Send Only the Relevant Content
Now since you are done with designing an email, next thing to focus on is relevancy. But, why would you even bother about it in the first place?
Let me give you an example to explain how it impacts your business success.
Suppose, you are a clothing business and have a list of 100 people (76 females and 24 males) to send your email marketing campaign. What are you going to do now?
Will you send the same product-promotion that either entirely features only males' products or females' products? If yes, then there is already a place for your emails in their trash bins.
You need to segment the list and feed your subscribers with the targeted content on the basis of the info you have. Male products to the male subscribers, and female products to the female subscribers.
Additionally, if some of your subscribers have already shopped with you, you can send them new products and offers. This develops a sense that their brand cares for them and recommends the best thing to them.
Research shows that using this strategy; you can witness a 706% surge in your revenues. Exciting right?
Checklist to creating a productive email:
The Pre-Header
The Logo
Quick Contact (Phone Number)
Catchy Header
CTA Button
Text/Image Ratio
Personalization
Mobile Optimized
Full Contact info
Opt-out/Unsubscribe Link
Preview your campaign
Additional factors to look out for-
Uniformity & Regularity in your emails:
You are an online business which deals with customers and subscribers all over the world. They do not know you personally nor do you know them. How are they going to identify and trust you then?
Uniformity is the answer. A business or startup cannot generate a credibility for itself among its users and subscribers until or unless it approaches consistency. It means you need to create emails that are in line with your brand regarding colors, fonts, background texture, brand icons and other user touchpoints.
Bharti Airtel, for example, uses red and white color prominently. Any mail in the corresponding color and font immediately lets you know that it is from Airtel, without even having to look up to the sender bar.
Regularity in your emails is also of paramount importance that ensures the subscribers to stay loyal and connected to you.
To give an instance, being a content website, you cannot afford to miss out on sending emails timely & regularly. You should, however, also respect the preferences and therefore email accordingly.
Responsive build-
54% E-mails are opened on a mobile or tablet device– Litmus, "State of Email" (Mar 2017)
The study shows that more than half of the emails are accessed on a mobile device in contrast to the 16% desktop email opens. It is, therefore, significant to use a responsive template that adapts according to the device. It should not shrink down to a barely visible font which could hinder the possibility to use CTA button easily.
Analyze Analytics for An Ultimate Insight–
Every email marketing service out there provides you with complimentary analytics and statistics. You can use it to your benefit by paying greater attention to CTR (Click-Through-Rate), open rate and unsubscribing rate. Once you have this data, you can tweak the email campaign accordingly.
Poor CTR– there could be multiple reasons behind-
Unbalanced text to image ratio- the majority of people set the inbox not to download images automatically. If you have more information in the image than it is in the text, you may be starving them of your content.
Untargeted email- As I said earlier, if it is not relevant to the user, it is not going to increase the CTR either.
Decreased open rate– there is a higher probability that you are not providing your subscribers with quality content. Untargeted sending may also be the cause.
High unsubscribing rate– You may be bombarding your subscribers with emails in the excess.
The person never subscribed to your emails in the first place. You may have added the email list manually by acquiring it from somewhere else.
The subscriber has already made a purchase, and you failed to customize the emails accordingly.
There may be many other factors responsible and need a smart scrutiny. You should start making a targeted email list that can be classified into Newsletters, Product updates, Daily/weekly/bi-weekly/monthly email list, etc.
Additional tips-
Set up the transactional emails that are automated emails sent to the user after they take any action on your website (buying, donating, )
Write short and compelling subject lines. Such as- we forgot something to give you, can you believe this, this is what we were searching for.
Automate the emails to trigger by the milestones of birthday, anniversary, and other events. Moreover, encourage them to spread the word and reward them with points or rank.
Be dedicated to your subscribers by sending personalized emails and helping them with other You can also send 'Recommended for you' content/products.
Make use of Animated GIFs in your marketing emails.
Short, sweet, and emotional e-mail involving emoticon to request them to come back.
Send surveys to crowdsource for the new content on your blog.
Send delicious recipes (if you are a food business) with their menus, how to, and tips.
Simple and guilt-free message with a CTA button in automated emails when someone unsubscribes. You can also set automation for those who do not open your emails.
Use these tips to create your email marketing campaign. It's all about understanding what the consumer wants and delivering it strategically.