The marketing world is constantly changing. Brands are coming up with new marketing strategies and ways to generate conversions. It has to be so! Companies that do not use the newest strategies will never have a competitive edge.
It is interesting how technology influences the way we interact with customers and generate leads. We used to cold call but its success rate has fallen to 2%. People do not accept calls due to fraud and the popularity of text messaging and salespeople hate it as much as customers do.
So what can a business do to connect with customers directly? The answer is conversational marketing. You can use such technology as AI, thus not spend time and effort on the sales team, and help your future clients on their customer journey at the same time.
Find out more about conversational marketing, a new way of effortless lead generation, why you should start implementing it now, and its framework.
We will also take a look at the best practices of big companies to get you inspired and give you ideas that you can implement partially in your business!
What Exactly Is Conversational Marketing?
Conversational marketing is a new way of generating leads and conversions by connecting with customers through conversations. As we have mentioned, human interactions are happening not through calls but through messaging. Therefore, you will find your potential leads in a box of live messaging. 
However, it is not only about human-to-human messaging: conversational marketing has more to offer. It teaches profitable online business to listen to existing customers and to identify the needs of potential ones.
Technology, such as chatbots, is used widely in conversational marketing. You have probably seen this plenty of times. You get on the site and there is Mark, Jack, or Elene (insert any name) who suggests their help in the bottom corner of a page.
It can be a chatbot that navigates you through the site, answers questions about the product create appointments, or takes your orders even. They can be not on the site only but in popular messengers such as Facebook, Slack, or WhatsApp as well.
The main point is that conversational marketing makes a customer journey easier and the experience of every customer more personal, enables real-time conversations online and lets your sales team have a breather if you decide to use a chatbot.
Customers do not need to go out of their way to connect with people in your company: no lead forms and leaving your number to get a call soon. They just need to click on a chatbox and start a conversation straight away.
It is very much appreciated by customers because they do not want to wait or get a call when they are busy. And also it shows the quality of your marketing activities: outsourced one or in-house.
You can use general free chatbots. However, they rarely allow any settings and the use of artificial intelligence. More serious chatbots allow you to set more individual settings so that the visitor to the site interacts with the chatbot as much as possible.
So if you decide to implement conversational marketing, either choose a professional chatbot or save money by interacting with customers on your own.
A live person can still enter the chat if the chatbot does not know the answers though and provide an even more helpful and personal experience to a customer.
Why Do You Need a Conversational Marketing Strategy?
We have already tackled some benefits like real-time conversations and no need to make a great effort to connect with sales representatives. However, there is so much more! Let's explore the following benefits together:
Getting Insights into Customer Needs, Expectations, and Pain Points
Marketing teams spend lots of their time to figure out customer needs, expectations, and pain points. They do research about potential pain points or ask customers through surveys.
However, researching potential information about needs, expectations, and pain points might be very different from what we have in reality, and honestly, not as many customers are willing to invest their time in the survey.
It is much easier to get customer feedback while having a chat. It is more natural and customers are more likely to share deep insights than in surveys. Moreover, you can ask them more specific questions if you have an interesting response.
If you use a chatbot, it will store information about the frequently asked questions so that you get to know what problems customers bump into most of the time and how to fix the site so that the question does not arise in the future.
Improving Customer Service
The customer service team is not available all the time. They do have to sleep sometimes as they keep track of hours worked. However, customers may shop at any time of the day or night.
You know, sometimes you just end up buying a new pair of gloves in the middle of the night. So customers expect customer service to still give them quick responses, no matter what time is that. Email response time is a very important aspect of quality customer service.
Chatbots make it possible for customers to have a conversation whenever they want and wherever they want. Moreover, they will get instant feedback too – they do not have to wait for a message being typed or the right answer being found in a big spreadsheet to be then copied and pasted. A chatbot gives a reply within less than a second!
Creating More "Human" Connections with Leads
Online shopping is great because you do not have to walk down the isles and isles to find what you need. You do not even have to get dressed and leave the house. However, there is one thing missing – human interactions. There is no one to ask for advice or help.
It is not a problem with conversational marketing. A customer can ask questions or recommendations and get an instant reply! So every benefit of online shopping is preserved but one will still get the benefits of real-life experience as well. Customers will appreciate it for sure.
Converting More High-Quality Leads
Customers are more likely to buy from you if you make their customer journey easier by providing quick answers and helpful advice right from the start.
Millennials especially will appreciate that you give them an opportunity to go without a phone call, as 69% prefer messengers and social media.
Overall, conversations provide a more personal experience since specific customer questions are being answered (unlikely the FAQ sections), and personalized experience boosts conversion rates drastically.
Growing Sales Pipeline
So far we have an instant connection with a customer, easier customer journey, advice and recommendation 24 pro 7 and 365 days a year. Will it make customers more eager to buy goods or book appointments? Of course!
However, there is more to that. With chatbots available in several languages, you will be able to expand your business to other countries with less effort and connect with people through a personalized experience. With many new prospects, sales promise to go up pretty quickly.
The Conversational Marketing Framework
If you want to get all the benefits of conversational marketing, you have to know the steps it involves. While it is a full guide on conversational marketing, we will get to discuss these steps as well.
Engage
No further steps are needed if you can not pass this one. Before anything else, you have to make the customer notice the chat box and want to click on it.
To achieve that, you have to seem approachable and friendly. Do not hide the option of conversation – do not make it occupy half of the page or pop up every ten seconds. However, having one pop up and then putting it in the bottom corner is enough.
Attach a friendly message to it and describe briefly how exactly the bot or a live person can help a customer. You can add a name there to make the interaction more human.
Understand
So what does your customer want exactly? What do they struggle with?
Chatbots are smart enough to understand the problem really quickly. However, you will have to put in some effort before it can do so. Insert the most common problems in there first and update the list as your business grows or new pains are being discovered.
If you decide to involve people only in conversational marketing, do not be afraid to ask detailed questions to provide the best solution. However, keep it between 2 to 5 questions because a customer will get irritated if there is too much to be answered.
Recommend
After the chatbot has fully understood the issue, it will provide automated solutions that work most of the time. It happens lightning-quickly. However, if the solution did not work, you better include the option to get a real human on the line.
It happens not as often that chatbots can not resolve the issue but there is a chance still. So do not fire the whole customer support team as soon as you have your bot. You still need people to resolve more complex issues.
Elements of Conversational Marketing Strategy
Conversational marketing has only three steps but these three steps involve a number of elements. Let's take a look at them:
Conversation Starter
It is that magical unicorn that will make a customer interested in starting the conversation. As we have described before, be friendly, add a name as a personal touch, and talk about the services a chat tool provides.
Chatbot
Basically, a chatbot is one of the main elements that will either get a person to the right department, navigate them through the site, or give automatic responses where they can.
They can ever complete the purchases if you invested resources in a really good one. Give a chatbot a name and put a logo on it, which will help the user to more easily engage in conversation.
The use of chatbots is a natural solution for companies that can work around the clock without interruption. Since chatbots can also be integrated with e-commerce sites, they can be placed on product pages.
Moreover, it can appear when a visitor places an order to offer additional product information or even additional discounts on purchases.
Live Messenger
It is where human-to-human interactions are happening. Yes, you can not just rely on chatbots to do all the work. More complex issues require the presence of a human being. However, make sure that your team is ready for complexity and have all the decisions at hand.
Live Streaming Videos
Yes, there are new things in a relatively new thing that conversational marketing is. You can put up a link to a broadcast where you explain how site/purchases/product works or you can play a demo video for your audience while on idle time when streaming.
Conversational Marketing Case Studies
Domino's Pizza
Domino's is an example of how conversational marketing can simplify a customer journey. They use chatbots for quick orders. Any client who wants to order pizza just needs to send emoji to the chatbot.
It is much faster than calling the manager to order a pizza. Chatbot has helped the company to improve customer service and reduce answer time to clients' questions. Ordering something was never easier and both clients and employees will enjoy the simplicity of the process.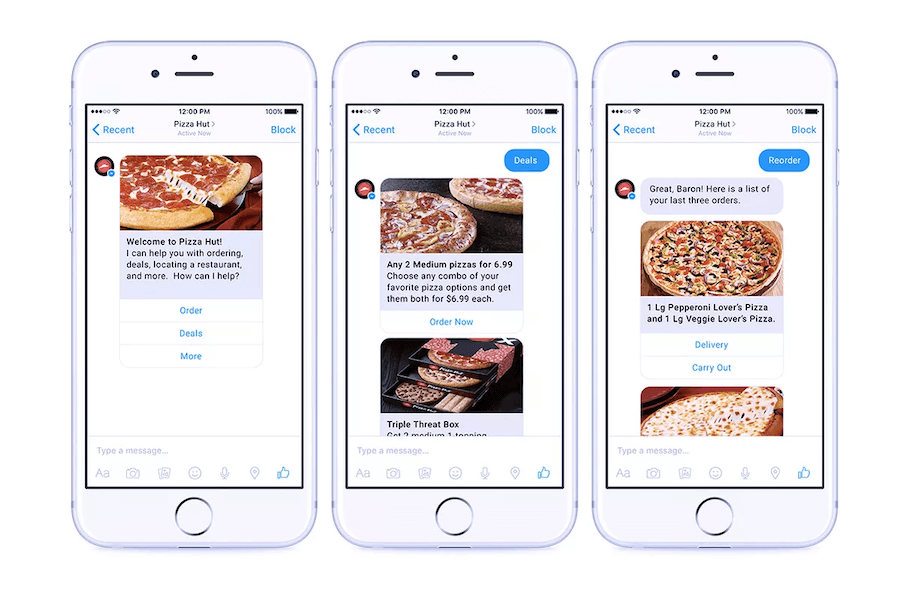 HubSpot
Since HubSpot tackles a lot of topics, it may be overwhelming to browse the site. HubSpot has a chatbot that helps visitors to find out answers to the questions that sparkle the interest of that specific reader.
It works 24/7, so any visitor from any country can find answers whenever. It helps to find every visitor what they want without a need to go through all the other sections. It makes browsing easier and boosts the quality of a reading experience.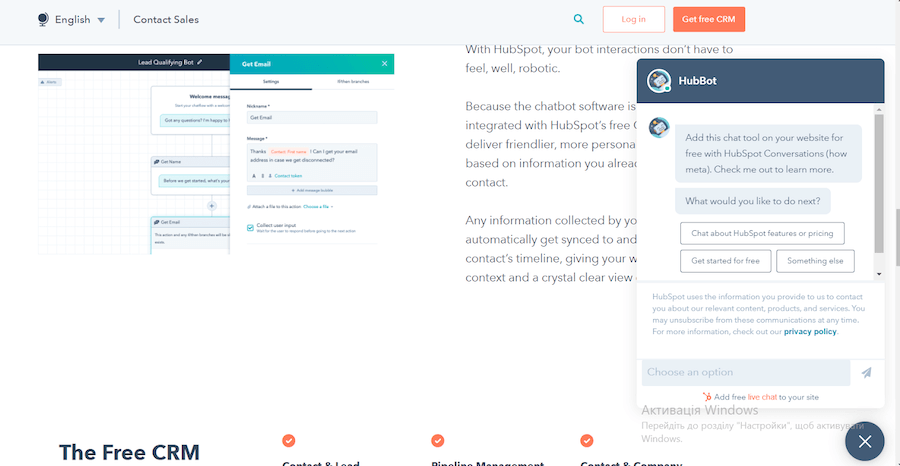 Sephora
Sephora is an example of how you can connect major messengers to your conversational marketing because it uses a specialized chatbot via Facebook Messenger.
It can book appointments with consultants. Moreover, it uses geolocation to find out the closest stores for the customer. There is no need to call the manager and to look up the closest store on Google, the chatbot does everything instead of clients. The less effort it is needed to buy a service or a product, the more likely you are to get the sale.
Casper
Casper can be seen as an example of using a customized bot that can help with loads of issues. It answers many different questions related to their company without a need to connect the real person. This chatbot reduces the time users have to wait for an answer and provides an opportunity for staff reduction.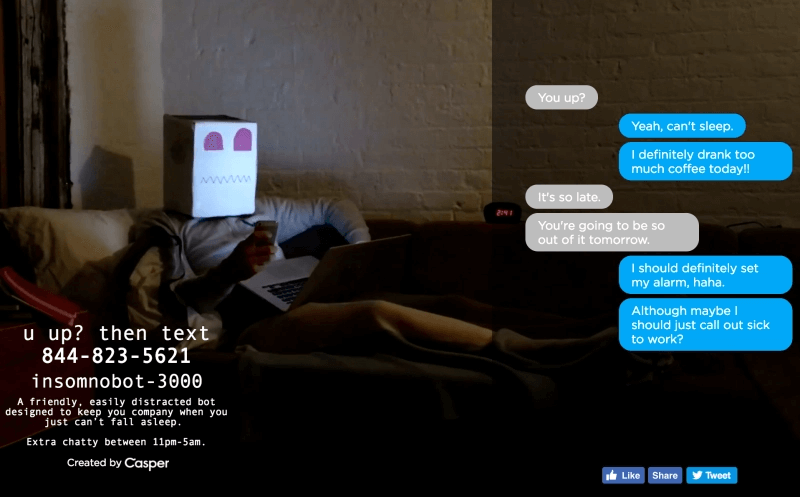 DataBox uses the Livestream option. They host live calls and the bot tells you the schedule. You can ask for a pre-recorded video in the chatbot as well and get an instant answer.
Moreover, DataBox has different calls and videos for HubSpot users and agencies, which makes the experience more personalized and helps leads to get deeper insights on how to use the platform for their own business.
Conclusion
Conversational marketing is a great strategy to keep human and personalized interactions with the customers while using technology and the opportunity to reduce response time and staff members.
It boosts the quality of customer service and leads, brings more sales, and helps you to develop by getting to know the real pains and expectations of customers.
There are three stages that involve different elements. Stages are engage, understand, and recommended. To complete them, you will need an engaging conversation starter, a good chatbot, live people to help cover more complex cases, and a live stream to showcase the business better.
Such big companies as Domino's, Sephora, and DataBox have successfully integrated the strategy and use its benefits to the fullers. What is keeping you from doing so?