Confused between Constant Contact and MailChimp? Just can't get to a single choice, worry not, because here we bring you Constant Contact vs MailChimp, a detailed comparison of the two leading email marketing services.
We all know what exposure and power email marketing have to offer to online marketers and promoters.
Did you know that over 90% of the internet users in the US use emails on a regular basis which is higher than any other activity on the internet?
Here is the data by eMarketer.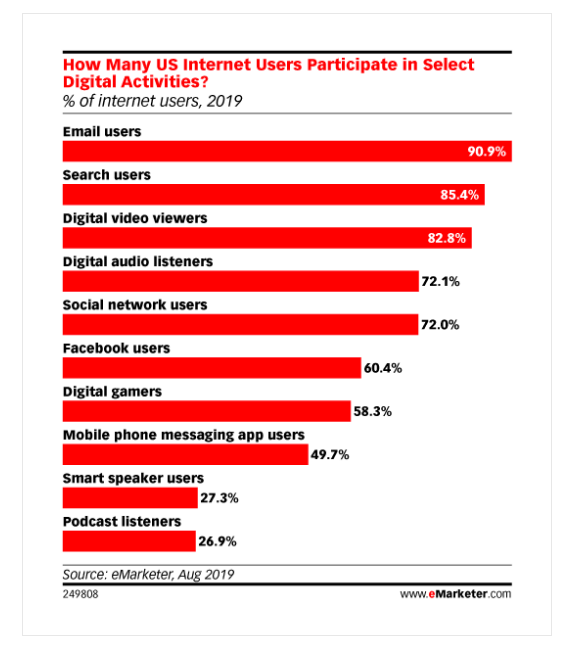 Out of the hundreds of email marketing services available on the internet, the two most popular and talked about email market services, MailChimp and Constant Contact, have made a huge name for themselves.
Statistically talking, Mailchimp has a whopping 60.57% of market share, followed by Constant Contact. That doesn't mean you've got to go with the flow and choose Mailchimp blindly. Too confusing, isn't it?
One of the main reasons why MailChimp is so popular is because of the free service they offer up to 2000 subscribers.
So, if you are confused about which one to select from the two popular choices, we have put together this comparison of Constant Contact vs MailChimp.
MailChimp Vs Constant Contact
---
Overviews
As we know both MailChimp and Constant Contact are the go-to services for email marketing, let's just take an overview of both to know a little bit more about them.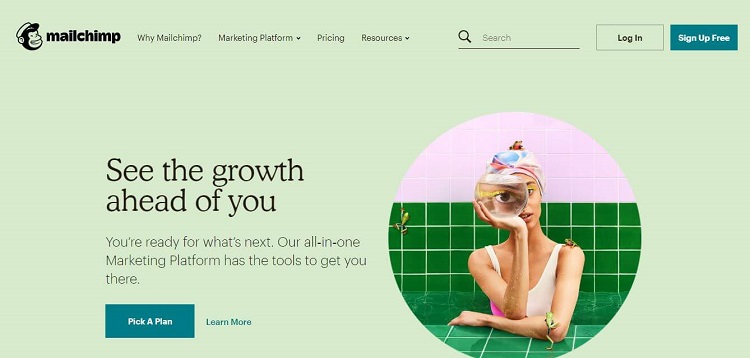 MailChimp is undoubtedly the largest email marketing platform available out there.
The list of features offered by MailChimp is quite overwhelming with the fact that it also offers free membership.
The modern layout, amazingly easy dashboard and beautiful email templates are the reason MailChimp has become a household name in the email marketing industry.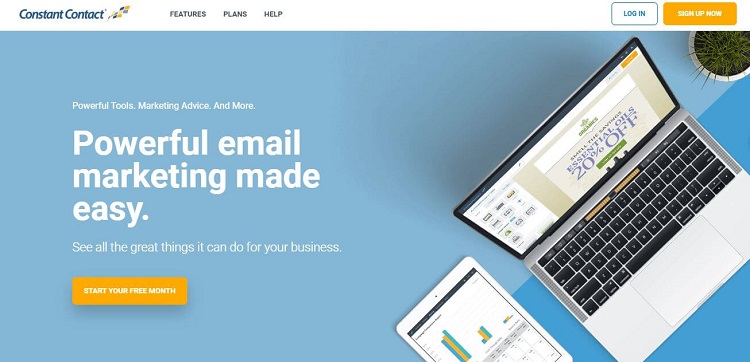 Now let's take a look at Constant Contact. One of the most popular email marketing service providers offering great service for more than 20 years.
The setup is frantic and the free trial offered doesn't even ask for your credit card details.
The template options and the simple, professional features are a few reasons why Constant Contact is a great choice.
Both the platforms are packed with a lot of amazing and professionally needed features.
However, the pricing, depth of functionality and deliverability rates are the categories in which things get different.
Features Compared
---
Deliverability
MailChimp has a unique technology called Omnivore, which helps users to ensure that their content is appropriately distributed everywhere.
Omnivore is a complete abuse-detecting technology, which ensures and predicts unethical practices in the email campaigns before they are distributed. The deliverability rate provided by Mailchimp is near about 96 to 99 percent.
Similar to MailChimp, Constant Contact also uses a spam checker tool to predict whether the email campaign will produce deliverability issues or not.
This helps Constant Contact deliver a 98 percent deliverability rate.
It's a tough call here if we look at the deliverability rate part because both the platforms produce a high deliverability rate and are equally liked in deliverability reputation and content.
A/B Testing
These days, most of the email marketing platforms are offering a service called A/B testing, which helps you determine if your email will resonate with the target audience or not.
This helps in improving the call to action, send time, images and overall content.
MailChimp provides three different types of testing plans in its free package. This service allows you to send emails to a small segment of people and determine which variations will work the best.
Constant Contact also offers you the option to test email newsletter titles to explore the effectiveness of your emails.
Design
Design becomes an important aspect of choosing an email marketing service today, and every service is working towards being unique and comprehensive.
Brands are investing heavily on the look and vibe of their email.
One key feature of Mailchimp here is that it has unlimited storage space for images. But MailChimp has no in-built gallery of stock images, like that in Constant Contact.
Constant Contact offers a lot more templates that those offered in MailChimp.
On the contrary, MailChimp offers more customization options. You get more options to play with your email's layout and image placement.
Overall the design part is quite balanced, but due to the fact that you get only 2GB of space to store images in Constant Contact and much more customization options in MailChimp, the world's leading email marketing platform takes the lead again.
Automation
One of the major reasons people go for email marketing services is that it offers automation techniques to quickly send emails to a large number of people.
All you have to do is to create an email template once, and then you can send emails in the same format to a number of different people in just a few clicks.
MailChimp has a number of amazing automation features, that enable users to send customized product recommendations and product catalogs. You can also create buttons, call to actions and other features that automate the redirection quite easily.
If you are managing a blog, you can set automated emails based on the RSS feed of your site so that your subscribers never miss any of your blog updates.
Constant Contact on the other hand known for the possibilities in terms of automation. Pro bloggers and marketers prefer Constant Contact because of the features it offers.
You have the option to create an automated series of emails that will go to your subscribers as per pre-defined settings.
So, you can pleasantly surprise your new subscribers with great offers and freebies that will be triggered automatically as they join in your email list.
You can send extremely personalized emails to your subscribers that are already segmented.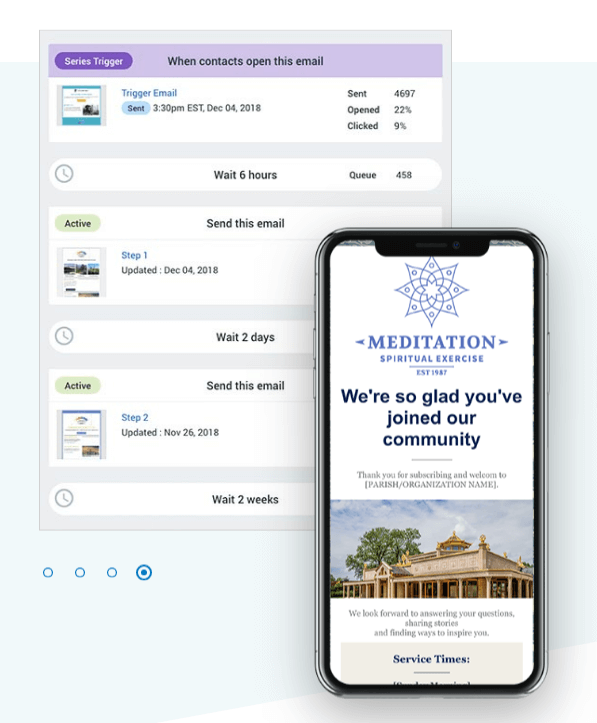 Pricing
The pricing is an area where both the platforms are not really generous to the customers. Both the services offer different pricing plans depending on the number of contacts you have and other features offered.
MailChimp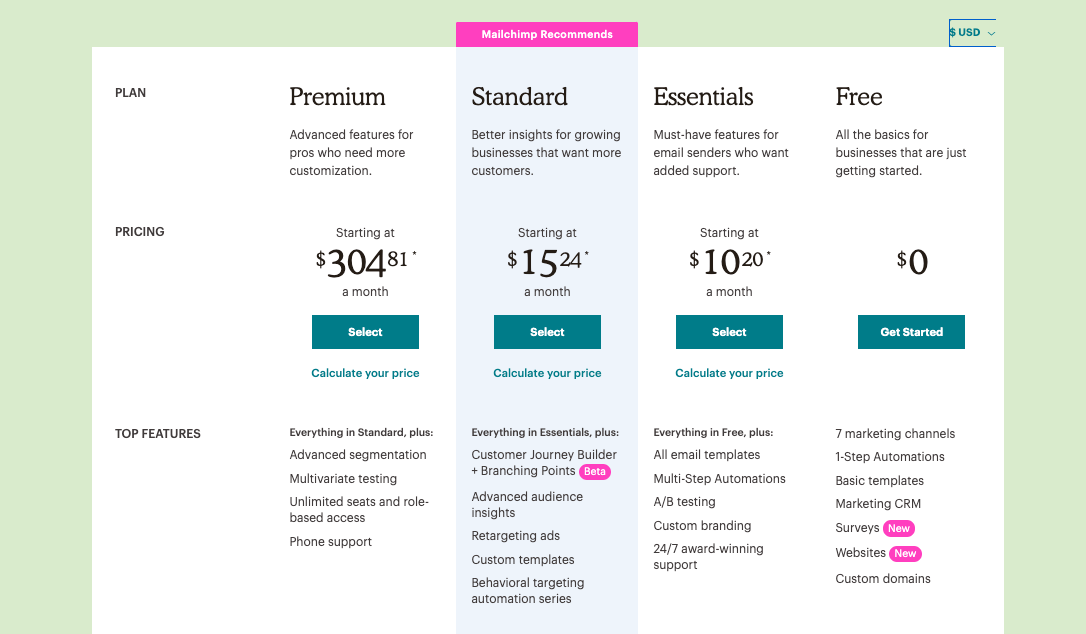 MailChimp offers a free plan that allows you to send emails to up to 2000 subscribers.
Following that, the 5000 subscribers plan costs around $50 a month, whereas the 10,000 subscribers plan costs around $75 a month.
You can also choose the 1000 emails plan for $30, 5000 emails plan for $100 and 10000 emails plan for $200.
Constant Contact
Constant Contact offers no free plans, but you can use the service as a trial for the first month.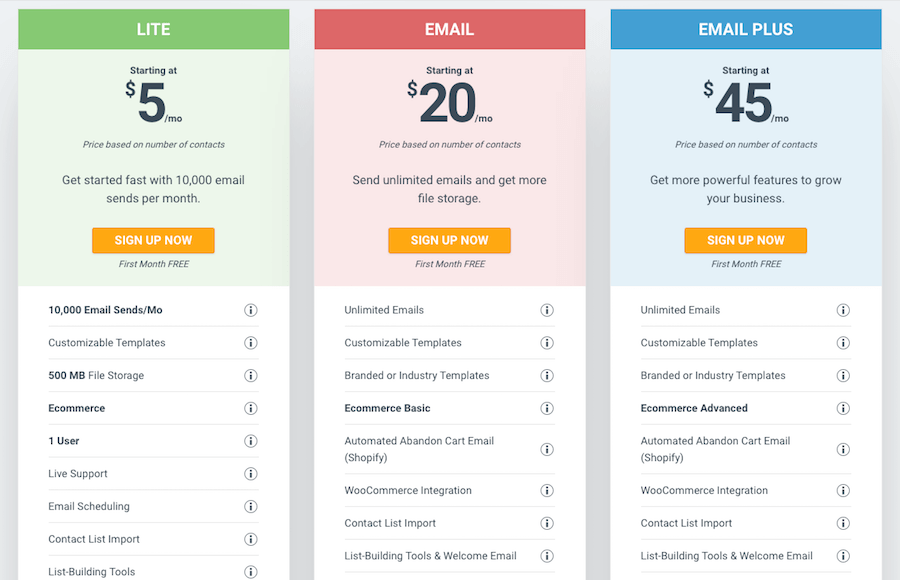 Reporting
Reporting is a must feature these days, not just in email marketing services, but in almost all the modern digital marketing services.
You need to know if the campaign you are running is worth the investment or not. You'll need to understand the insights it is providing.
For the betterment of your email campaign and your promotion, this is a must-have service.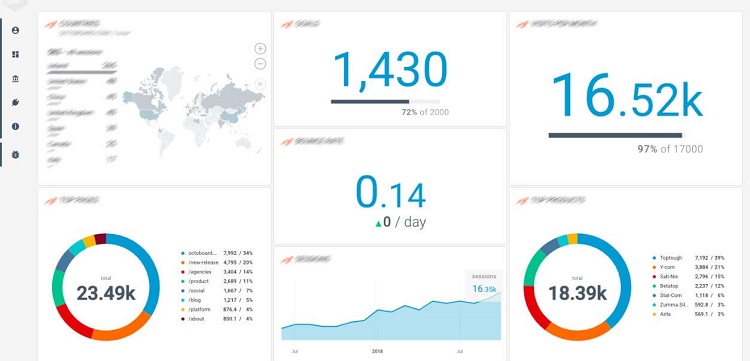 MailChimp offers detailed reports and insights on open rate, click-through rates, bounce rate and other matrices of the email's reach.
You are also provided graphs and interactive graphics to display the ups and downs of your campaign.
Also, MailChimp offers you features like geo-tracking service, social media reporting, and even newsletters' success, subject to the receiving platform.
Constant Contact also offers a number of reports based on the click-through rate, forwards, opens and so on.
You don't get any click maps, but you do get activity tabs, that logs exports and removals.
Although MailChimp has more advanced features of reporting, both the services are providing advanced reporting features, so this seems like a tie.
Integrations Compared
Integrations are basically used to add functionality and features to your overall campaign.
You can add make your overall campaign more effective and improve its reach using integrations.
You can send valuable customer data to a specific and segmented audience, to target relevant campaigns, and to send potential customers product reviews, subscription renewal updates and birthdays, as well as anniversary reminders.
MailChimp has a complete set of over 700 integrations, which includes Shopify, WooCommerce, Instagram, WordPress, QuickBooks, SalesForce and Facebook.
You can make use of the social media integrations to extend your overall reach. You can send specific social media emails to target customers.
You can also use accounting tools, as well as billing tools to collect a lot of customer data from your email campaigns. Details such as billing information, subscription reminders, and geo-targeting become very easy.
Also, you have customer relationship management systems that allow you to create target-specific emails, lead nurturing email campaigns and send upsell emails.
Integrations also allow you to set up content management systems, which helps to set up target specific leads and helps you to create awareness about your brand, as well as helps you in managing and creating amazing content.
Talking about Constant Contact, you get detailed integration options here as well, which include Shopify, 3dCart, WordPress, Facebook, and HootSuite.
Ease of Use
MailChimp is very easy to use. In fact, the ease of use is regarded as one of the major reasons of Mailchimp's worldwide success. The dashboard is where this simplicity is clearly visible.
The dashboard is very straightforward and uses a good set of colors to strategies functions.
MailChimp also offers a simple drag-and-drop feature, which makes building email templates and customizations, as well as adding images very simple and easy.
Constant Contact, on the other hand, was created with the sole purpose of creating an email marketing service that is simple and is easy to use.
For small businesses and entrepreneurs, this platform is specially designed to ease the integration and functionality addition part.
Overall in ease of use, both the platforms are very easy to use and have been designed for the same purpose only.
Support
A good customer support is a priority for any successful business. Not just in email marketing services, but in each and every digital marketing platform.
You don't wanna get stuck up in your email campaign process and wait days to get a response from the backend team.
A good customer support is an obvious need in the process of customer-client relationship.
MailChimp offers a simple contact us page, for users to file an issue. The page takes you into the related knowledge base section where you will find the most relevant answers to your questions.
Customers can also make use of the support prompt section to contact the backend support team of Mailchimp if the problem is not resolved.
On the other hand, Constant Contact offers email customer support, a live chat system, and a phone support system. Here also you get a knowledge base support area, which you can use to answer your queries yourselves.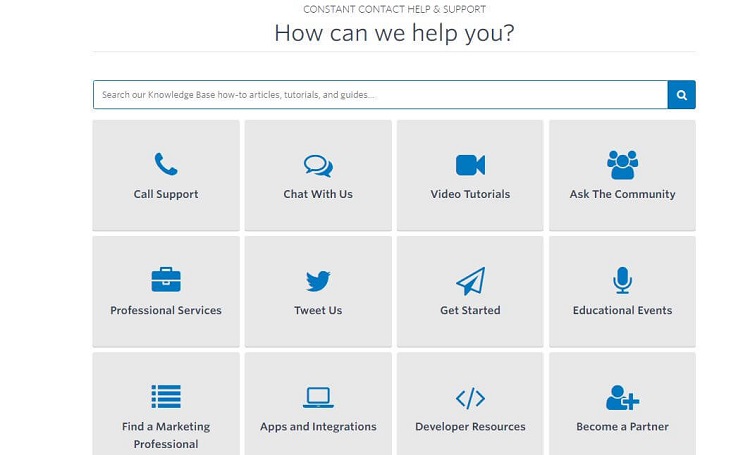 Constant Contact takes the upper hand here, as the phone support has always been one of the most simple and easy to use customer support mechanism.
However, live chat and email support are also very promising options in customer support, which both the platforms are offering.
Pros and Cons
---
MailChimp Pros:
MailChimp Cons:
Constant Contact Pros:
Constant Contact Cons:
Final Word
The winner will depend on the preference of the customer. If you are looking for a platform that offers free service when you are just getting started, MailChimp is the platform to go for.
If you are looking for great automation and much better customer support, Constant Contact is the platform for you.