Constant Contact review, one of the best email marketing service providers that offer you a comprehensive solution to create automated email series and run your business effectively.
Email Marketing is a huge part of growing your online business. Staying in touch with your customers/subscribers and keeping them updated about your business will help build loyalty and will also contribute to returning traffic.
And so, to help you with all your email marketing efforts, we have Constant Contact.
Just like any other email marketing tool, Constant Contact can help you create email templates, subscriber lists, marketing campaigns, and much more.
Tons of email marketing automation tools are also integrated to help streamline your work.
However, the main question is – are they any good? And to answer your curiosity, we have put together this detailed in-depth review of Constant Contact and all its bells and whistles.
So without further ado, let's get started:
Constant Contact Review
Table of Content
---
Now before we discuss all the other aspects of Constant Contact, let's quickly go over the different features and functionalities it brings to the table.
Create Personalized Emails
Constant Contact has a catalog of over 100 professionally hand-crafted email templates to make you look like a pro at your game.
And to make your emails more personal, each of these templates can be further customized as per your needs.
You will get access to a dedicated drag and drop editing interface to help you customize the ready-made email templates or craft new emails from scratch.
You will have complete control over color and typography, not to mention the option to upload your own images, add polls, RSVPs, donation boxes, and much more.
You can even attach your social media links to the emails to help redirect some traffic to your social media pages.
Email Marketing Automation Tools
Many of the email marketing tasks follow an algorithmic pattern and can be quite repetitive.
Thankfully, Constant Contact lets you automate all these tasks, so they don't feel like chores. You can set up the software such that it sends personalized targeted emails on a schedule, without you having to raise a finger.
The process of creating an automated email series is simple and easy. Here is how you do it.
Go to your Constant Contact dashboard, click on the Campaigns tab > create.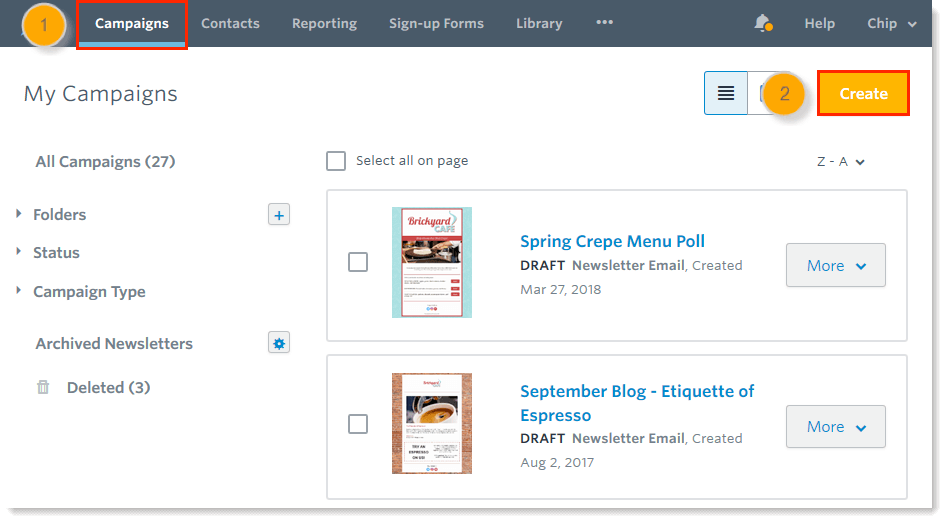 Select email automation in the menu.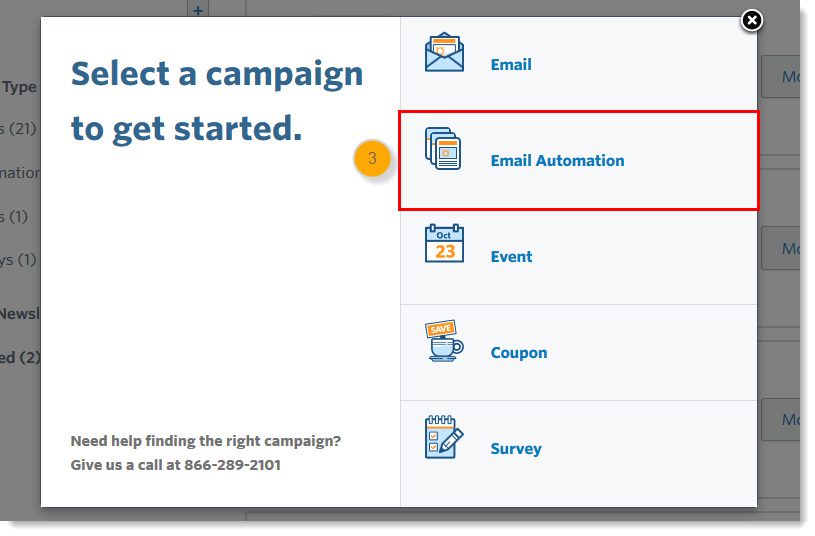 In the next step, click on the create automated series.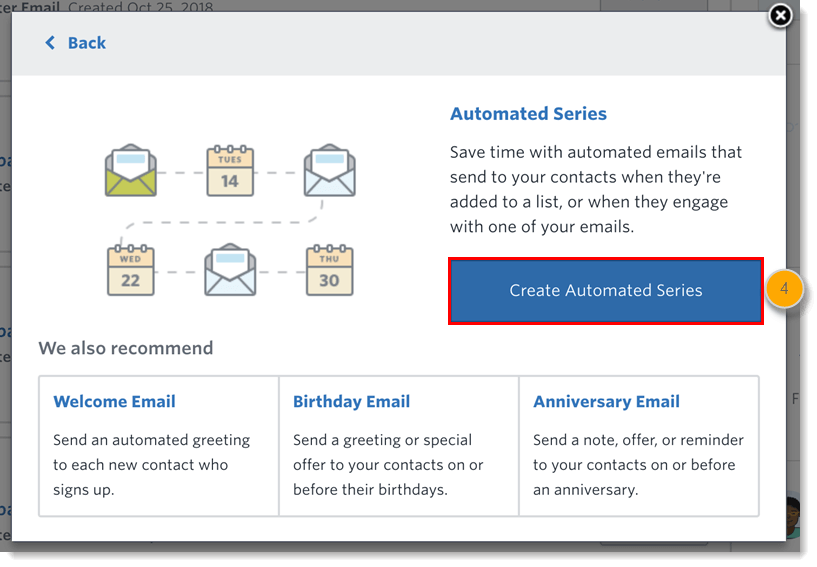 Here are some of the ways in which Constant Contact automation tools kick in to help you with your email marketing efforts:
E-Commerce Integration
Constant Contact offers seamless integration with many popular e-commerce platforms like Shopify.
You will get access to powerful e-commerce tools that are designed to help your online store grow and generate more sales.
You can infuse your emails with product listings, recommended products, and much more, to keep the customers engaged and keep them returning to your online store.
The segmentation and automation tools will surely help you turn your contacts into loyal customers.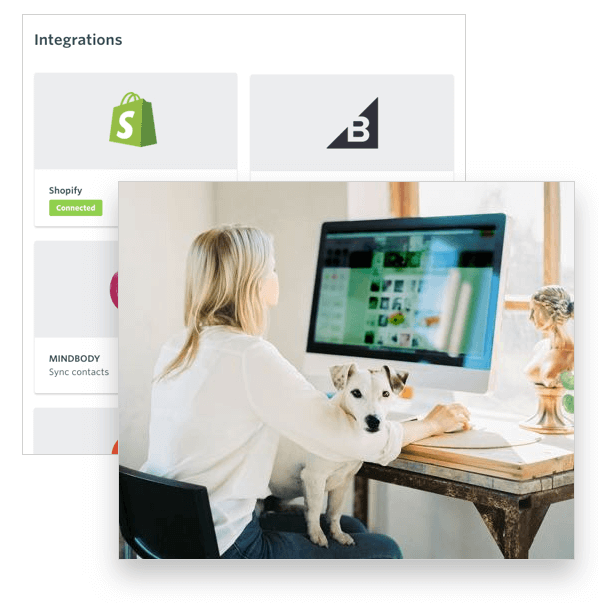 Powerful Contact Management Tools
No email marketing software would be complete without a proper contact management system.
This allows you to properly manage your subscribers, segment them into groups, and make sure that each subscriber gets emails that are most relevant to their needs.
Now, with Constant Contact's in-built contact manage, you will be able to import contacts from other places like Excel, Outlook, Facebook, and CRMs like Salesforce.
You can even add contacts manually if you like. On top of that, you will get a dedicated interface to help you manage unsubscribes, bounces, and inactive emails.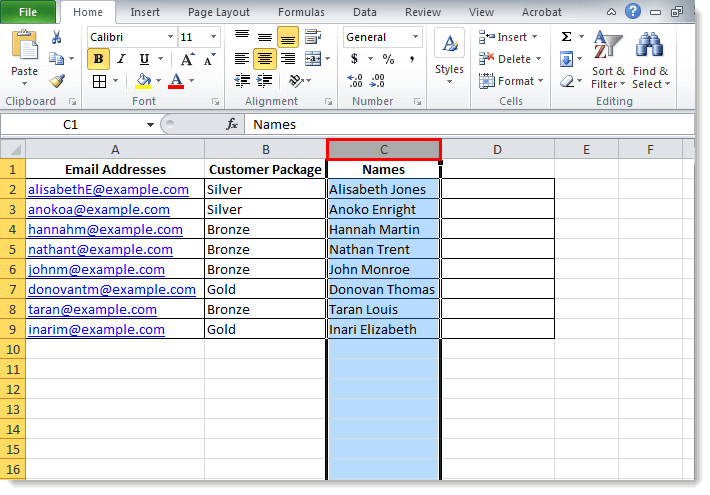 Email Tracking
Just sending the emails isn't the end of your concern – you also need to make sure that your emails are read.
This is where you need access to the email tracking functionalities to help you analyze how your emails are performing, so you can improve upon it.
With Constant Contact, you will get real-time data on who's opening your emails, sharing your emails, and so on.
You can then use this information to help you improve the emails that are rarely opened.
Also, by understanding which users like to open what type of emails, you can further segment your contacts and create a more targeted list.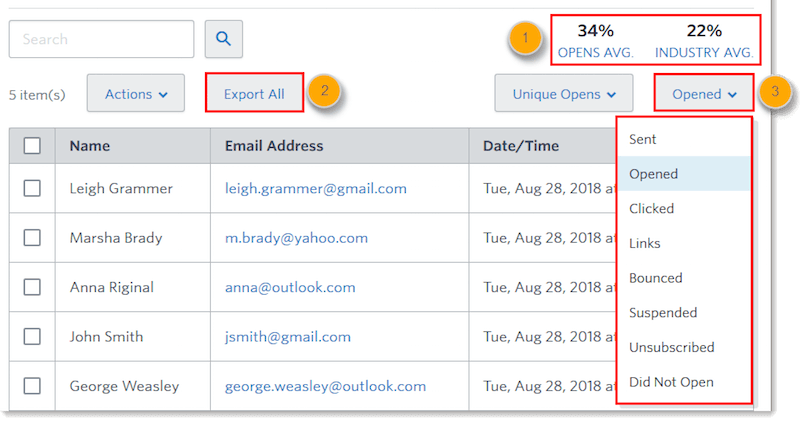 Others…
Besides all that is mentioned above, here are some other notable features bundled in with Constant Contact:
Constant Contact – Pricing
Constant Contact can be somewhat confusing. At first glance, they seem to have a three-tier pricing structure with – Lite priced at $5/month, Email priced at $20/month, and Email Plus priced at $45/month.
If this was the case, then it would have been the most affordable email marketing tool on the planet. However, the store is a bit different when you read the fine print.
You see, these pricings are for users who have below 500 subscribers. At the point of signing up with the service, you will get the option to pick the number of subscribers you want to connect with Constant Contact.
If the number is below 500 subscribers, they will be charged the same amount as shown above.
However, the amount quickly rises for the more subscribers and caps at around 50,000, where each plan will cost you $355/month.
Now, you can sign up for a yearly, or 6 months membership which can cut the price by 15%.
Also, the company offers a generous discount of up to 30% for non-profit organizations. 
But it goes without saying that for any business with the number of subscribers in the thousands, their plans can be quite expensive.
Therefore, it is recommended that you use their 30-day free trial period to test their services and get your feet wet before committing to make the dive.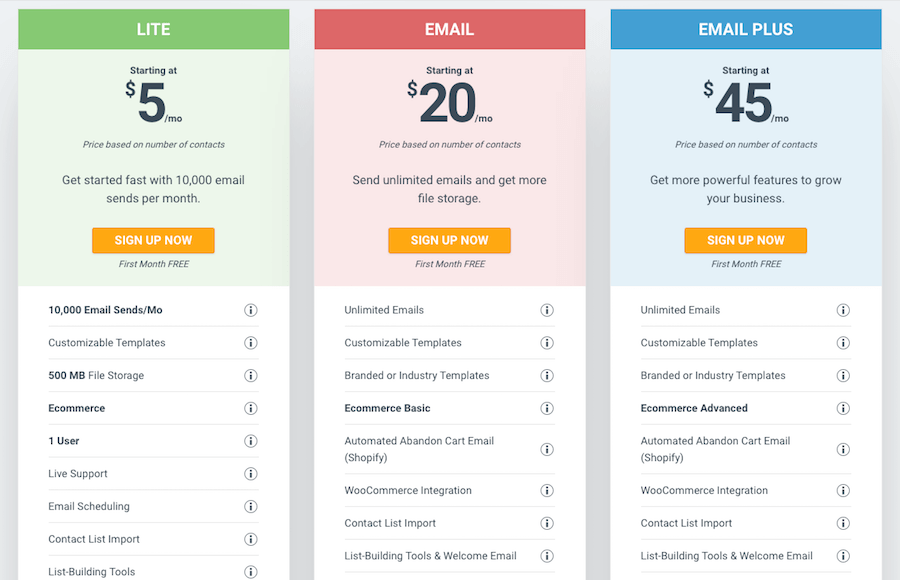 Constant Contact – How To Use? Basic FAQs
So now you know how much Constant Contact costs and its overall price. However, if you have experience with other email marketing software, then you know that usability also factors into the purchasing decision.
This is why we have covered some of the basic FAQs regarding Constant Contact and how to set it up.
How To Create Subscriber Lists?
First comes adding contacts to Constant Contact. You can do so by importing contacts from Gmail, Microsoft Outlook, and other CRM tools.
Alternatively, you can also upload CSV, TXT, XLS, or XLSX files and even manually type in all contact details.
In case of duplicate contacts, Constant Contact will also automatically merge them together so you don't have to unnecessarily send multiple emails to the same contact.
Another useful option is to map out or create new custom fields for each contact.
Besides this, you can assign tags to each of your contacts which will help keep tracks of how they signed up, their loyalty, and other details.
Apart from this, you can segment your users based on their location, interests, and any other information you have managed to collect.
But with all that being said, it is worth noting that adding new information, or basically editing your existing contact list can be an extremely tedious task.
The system requires you to load each record and update the fields one by one without any quick edit options.
However, there is a quick and easy workaround if you just update the contact information on a spreadsheet and upload that to your Constant Contact account.
How To Set Up Campaigns?
Constant Contact offers 4 different email campaign options – Email, Email Automation, Event, and Survey.
Once you have selected what type of campaign you want to start, the next step would be setting up the emails.
For this, you can use one of the 100+ email templates which you can then personalize using the drag and drop email builder.
As far as the content for your emails is concerned, you will be able to add blog teasers, import PDFs, add surveys and polls, as well as social media links, and potentially create an interactive email.
Also, thanks to integrations with other platforms like Shopify and Eventbrite, so that you can include RSVPs, download coupons, donation boxes, all into your emails.
You will even get the option to directly attach product purchase links as well as send abandoned cart emails to your users.
Once you are happy with how your emails look, you program your campaigns to send them right away or following a certain time interval.
There is also an option to send recurring emails targeted at the subscriber's birthday, anniversary, certain holidays, or even on a weekly, monthly, or yearly basis.
The emails can be configured to be sent according to the subscribers' local timezone.
You will even have access to an integrated marketing calendar to visualize all your email schedules.
Each of your campaigns can be reused several times in the future or copied with a press of a button.
Also, if you have too many active campaigns, you can easily search through them by filtering using dates, keywords, recent tab views, and so on.
How To Track Campaigns?
In the user dashboard, you will find the "Reporting" tab from where you can keep track of all the newsletters you have sent to your users and its different success rates.
You will get a clean UI, from where you will get a one-glance view showcasing how many times your emails were opened, the click-through rates, bounce rates and unsubscribe requests.
It will also show you which one of your subject lines generated most user engagement and how many of the emails are opened on mobile vs. desktop.
The software also generates a heat map of your emails to showcase areas where there is the most subscriber interaction.
So How Do You Use All This Information?
Well for starters, you can resend the same emails to your subscribers who didn't open the previous one.
And to improve your odds this time, you can tweak the subject line to make it more eye-catching.
Also, if keeping track of all the alternative email versions seems troubling, there is an in-built subject line A/B testing feature that can help you out.
Now, if you run into any problems using these features or want some advice on crafting your email subject line, then Constant Contact actually provides video tutorials on the provided topic.
In fact, there is a wealth of information that can help you become an email marketing wiz.
Constant Contact – Customer Support
Constant Contact gives you access to all the industry-standard support options.
This includes access to a content-packed knowledge base, an active community or help forum, along with support for live chat, phone, and email-based customer support.
However, when it comes to their service, a lot's left to be desired.
For starters, their phone support is only available 24/7. You can get a hold of them from Monday to Thursday if you call between 8 am and 10 pm, 8 am to 9 pm if you call on Fridays, and 10 am to 8 pm for weekend calls.
This can be problematic when you bring in time-zones into the equation.
Live chat and email-based support is also available. And even though the support team is extremely helpful, yet they take a lot of time to return with a reply.
However, in the meantime, you can help yourself to their extensive knowledge base and community-based support team.
You will surely find helpful posts that can help you resolve most of the basic issues and problems in understanding how to work the system.
Constant Contact – Should You Use It?
Constant Contact offers a collection of impressive features but due to some hiccups here and there, some users might turn their nose away.
But that also implies, some users, working in a particular niche, will find Constant Contact an indispensable email marketing tool.
For example, the Eventbrite integration and the option to attach RSVPs to your emails is something that even oriented niches will greatly appreciate.
This is more so the case for charity groups and NGOs who are also entitled to a 30% discount off their regular pricing.
The seamless Shopify integration is also a lighthouse for users of the e-commerce platform.
Other than this, online micro-businesses looking to establish a professional presence but currently functioning with a small user base will also find Constant Contact an attractive option, as for low volume users, their pricing is really affordable.