Bluehost and A2 Hosting are two of the most popular hosting services in the world and both companies offer excellent plans with quality features.
While Bluehost is far more popular than A2 in the web hosting scene, A2 offers a number of features that trump Bluehost's own.
Both companies offer premium features that you will not find at generic hosting providers and the overall value and pricing from both companies is quite impressive.
Both A2 and Bluehost are cPanel hosting providers and include features in their competitively priced plans that you would normally find on high-end plans only.
When it comes to WordPress hosting both companies are excellent choices and offer pre-installed WordPress if you need it. You get access to automatic updates, website staging and much more.
Let's take a closer look at what both providers have on offer and find our which hosting provider you should be opting for.
We have recently published a comparison of Bluehost Vs SiteGround, two of the most popular WordPress hosting providers, don't miss that article.
Features
When you take a closer look at the features on offer by Bluehost you will not be disappointed at all and you get pretty much the entire suite of features you need to run a website.
Even if you have access to multiple accounts under one plan you will get unlimited disk storage space for each of them along with their exclusive email accounts and FTP accounts.
You also have the option to host multiple domain websites in a shared plan.
BlueHost

Bluehost does not restrict you when it comes to the number of domains you can manage at the same time and all of it is accessible via their proprietary management tool for monitoring and tweaking your websites.
There are a number of frameworks you can take advantage of including PHP, JavaScript, Perl 5 and Flash.
If you want to set up your e-commerce website with the hosting provider there are a number of tools that will be available at your disposal for setting up shopping carts, payment options and more.
A2 Hosting

Unlike Bluehost, you do not get access to as many features with A2. However, you get everything you would normally need and the quality of features is quite impressive.
All of the plans that are on offer from the provider offer you unlimited data transfers and RAID-10 storage. Just like Bluehost, you can have as many email accounts as you need which is perfect for large businesses with a number of employees.
There are a number of tools available that offers you control over multiple domains at the same time if you need it.
All of the packages offer cPanel access, and there are site transfers available as well if you have an existing site that you want to move to A2's hosting plans or want to move out of A2 to another provider.
Verdict: When it comes to quality there is not much difference between the two, and you can't go wrong with either of them.
However, Bluehost does offer a number of extra features and supports more development frameworks which may be of relevance to you.
Server Quality
With both companies being top-tier hosting providers over the years, we can't expect either of them to falter when it comes to their uptime, reliability and technology. Let's find out if they really live up to their marketing claims.
Bluehost promises 99.9% uptime, but they do not have an uptime guarantee which means that if you face more than 0.1% downtime, you will not be compensated for any losses that you may face out of it.
A2, on the other hand, offers a 99.9% uptime guarantee and any kind of technical issues leading to losses will be compensated by the company up to 5% of the monthly fee for every hour.
Server Technology
When it comes to the technology powering the servers, Bluehost takes advantage of AMD's Opteron processors that come with 16-cores and are quite capable.
A2, on the other hand, uses Dell servers with quad-core processors, and of course, SSD storage is available from both providers.
Do note that the number of cores does not necessarily translate to better performance, so we went a little deeper and tested out real-world results.
Bluehost hosted websites loaded at an average of 2.37 seconds at our end, and they were marked as 65 faster than all websites that have been tested on Pingdom.
A2, on the other hand, was significantly faster with an average load time of 1.49 seconds, marked at 81% faster than all websites tested on Pingdom.
These performance tests are to be taken with a grain of salt as numbers may vary based on server location and where you are located, but A2 does offer more consistent results across the board.
Reliability
When it comes to the reliability of the technology available from both providers, the data center for Bluehost's hosting services is located in Utah (US) and the servers take advantage of server-cooling and backup diesel generators to minimize downtime.
Bluehost does not offer any kind of automatic data backups outside of their Cloud plans which are kept for a maximum of 30days.
A2 hosting, on the other hand, offers data centers in Michigan (US), Amsterdam (Europe) and Singapore (Asia).
The data centers are constantly monitored for maximum security and reliability, and there are four different network connectivity options in place to ensure your websites are always accessible.
Verdict: When it comes to reliability both Bluehost and A2 offer excellent services and the performance tests we conducted had both providers meeting our standards.
However, if you are someone who wants guaranteed uptime, then we recommend going for A2 as Bluehost does not offer any kind of uptime guarantee.
Pricing
Hosting plans don't come cheap, and it's important to know if your investment is worth it.
When it comes to the top end of the hosting service market, aggressive competition keeps the prices in check, but you have to shell out a decent amount of money every month regardless if you expect quality services.
Do note that the prices we mention below are based on information we found on the website, and they are subject to change over time.
Bluehost currently offers three shared plans, and the cheapest plan is priced at $3.95 per month.
You get access to one website and 50GB of storage with unlimited bandwidth with the unlimited plan. You also have access to unlimited emails as well. If you ramp up the plan to $6.95 per month you get access to 10 websites and your storage is increased to 150GB per month.
The plans come with a content delivery network if you opt for the Plus Plan and there are options available for unlimited websites and unlimited bandwidth as well.
Like most other major providers you should consult the customer service department if you are looking for a more custom plan with features that you need instead of choosing from the pre-defined plans.
You do not have to pay any additional fees for domain registrations for the first year. There are cloud plans on offer as well but are pricier than the basic plans.
And finally, you have access to WordPress plans which take advantage of VPS technology. The cheapest WordPress plan will set you back by $12.95 per month while the top-end plan is priced at $85.
A2 Hosting Plans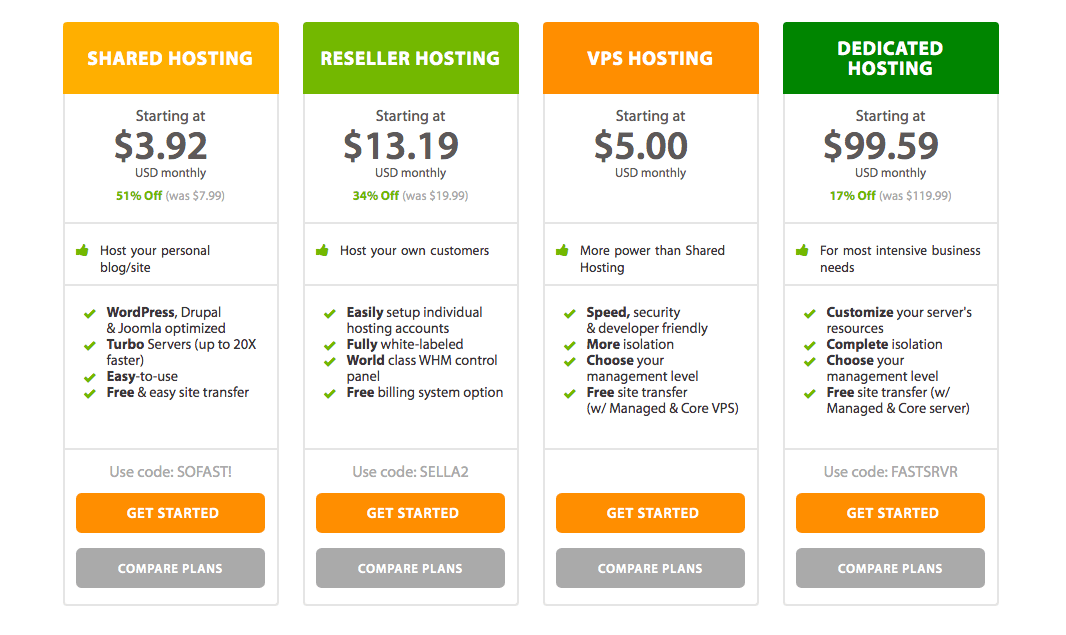 Just like Bluehost, A2 offers three shared plans, and you get access to one website and five databases for just $3.92 per month. The most expensive shared plan is priced at $9.31.
All of the plans offer unlimited SSD storage and unlimited bandwidth. You have access to Cloud Linux which is faster than Centos OS that is offered by most other providers.
A2 Hosting also offers WordPress and Cloud plans. The best thing about A2's offering is that the WordPress plans are priced exactly the same as its shared plans.
If you are on a budget, you can choose the Lite plan which is priced at $3.92 for a single website and for $9.31 you get access to unlimited websites and databases.
Bluehost Hosting Plans

Caching services are available to boost load times, and a content delivery network is available for all plans as well. The higher priced plans also offer Server Rewind if you want to roll back your data to a previous backup.
When it comes to money-back guarantees, Bluehost and A2 offer the industry standard of a 30-day money back guarantee.
A2 hosting offers a pro-rated refund. If you pay for a domain, you will continue to have access to it for its registered period, and you will not receive a refund on the registration fee.
However, free domains will be canceled when you back out of either provider.
Verdict: When it comes to shared hosting plans, Bluehost is slightly more expensive and has more features. For WordPress plans A2 is the clear winner due to its competitive pricing and features.
It all comes down to what features you need from your hosting provider, and you can choose plans from either provider accordingly.
User Experience
At the end of the day, it does not matter how many features a hosting provider offers to its customers, all that matters is how convenient they are to use.
Bluehost offers cPanel, but the UI is heavily modified to make it easier to use. You have access to a one-click installer for installing all the tools and plugins that you need. There are hundreds of apps available via Softalicious.
A2 uses cPanel as well with its custom UI and hundreds of available add-ons. When it comes to customer support quality of both hosting providers both of them, offer multiple channels of contact phone, email, and a live chat feature that is active round the clock.
A2 also has a blog that offers tips to customers to make the most out of the available tools.
You also have self-help literature available from both providers if you want to get more hands-on and understand how to get things done yourself.
Verdict: When it comes to user experience it's a tie between both operators as you get the same level of service and going by reviews for customer service for both companies, you can expect round the clock service from both providers.
Final Verdict
Bluehost is a slightly more expensive option compared to other providers when it comes to WordPress plans, but over 1 million websites have used the provider, which by itself vouches for Bluehost's quality.
A2, on the other hand, has priced its WordPress plans the same as its standard hosting plans which can be a very attractive option for you if you want to opt for WordPress sites only.
Both providers offer competitively priced VPS options and dedicated servers for users who are expecting heavy traffic.
A2 offers SSD storage for all its plans and an anytime money-back guarantee (pro-rated).
You also have access to uptime guarantee and faster servers. The free website builder, SiteLock and some additional features from Bluehost are to be considered as well if you are simply looking for some features that are not on offer by A2.
You should also consider contacting both providers to see if they can come up with a competitively priced custom plan if you are looking for one with features not listed in their plan structure.
A2 Hosting
Bluehost
Support Channels
Phone, Live Support, Ticket, Chat
Phone, Live Support, Ticket, Chat
Data Center Locations
Michigan, USA; Amsterdam, Netherlands and Singapore, Asia
Provo, Utah
Pricing
From $3.92 per month
From $2.95 per month
Unlimited Data Transfer
Available
Available
Unlimited Data Storage
Available
Available
Unlimited Emails
Available
Available
Server Uptime Guarantee
Available (99.9%)
Not Available
Money-back Guarantee
Anytime (Pro-Rated)
30-day money back guarantee
User Interface
cPanel (custom)
cPanel (custom)
Bonus Features
. SEO and Marketing Tools
. Hackscan and other security tools
. Cloudflare CDN
. Patchman Security Tools

. SEO and Marketing Tools
. $100 Google Ad Credit
. $50 Facebook Ad Credit

Pros
. SSD caching
. Linux and Windows Hosting
. Perpetual security monitoring
. Great customer support

. More variety in hosting plans
. Great customer support
. Quick refund policy

Cons
. Add-on fees for Turbo Servers
. No uptime guarantees

. Website migration is not free