Looking for the best WordPress alternatives? Here is a list of the top options that can probably replace WordPress.
WordPress is currently the world's most popular CMS (content management system). Nearly one-third of the whole worldwide web is powered by WordPress.
However, that doesn't necessarily imply that you should use it if you don't like it. You might have some issues with the WordPress interface, or the fact that it has a steep learning curve.
Regardless, here there are plenty of WordPress alternatives out there for you to try.
For the purpose of this read, we have put together a comprehensive list of some of the best and powerful platforms that can help you build and manage your website.
Even though these platforms don't nearly come close to WordPress's massive market share, but they are viable options that can are powerful enough to help you build a functional website.
So without further ado, here let's get on with our list:
Top WordPress Alternatives
Site123
If you don't want to keep managing your own hosting related issues. Site123 is a great place to create a website.
The platform offers you ree as well as premium plans to create a website. You have a variety of different templates to choose from.
You can create a fully responsive mobile-friendly website using Site123. You can use your own custom domain name to make your website look more professional.
The easy website builder makes this platform one of the best choices for the non-techies to get online.
Their premium plan will cost you $4.06 per month which is an extremely affordable price to get hosting, website builder, template and everything else in one place.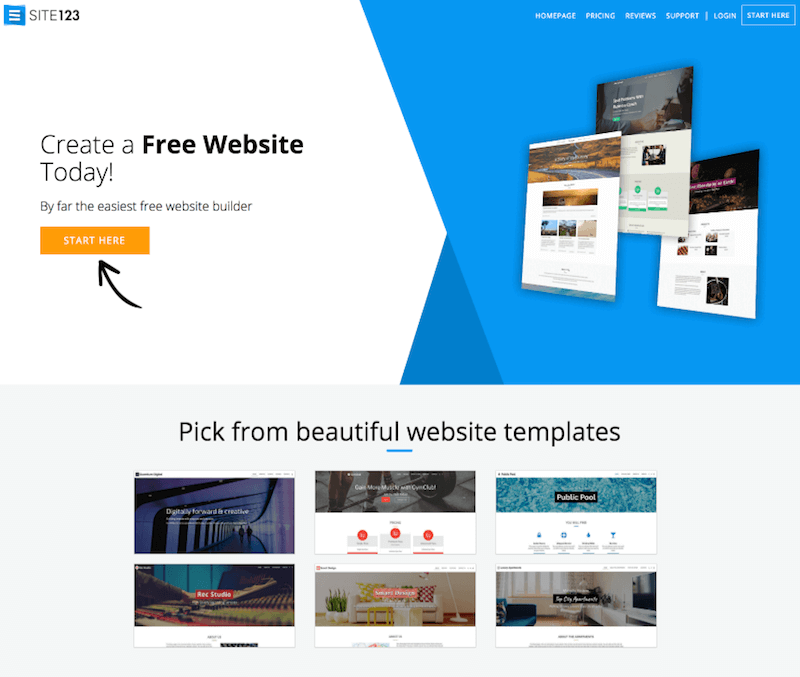 Wix
Starting off our list we have Wix, a web development platform that features its own proprietary Wix website builder that allows you to effortlessly create professional-level websites without any coding knowledge whatsoever.
It is super easy to use and the time to learn using it is also negligible.
If you are looking to create a professional website, an online shop, or anything similar, then Wix is a great option.
Furthermore, you will get access to hundreds of designed website templates that you can use to base your Website.
Check our collection of top Wix site examples to get some inspiration before you create your site. Also, read this comparison of Wix vs WordPress.
Features:
The Wix Editors – a drag and drop website builder coupled with 500 designer-made templates.

Wix ADI – answer a couple of questions and it will automatically generate a stunning website for you.

Animations and Scrolling effects to help build an engaging and interactive website.

Mobile-ready websites.

SEO friendly coding.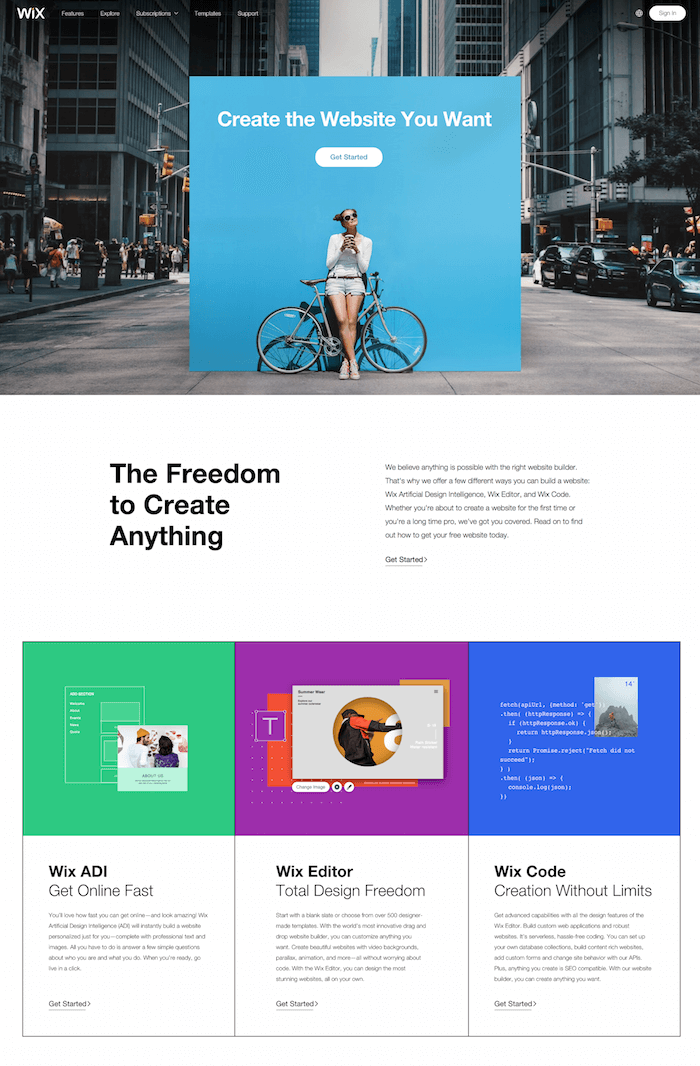 Drupal
Drupal mostly gets used by web developers or webmasters who are planning to build and manage large-scale complex sites all the while managing loads of data. The platform loads super fast have great support, and most importantly, is very much secure.
Drupal is also one of the most customizable alternatives to WordPress with potential limitless customization options.
It is worth noting that Drupal has a steeper learning curve when compared to WordPress which is understandable as it mostly gets used inside the developer community.
Features:
A huge variety of custom field types, modules, templates, and many site-building elements.

An integrated project development environment.

A plethora of themes and functionality extending modules.

Open source and free to use.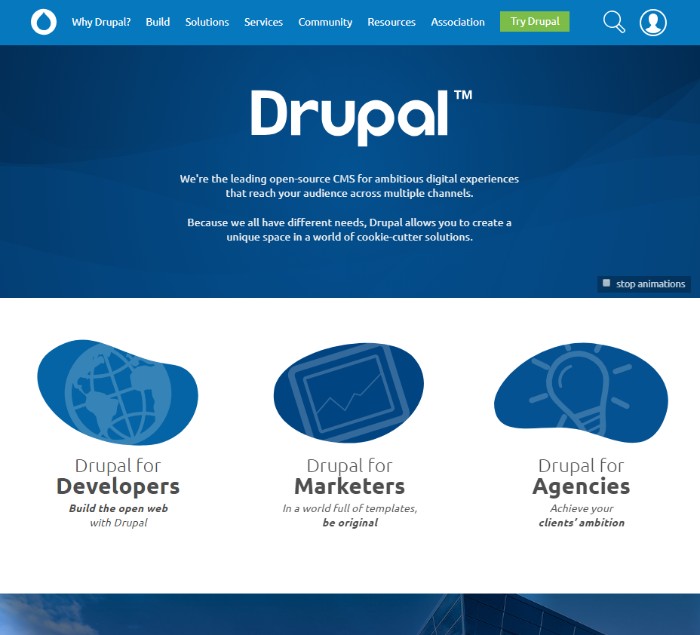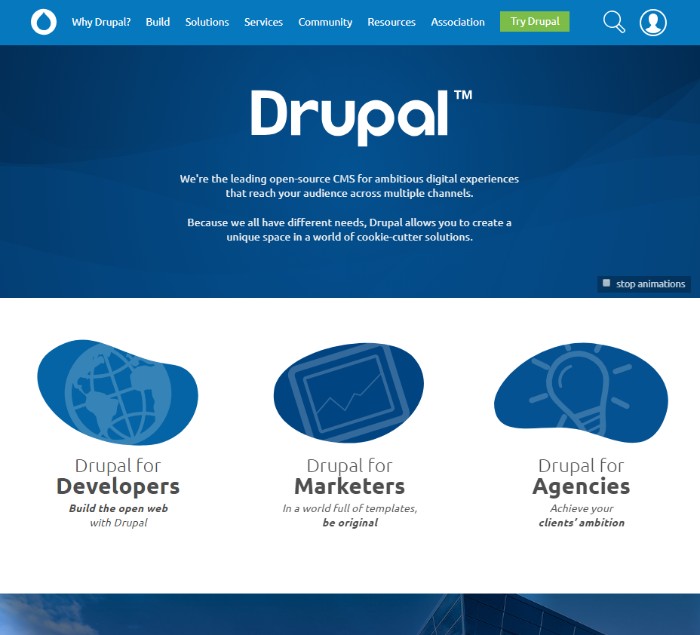 Joomla
Next up we have Joomla, an award-winning CMS which is second to WordPress in terms of popularity. The platform features all the basic necessities that you will need while building your website, a flexible interface, an intuitive menu building system, and SEO tools.
You will also get access to plenty of functionality enriching extensions that work similar to that of WordPress plugins. You will also get a lot of control over control your site's layout in a similar manner as you get with WordPress.
In fact, Joomla also beats WordPress when it comes it site administration and granting contributor access thanks to the built-in Access Control List.
Here is a quality free Joomla templates list.
Features:
Dedicated messenger functionality to enhance collaboration.

Powerful PHP application building framework.

Built-in cache management system to boost the site's speed and performance.

Extremely tight core security.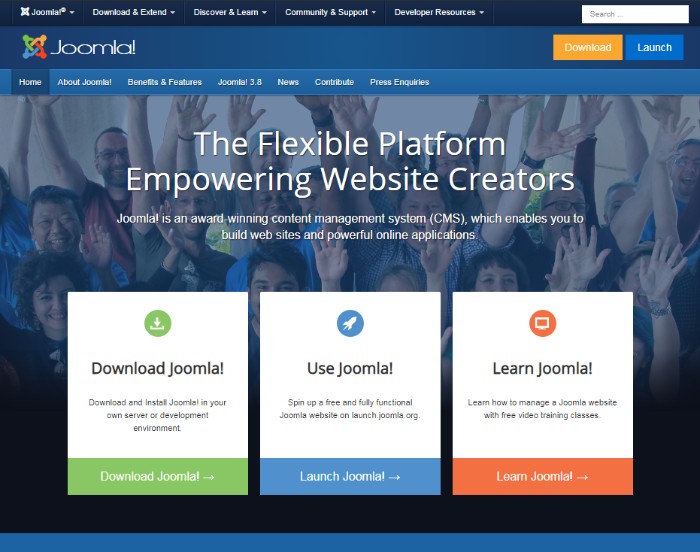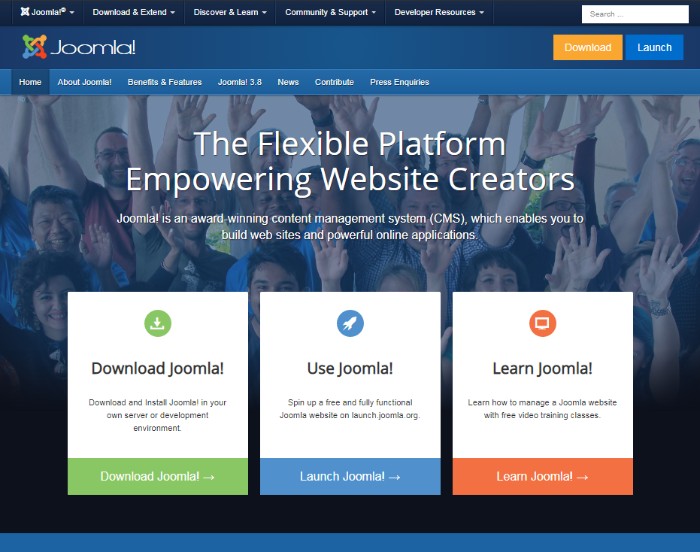 Grav
Grav is an award-winning WordPress alternative which also differs from the popular CMS in lots of different ways.
First of all, it features a powerful API to maximize and simplify the development process. It is also far more flexible for developers when compared to WordPress.
The user interface that you get with Grav is quite similar to what WordPress has to offer, but is based on a more flat-files design. It is also free and open-source and comes with its share of amazing plugins to expand functionality.
Features:
Dedicated package manager to search and download plugins.

Advanced media processing and image editing options.

An advanced content filtering feature with the option to create taxonomies, tags, and categories as you like.

A reliable backup and restoration system.

A robust markdown editor.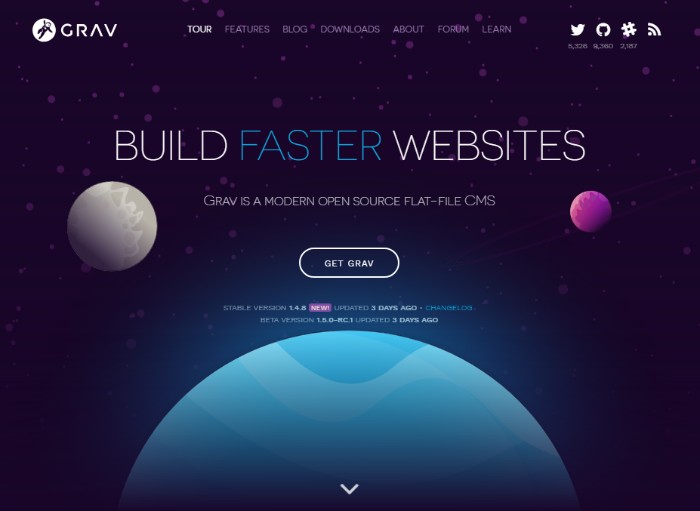 Shopify
Now if you are looking to build an e-commerce focused website then Shopify is the best option in the market. Yes, WordPress does allow for impressive e-shop building potential by using the WooCommerce plugin.
However, it can be very difficult for new users to learn to use it. On the other side, Shopify is extremely intuitive and even beginners can start using it in no time.
It is one of the preferred Point Of Sale (POS) solutions. The platform comes packed with a lot of dedicated shipping apps with which you can easily automate your order fulfillment and other e-commerce related processes.
However, do note that if you wish to get access to all of Shopify's features and functionalities, then the subscription plans can get extremely pricey.
Here is a collection of best free Shopify themes list.
Features:
An excellent range of cash flow management options.

Support for different payment gateways.

A great collection of business-specific tools.

24*7 customer support.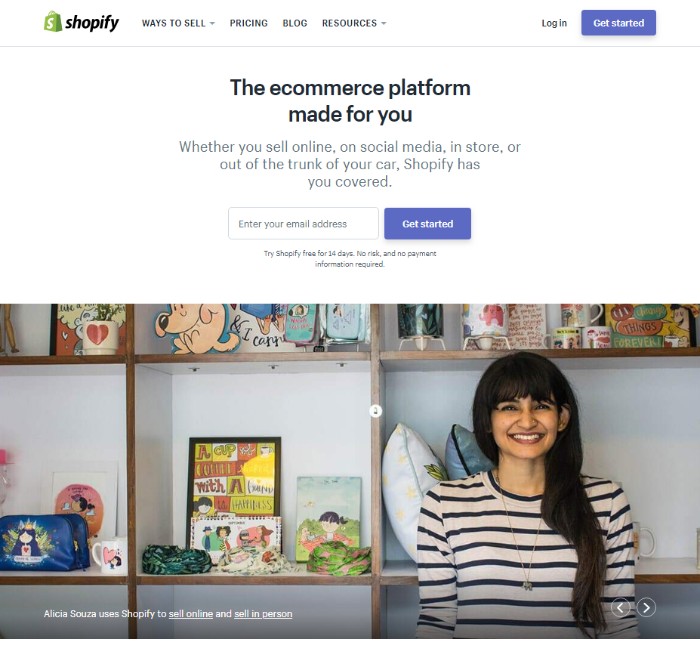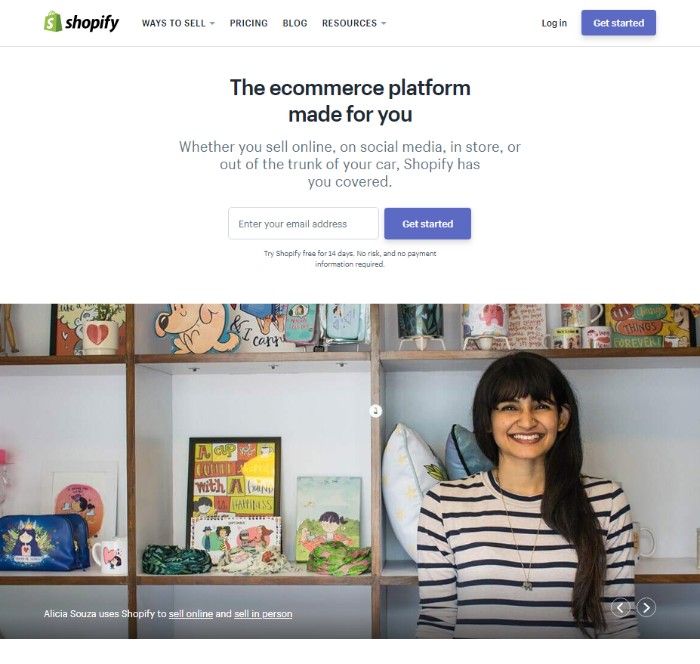 Ghost
If your target for creating a website is solely for blogging or to create an online publication, then Ghost is a great open-source alternative.
The CMS comes packed with impressive features that can help you get up a stylish looking blog up and running in no time.
You will get options for page customization, post scheduling, ability to inject analytic codes, automatic content backup system, and much more from a dedicated intuitive interface.
The CMS is also optimized to help you produce content for multiple distribution channels. And if all this isn't enough, you will also get complete control over API integration and theme development.
Features:
Inbuilt subscription management system.

RSS feed integration.

Markdown – a feature that helps you format syntax into well-structured HTML.

Easy to use user-administrator tools.

Integrated Google AMP support.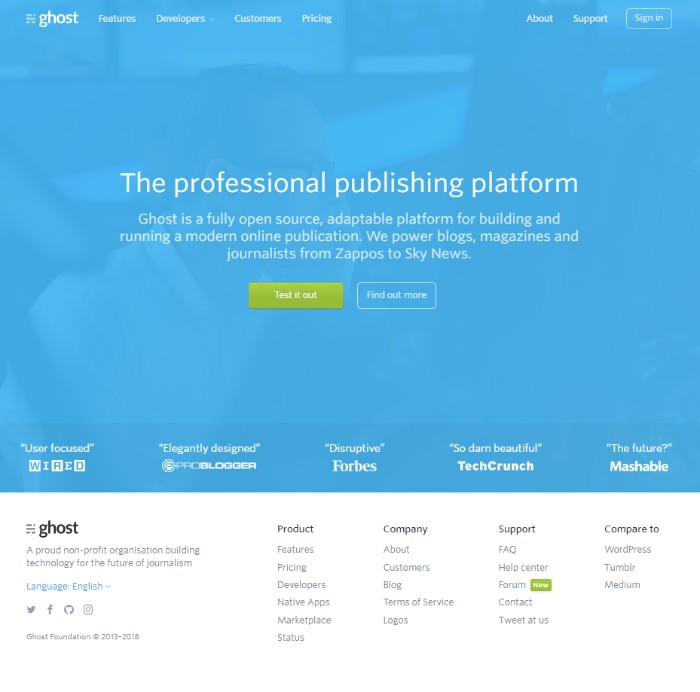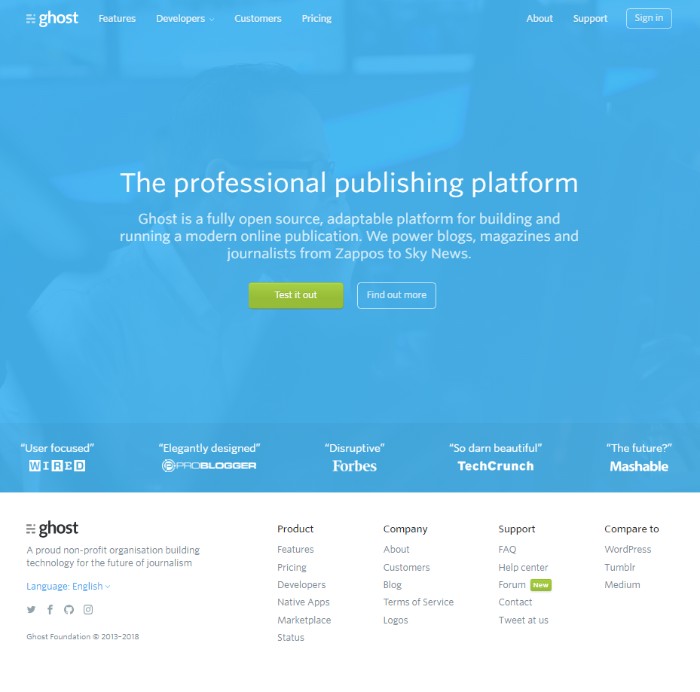 Weebly
Weebly is a powerful platform that you can use to build your e-commerce platform as well as any corporate and business website.
It comes with its own easy to use website building tool which is very beginner-friendly and allows even non-coders to easily build a stunning professional-grade website.
However, it is important to note that Weebly is too beginner-friendly to the point that it is only used by beginners.
All the features and functionalities available with the platform are very basic and soon your expert users will come to outgrown these options. But it is still a good place to start.
Here is a list of best Weebly website examples for your inspiration
Features:
Drag and drop site builder.

Professional-looking themes coupled with over 100s of customization options.

Basic eCommerce tools.

Free $100 in paid Google advertising credits.

SEO friendly websites.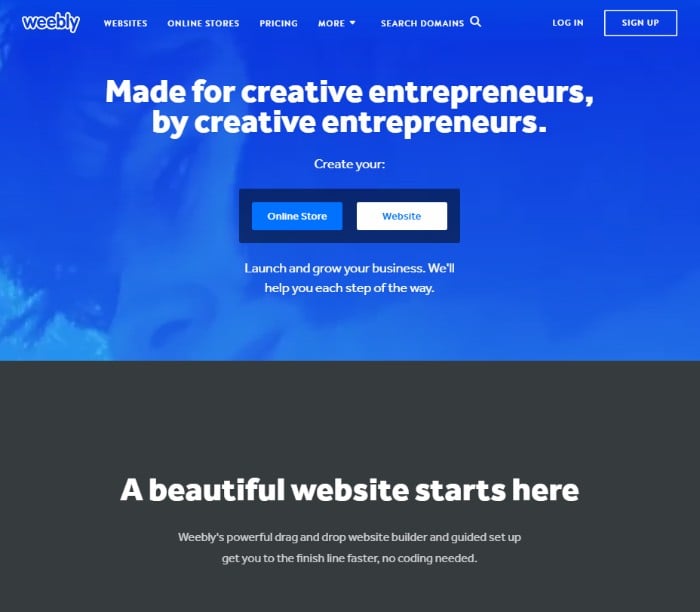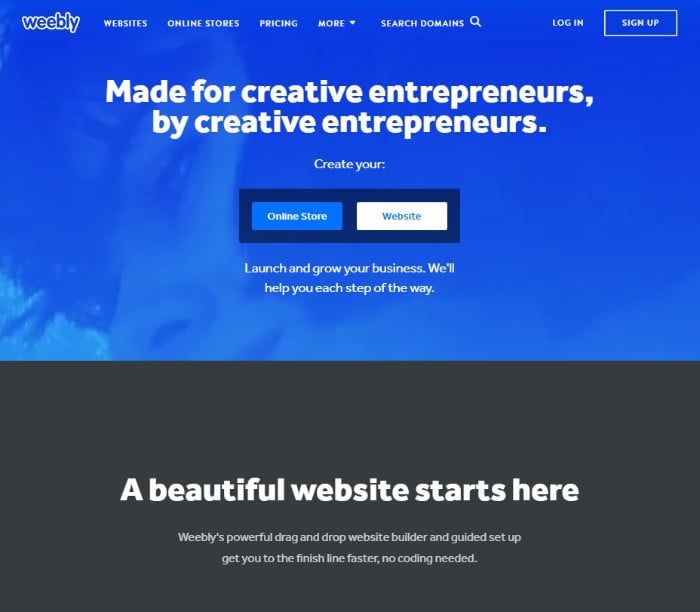 Squarespace
You should have come across one of the ads that Squarespace has put around the internet. It is a well-known name and popular amongst its user base thanks to its wide range of stunning templates.
Websites built on Squarespace look stunning, and the best part is that it is super easy to build them.
Now building a website with Squarespace can get a bit too pricey. But it is worth noting that they also throw in unlimited bandwidth and storage, a free SSL certificate, and a domain name.
On top of all this, there is an integrated image importing and processing tool which will be excellent for photo blogs.
Don't forget to check our collection of some stunning Squarespace site examples that will give you some idea about what you can do with this popular CMS
Features:
A massive collection of award-winning templates.

Comprehensive marketing tools built-in.

Dedicated features to help run an online store.

Excellent Security.

24*7 support.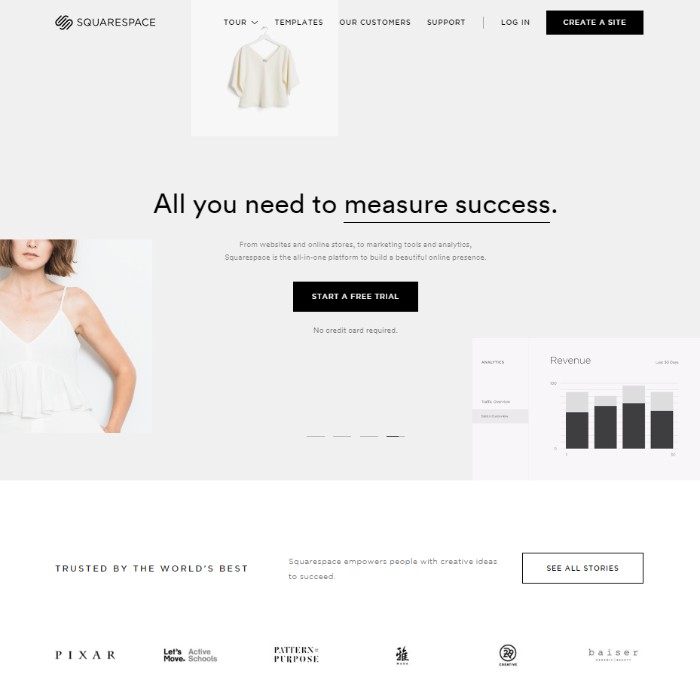 Magento
Magento is yet another CMS built of e-commerce platforms, much like Shopify. It is packed with an excellent array of features and functionalities that will help you set up a solid online store.
With functionalities like order management, business intelligence, monetizing social channels, POS integration and much more, your e-shop will be as professional as it gets.
The pricing of Magento can get a little too expensive if you are a beginner. However, if you have an established business and wish to wreak havoc on the internet with it, then this will be the perfect partner in crime.
Features:
The Magento dashboard showcases all the necessary statistics you will need.

Option to manage all sales through a single product control and distribution system.

Highly secure.

SEO friendly.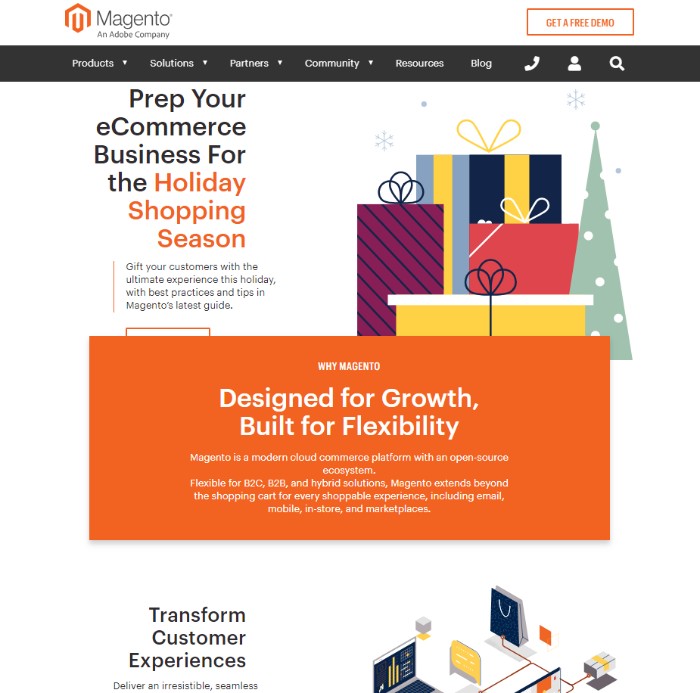 Textpattern
Textpattern is probably one of the most lightweight WordPress alternatives in the market which is super simple in design.
You will get a tag-based template language through which you get potentially limitless options to explore how you want to structure your content.
It is also very beginner-friendly so anyone can quickly learn how to use the platform effectively. You will also get options to easily extend its functionalities much as you can do with plugins in WordPress. Themes are also available to tweak the site's aesthetics.
Features:
A wide selection of feature enhancements and layout customization options.

Dedicated comment management and visitor log.

Customizable subscription option.

Can be easily manipulated with little HTML and CSS coding.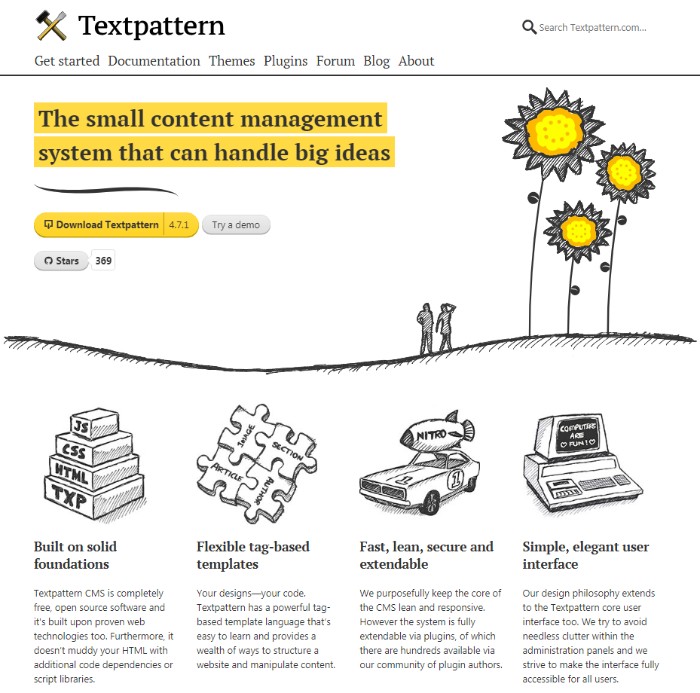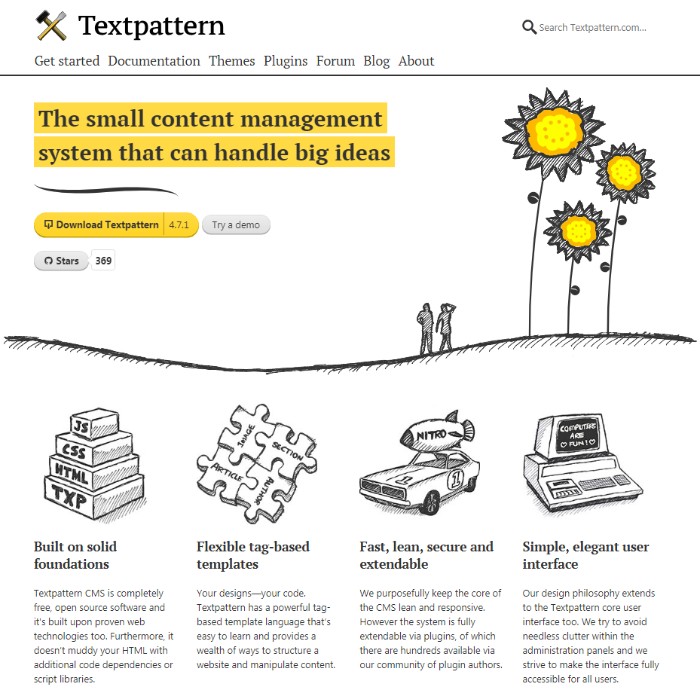 Serendipity
If you wanted to use WordPress solely for the purpose of blogging, then Serendipity is a great alternative to look into.
In fact, the platform has been created for casual bloggers. The platform is completely PHP-powered, open-source, and completely free to use.
You will also get options to implement feature add-ons to make your Serendipity powered blog more functional.
But directly out of the box, you will get features like dynamic caching, anti-spam functionality, and much more. Option for theming your blog is also available.
Features:
Advance level entry cataloging and tagging feature.

Option to configure the platform to use a single code base for multiple blogs.

Lightweight and beginner-friendly.

Incredible collection of feature add-ons and themes.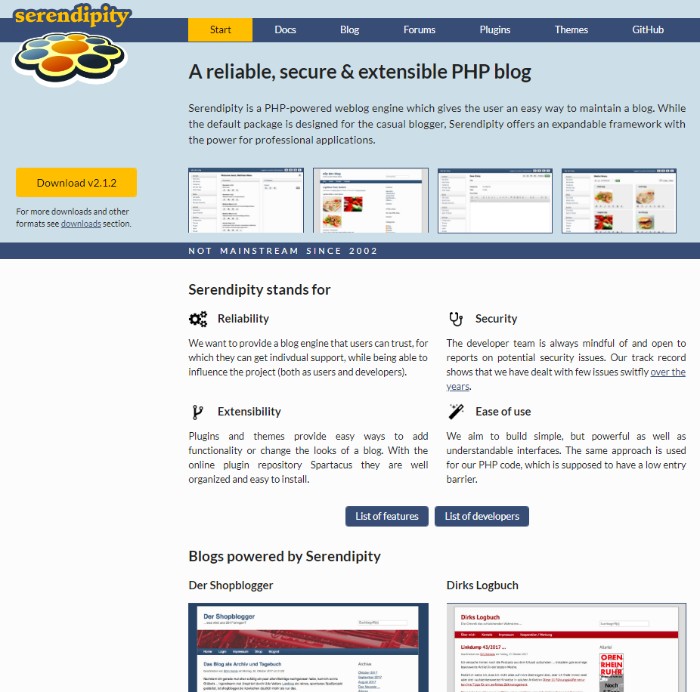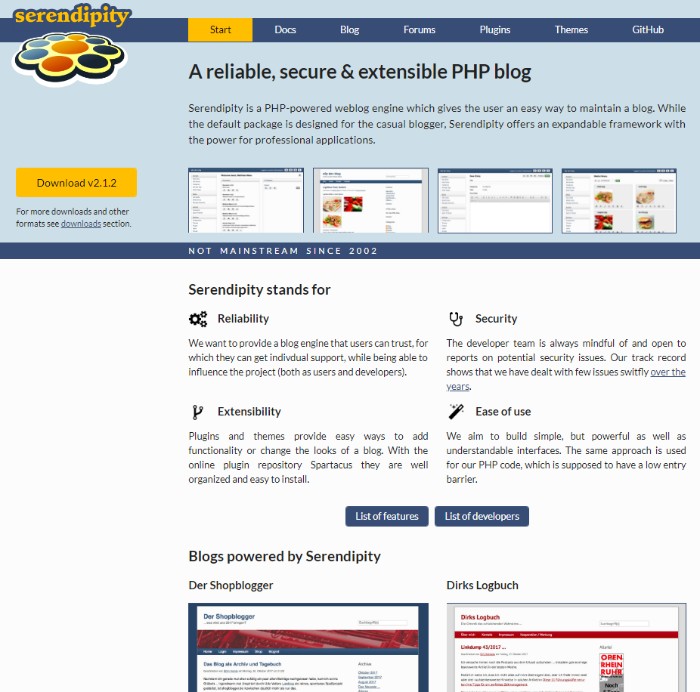 WebsiteBaker
WebsiteBaker is CMS particular directed at developers and designers. It has an easy to use interface which allows for the fast building of custom layout templates using XHTML, CSS, jQuery. A WYSIWYG editor also allows for easily building your dream template.
And of course, you will get access to plenty of downloadable modules that you can use to enhance your site.
For example, you can download a module that will add a dedicated image gallery, or a module for adding a subscription form, event calendar and so on. On top of that, there is even the option to edit the modules which you download.
Features:
Comes in a portable version that allows developers to create a local test environment.

Integrated file management system and the option to batch upload files.

A secure user management system and administration system.

Faster average load speeds when compared to WordPress.

"Droplet" system which allows for adding PHP code to any area of your site.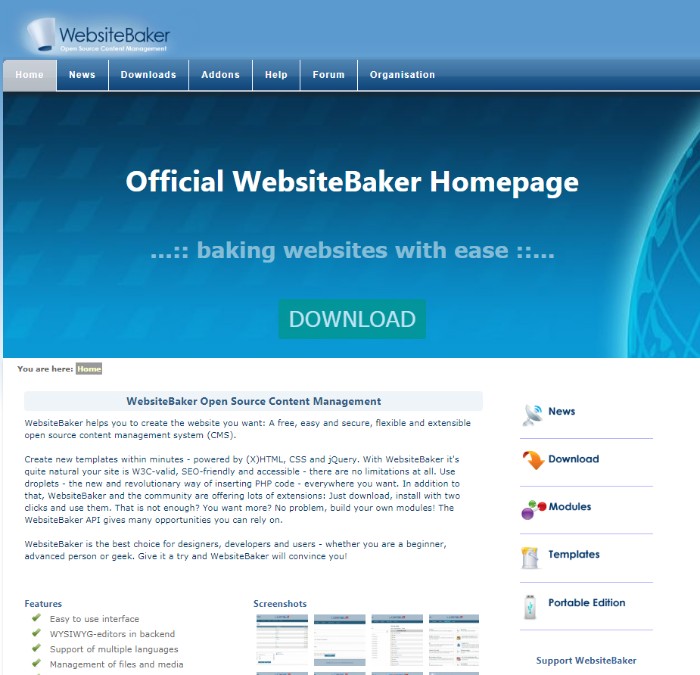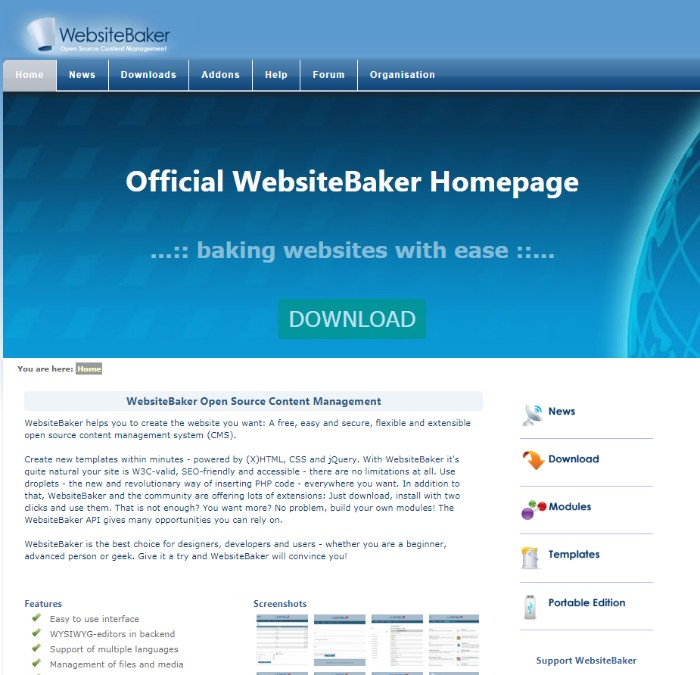 PageCloud
If you're looking to build a custom website you control, PageCloud is for you.
PageCloud is different than most website builders as it combines unmatched visual editing with full access to your website's source code.
This "best of both worlds" is what makes PageCloud such a great alternative to WordPress.
Although you can build just about any website with PageCloud, it's best suited for highly visual sites with 25 pages or less.
With several world-first features, PageCloud is definitely an option to consider for your next website.
And If you're not a designer building from scratch, PageCloud offers a roster of beautiful templates to get you started quickly.
Features:
World-leading drag and drop & web design technology
Flat page architecture for lightning-fast loading times
100+ app integrations
Full access your website's source code
Hosting, security, and support included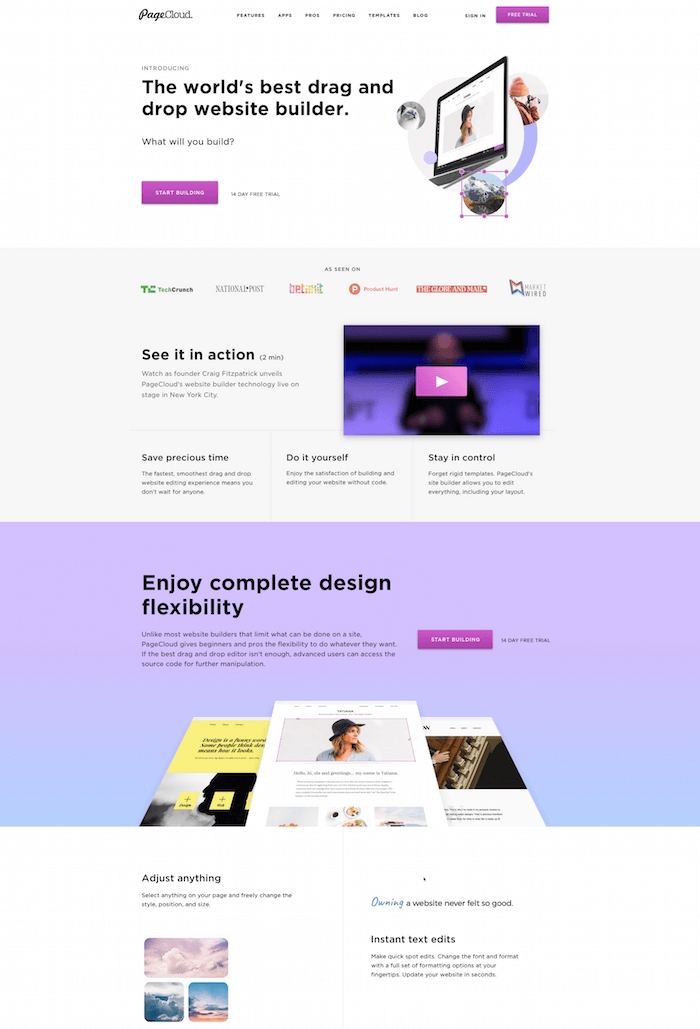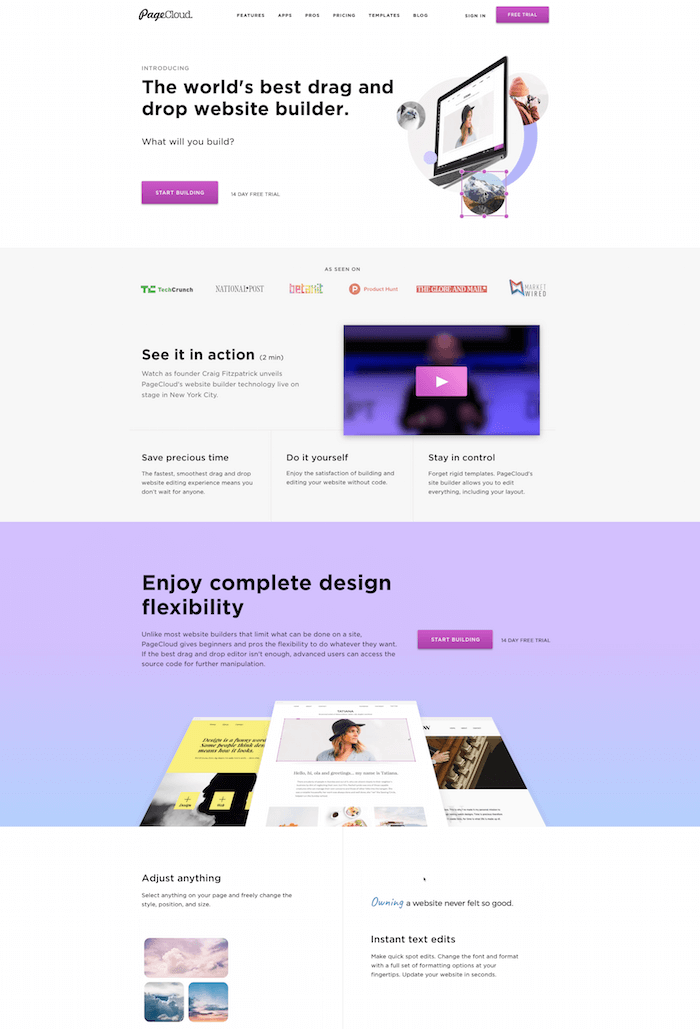 CMS Made Simple
If you want WordPress's customizability packed in an even more intuitive interface then you should take a look at CMS Made Simple.
The platform is known for its extensive framework coupled with a plethora of designing options. You will get access to their proprietary Smarty template system which will have you creating custom modules for your website, irrespective of the niche.
The platform is also keen on helping you administrate your entire website with its comprehensive administration options. Furthermore, its database templates allow developers great leeway over controlling the site's layout and style.
Features:
Plenty of plugins and themes to extend functionality and change aesthetics.

Shortcode support to help you customize your site.

Extremely developer-friendly and easy to play around with.

A great expandable and flexible CMS with more tools for developers than available with WordPress.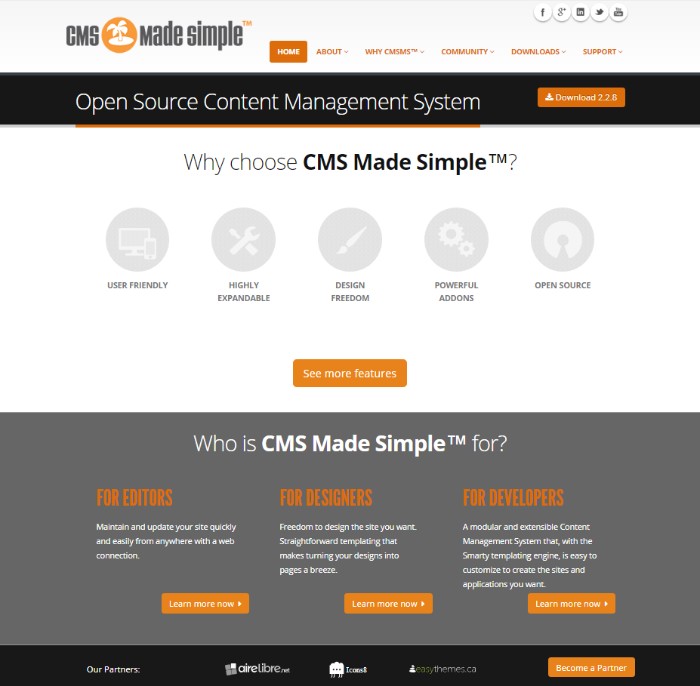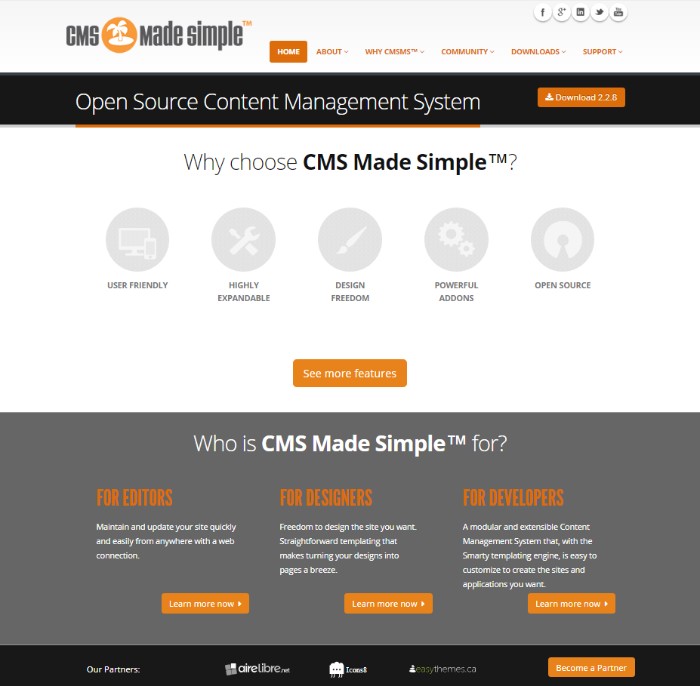 Tiki Wiki
WordPress, as well as many of these alternatives, relies heavily on third-party extensions. If you don't like to go about searching for add-ons, modules, or feature enhancing plugins, and want everything built-in, then Tiki Wiki is worth taking a look at.
The platform features a heavy-duty set of core features that can be easily updated. Its key strength lies in when you are looking for collaborative projects or building sites with strong social networking components.
Features:
A single interface for creating a variety of content types.

A dedicated database tracking system.

Huge array of content editing and administrative features.

Membership management and payment facilities built-in.
Jekyll
And now for the final entry on our list, we have Jekyll. If simplicity is what you are looking for, then Jekyll won't disappoint.
You will not have to meddle around with confusing plugins, themes or database management tools. In exchange, you will get a dedicated terminal window interface to handle everything.
It is worth noting that with Jekyll you will be creating static websites, where the content will be in text file format and submitted in folders. You will be allowed to build a shell on top of that using the Liquid template language.
Features:
Excellent blog migration options.

A variety of template options.

Great for creating fast, secure, and scalable websites.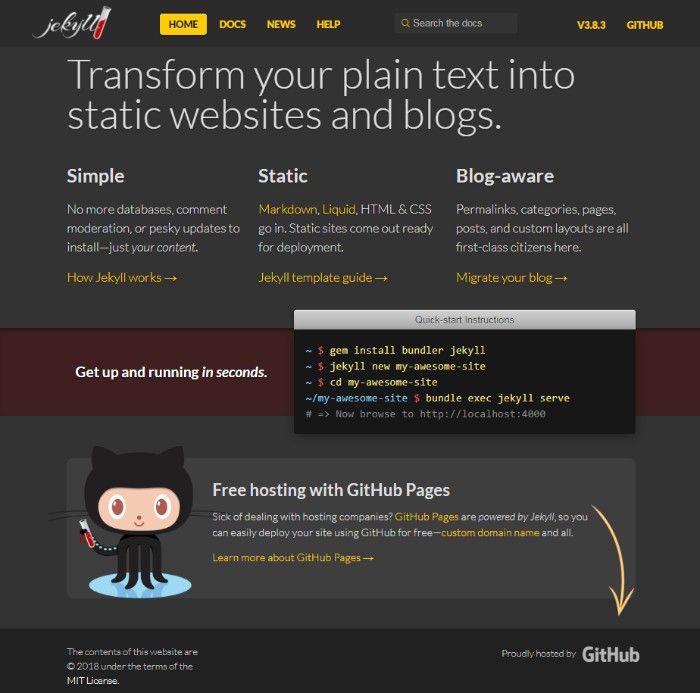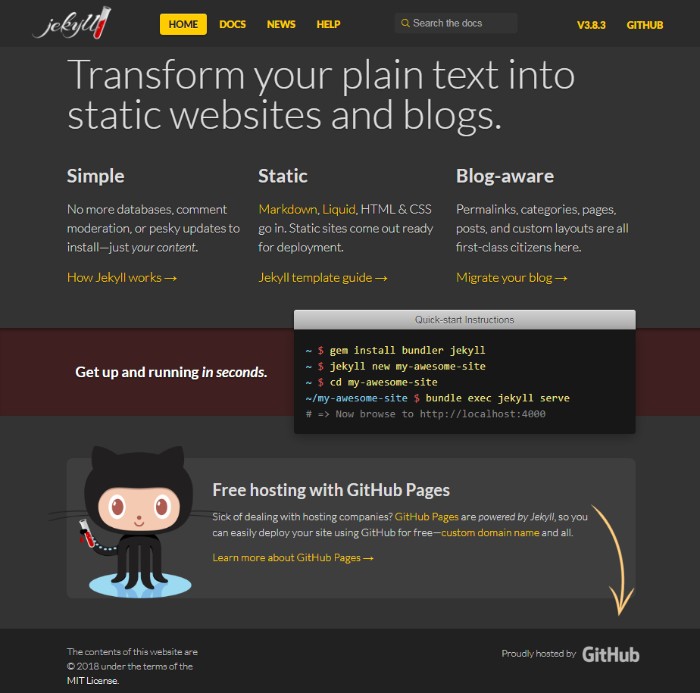 GoNevis
GoNevis is free to use a blogging platform where you can create your blog for free. If you are just getting started with your blogging career and don't want to spend money around themes, domains etc. this is a good platform to get started.
The platform will offer you a free subdomain so that you can quickly start your blog. If you want to start a blog just to share your knowledge or to write as a part of your hobby, this is a good platform for you.
Features:
Free subdomain to get started
A centralized user interface to make things easily
Beautiful modern designs are available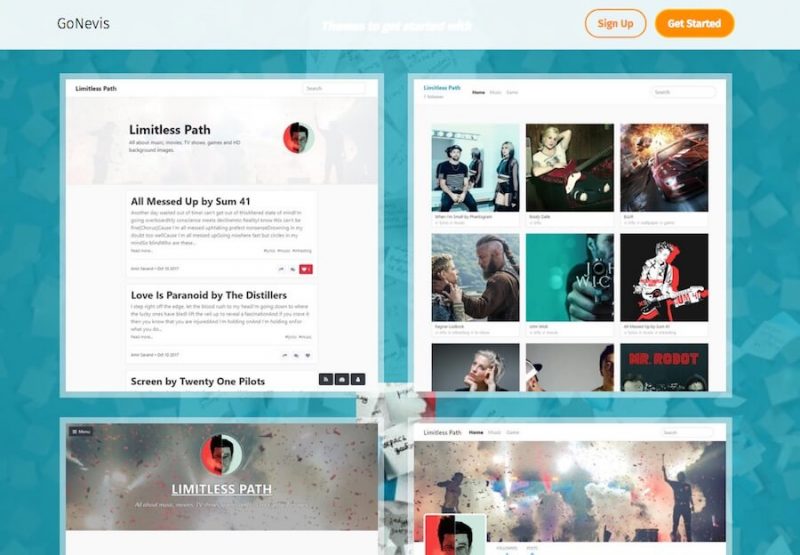 In Conclusion
So these were our picks for the top WordPress alternatives currently available in the market. Whether you are planning to build yourself a blog, a community, or even an online shop, these alternatives will help you be sufficient to handle the task at hand.
The main advantage of WordPress is that it provides users with a plethora of plugins that can add a whole spectrum of functionalities to their website.
This type of flexibility and customizability is preferred by some users. However, if you know you are not that interested in tweaking around with things and want something that just works, then these options will be more than sufficient for the job.
Also Read: