A collection of best Wedding lightroom presets that you can use on your project. We have included the top options that will make your project stand out.
The wedding pictures are undeniably is an integral part of one's life. It's the only means to revive the moments of one's most special day.
So when it comes to editing wedding clicks, essential care should be given to capture the moments and make them everlasting.
Below given are presets designed especially for giving a classy and refined look to wedding photos.
Top Wedding Lightroom Presets
Wedding Pro Lightroom Presets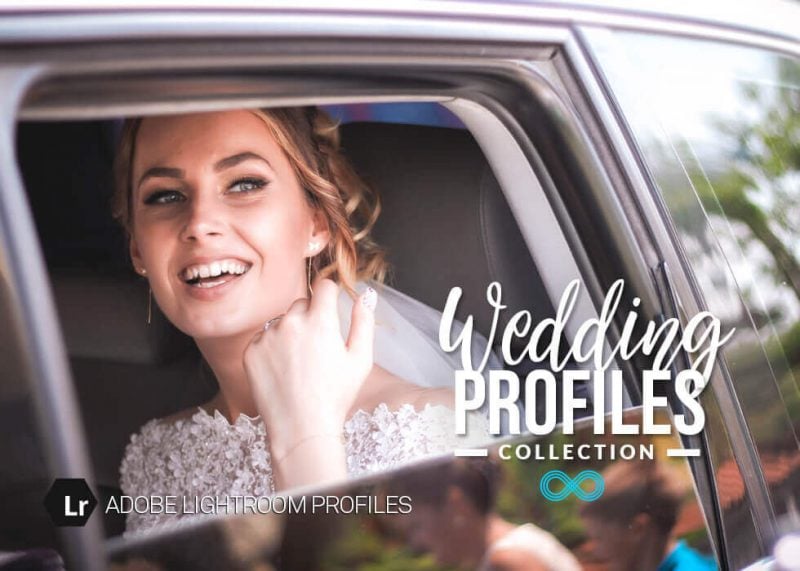 The high-quality preset collection enhances your wedding photos and brings out incredible shades in your pictures.
These wonderful presets are applicable to portraits as well. The versatile set of the preset collection is very easy to use and are completely nondestructive.
50 Premium Wedding Lightroom Presets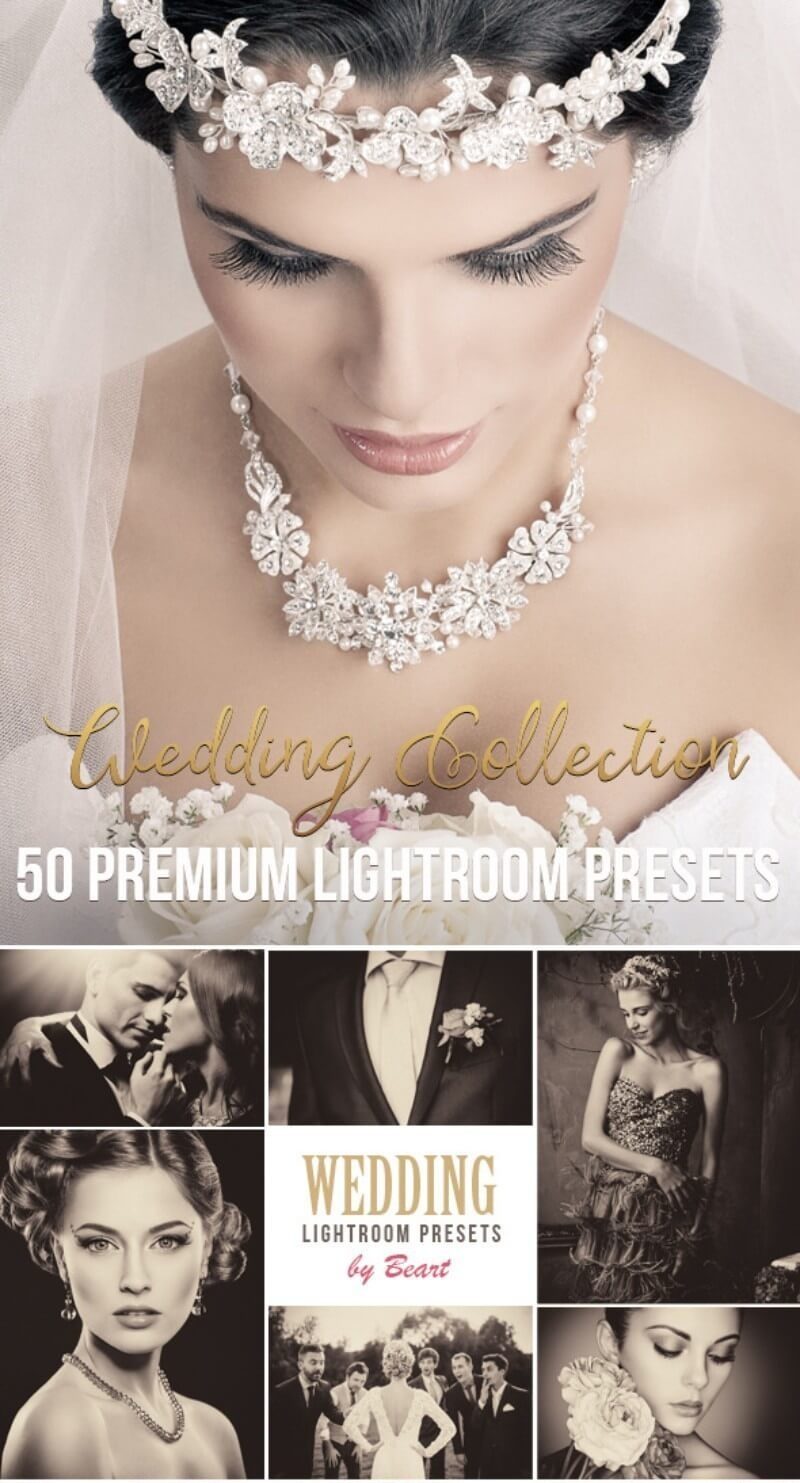 This is a unique collection of professional Lightroom presets which works incredibly well for creative photographers and graphic designers.
Now, you can add a professional touch to the image by using a single click and this lot is highly recommended for wedding photographers.
15 Pro Wedding Presets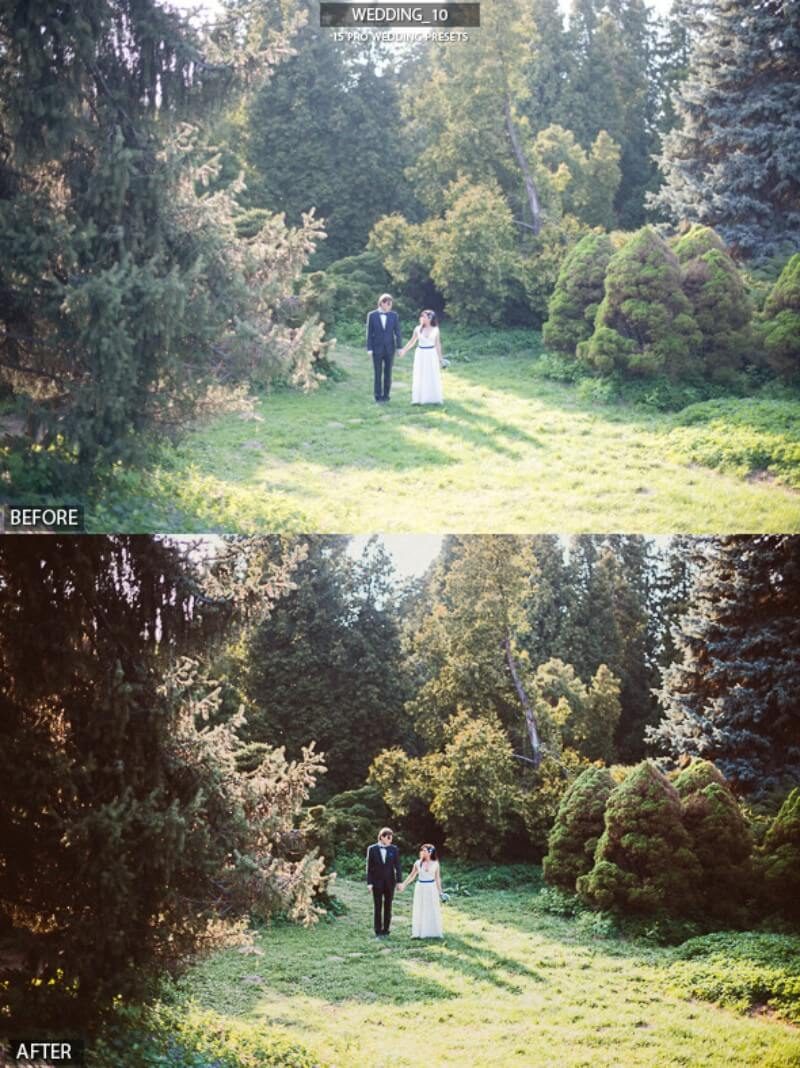 This professional set of presets is crafted exclusively for wedding photography. The presets functions pretty smart that they can be used from Lightroom 3.x to 5.x. These are compatible with raw, jpg and TIFF formats. This is an amazing collection of 15 HQ presets.
Warm Wedding Preset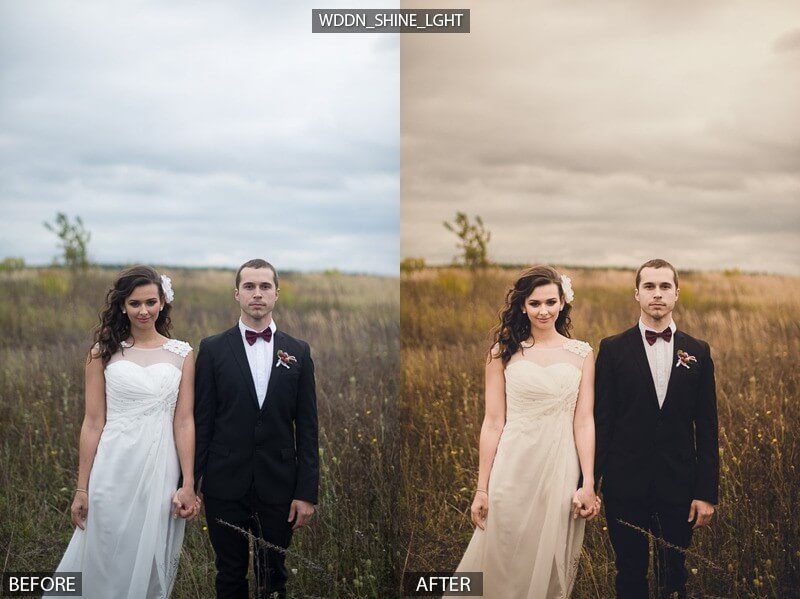 This elegant set of Lightroom preset is ideal for love-story weddings, and anything close to a sample image. The archive file guides you with the complete details of the preset.
The images that have no background need to be modified for putting presets into action.
6 Wedding Pro LR Presets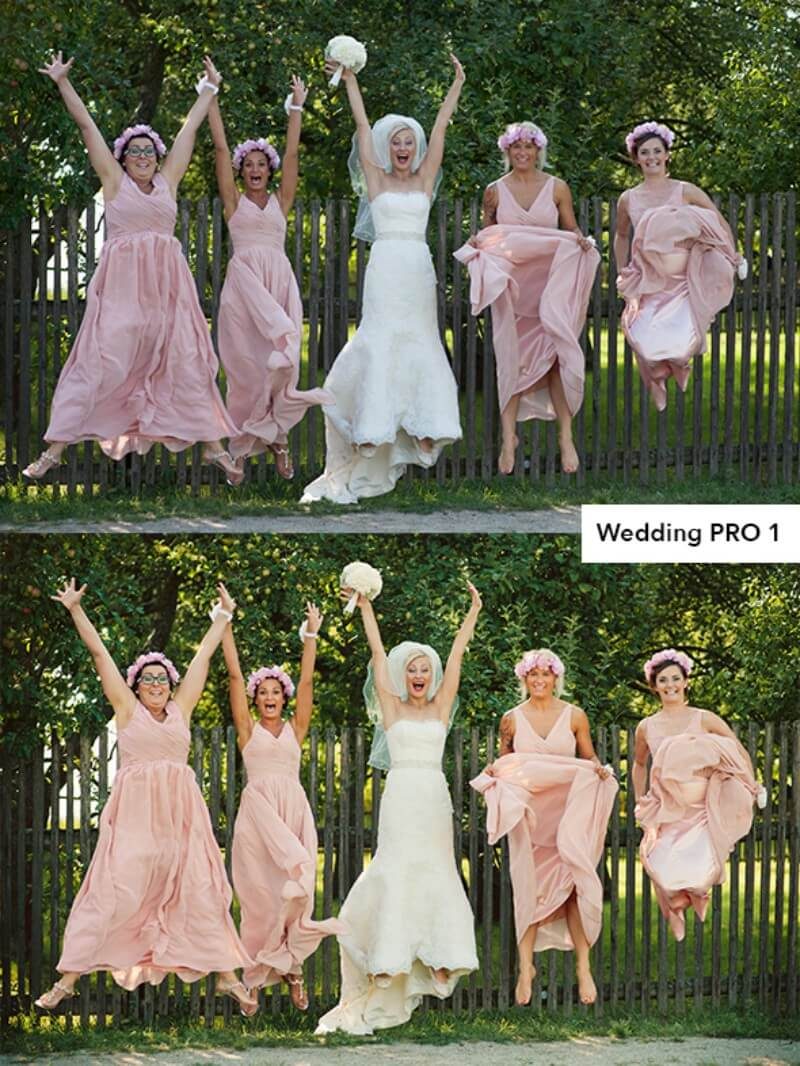 The package includes 3 x color preset and 3x monochrome preset. The unique setting of curves makes your photos beautiful. Natural and warm colors guarantee a perfect result.
Supported File Format: RAW, DNG, TIFF, JPG, MP4, MOV. Underexposed or over exposed images may not give you the best result. These presets has been successfully tested with Adobe Lightroom 4.0 to CC.
50 Premium Vintage-Wedding Lightroom Presets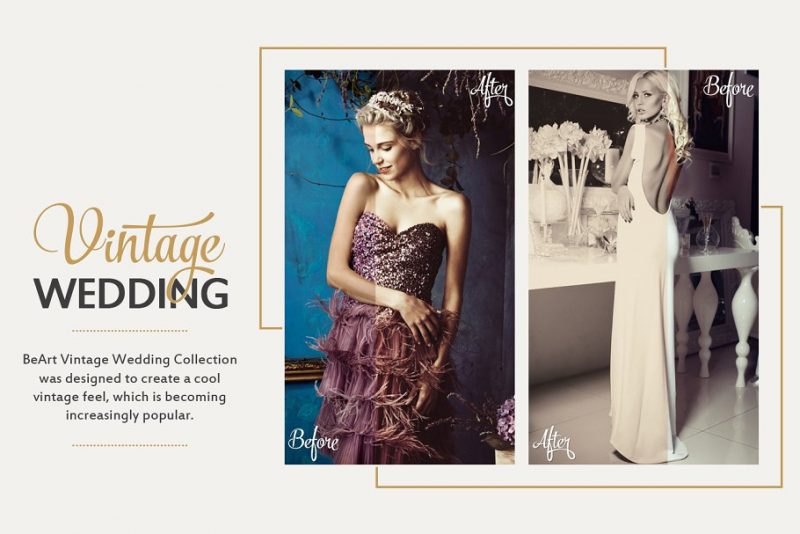 This bundle would help you process images in the most efficient way. This is designed especially for photo enthusiasts as well as day working wedding photographers.
Its amazing features include efficient and fast editing tools, compatible with lightroom4, 5 and above respectively, easy to use and install, realistic matte and vintage effects and many more.
Wedding Edition- 28 Professional Lightroom presets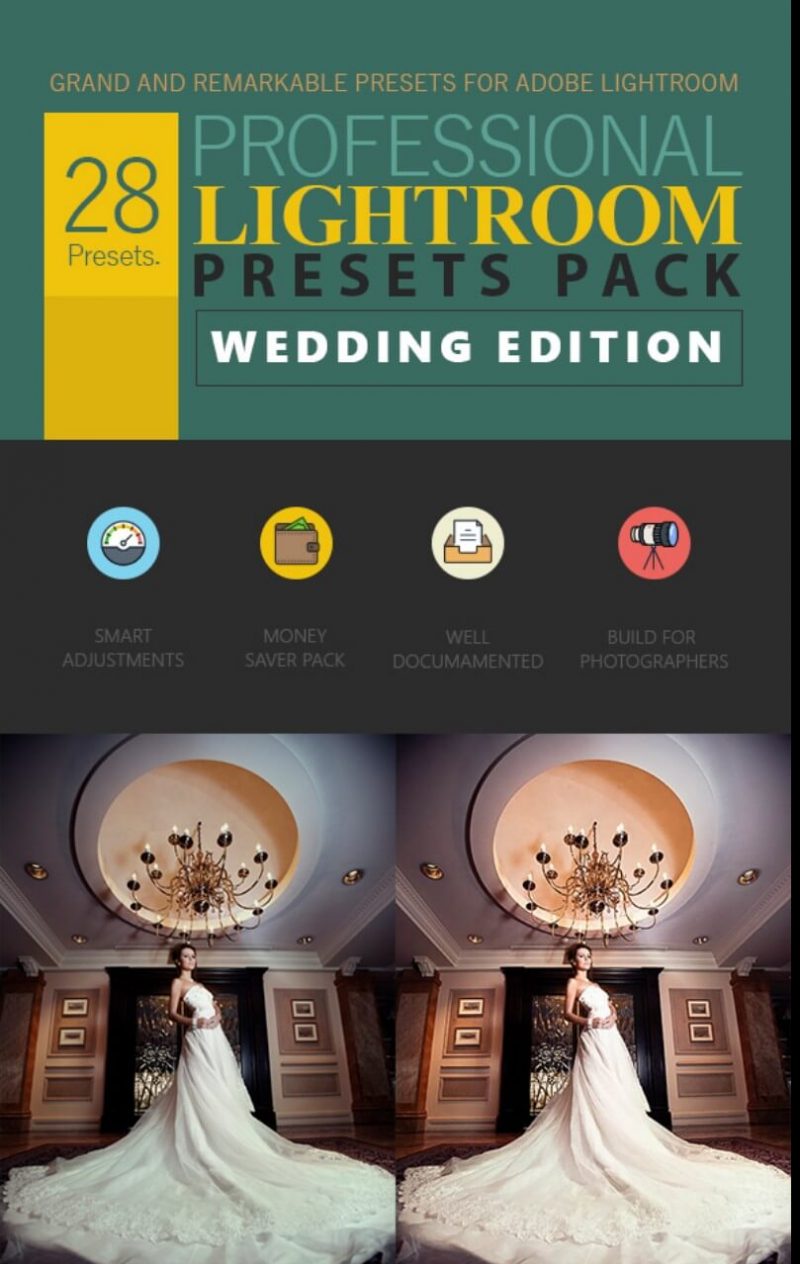 This package of presets contains all the effects essential for enhancing, repairing or retouching the images. The well-detailed help documents and tutorials make the preset collection very easy for use.
50 Premium Film-Wedding Lightroom Presets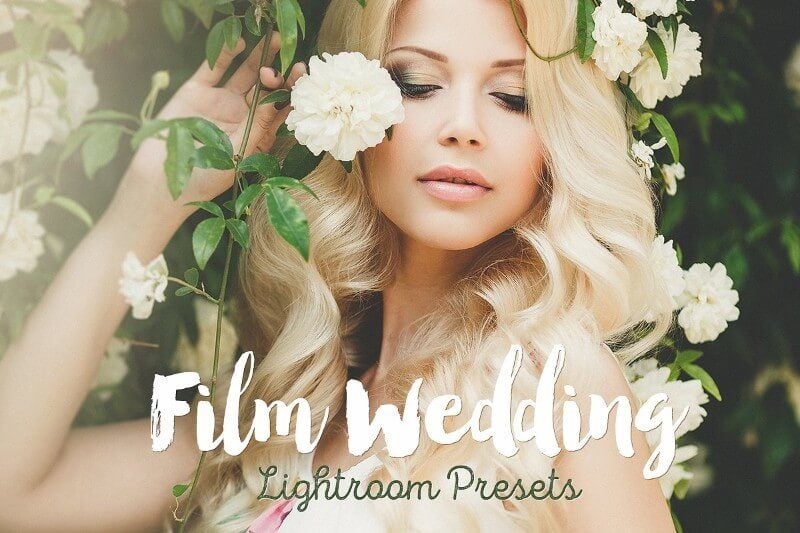 This bundle of presets is a complete solution for working wedding photographers. Its fast and efficient editing tools make the images processed in the most beautiful way. It's designed to be used with raw, jpg, DNG and TFF formats.
12 HQ Bride Presets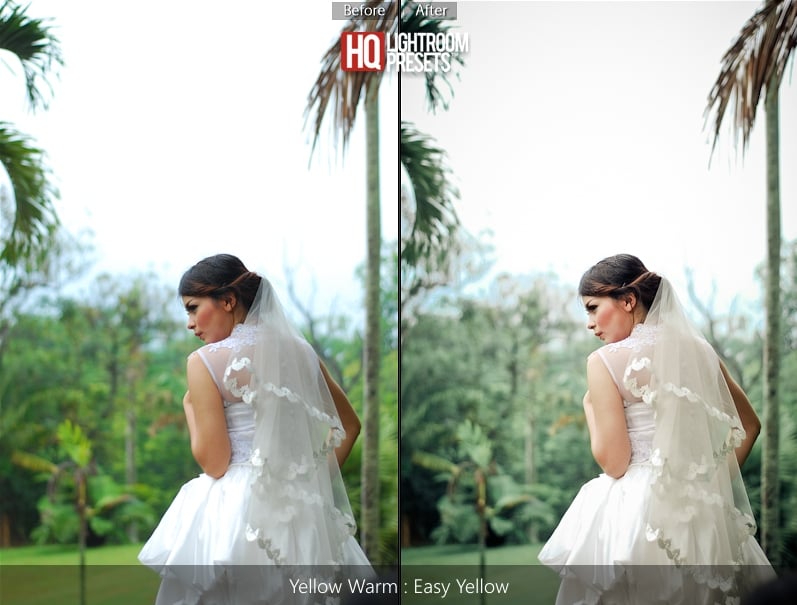 This pack of presets are crafted for bride and wedding pictures. It's a multipurpose preset that works well with other images as well. The file type used is lrtemplate and is compatible with Lightroom 3.x and above.
20 Wedding Lightroom Presets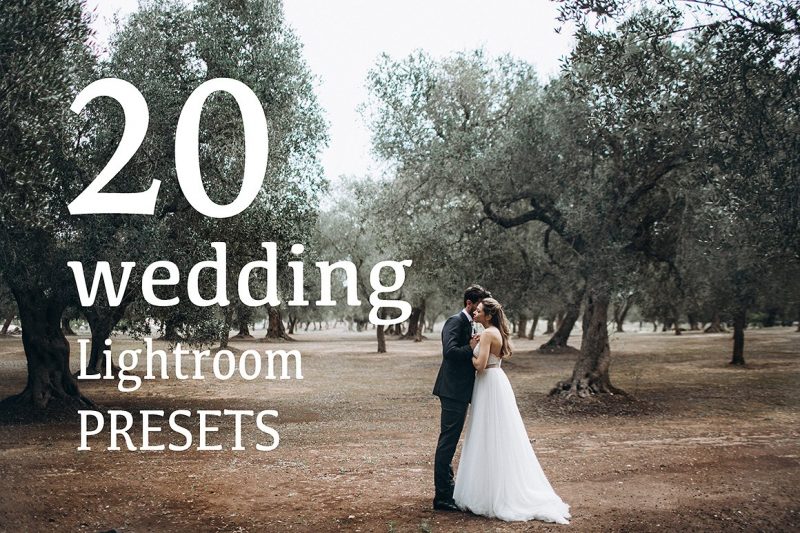 This wonderful set of presets helps in retouching wedding and portrait photoshoots. The presets excel in processing with its varied skin tones; faded colors, soft tones, comfortable black, film simulation.
You can correct the light setting; exposure, contrast, tone curve according to your preference. It's compatible with Lightroom 4, 5 and 6.
The Wedding Collection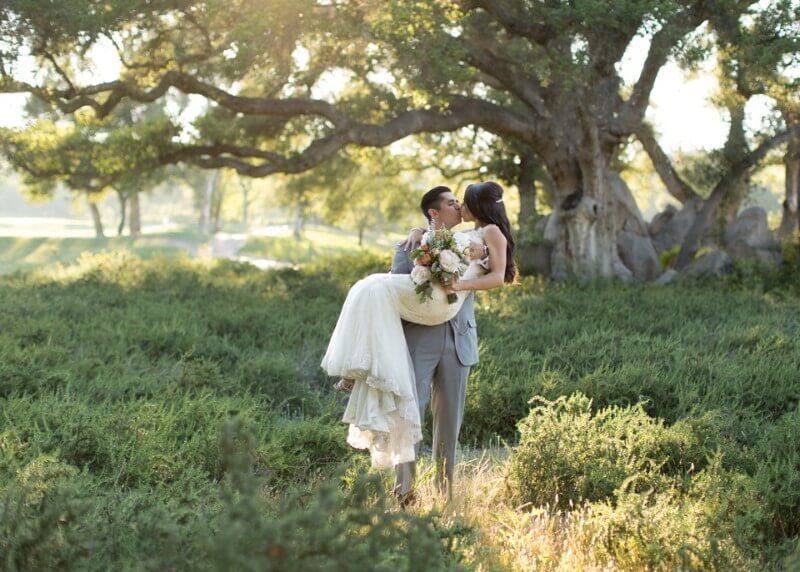 This collection of presets is ideal for a detailed wedding shot. The versatility of presets helps to overcome any challenges faced during processing. It brings consistency and efficiency to the workflow.
70+ Wedding Lightroom Presets + ACR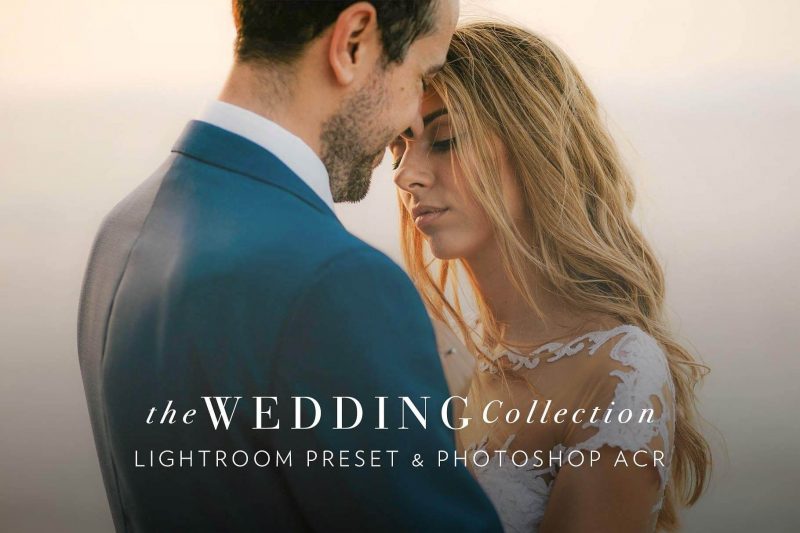 These presets contains all the essential ingredients to make your wedding and bridal photos a special treat. The preset package is very versatile in nature and will transform your pictures to a different level with no compromise in quality.
Airy Wedding Photoshop and Lightroom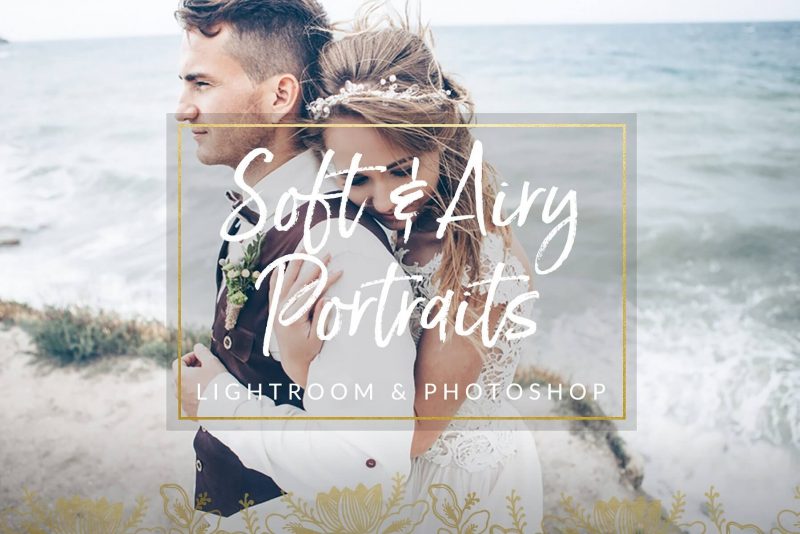 These preset ensure a bright photo edit for the wedding pictures. The presets provides efficient photo edits and will give the pictures a dreamy look.
Wedding Lightroom Presets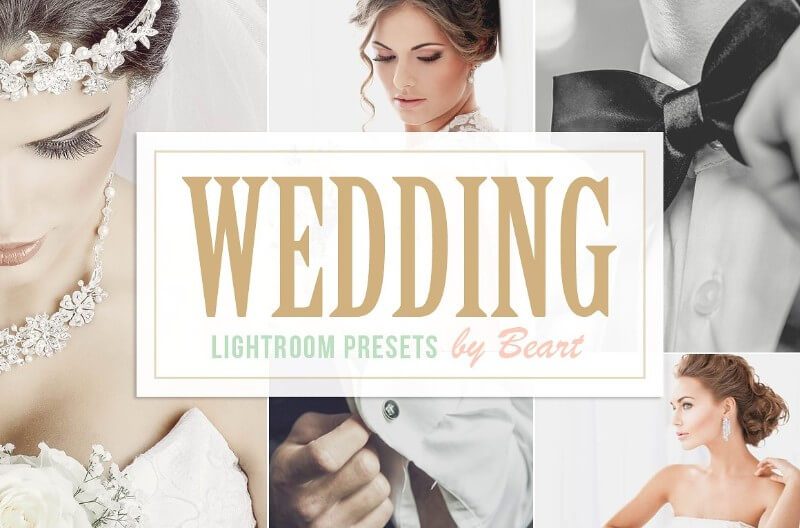 This comprehensive set of Lightroom presets is designed exclusively for wedding photographs. This collection provides a solution for any professional editing challenges and adds colors to pictures and makes it look stunning.
Moody Wedding Lightroom Presets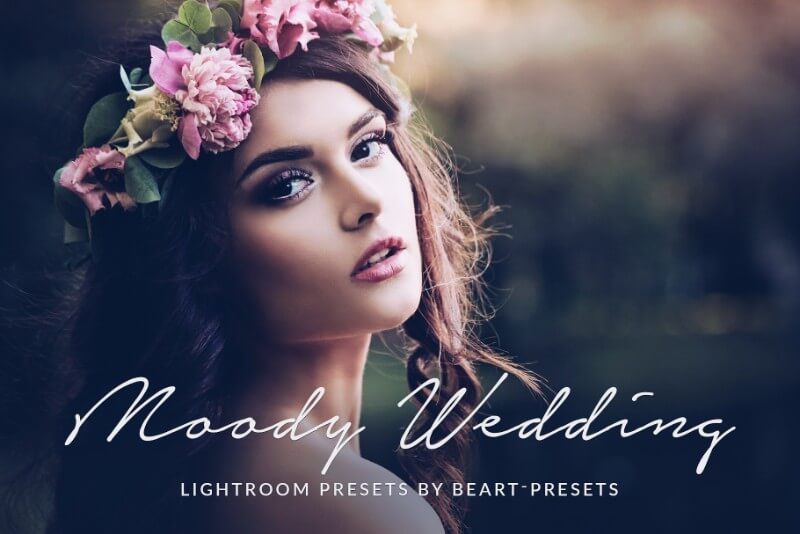 Use this stylish collection of presets for achieving professional touch in the wedding pictures. The preset is simply perfect for any condition and it'll help create moody undertones, velvety blacks, deep contrast, rich toning within the images.
Wedding Bundle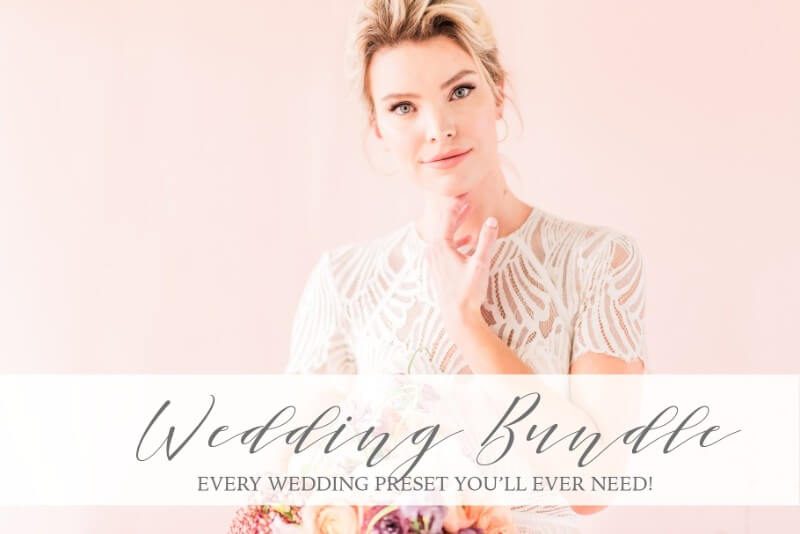 This signature bundle contains 4 light and colorful wedding preset, 3 light and airy film wedding preset and 3 bridal detail preset. The presets helps to edit quickly and efficiently to achieve the perfect look.
Rustic Wedding Lightroom Preset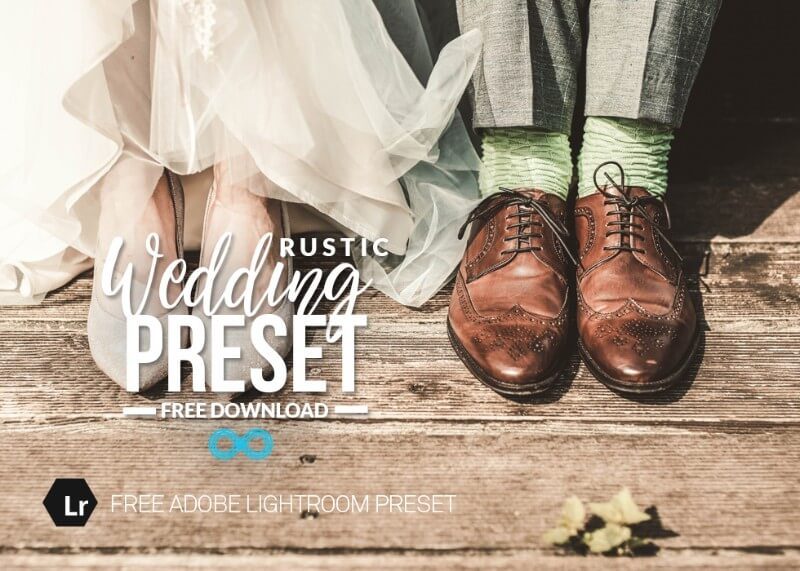 The presets in the collection is compatible with Lightroom 4, 5 and 6. It gives a rustic feel to the images. It changes the tones and gives a matte feel making it perfect for the unusual shots of the big day.
Top 40 Wedding Lightroom Presets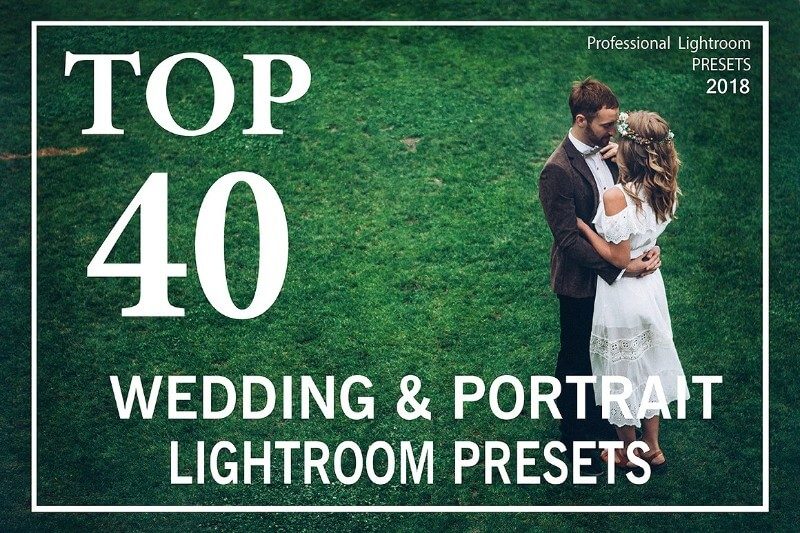 This pack of top 40 presets will help to edit the pictures professionally and will take your photography to next level. It consists of 24 color and 16 black and white presets that'll suit the requirements while editing portrait and wedding photos. It's compatible with Lightroom 4, 5 and 6 versions.
Bespoke Wedding Lightroom Preset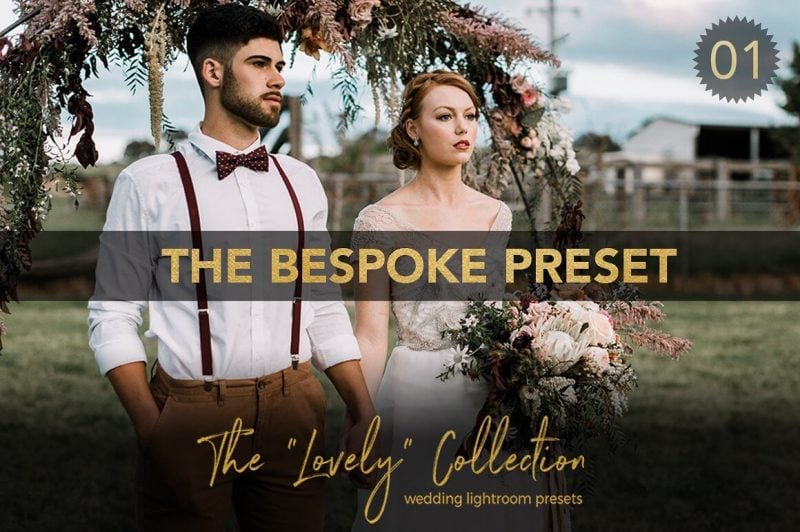 Bespoke ensures that the wedding pictures look consistent with a unique style. The presets are designed to work with anybody no matter a professional or a beginner. The presets gives emphasis to quality rather than quantity and ultimately presents lovely images.
The Luxe Preset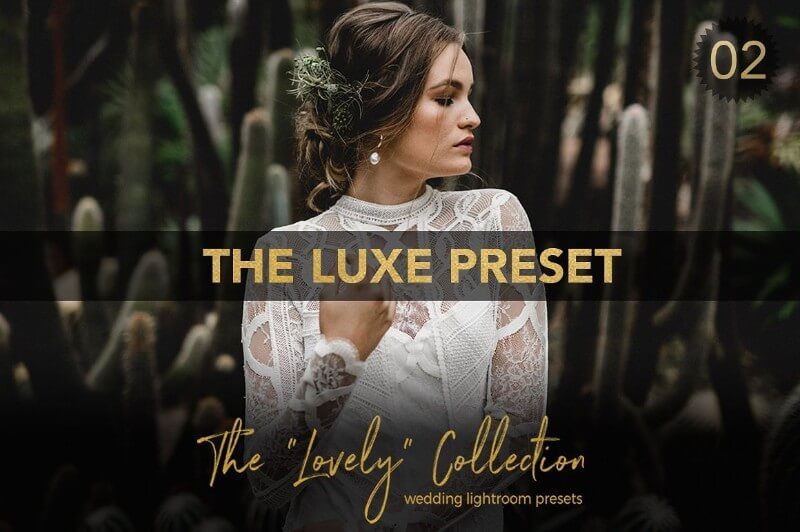 This set of preset helps you to attain the professional look easily in the images. The presets are crafted to work for wedding and portrait photography giving an ultimate finish to the pictures.
Earthy Toned Wedding Preset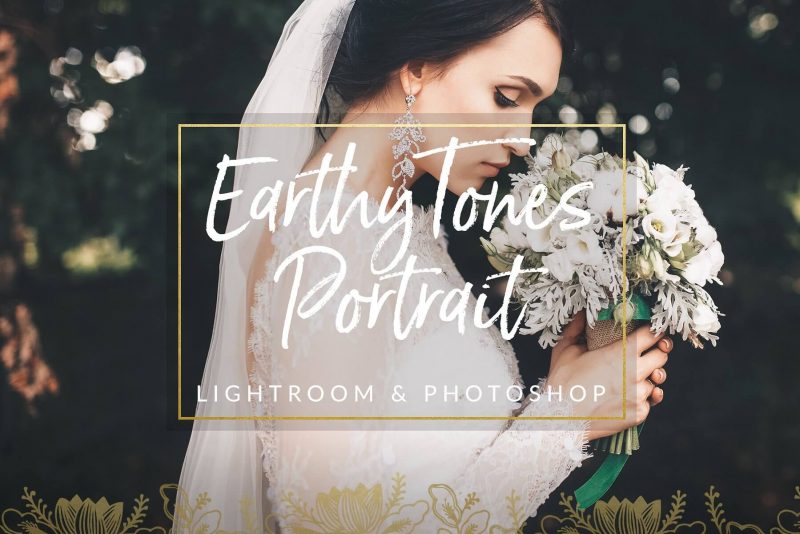 The presets creates a beautiful and trendy earthy toned images. The presets maintains the skin color at every level of edit and adds rich bold blacks. The presents succeed in giving an organic trendy muted look to the images.
Gold Film Toned Wedding Presets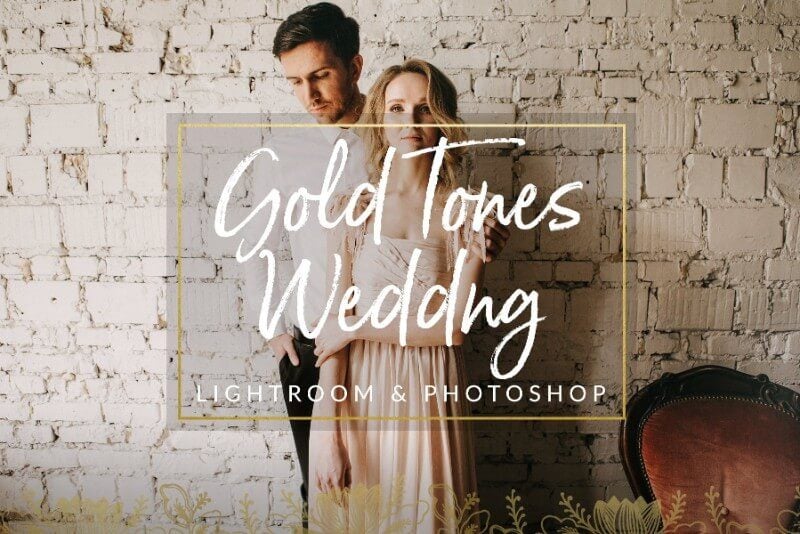 These presets guarantee a gold, warm look to the images and increases clarity and depth effects. It also tones the white levels, adjusts the black clip, adds mild film grain and will definitely give it that modern warm film look.
Modern Tones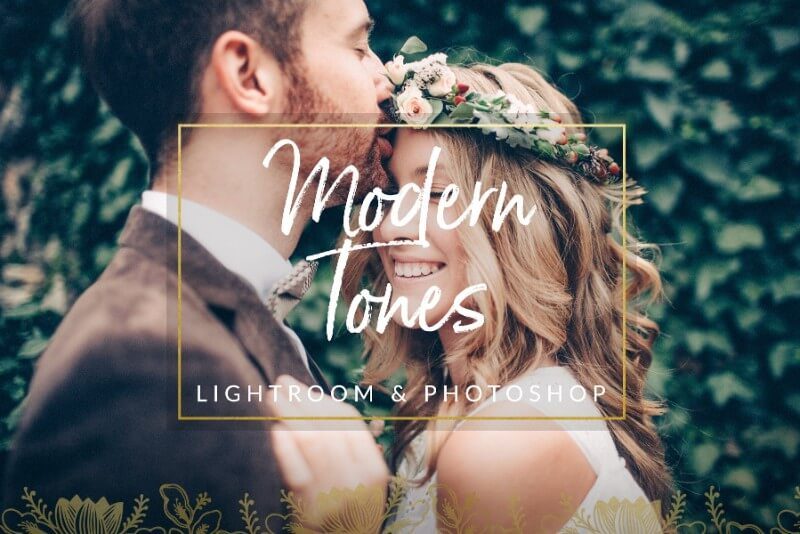 These presets will provide a modern bright-toned photo edit in pictures. It adds softness and vibrant tone in the images. It's compatible with Lightroom 4, 5 and 6.
Film Wedding Lightroom Presets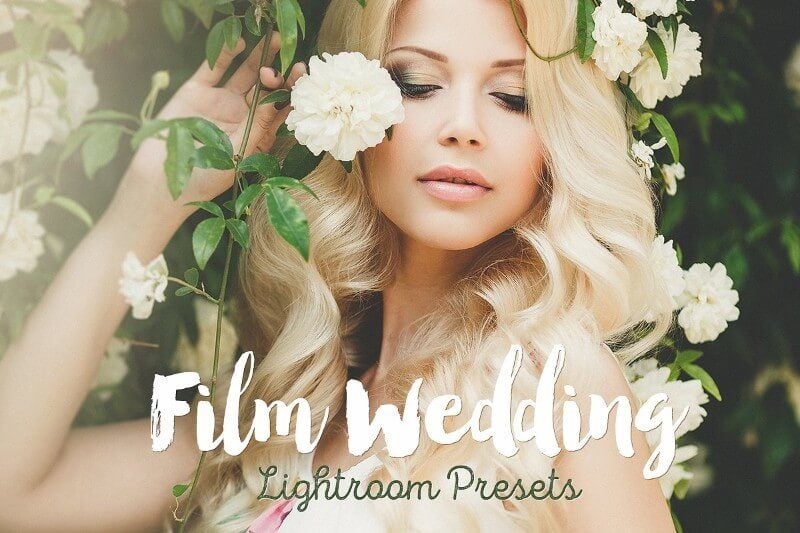 This bundle of presets is a well-balanced collection that'll meet the requirement of any wedding photographer during processing the images. It consists of 40 premium Lightroom presets that are exclusively made for wedding photographers.
Cinema Color Grading Presets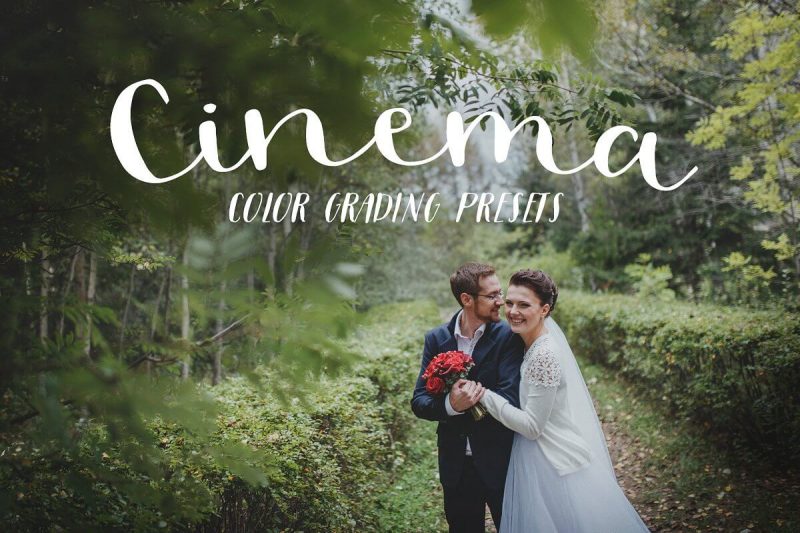 It consists of 14 premiere professional presets for color grading. It's specially crafted for wedding and engagement videography and is quite easy to maintain and use. It's customizable and can be used with Lightroom 4, 5 and 6.
Muted Tones Lightroom Presets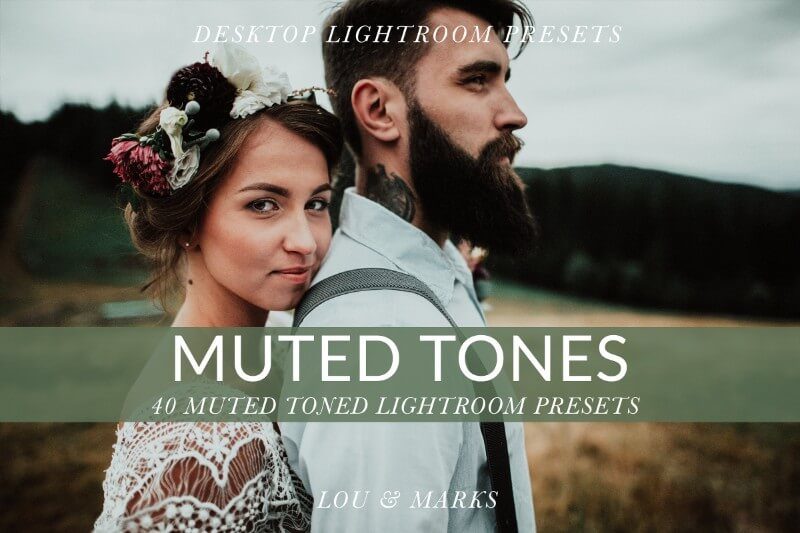 This pack consists of 30 muted toned presets, and 35 muted tone PS ACR presets that's compatible with any version of Lightroom. It provides the pictures a more film aesthetic look and makes it vibrant as well.
Fine Art Wedding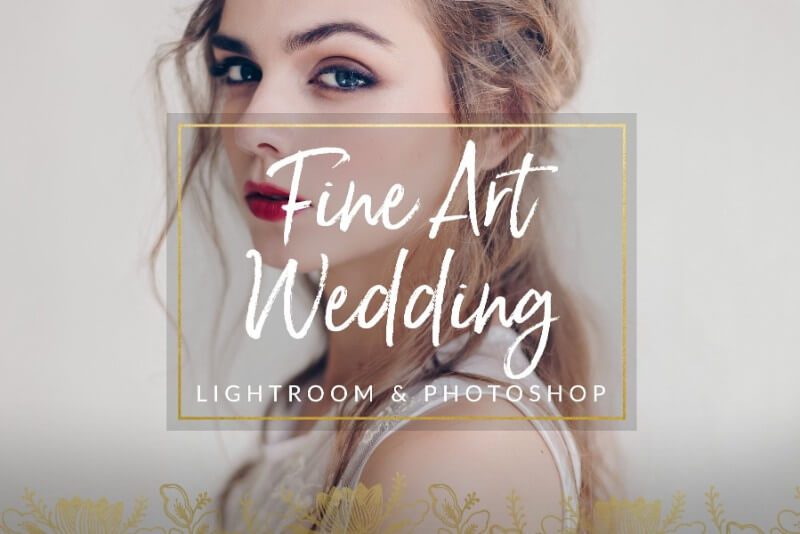 Make use of these preset to make your wedding pictures a fine art by giving the images the right edit. These are compatible with Lightroom 4, 5 and 6. Some of its attractive features include high quality and robust output, non-destructive workflow, 1-click action, etc.
Royal Wedding Pro Photoshop Action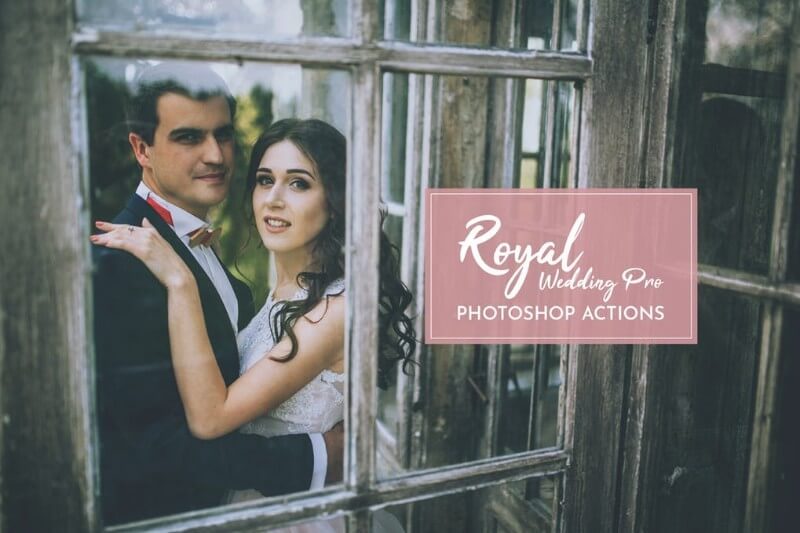 These are specially designed presets for making the wedding pictures look dashing. These preset consists of the necessary tools required to professionally process your photos.
These also suits the demands of travel photography, engagement, fashion, portraits, architecture, etc.
Wedding Presets Vol-1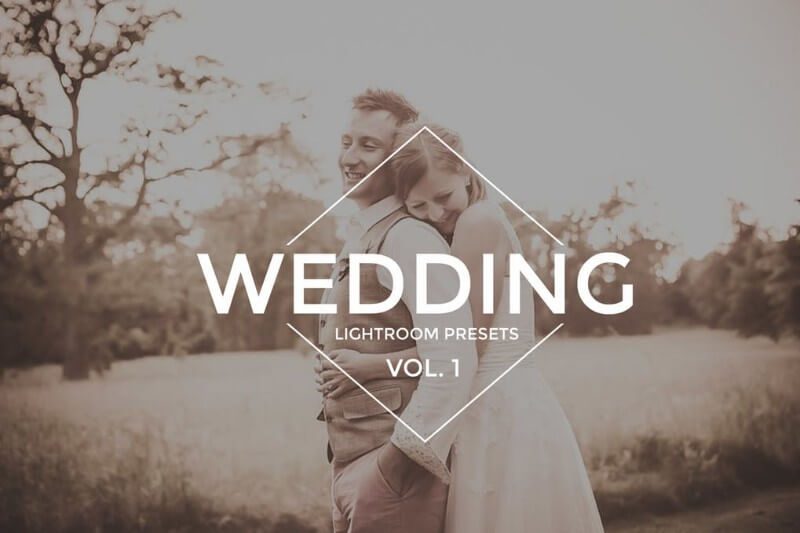 It brings about a clean and accurate skin tone in the images. This collection of presets will give you the versatility to overcome any editing challenge a wedding photographer faces.
It's fully compatible with PC and Mac and can work with jpeg as well as raw files.
Indie Wedding Presets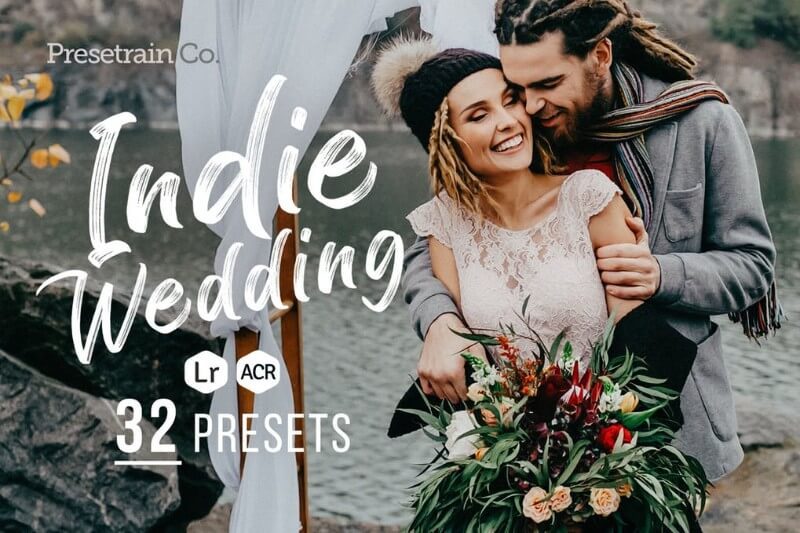 Indie wedding preset is a large collection of presets that are quite sufficient for processing wedding, portrait, family and event photography.
The set of presets will indeed speed up the post-processing workflow and help you achieve awesome results. It's compatible with Lightroom 4 and higher versions.
Wedding Lightroom Preset Vol2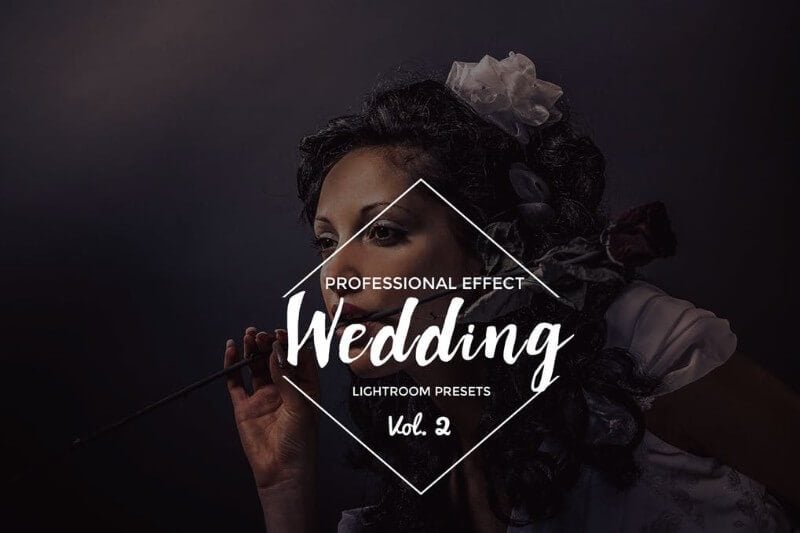 This professional preset collection is a must accessory for photographers and graphic designers. It consists of 22 professional presets that are compatible with Lightroom 4, 5 and 6. It can be used with both jpegs as well as raw files.
Porto Chrome LR Presets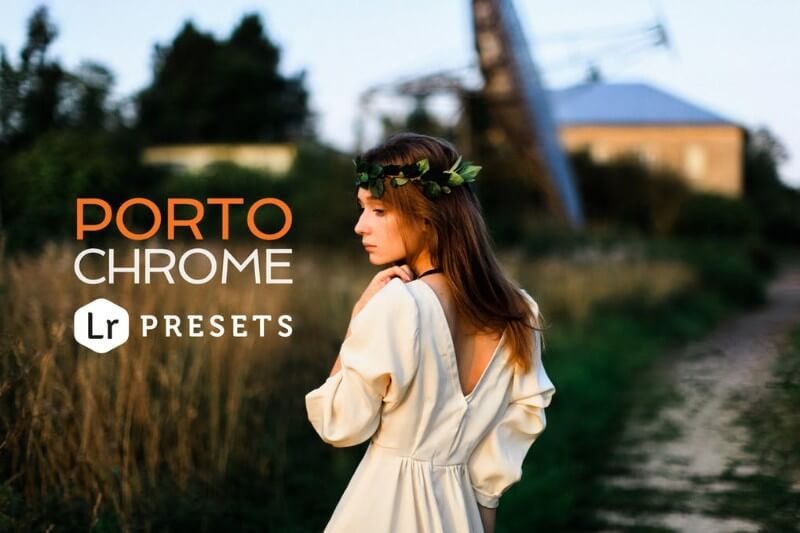 Porto chrome brings about the old-school chromatic effects in the wedding pictures. Its versatile nature makes it use with studio portraiture, landscape, and travel photography apart from the wedding pictures.
Boho Wedding Lightroom Presets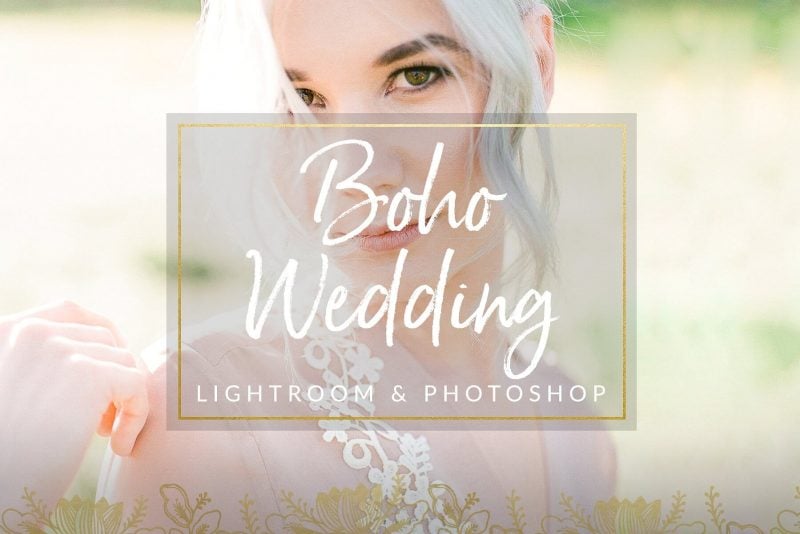 These preset creates a boho toned effect on the images. The wedding pictures after the edit give a beautiful chic feel and help to enhance the skin color of the pictures.
Cranberry Wedding Lightroom Presets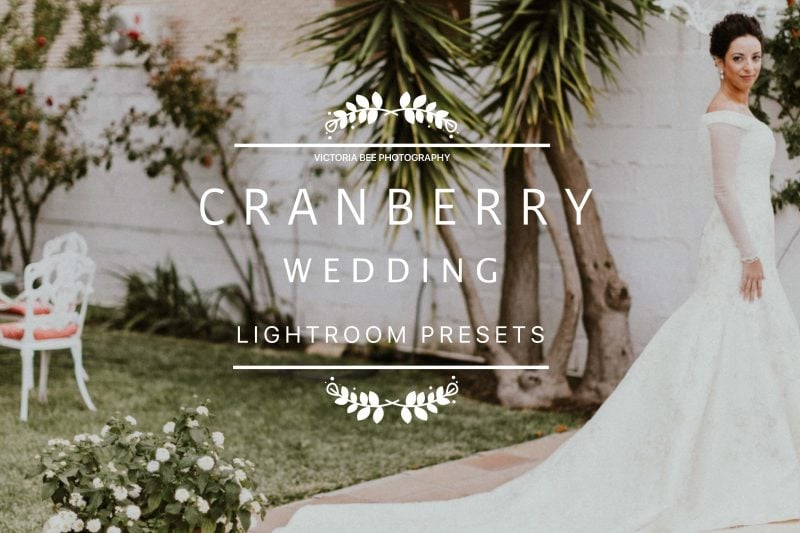 These are perfect for wedding and portrait photography. It consists of 5 color presets; normal, light, moody, texture, and contrast. It's compatible with Lightroom 4, 5 and 6 and works well on raw and jpeg image formats. Also, it can't be used on Lightroom mobile.
Clean Film Wedding Lightroom Presets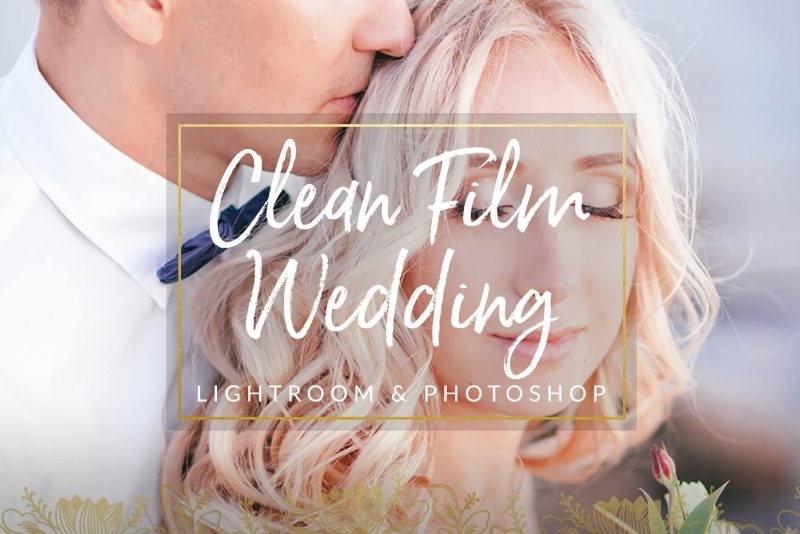 Use the presets and give your images a clean and film toned photo edit. It adds a mild cool clean tone to the wedding pictures and adds no film grain to the images thereby keeping the edit very clean. These give your wedding pictures a modern yet professional look.
Vibrant wedding Presets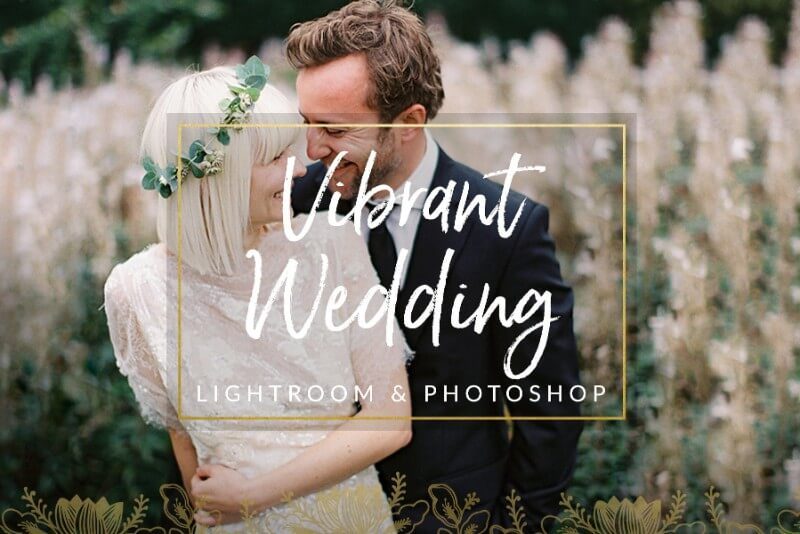 These presets leads to a vibrant photo edit of your wedding photography. It gives the pictures a vibrant and saturated look. It's compatible with Lightroom 4, 5 and 6.
Wedding Day LR Presets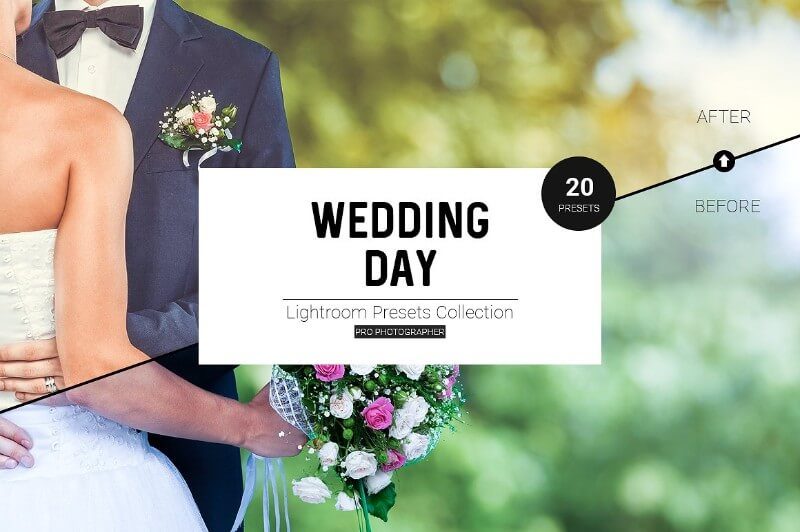 Wedding day LR bundle provides presets for different situations; sunny, bright, and anything you name it. The collection consists of a zip file containing 20 lightroom preset files that'll solve all your editing challenges.
Luminous Film Tones Wedding Presets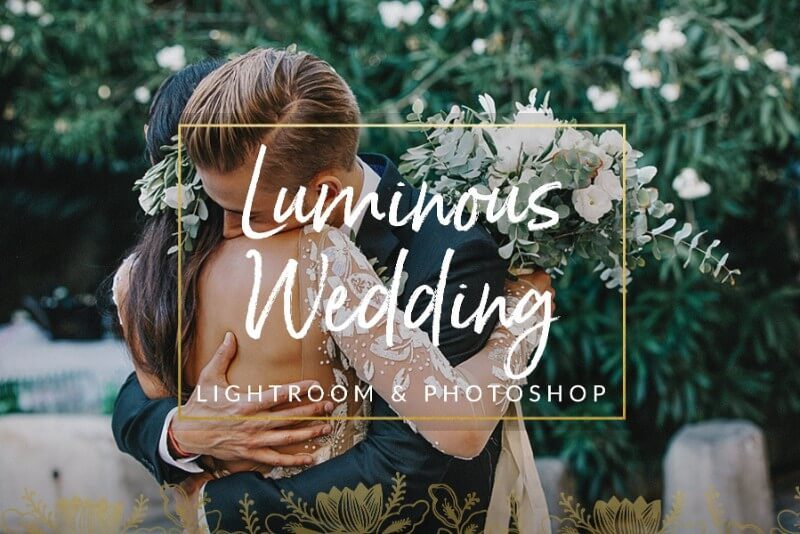 These presets gives a luminous photo edit to the wedding pictures and helps in reducing the shadow effects. It also helps in increasing the saturation in the colors and adds a mild film grain to the pictures.
The presents are efficient to tone the white levels and provide classic film tone.
Light and Colorful Wedding Presets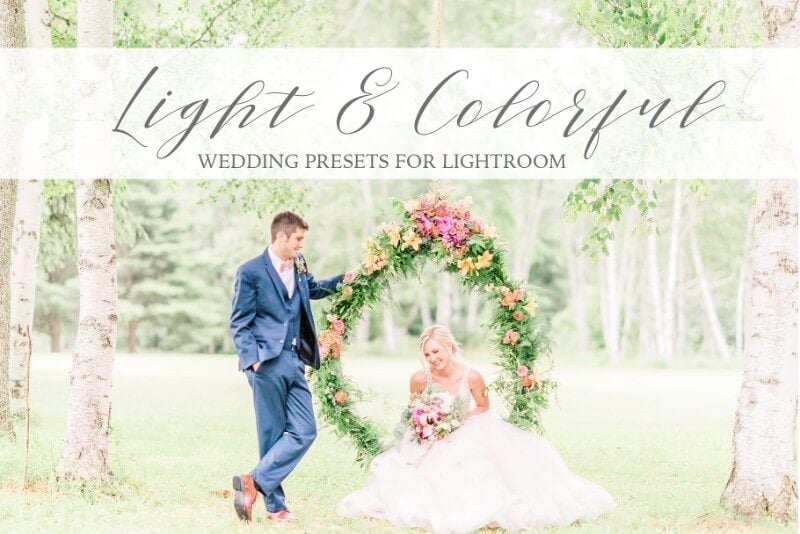 These are gorgeous presets that provides breathtaking effects that guarantee the fine art that you have been searching everywhere. The presets will brighten the images and gives an air edit.
Faded Tones Wedding Presets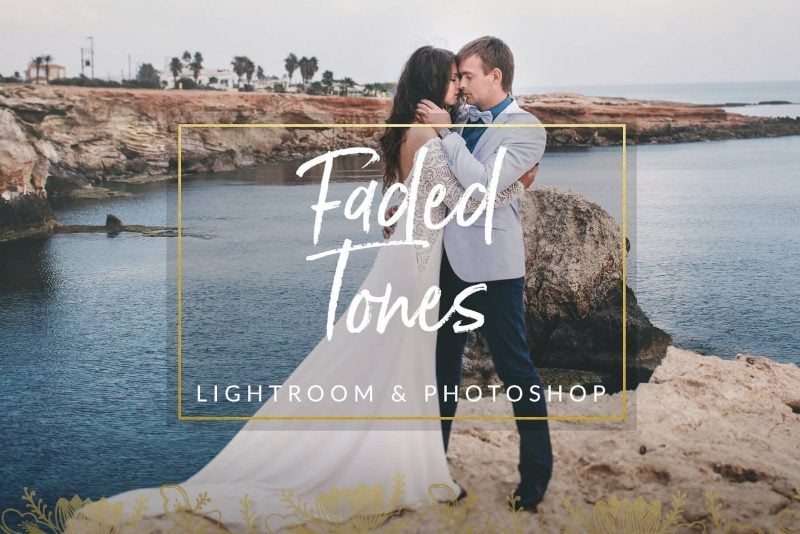 This bundle of presets gives a meaning to your wedding pictures. After processing the pictures looks as if they have been pulled out from a glossy wedding or lifestyle magazines.
The presets adds a graphic element to pictures that'll enhance your wedding photography and gives the pictures an elegant faded look.
Clear Film Wedding Presets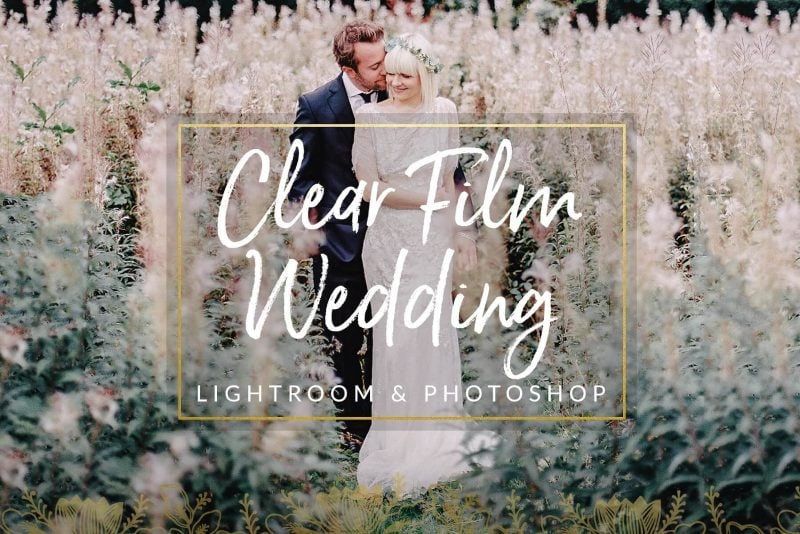 Use this wonderful collection of presets if you want to try clear film toned shades on wedding pictures. The presets brightens shadows, reduce noise, sharpen and gives clarity to images.
Cool Tones Wedding Presets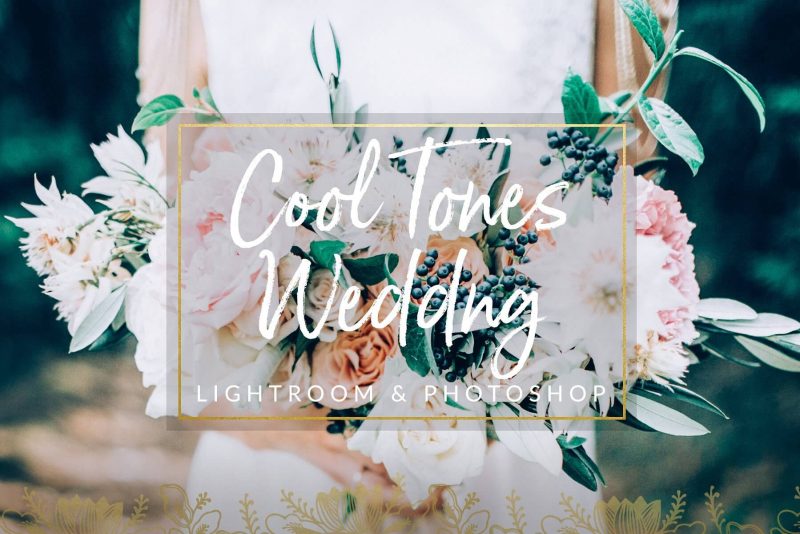 Cool tones like the name provide a cool tone to images. It adds depth and gives a cool toned surface to the wedding pictures giving it a modern film look.
The preset collection can be used for portraits, fashion, street photography besides the wedding pictures.
125 Indoor Wedding Presets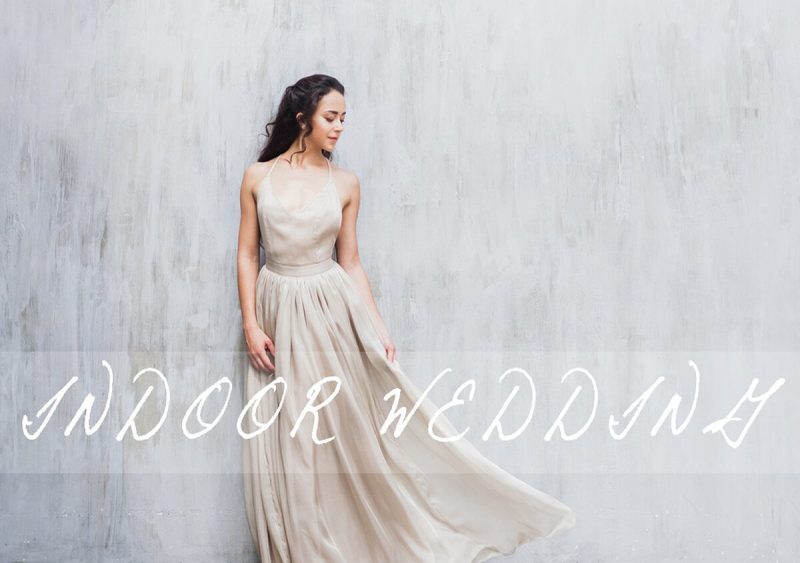 This exquisite package of presets is designed to provide a romantic look to your indoor photographs.
Its highlights include matte look, color toning, saturating, highlighting, sharpening, softening, romantic glow, dramatic details, emphasizing the subject, and so on.
The Wedding and Portrait Bundle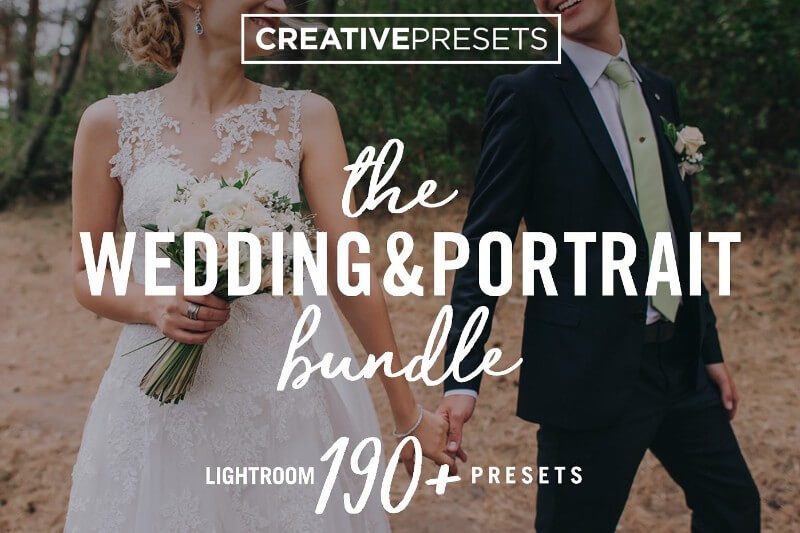 You can easily enhance your bridal and wedding photos using this exclusive pack of presets. The presets owns special filters to make the best out of the wedding photoshoot.
These are 100 percent non-destructive type presets that offers multiple variations to accommodate changing lighting conditions.
Bright Film Wedding Presets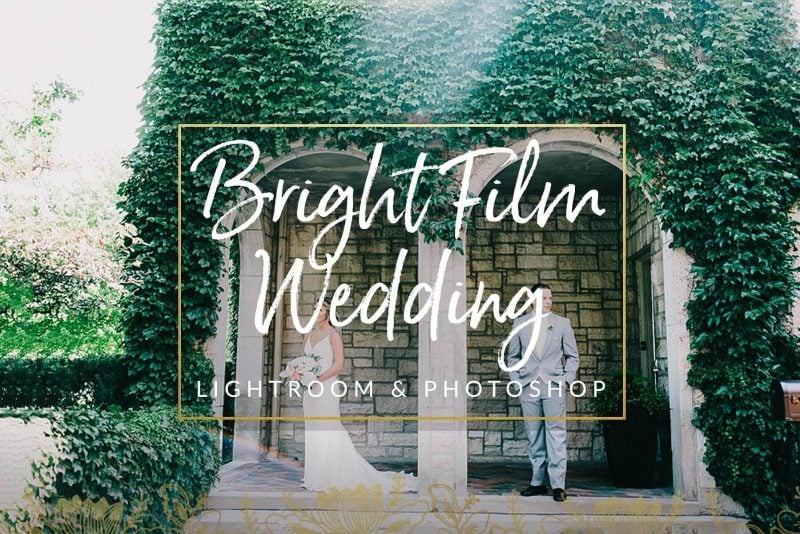 These preset brings bright-toned shades in pictures. It increases the depth effect, tone the white levels and will definitely brighten up your wedding photography.
Dream Wedding Presets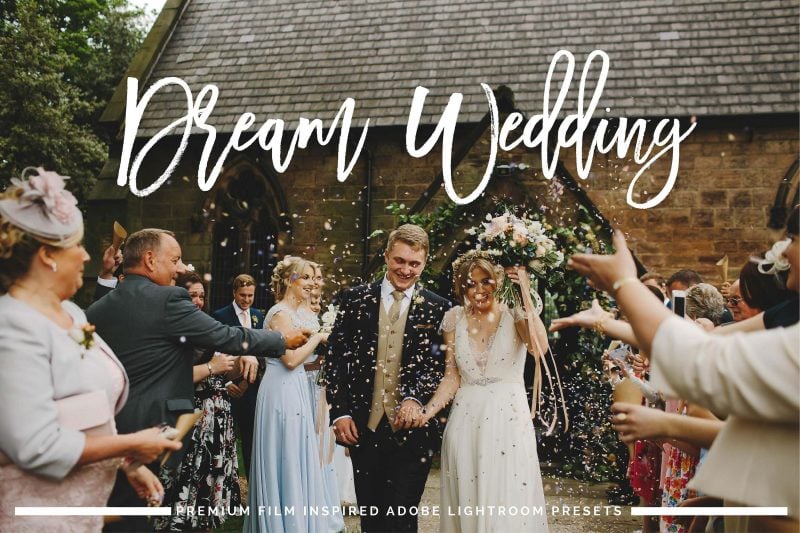 This preset collection was designed to make fairytale weddings a reality. It works the best when used on green outdoor pictures. It includes around 16 presets that are predominantly subtle and soft.
Wedlock Pro Lightroom Presets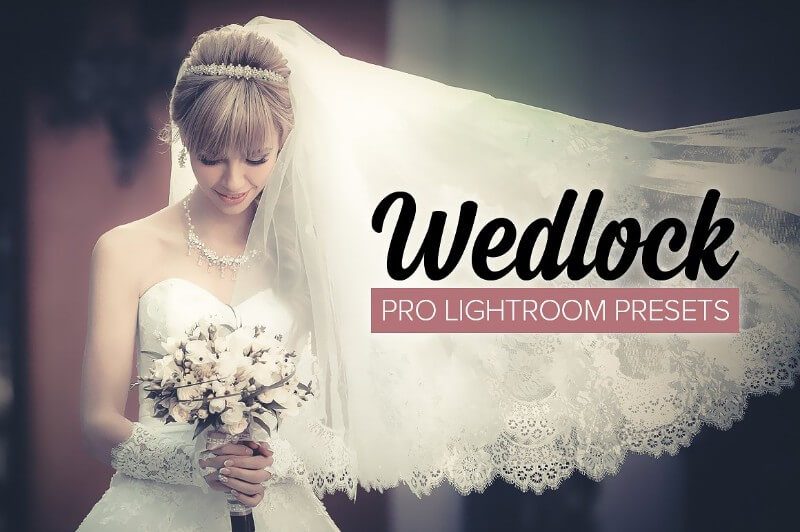 Wedlock provides a quick aid to enhance and edit your wedding pictures. It consists of a variety of elegant tones that are required to process images of the wedding as well as the reception.
Some of its superb features are an easy modification of pictures, hassle-free installation guide, compatible with Lightroom 4 and above versions.
Wedding Preset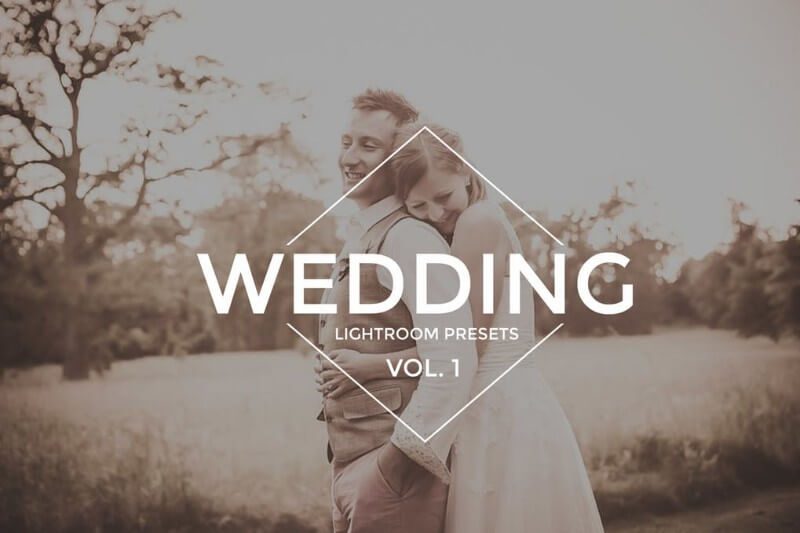 This fully adjustable preset is carefully constructed so that the edited pictures look good irrespective of the camera brand and type of pictures. It's compatible with Lightroom 4, 5 and 6.
Wedding Collection Lightroom Preset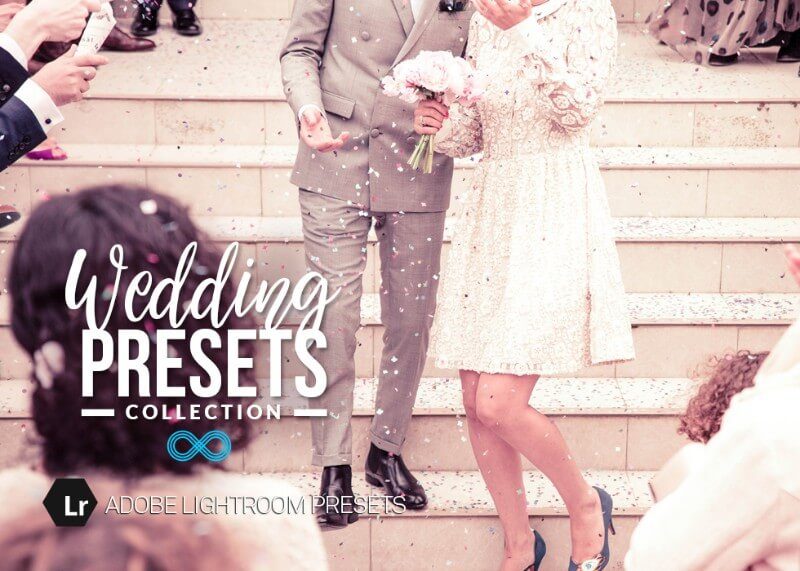 It consists of 40 lightrooms presets which have been specially crafted for enhancing wedding photographs. It' s fully editable and is compatible with both Mac and PC.
Choose the wedding presets according to the requirement and speeds up the post-production of images by making use of these credible tools.
[kkstarratings]