Are you looking for Wayback Machine alternatives that will allow you to see what a particular website looked like in the past?
You've come to the right place!
Whether you want to access the deleted data of the website or you want some help with creating business strategies, these digital archive websites help you go back in time and look at the changes a site went through.
But before beginning, let us understand what the Wayback Machine really is!
We don't want someone to misinterpret the use of a Wayback Machine.
After its introduction in 2001, the Wayback Machine has been able to add more than 450 billion pages to the archive. The goal behind the development of such a website was to provide universal access to all information by maintaining archived copies of non-functional websites.
You can also use the Wayback Machine to retrieve your lost data. If you lose any content on your site, you can use the Wayback Machine as a resource for potential retrieval.
Although it is a very popular website, that doesn't mean it doesn't have limitations. Users have noticed its unresponsive behavior on a number of crawlable websites.
Also, you should be prepared if the site doesn't work someday because it has to deal with copyright infringements.
So, here are the Wayback Machine alternatives that will help you fulfill your digital archive needs!
What Are The Top Wayback Machine Alternatives?
Here's a comprehensive list of top Wayback Machine alternatives that you can use to check the history of any website.
01

. Archive.is

If we were to think about the best alternatives to the Wayback Machine, it would be a major mistake not to give Archive.is the first place. While it has been in existence for several years, it is still considered the biggest competitor of the Wayback Machine.

Not only does it save a snapshot of the web pages when the web page or website disappears, but it also saves the HTML code of the web page/website.

Whether you're looking for valuable data information or a graphical overview of the website, Archive.is will help you with it. Moreover, it even helps you to archive the content of the live websites.

Although the interface is not the best user-friendly you'll see, it still provides easy navigation.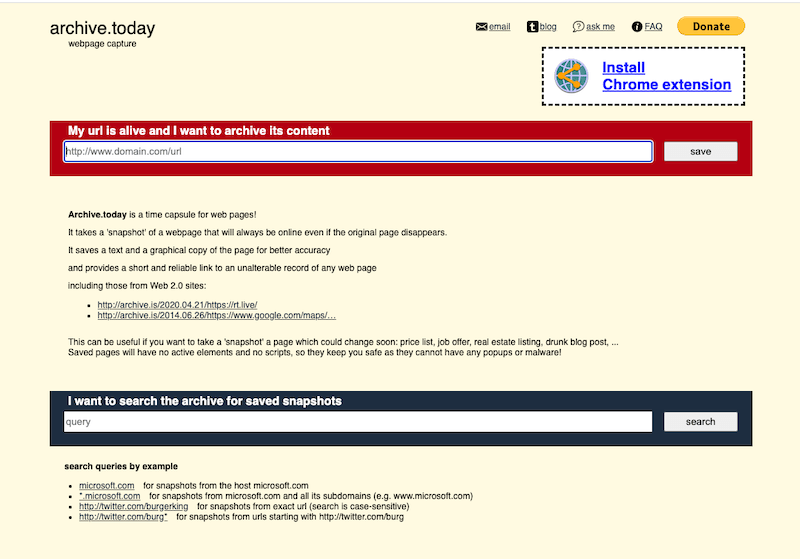 02

. Perma.cc

Developed by the Harvard Law School Library, Perma.cc is the next one on the list.

What makes it to claim the second spot on our list?

It's the ease of creating permanent records of the web sources you want to. You just have to find a URL, add it to perma.cc, and create a permalink. Then, you just have to cite "safely". Yes, that's it!

If you were to cite a web source in your document, this alternative is a must-have as more than half of the articles suffer from the problem of link rot (when links cited lead to broken pages).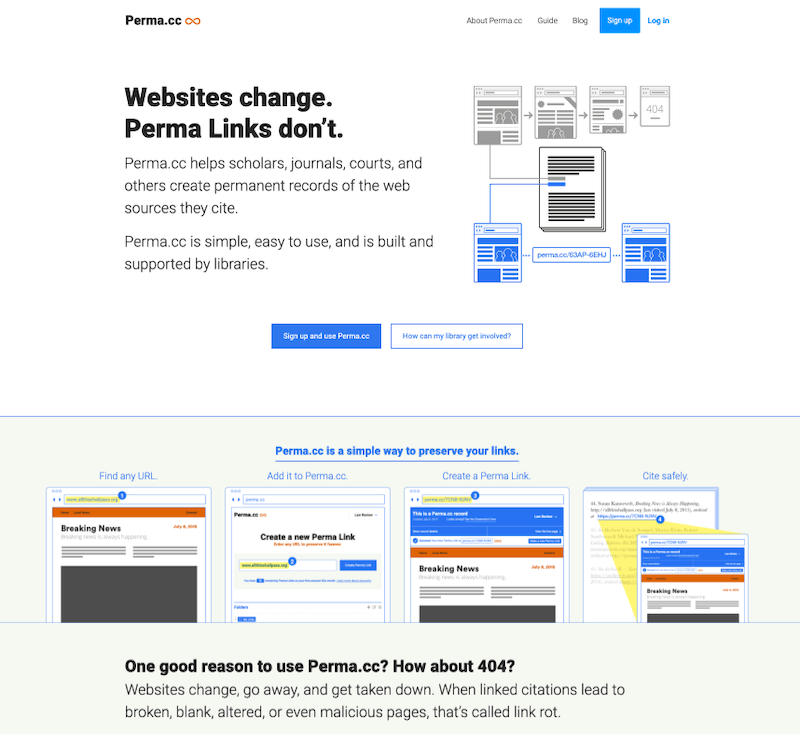 03

. Screenshots

Do you know what Screenshots is also known as?

A time machine with more than 250 million website screenshots. In terms of comparisons to the number of archives, Screenshots is far behind the Wayback Machine.

Screenshots, with their user-friendly interface, would provide you with an accurate copy of how the website used to look earlier. Even the process of getting the required information is easier – you just have to type the URL in the search bar and wait for the results.

In addition to how the site used to look, Screenshots provide the domain registration information.
04

. iTools

The iTools is one step ahead of the Wayback Machine when it comes to functionality. It's more than just a site that meets the needs of your web archive. Its list of functions goes beyond providing you with screenshots and a coding framework.

By using the data generated by the Alexa software, iTools provides you with comprehensive information on traffic, statistics, and traffic analysis on the website.

Although you might complain about the not-so-great user interface provided by the site, it still is a pretty handful tool.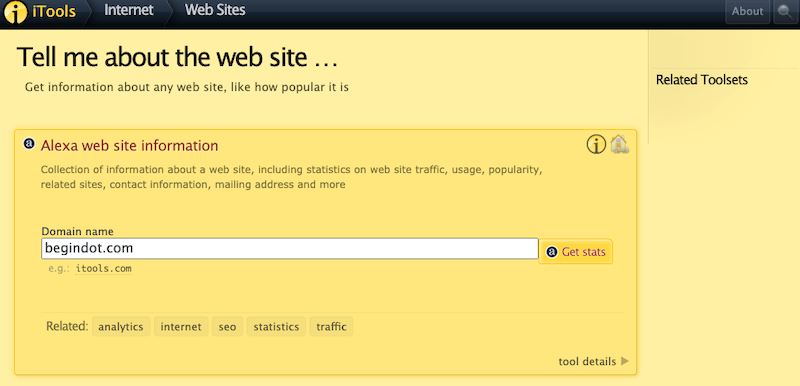 05

. DomainTools

Another popular web-archiving website, DomainTools offers a list of basic and advanced tools. As far as its working is concerned, it offers screenshot-based archive services.

You just have to type the URL of the website, and the site will give you a screenshot that provides important information as to how the design of the website has progressed.

Moreover, it also manages to provide other important details such as the owner of the website and his/her contact details, domain's history, and IP address.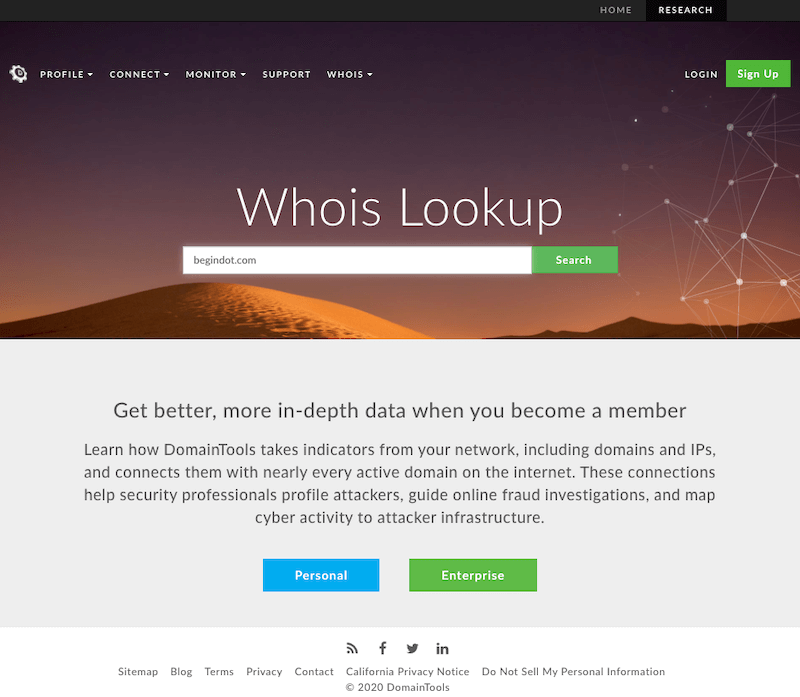 06

. Page Freezer

There are many features that make Page Freezer one of the leading web-archiving websites in the industry. One of them is its social media and blog archiving.

Where most of the Wayback Machine alternatives provide just web-archiving services. Page Freezer goes one step ahead by not only capturing the website's past information but also providing social media mentions information.

This way, you'll be able to see when and where the website got the social media mention and capture the online conversations.

Moreover, Page Freezer can be used to analyze your own as well as your competitor's website. In addition, their archive solutions comply with all the industry regulations such as FRE, SEC, FINRA, etc. Therefore, it will assist you in avoiding penalties for non-compliance with online recordkeeping rules.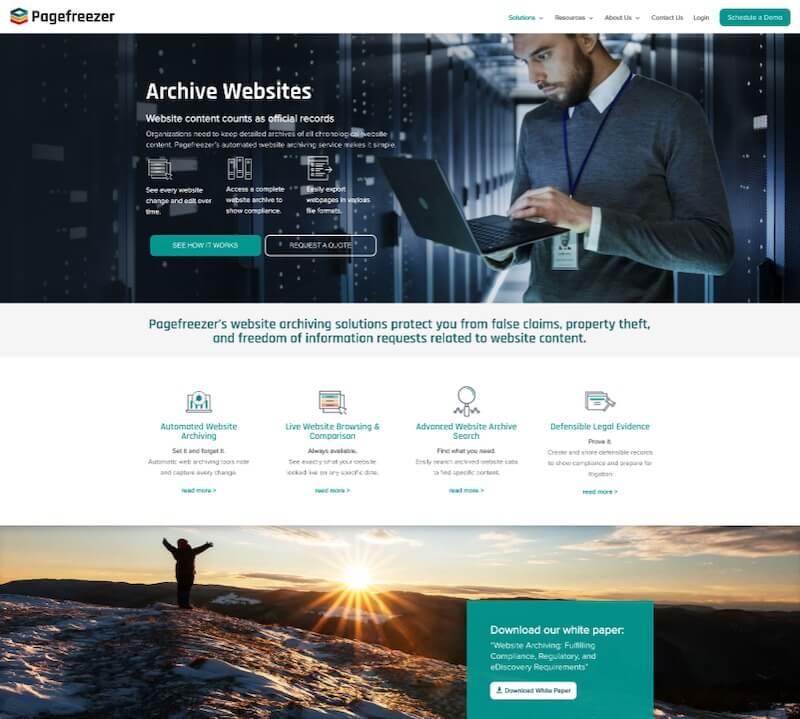 07

. Stillio

Whether to monitor competitors' website compliance, SEO ranking, brand management strategies or just to verify ads, Stillio allows you to make the archive of the website you want and store them in the cloud.

Although it is still a newbie in the industry, it has managed to capture some of the businesses as its clients.

And we haven't even talked about its best feature yet!

You can enter the web address you want to track and give Stillio permission to capture the screenshots at regular intervals. All you need to do is add a web address and set the desired capture frequency. All the screenshots would be added to your account.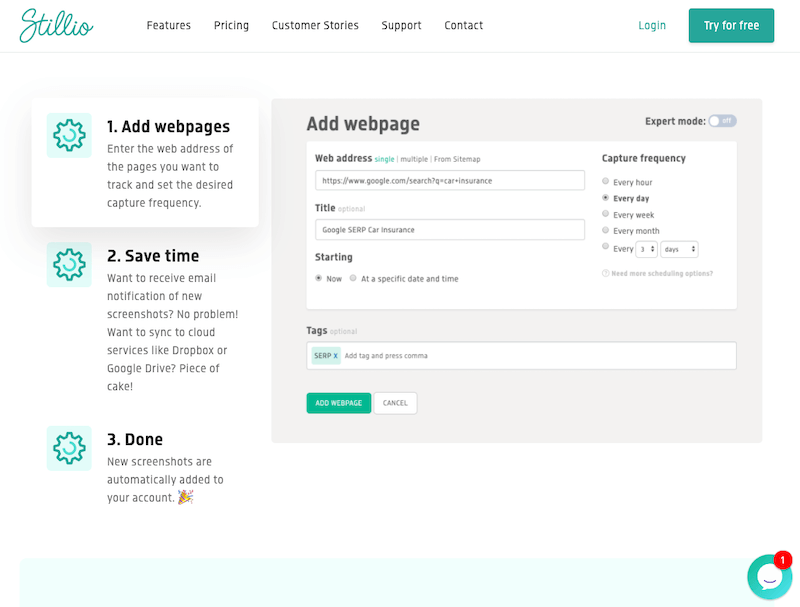 08

. Blit

Blit is built on the same grounds as Stillio is built i.e. to provide periodic screenshots of the web pages you want. And just as easy as it is to get Stillio to work for you, Blit has also made the process simpler.

You just have to enter the web address and create a capture schedule. However, the feature that differs from the Stillio is that it can send screenshots to multiple people at times.

While the screenshots of the web pages would always be uploaded to your cloud storage.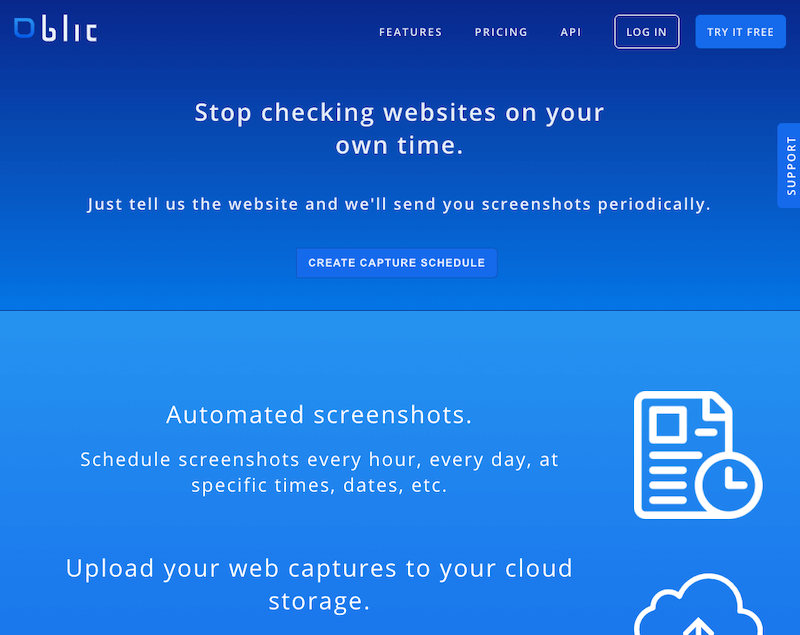 09

. UK Web Archive

Are you looking for a source to recover old or obsolete versions of UK websites?

You don't need to go much further than the UK Web Archive, because it gathers millions of websites each year just to safeguard them for future generations. You can collect not only coding content, but also images, PDFs, and videos through this web archive site.

The librarians and other specialists have brought together millions of websites in the form of events and themes. This will, in turn, make your process to find the right website for you easier.
10

. Memento Time Travel

As the name suggests, Memento Time Travel helps you to access versions of websites that have become outdated. Based on methods similar to those of Stillio and Blit, this platform also offers web page components based on the time requested by you.

However, it is not as equipped as the earlier two sites mentioned. The interface isn't user-friendly but it will do the task you want it to do. Apart from providing HTML components, it offers style sheets and images as well.
11

. Fagan Finder

Fagan Finder is basically a search engine that offers its users more than 100 tools to choose from. While one such tool can be used to archive or search for older web pages, you can also find other tools such as presentation tools, web hosts, libraries and encyclopedias, and paid databases.

To find the desired information you need, Fagan Finder scrolls for information from the databases of Amazon Alexa, Global Whois, and metaEureka.

While you might be thinking if it works on the same terms as Google does, Why not just use Google?

Well, Google might not have listed the information high enough or it even may have not found it yet.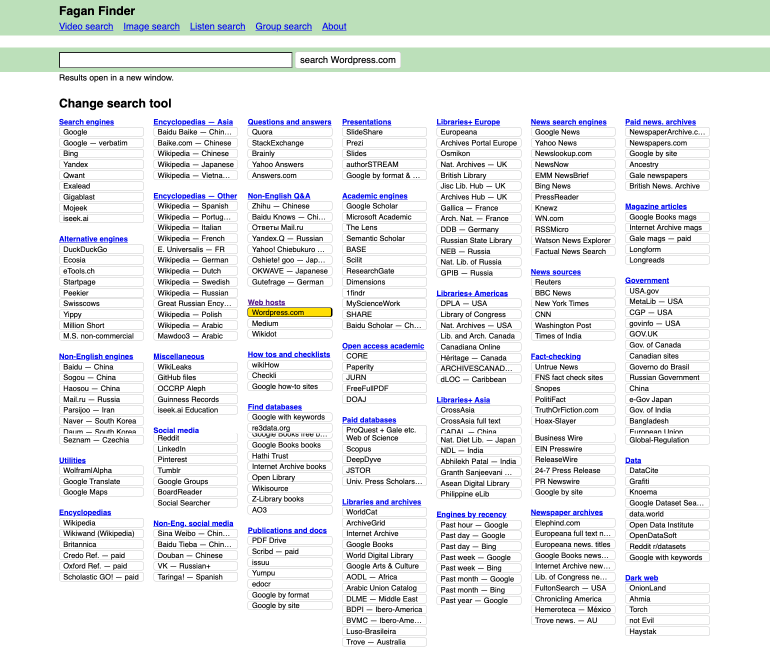 12

. Yubnub

The first thing you'll notice while working on Yubnub is that it looks and performs just like a search engine. Therefore, we will end our search for the best Wayback Machine alternatives with this simple web archive site.

It doesn't provide the kind of features that other web archive sites offer, but it's definitely going to be helpful to a beginner as it solves basic needs. To retrieve the requested information from the website, simply enter the web address in the search bar on the home page and wait for the results to be displayed.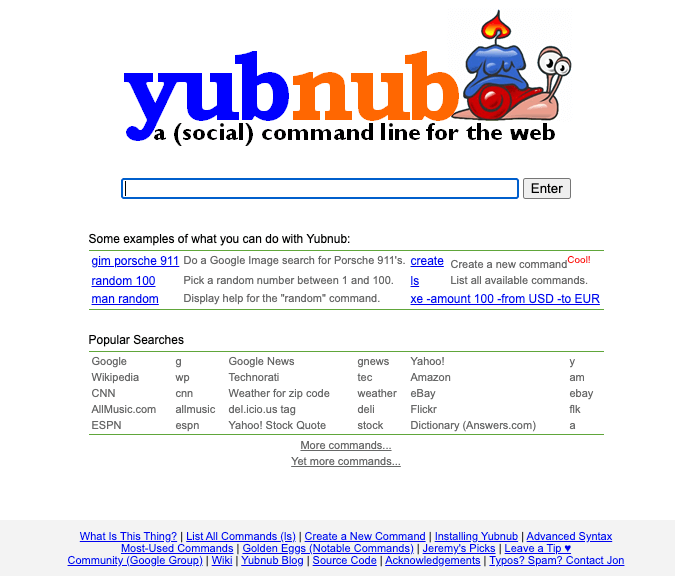 13

. ChangeTower

A website change monitoring platform, ChangeTower keeps a track of all the changes and sends alerts about the changes. You can track any website URL or set completely custom alerts based on change type.

It can keep a track of any website based on a number of different factors along with timestamps so that you can compare different versions of a page at different times.
Conclusion
While no one can match the database of the Wayback Machine, these alternatives offer similar and sometimes additional features that the Wayback Machine is unable to offer.
You can choose the one that best suits you, and if you know other sites that work better than these, you can mention them in the comment section below