It is one thing to write articles. It is another to come up with titles for these articles. Coming up with article topics and titles is a lot more taxing than just developing and writing on a subject, why?
Because it is usually difficult to come up every time with an entirely unique phrase that will be catchy and attractive enough to draw the attention of potential readers. Now that can get a little tricky.
When you have to provide regular content for your blog, writing can get tough after a while. It is a creative skill and requires a lot of brain activity. There are times when you have to write too much about the same topic and ideas may just stop coming!
Being a new blogger, this might not be much of a problem initially, but as time goes by, the difficulty sets in gradually. Do not be disturbed. This can happen to the best of us.
Even the best writers and bloggers in the game hit their limits once in a while, so you are not alone in this.
There is a rapid increase in the number of content marketing firms and influencers all around the Internet these days. And with the advent of technology, there are quite many readily available tools online that can help any blogger think of new ideas instantly by just choosing a niche to generate and pick the most appropriate article title.
Most of these tools work in diverse ways, but they have a standard feature of 'keywords.'
These tools help you when you have an idea on what to be written, and you are in search of a topic, all you need to do is to input keywords related to the concept of your article. These will help generate a couple of suggested topics of which you have to review and select from, and the job is done.
Since there are numerous of this kind of tools, it is important to know the ones that are most helpful and are worthy of consideration.
Don't forget to read about the best tools to generate awesome blog names
Top 5 Tools to Generate Blog Topic Ideas
They are:
This in one of the best topic generators found around. It not only has a simple yet attractive user interface, but it is also very easy to use. It was also created by one of the top social media and digital marketing blogs. Therefore, it is safe to say it is reputable.
This blog topic generator provides you with spaces for three keywords inform of nouns. After you have successfully entered those three nouns that best describes your article idea, then you click on the "Give Me Blog Topics" button, and voila!
You have your suggested topics, although some of these subjects might need a little grammatical adjustment for it to make perfect sense. It is just an excellent tool to use when stuck with topic selection.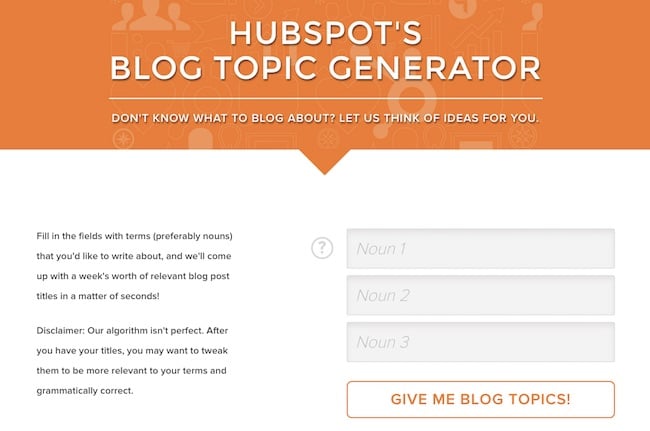 It is important to know what people and potential readers are searching for so as to know what content to provide them with to be found. We are all aware that Google as a whole always has their way of making things easier, current, updated and equally user-friendly.
The Google Keyword Planner can be used to search for keywords as well as to get ad group ideas. All you need to do to get started is to enter a phrase or keyword or an AdWords category, and the Keyword Planner will provide you with relevant keywords and suggestions or possible keyword combination for blog article titles.
Buzz Sumo is another fantastic tool for all bloggers. It is more than just a blog topic generating tool but an all in one analytics powerhouse with several other mouth-watering features.
This tool can assist with complete optimization of your entire blog and give it a high rank thereby securing a space for your blog or website on the first page of search engines. How cool is that?
With its straightforward and user-friendly user interface, it gives space for searching keywords related to your content idea and then several posts related to that keyword which you have entered.
It also enumerates the amount of likes, reposts or shares on different social networking platforms providing you with a solid idea of what people are talking about and what is trending at the moment.
This will give you an idea of what people are interested in per time and topics that may tickle their fancy or provide insights and information on things people are talking about.
This tool is another easy to use content idea generator. It requires no form of login or usernames or emails to start enjoying its quality features.
It has a lovely user interface with a dark fading background. It has a search box in which you are expected to enter your required keywords which you wish to develop a topic for.
Immediately as you enter these keywords in the search box, it brings up a generated unique post idea or suggestion.
Once you are satisfied with this advice, you can just copy it and be done. But if you are not, just click on the refresh button and a different topic idea will be immediately generated.
You can repeat this process until you are satisfied with the generated topic. Some of the topics might not sound perfect, but you can modify them to suit your interest.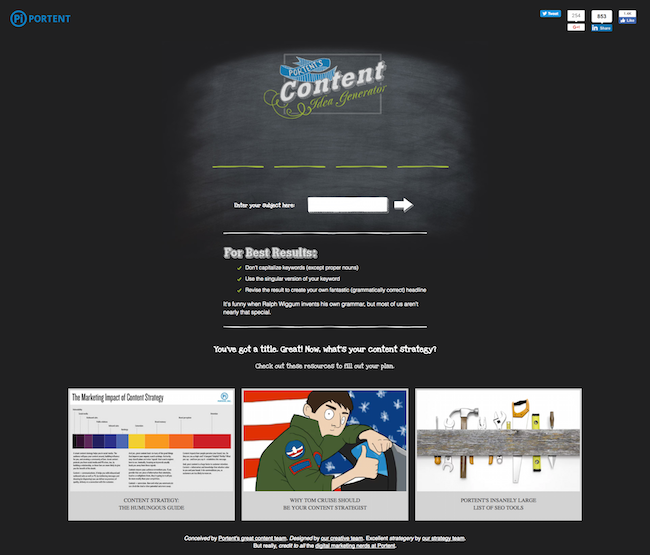 Tweak your Biz title generator is a unique article topic generating tool from a traffic pulling business blog know as 'tweak your biz.'
I love these tools for its sense of organization. Just like every other of the tools in its category, you are provided with a search box for keywords and then a wide variety of suggested titles are offered to you for selection.
This tool stands out for its ability to sort a large list of suggestions into categories like Solutions, How to, Problems, Motivational and so on. This standardized form available on this platform is quite helpful because you just have to look into the category that best describes the idea you want to develop instead of looking through a large list of randomly generated article title ideas.
Conclusion
There are several other tools readily available online for the use of any blogger looking to find relevant, trending and innovative title ideas. Therefore, you cannot be worried about being stuck at choosing a perfect catchy and appealing topic that will drive the desired amount of audience and traffic to your written content.
Just start using these tools and spend less time hovering our topics and more time developing excellent content!