Storyboarding is an extremely useful tactic that can streamline your creative process. Ideas in our heads can be hard to convey to someone else.
With a storyboard, we can organize the rough idea into specific sections which makes it easier for other people to understand.
It can also prove to be helpful during our own creative process when we want to stay focused.
Now, naturally storyboarding is used by animators or people in the motion pictures industry. However, it can be used just as effectively during presentations, or any other similar activities.
What is the Importance of a Storyboard?
Storyboards are important for a creative project as they can help plan out a project before production begins. By creating a storyboard, you can map out all the details as you visualize and be clear in your mind about how it is going to work.
This can save time and money during production, as well as ensure that your final product is of the highest quality.
A storyboard is a visual representation of a project. It is similar to a comic book, in that it outlines the action and dialogue of a scene.
Storyboards are used by directors to plan out each shot before production begins. It can also be very helpful in determining the overall potential budget of a project.
In this article, we have put together a list of some useful storyboard templates and Storyboard tools that can help structuralize your ideas.
So without further ado, let's get started:
Engaging Storyboard Templates & Tools
---
Plot
Plot is a very handy online tool that allows you to create professional-looking storyboards for your projects. You can create scenes, add characters and objects, and even add dialogue to your storyboard.
Plot makes it easy to share your storyboard with others so they can see what you are working on. You can collaborate with your team and work together on a project to create the storyboard.
Plot is a great tool for anyone who needs to create a storyboard for their project. Whether you're a student, a teacher, or a professional, Plot can help you to plan your project.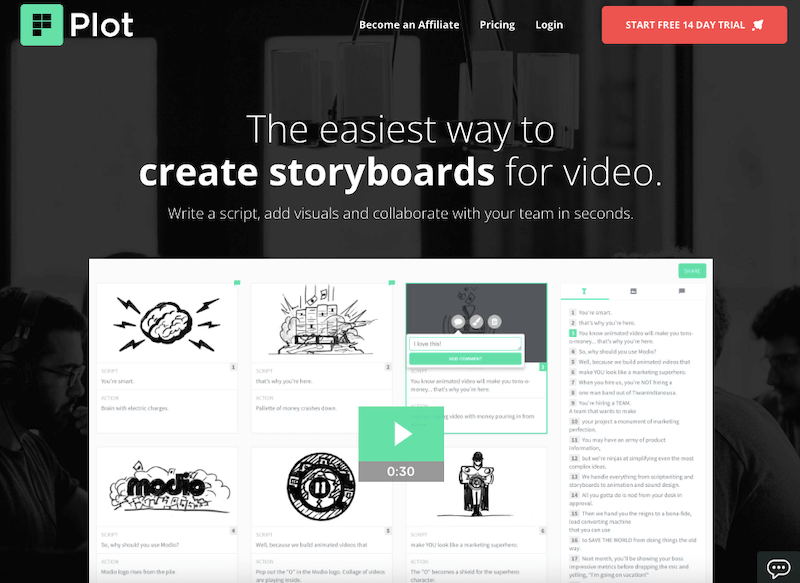 Boords
With Boords, you can easily create beautiful storyboards that help bring your ideas to life. Simply add your images and text, to design your project.
You can use millions of free stock images that Boords has to offer or you can add your own image from your computer, Dropbox or Google Drive. It comes with an easy interface and drawing board to make the designing process easier for you.
Plus, you can share your storyboards with others so they can provide feedback or collaborate on your project.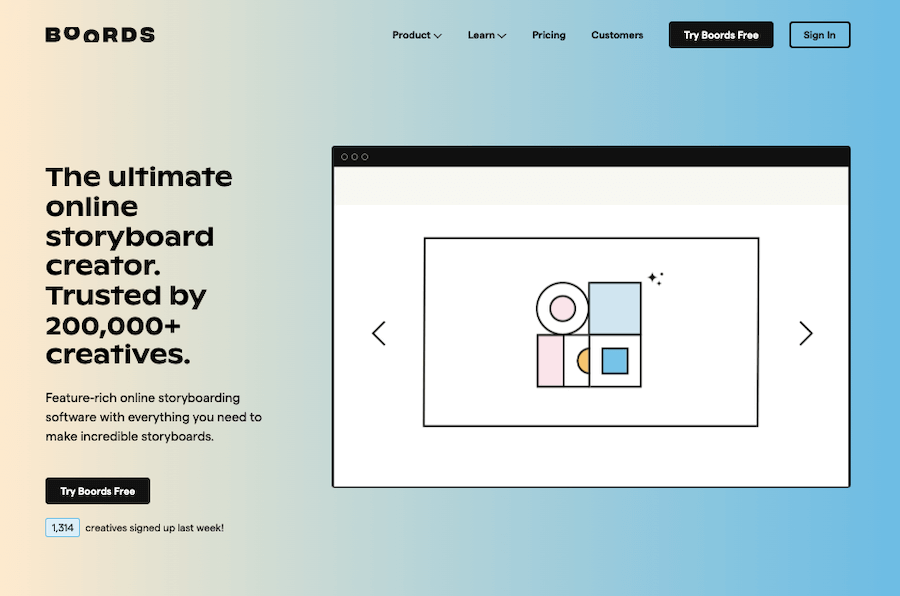 Canva
Canva doesn't need any introduction. It is one of the most popular graphic design tools that you can use to design all different types of graphics and custom images.
When it comes to storyboarding, Canva can be a very handy platform. You can start using Canva for free and use all the different design templates, shapes, and texts to design your board.
It also allows you to add your own custom images and shapes that you need. Once your project is ready, you can import it in many different formats as per your need.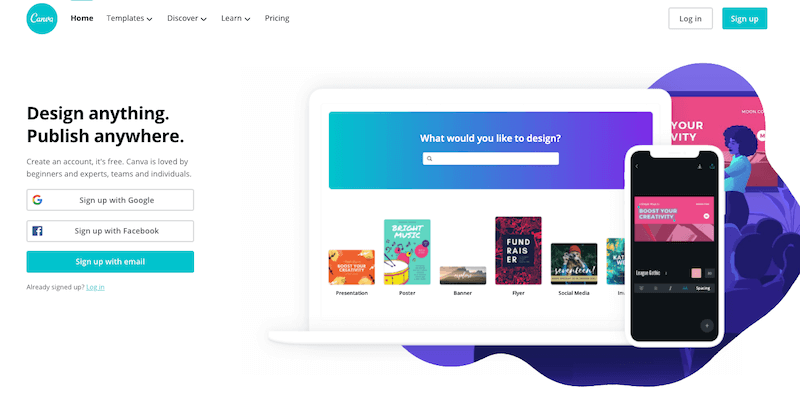 60+ Free Storyboard Templates
A collection of top storyboard templates that you can use to create beautiful illustrations with creative templates. This is a collection of over 60 different templates that you can use to create amazing stories.
The storyboard templates are available as PDF, PSD, Word or PPT.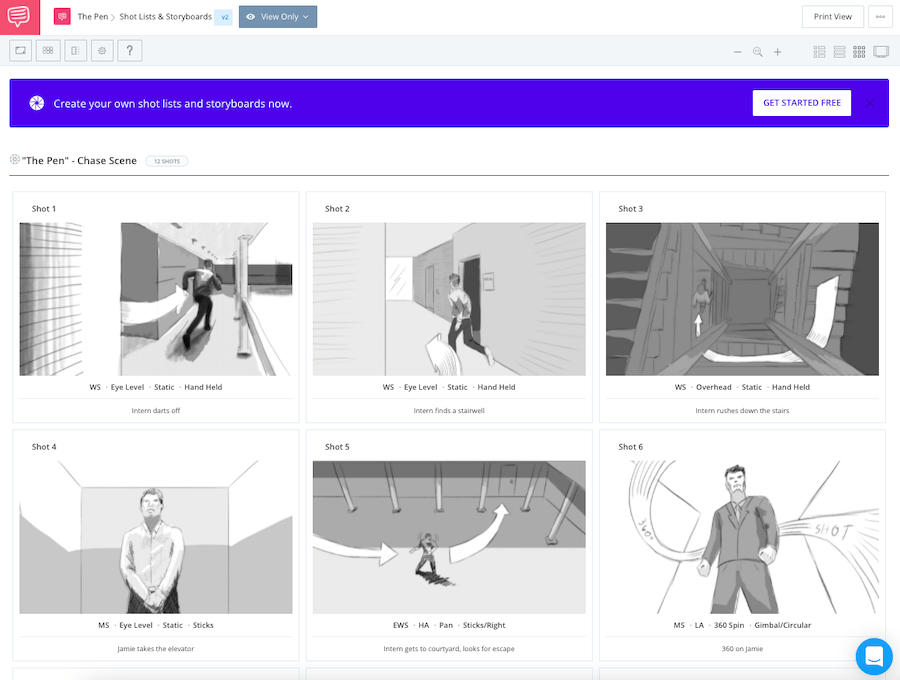 Sample Storyboard Template
Here we have a generic storyboard template that you can use to organize samples or ideas. The colors you see in the image can all change as well as the heading. It is compatible with Google Docs and Google Sheets and is available for printing in A4 size paper.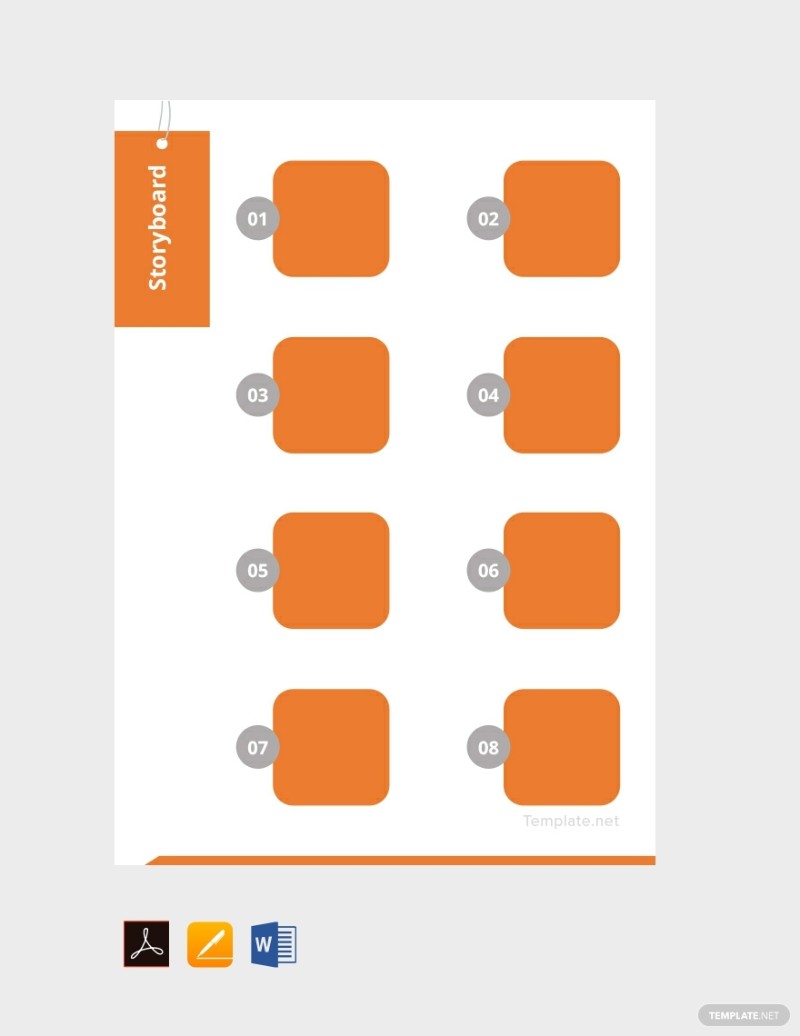 Simple Storyboard Template
This storyboard can come in handy for creatives who are planning to create an outline for a scene. There are dedicated sections where you can specify the characters, the dialogues, and the certain keynotes on which you wish to focus.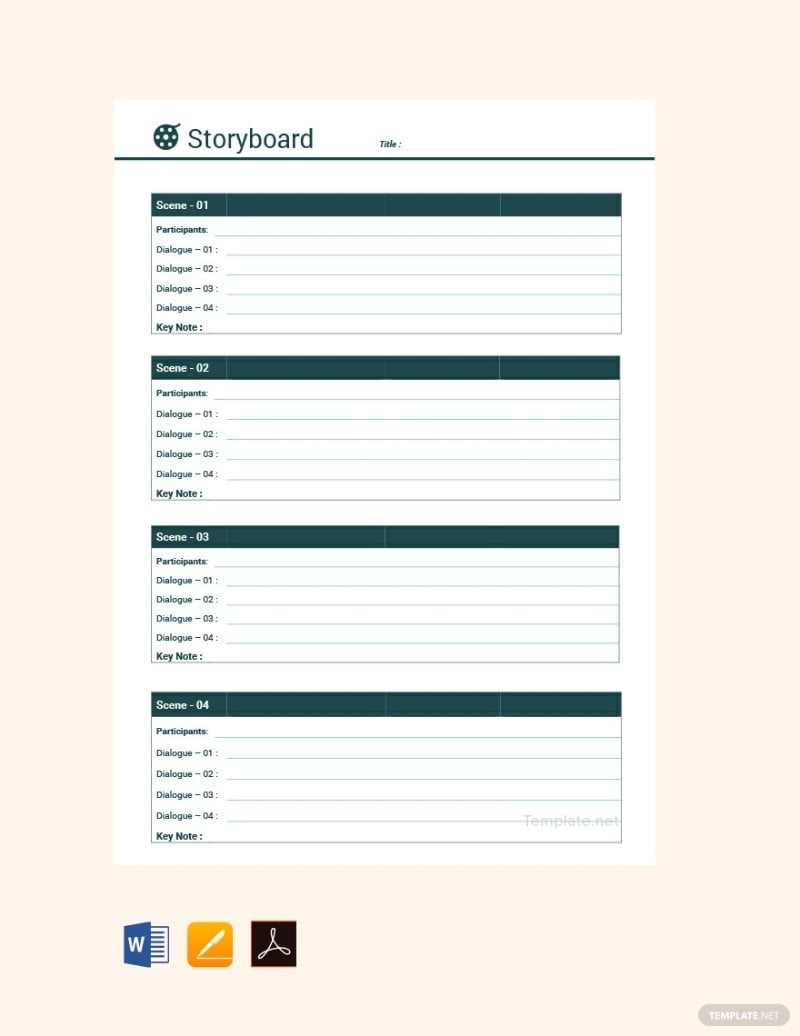 Commercial Storyboard Template
If you are dealing with a project where you need to categorize and organize the scenes with a little bit of exposition and description, then this template can be very helpful.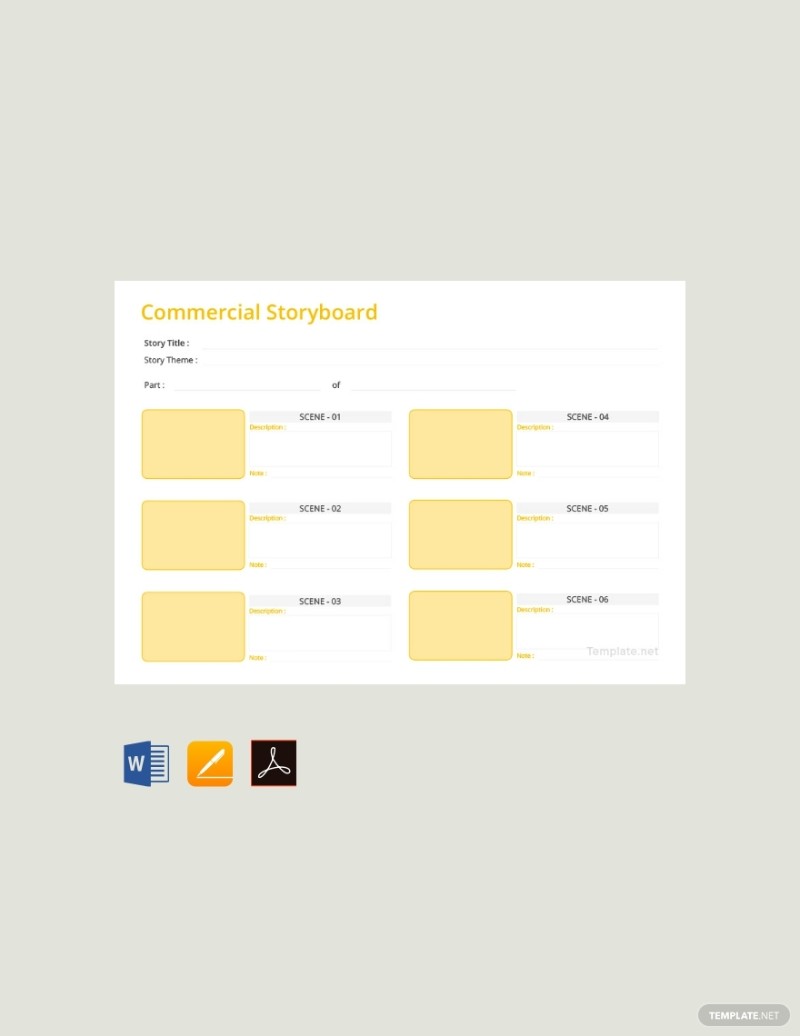 Project Storyboard Template
As is the case with the above templates, you might not have sufficient space to write more in-depth information about the scenes taking place. If that is necessary, then you should use this template for your project.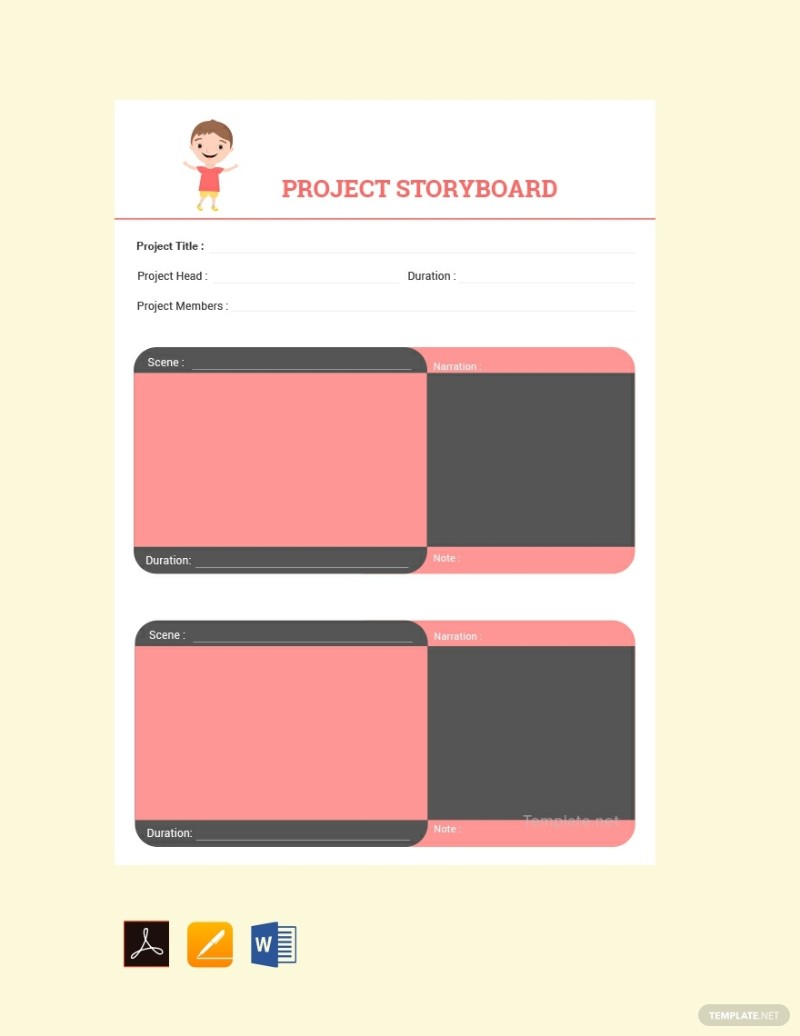 Kid's Storyboard Template
A simple storyboard template that lets you specify the scenes, and mention the audio-video sections to be used along with the time sections. It will prove to be helpful especially when you are trying to stick to a set parameter.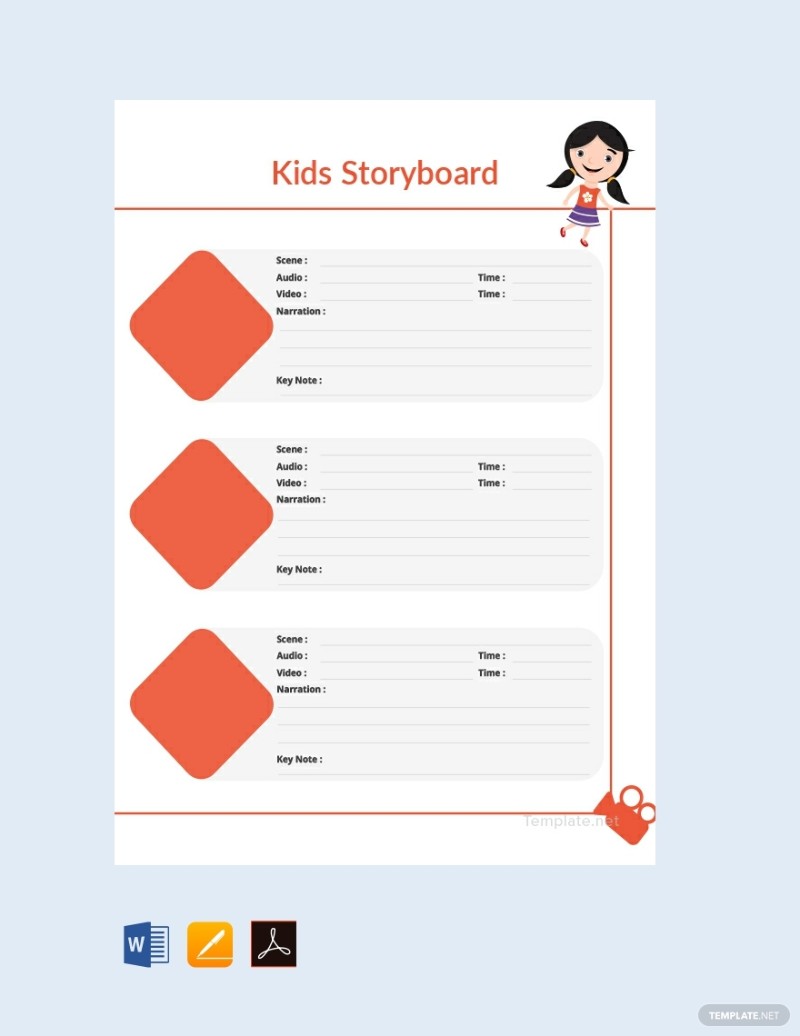 Film Storyboard Template
Another film storyboard template with specified sections for video and audio along with their time allocations.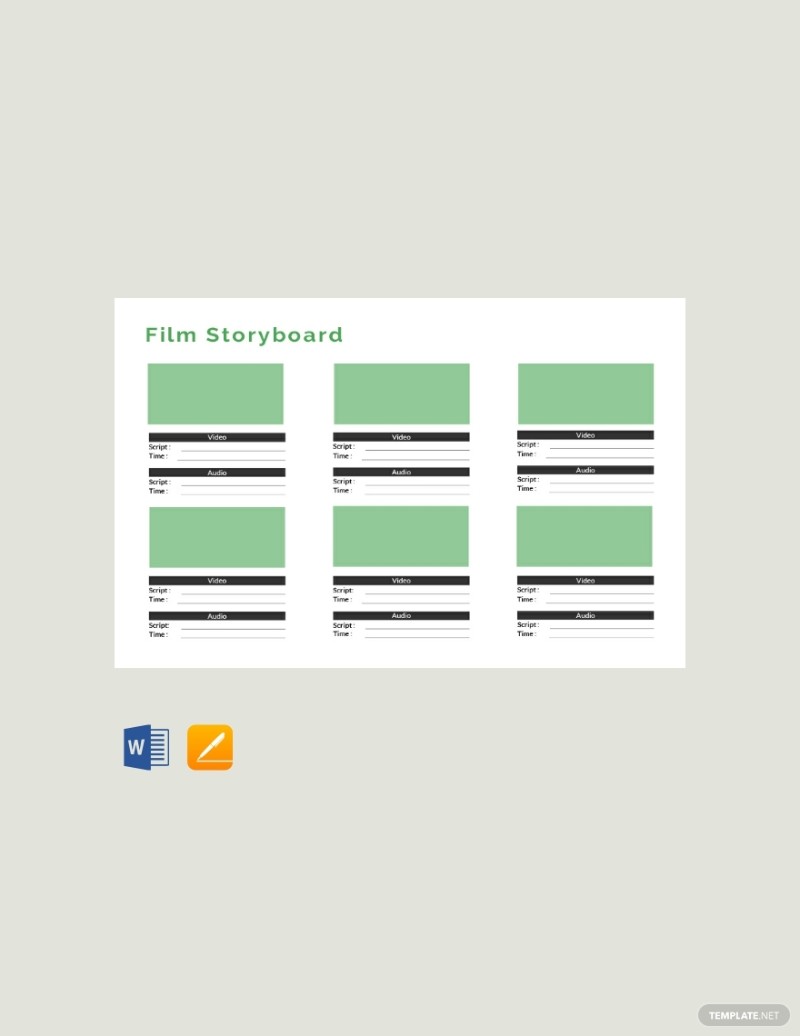 Audio Video Storyboard Template
If you wish to put more attention to the details of a particular scene of a film or multimedia project, then this template will come in handy. There are elaborative sections to specify information about video, audio, and subtitles to be used.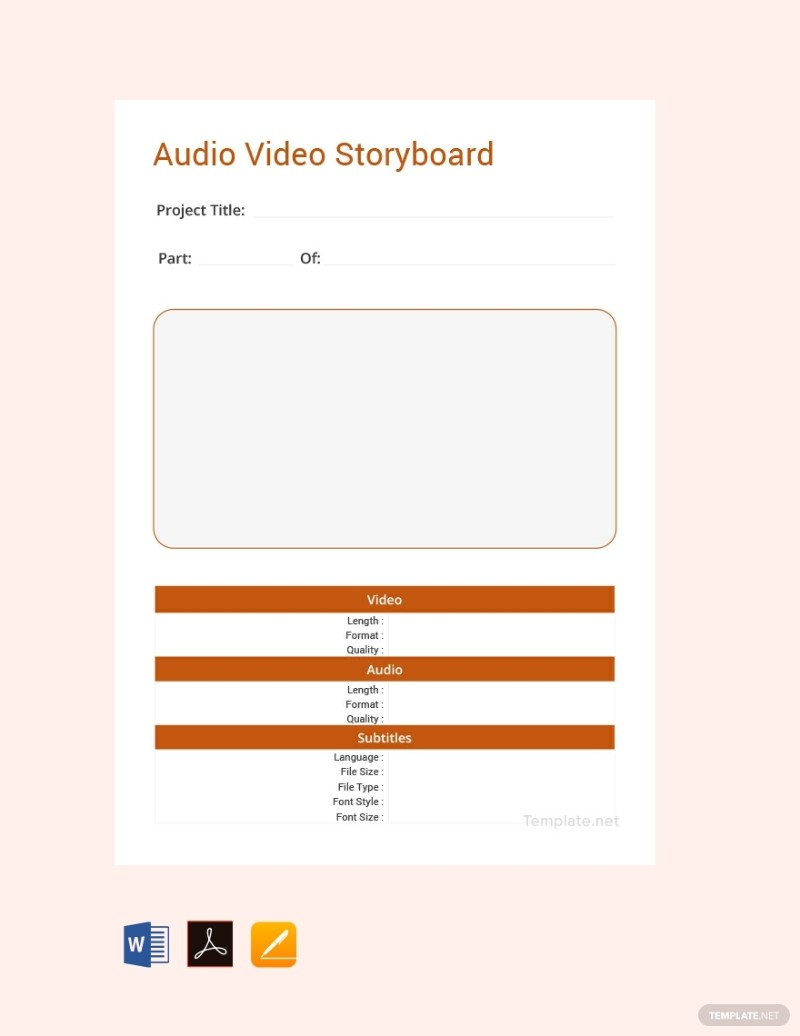 Screencast Storyboard Template
This template can help you during the screencasting procedure of your story.
Website Storyboard Template
A website storyboard can be used to easily convey the ideas of UI/UX design.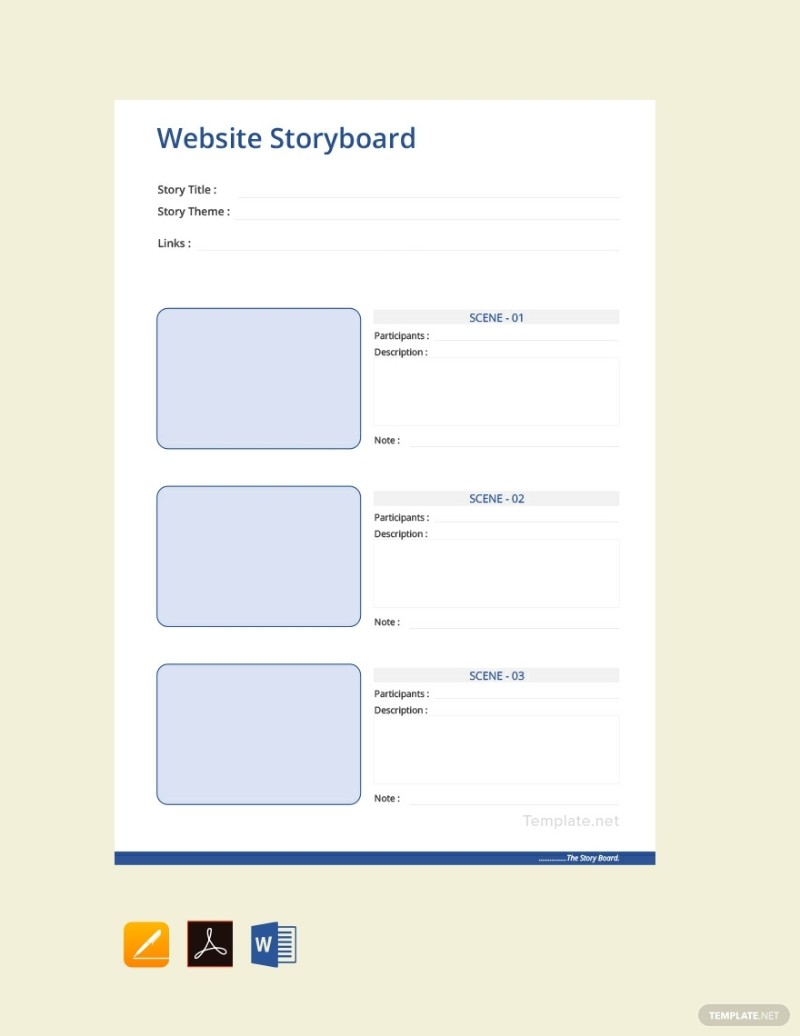 Multimedia Storyboard Template
The template can be very helpful if you are looking for something in which you can organize a vague idea into something understandable, and executable.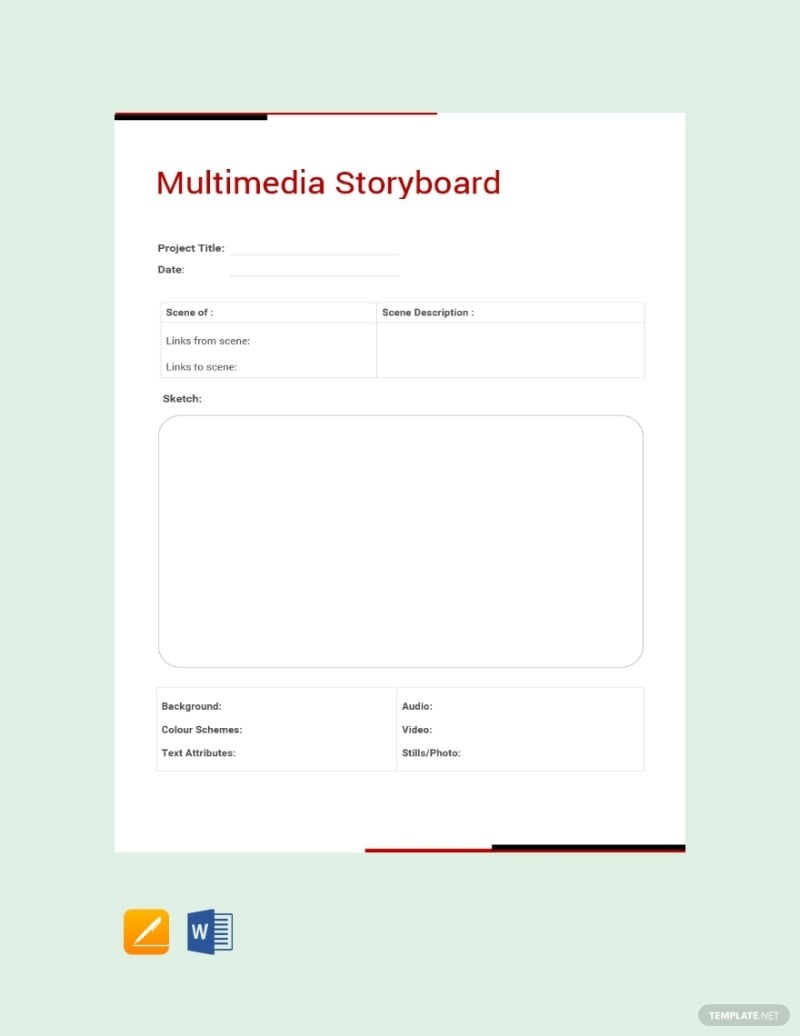 Detail Film Storyboard Template
Sometimes it is necessary to lay out all the details for effectively communicating ideas. This film storyboard template can be very useful in these scenarios as it provides a lot of room to specify details and no room for vagueness.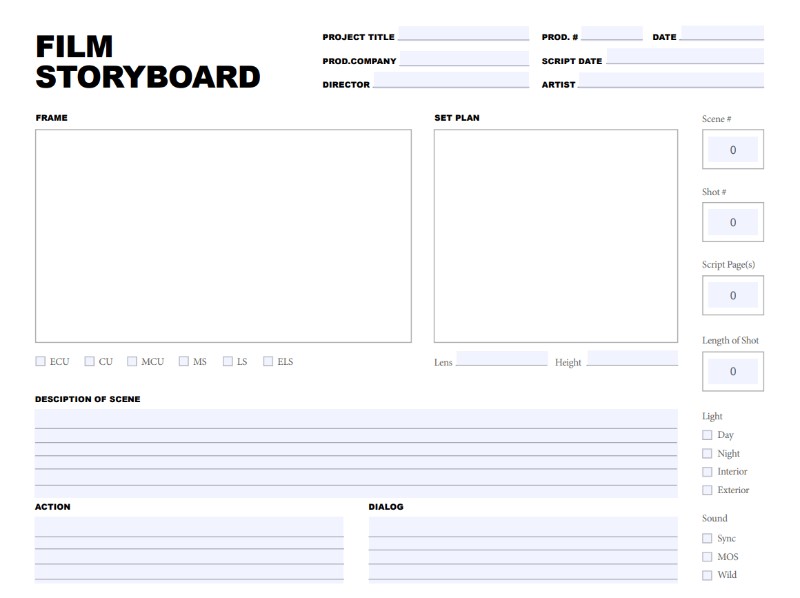 Scene Storyboard Template
If your storyboard doesn't require too much-written information, then this scene storyboard template might be of significance.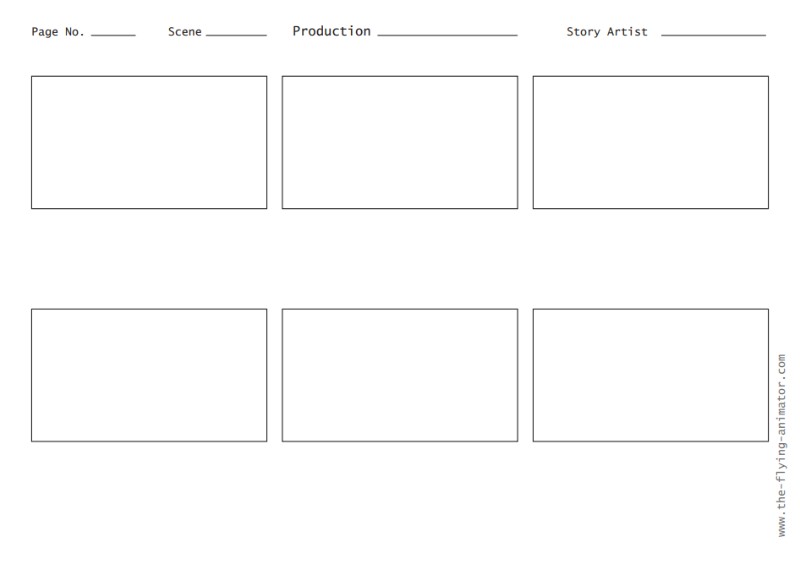 Promotional Storyboard Template
This template provides you space to include screenshots or sketches or certain scenes along with a footnote.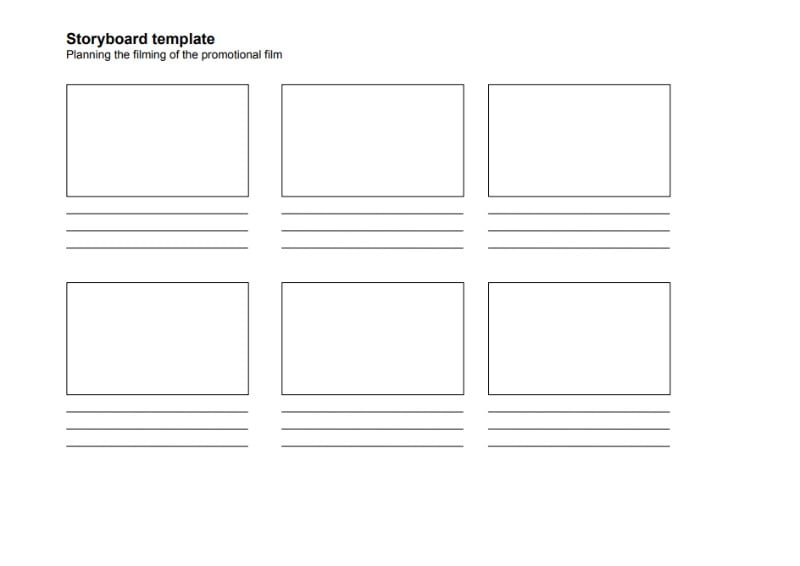 Categoric Storyboarding Template
Some of these storyboard templates come with specified boxes that might not be relevant to your project. This is why you might like this template which simply allocates the left side for snippets of your film/project and area to include sidenotes.
Digital Storytelling Storyboard Template
Here is a digital storytelling template that uses a layout accommodating for the scene image, description, and narration.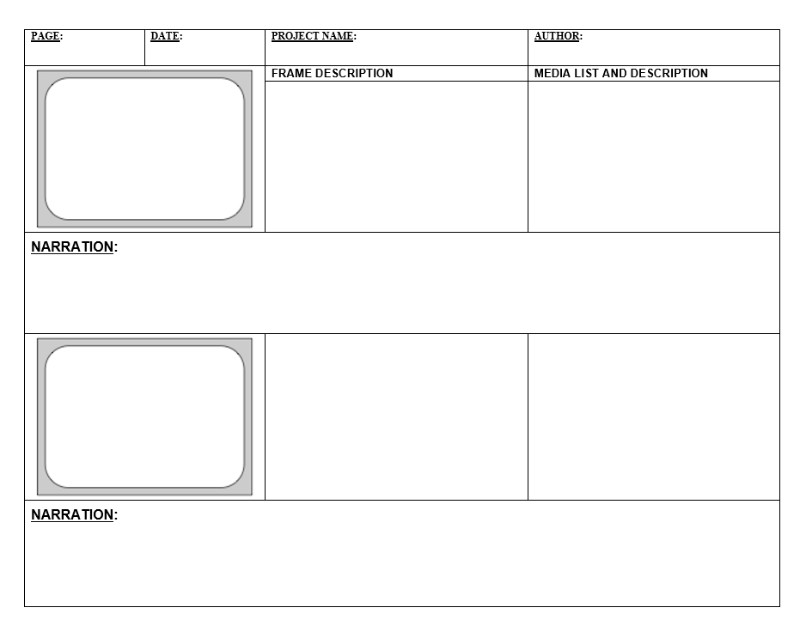 Animation Studio Storyboard Template
This storyboard template gives you a long panel of images and areas to write about footnotes. Excellent for getting a bird's eye view on a project.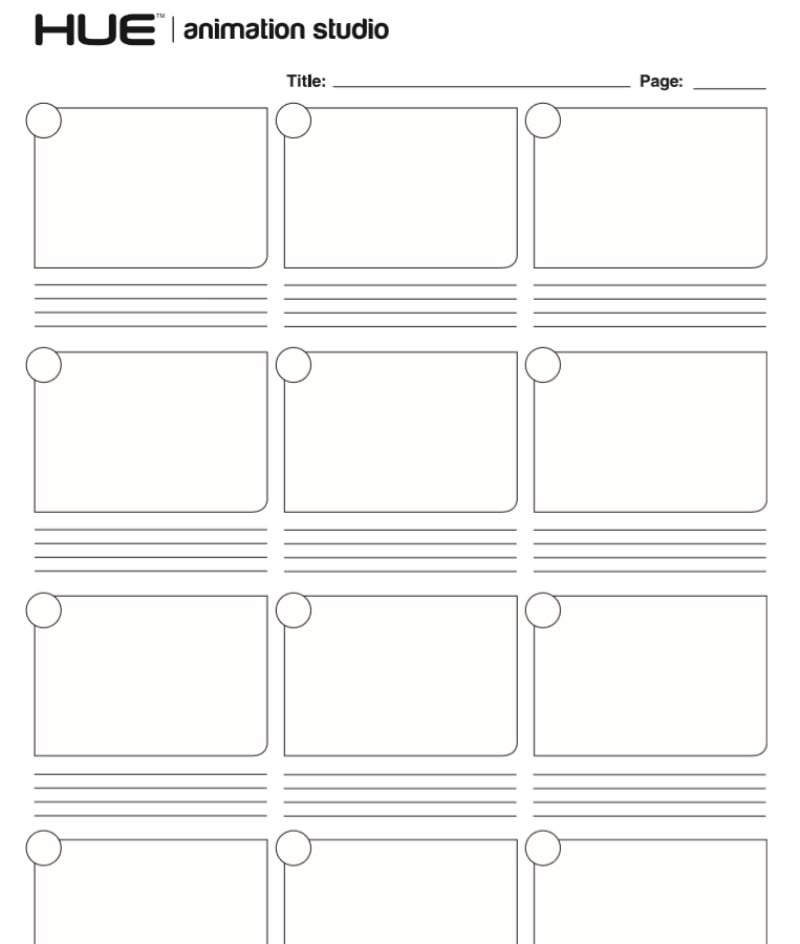 Animation Planner Storyboard Template
This template will provide an area to showcase a scene, break it down into multiple sequences, and also provide a little footnote. Excellent if you want to express a complicated idea.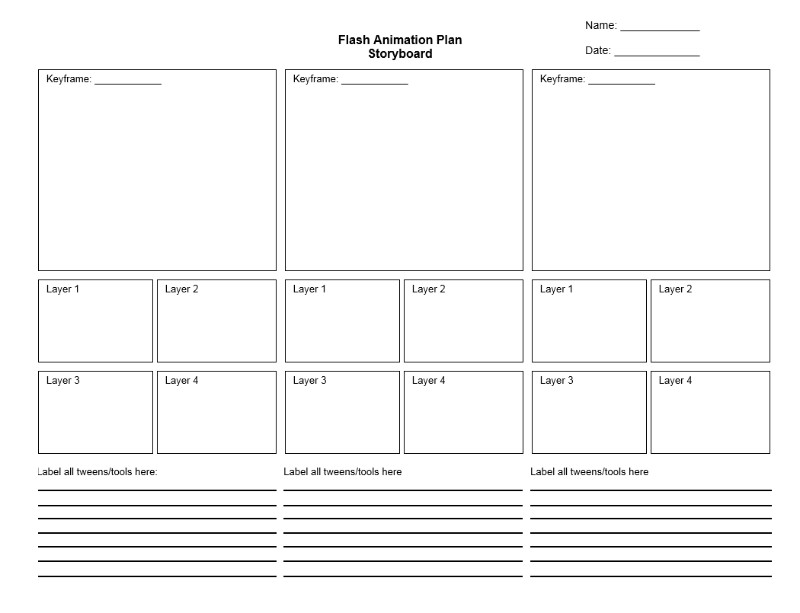 Kid's Cartoon Storyboard Template
A storyboarding template which kids will love. Use this if you want to get your kids into creative writing and want to teach them about organizing their thoughts.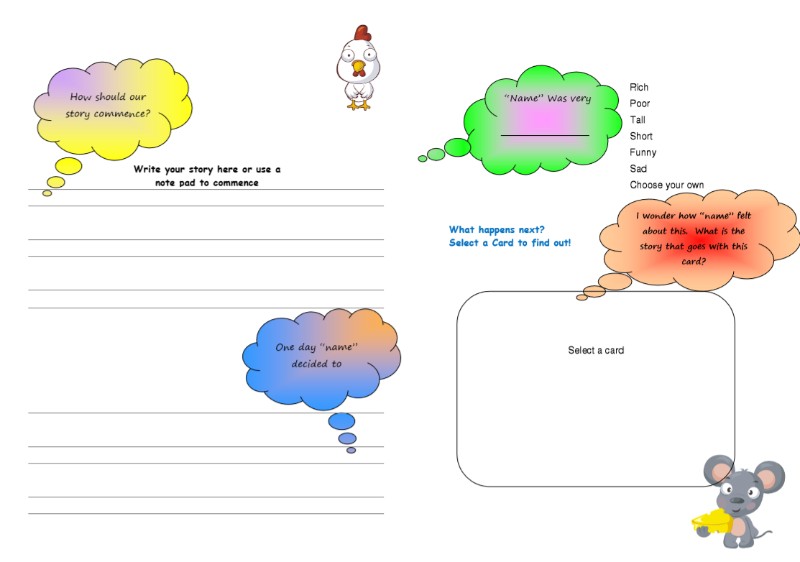 Teaching Purpose Storyboard Template
A storyboarding template for teaching or explaining a project. The template is not image-heavy and will help jot down text-based notes.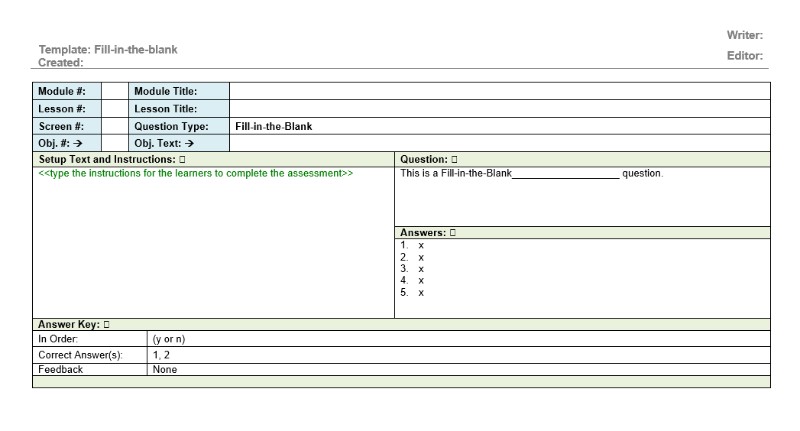 Editing Storyboard Template
This template can come in handy during the editing phase where you can label each shot number along and describe details on each shot.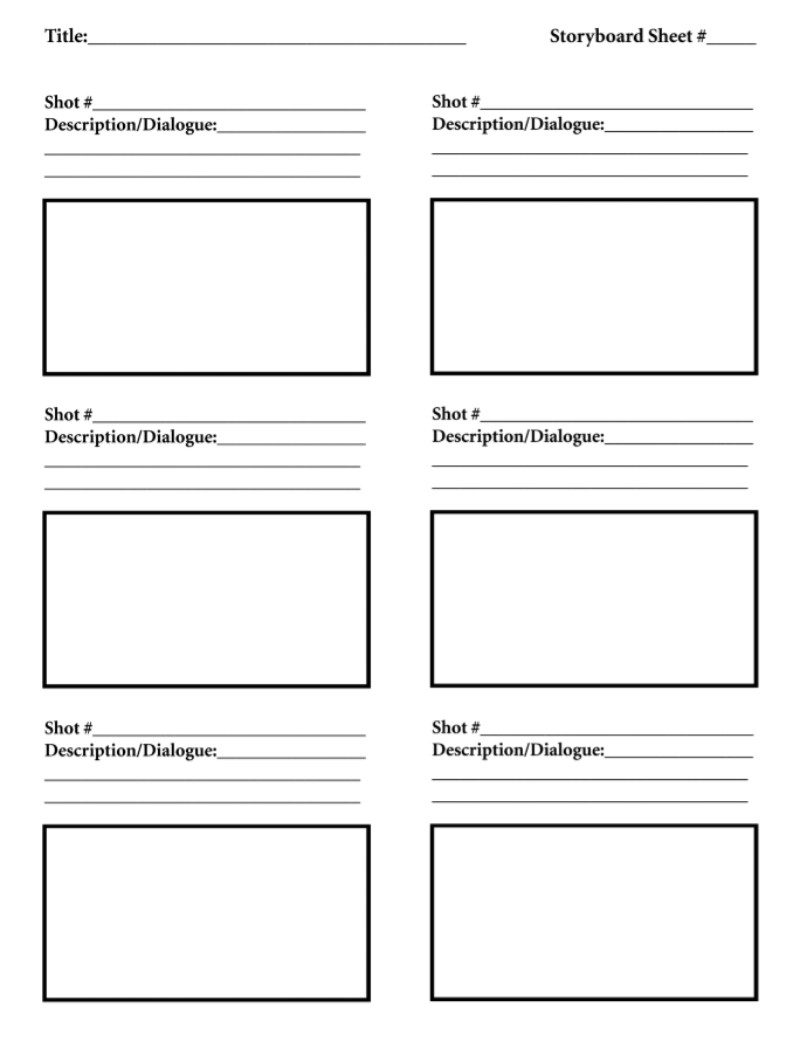 Scene & Sequence Storyboard Template
This template will help you showcase and organize the different scenes and sequences in your project. There is also room to leave footnotes.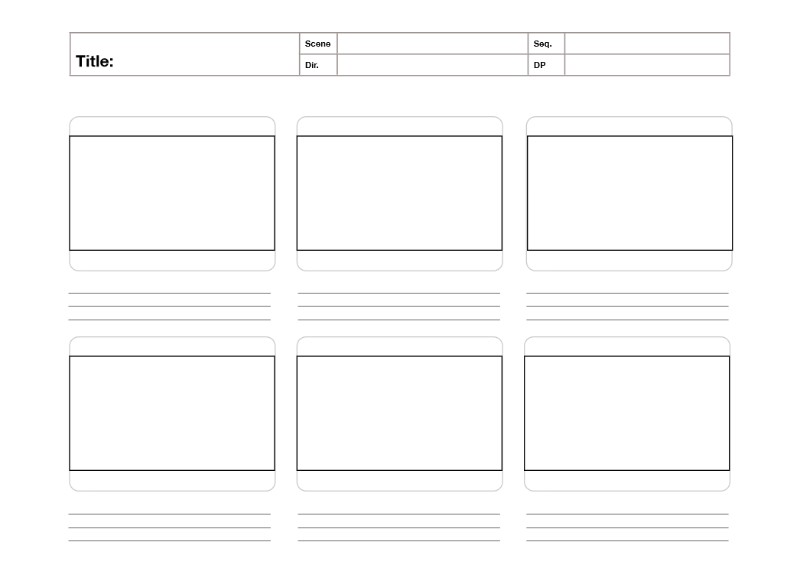 Scene Panel Storyboard Template
A horizontal layout of panels to help you layout your story so you can see them at a glance and get a birds-eye view of the project.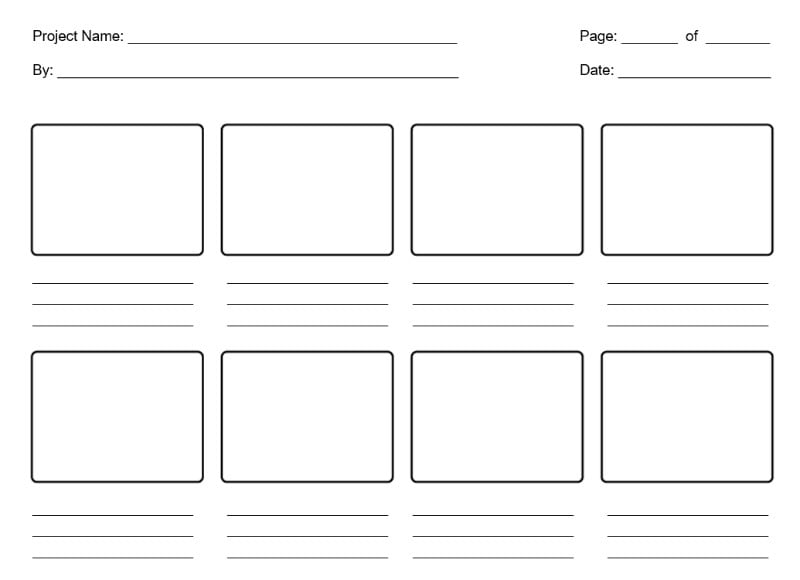 Broad Lesson Planner Storyboard Template
A simple lesson planner for storyboards. You can categorize what visuals you will be using, basic narrations and scripts for the lesson, how the interactions will take place, and any other misc. notes.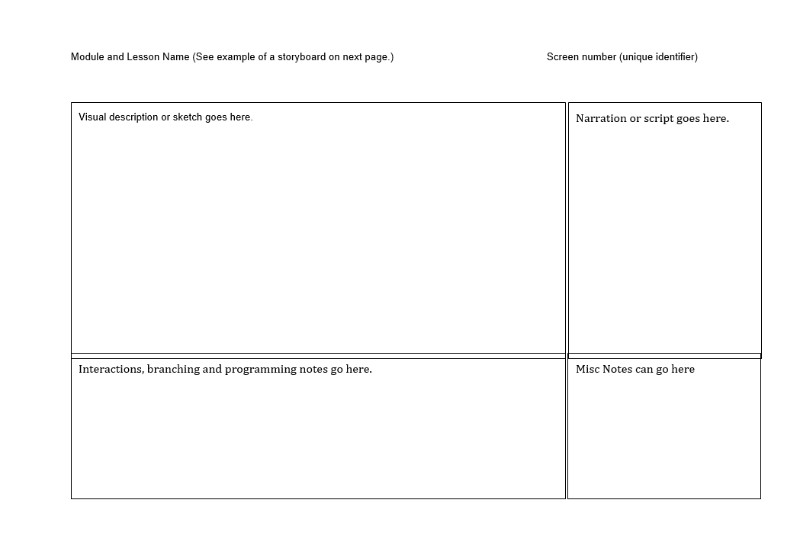 PowerPoint Presentation Storyboard Template
Are you planning to use storyboards for presentation purposes? Here is a .ppt template filled with a lot of template pages that should help impress your audience.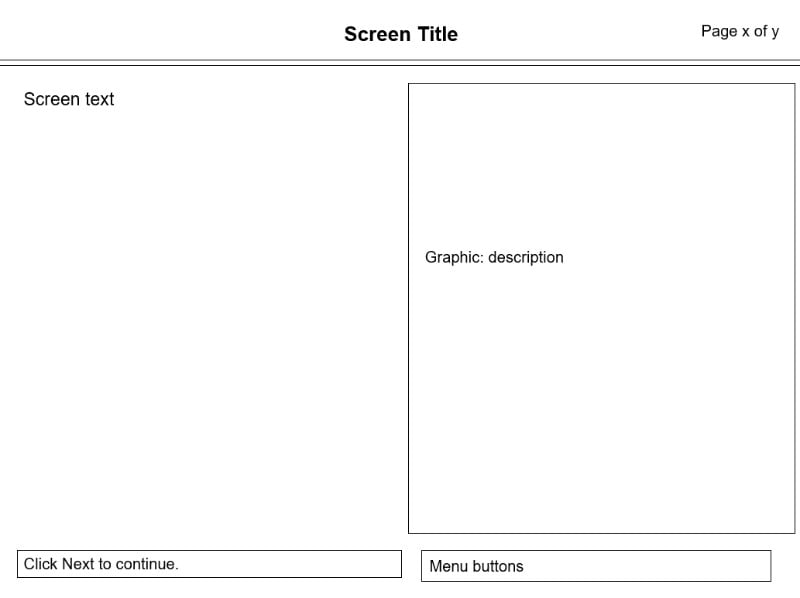 Submission Storyboard Template
Have a nice story that you wish to submit to your superiors? Well, this template is just what you have been looking for.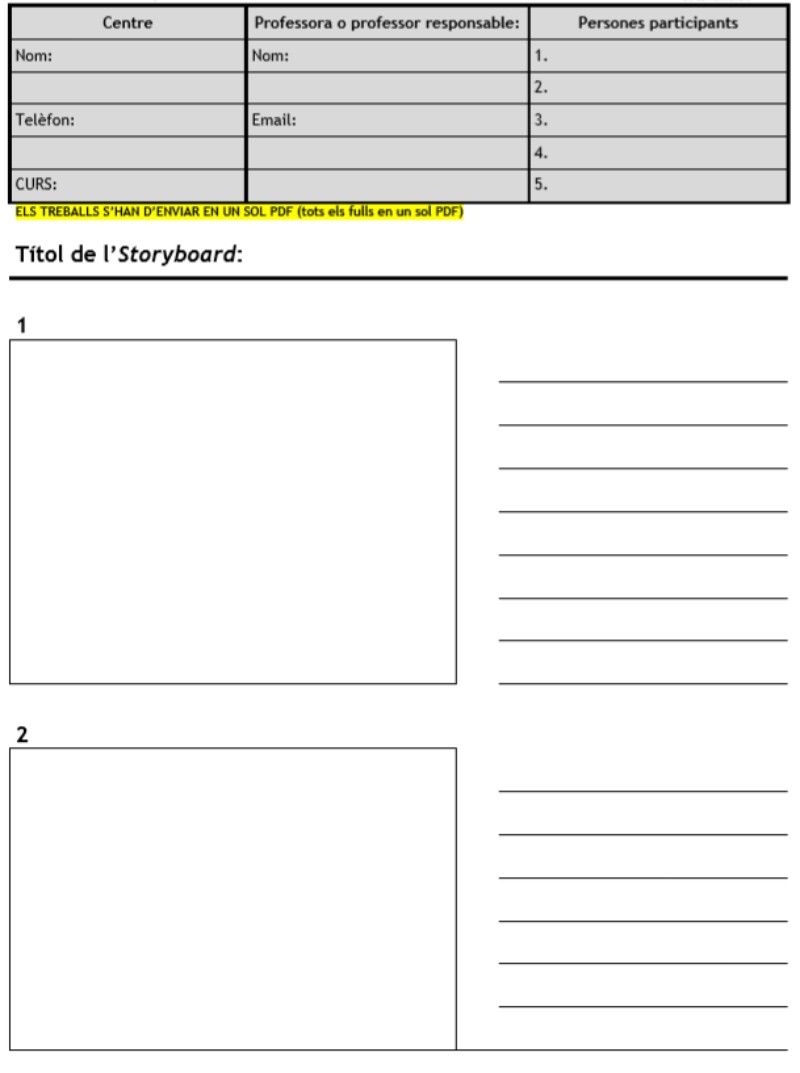 Vertical Panel Storyboard Template
Number all your scenes/panel vertically with the help of this template. A dedicated section for taking sidenotes is also there for noting dialogues and actions.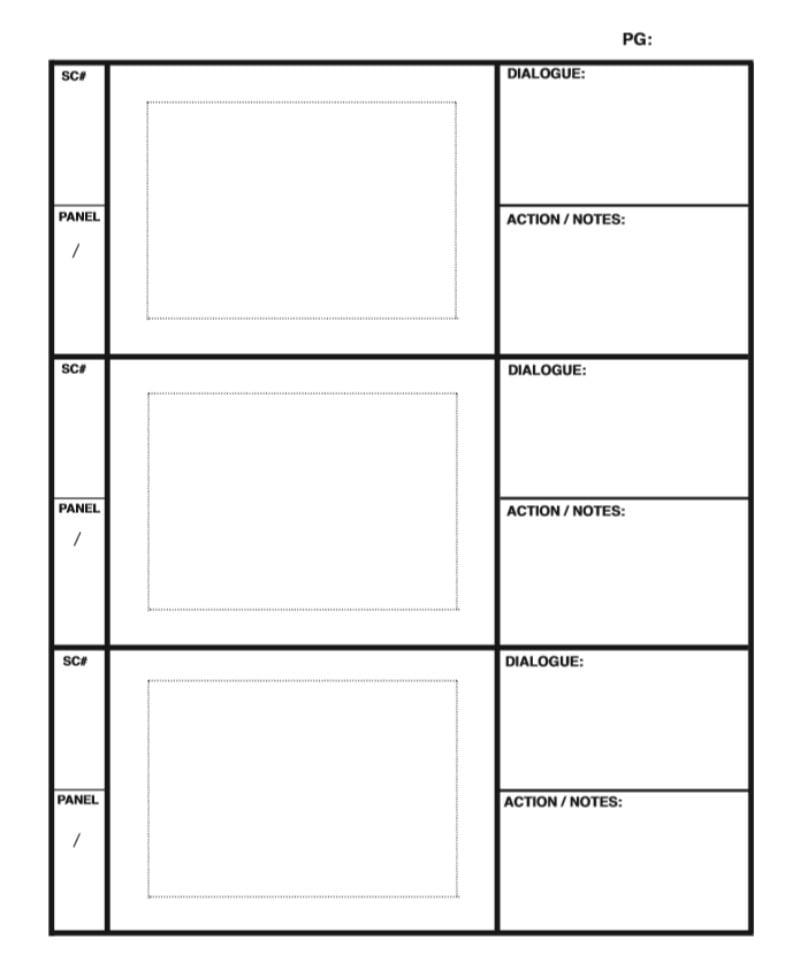 e-learning Storyboard Template
A simple storyboard template that gives you dedicated space to organize how you are going to create an educational video.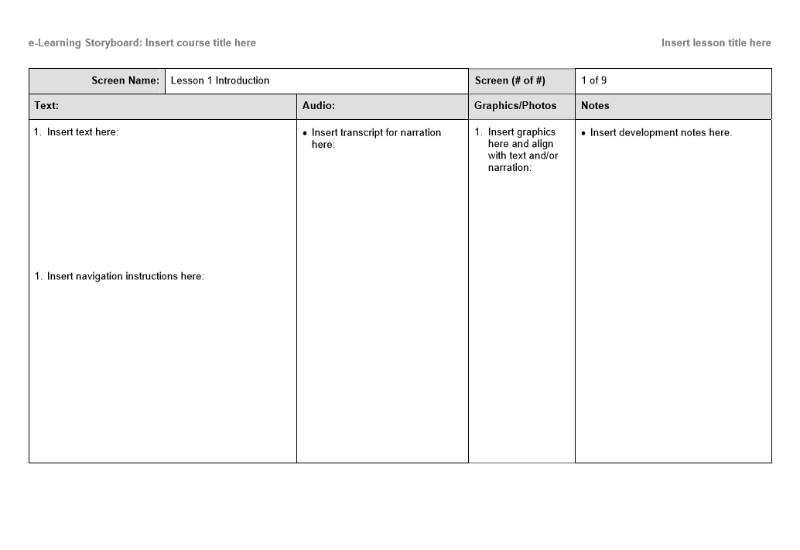 Scientific Documentary Storyboard Template
If your story is going to have a lot of dialogues, and different music integrated into them. Then this template might be good for the project.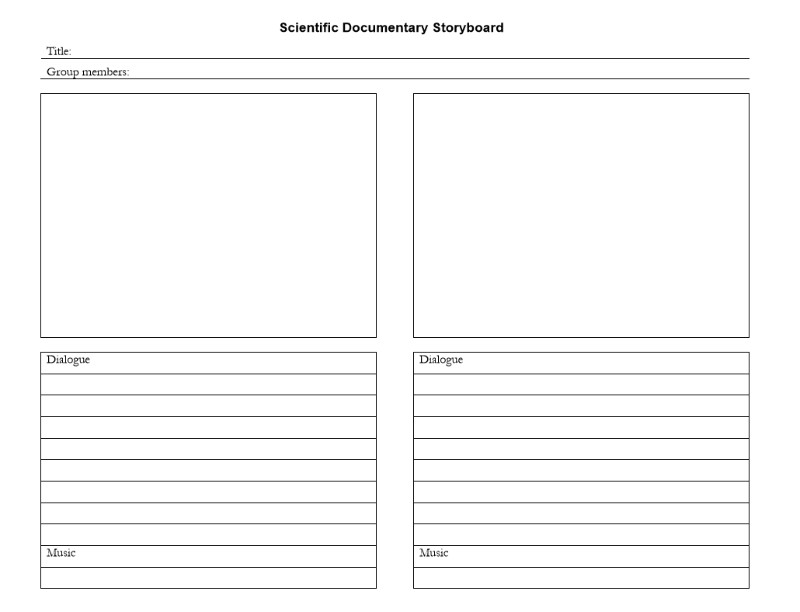 Wide Box Layout Storyboard Template
Here you get a couple of box with a dedicated area for footnotes. You can use it to organize your story in a linear fashion.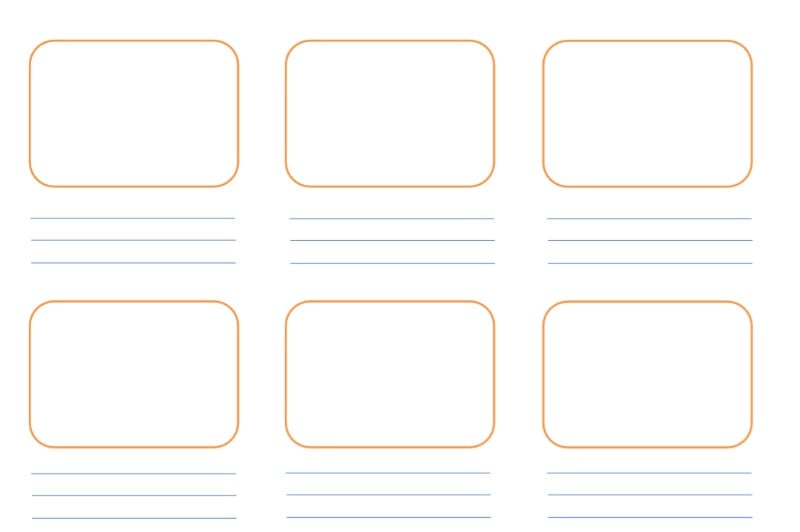 Flowchart Storyboard Template
This template might help people communicate ideas who like working with flowcharts. It is perfect for short infomercial-type content.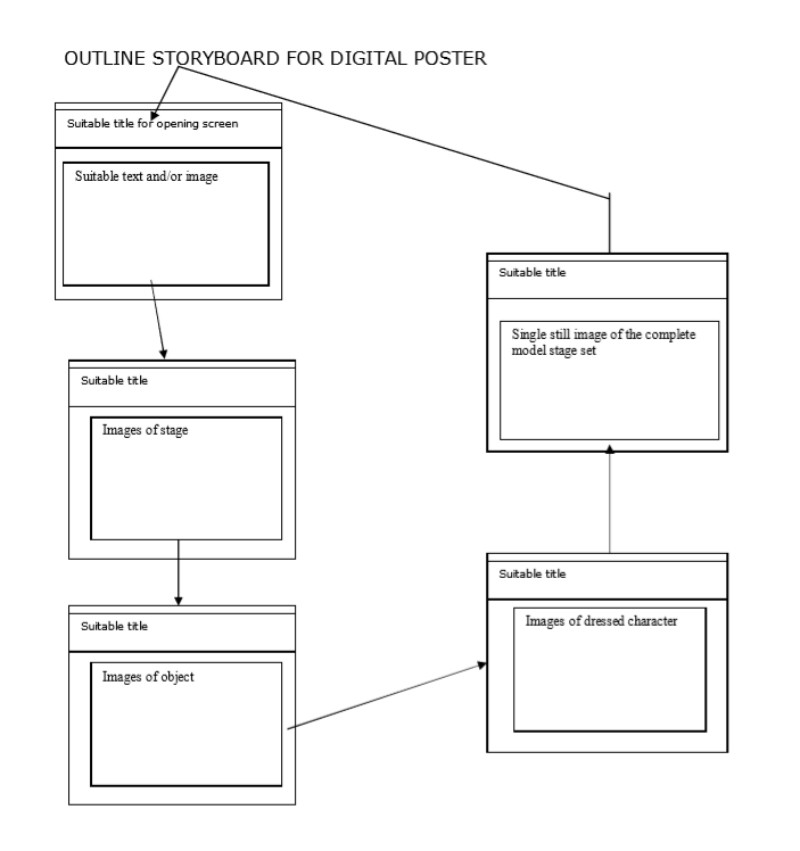 Animation Movie Storyboard Template
If you are planning an animated project, you will need a good animation storyboard template. Here is one example of a storyboard template that you can use for your project.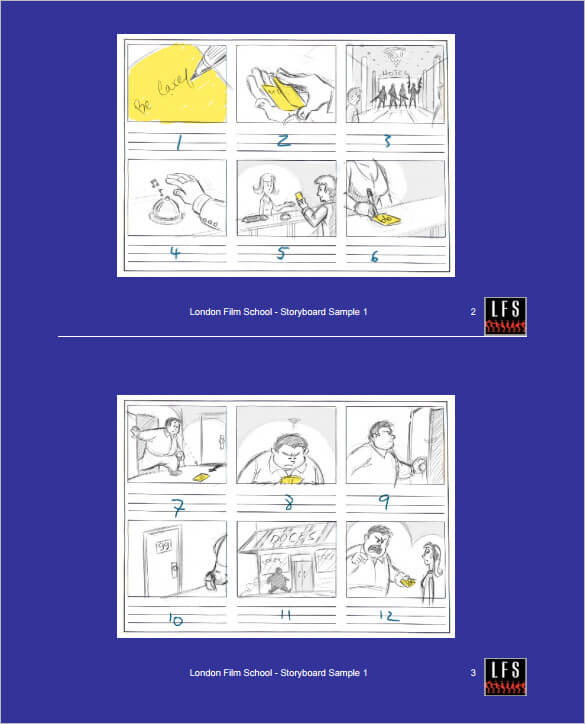 FAQs About Storyboard
01. What is a Storyboard?
A storyboard is a process of planning your narrative. Whenever you are working on a project be it any kind of project a proper storyboarding process will surely give you more clarity about the path you need to follow.
02. What Kind of Storyboard Template Should I Use?
The type of storyboard you use will depend on the kind of project you are in. If you are planning a film or any video project, an animated storyboard or a proper sketch storyboard template is the way to go.
03. Where Can I Download a Good Storyboard Template?
You can check this article to find some of the best storyboard templates that you can use for your project.
04. How Can I Create My Own Storyboard?
You can use tools like Canva to create your own storyboard. You don't have to be a technical expert to use Canva or a similar kind of tool. You can imagine how your project is going to be and start designing your storyboard.
In Conclusion
So these were some of our picks of awesome and useful storyboard templates. We hope you found them useful.
Also, if you know some other storyboard template that you think should be included here, then don't hesitate and share it in the comments below. Your fellow readers will love your contribution.