Slack is one of the best team messengers for quick communication between the team members while working on a project.
Slack has remained one of the top online workspaces in the recent past. It is used for messaging apart from collaborating with the workspace in general.
Used by millions of organizations and businesses, Slack has remained one of the top preferences. Slack was built with the belief that life is all about communication, and e-mail no longer serves all the needs.
However, there are a number of modern alternatives to Slack if you wish to try a different platform for any reason.
And when you have better options available, why would you stick with the old Slack?
Today, we will find you the best Slack alternatives for team communication. 
Top Slack Alternatives for Team Chat
---
In this modern-day and age, a large number of companies work in a decentralized format. Team members work from remote locations and platforms like Slack make it easier for the companies to come on board and manage the daily tasks from one centralized online platform.
Here are the best Slack alternatives you can use.
01

. Microsoft Teams

Previously, Microsoft Team was only available to the Office 365 subscribers. Now that is no longer a hurdle. Everyone can now use Microsoft Teams for free.

Having said that, we do acknowledge that the free version of Microsoft Teams offers limited features, but that would be enough for meeting the requirement of small organizations.

The standard feature of Microsoft Teams includes the unlimited messaging that it supports. The free version of free Slack allows the team only to exchange 10,000 messages. 

You can chat privately with more one or more people. Video conferring is not a problem with Microsoft teams.

Firstly, Microsoft Teams allows the users to join meetings and view your schedule. You can also work with your team's document. 

In short, Microsoft Teams is a hub for teamwork. Focus on what really matters on this platform.

The only hassle that comes with Microsoft Teams is the sign-up and sign-in process. But you cannot blame them for it as security is their prime concern and they want to keep you safe.

Are you wondering why you should consider Microsoft Teams? Well, we will help you to figure that out.
Pricing of Microsoft Teams
Microsoft Teams supports three plans:
Platforms: Windows, macOS, Android, iOS
02

. Fleap

Fleap provides an ideal way to communicate. With Fleap, you can work faster, better, and smarter.

The platform allows users to combine messaging with tasks and file transferring. Firstly, Fleap supports all the features that are required to coordinate with the team's work.

From idea to execution, you can use Fleap to carry out your task easily with your team.

Secondly, all the conversation that you carry out on Fleap revolves around teams, projects, and essential topics. You can discuss ideas easily on the app.

Thirdly, when you find an important conversation, you can go ahead and highlight them or even pin and then coordinate your team members to execute the idea.

The plus point of using Fleap that the hassle of signing in and signing out is wholly eradicated. With a simple search feature, you can add your clients and partners to any conversation.

In case they are not Fleep users, you can simply invite them to join the platform.

Moreover, all the files that you store on Fleap are stored in the cloud, and this makes the file accessible from all the devices where you sign in.

To make it easier for you, let me pin down the USP of this platform:
Pricing of Fleep
Fleep supports three plans:
Platforms: Windows, macOS, Android, iOS, Linux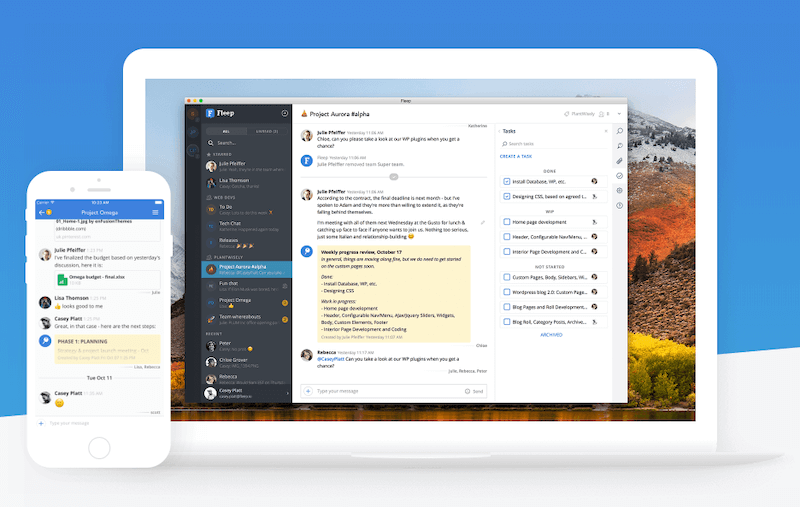 03

. Rocket Chat

Rocket Chat is different than other platforms because it is open-source team communication. You can use it for free and provides unlimited features.

You can use Rocket Chat to replace HipChat, e-mail, and Slack. Further, with Rocket Chat, you can replace CC/BCC hassle of e-mails.

Firstly, Rocket Chat allows transparent conversations among team members. Secondly, you can do team chat and switch to audio or video calls. This will improve efficiency teamwork. 

Above all, improve the productivity of your team by sharing and discussing your ideas, files, and a project that, too, in real-time. 

Most importantly, Rocket Chat app supports unlimited users, channels, searches, messages, guests, and file uploads. Additional features of Rocket Chat include:

Further, the platform provides endless customization. What makes Rocket Chat different are:
Pricing of Rocket Chat
Rocket Chat supports three plans:
Platforms: Windows, macOS, Linux, Android, iOS
04

. ProofHub

All the tools that you need for team collaboration and communication are available under one roof. Certainly, ProofHub is loved by many users because it is easy to understand, and there is no per-user fee for using it. 

You can easily plan your actions using ProofHub by using:

You can also use ProofHub to collaborate by:

ProofHub can be used to organize:

Most importantly, once the planning and execution part is over, you can use ProofHub to deliver:

Other additional features of ProofHub includes:
Pricing of ProofHub
ProofHub supports two plans:
05

. Spike

Firstly, Spike is your do-it-all conversation e-mail. With this app, you can chat, collaborate, and manage your calendar.

Spikes saves you from the complication of e-mails. You do not need any message threads, headers, and signatures here.

The advanced search of Spike allows you to search for anything so that you can find everything. Most importantly, one unified calendar makes it easier for you to view everything in one place.

Other features of Spike are:
Pricing of Spike
Spike supports two plans:
Platform: macOS, Windows, Android, and iOS
FAQs About Slack
---
01. What is Slack?
Slack is a team messenger platform where your entire team can get together and communicate while working on any project. It is a great tool for companies that works remotely.
02. How Slack can be helpful?
Slack can be a very helpful tool for team collaboration and coordination. As the manager, you can quickly assign tasks to a team member sitting anywhere in the world. So, it makes communication between team simple and easy.
03. Is Slack free to use?
Yes, you can start using Slack for free. The free plan offered by Slack gives you access to 10,000 of your team's most recent messages. Even if you go for the paid plans, the price is affordable.
04. How many users are there on Slack?
Slack claims to have over 12 million daily active users and over 100K paid members.
05. Is Slack only for mobile apps?
No, Slack offers you both the options, the mobile apps as well as the web version of the platform.
06. Can I share a file using Slack?
Yes, you can easily share a file with your team members on the Slack platform.
What is the best Slack alternative?
Undoubtedly, Slack is good, but that shouldn't stop you from trying its alternative. For a beginning, you can try the free version of the platform that you like. If you like the free version, you can go for the paid version.
To sum up, before you go for the Slack alternative, list down your requirements, and then look for the alternative that best fits your needs.