A collection of the best free platform to watch TV shows for free. No subscription or credit card is needed to watch your favorite show.
Are you one of us who wants to watch all of their favorite shows as soon as they air, but doesn't want to waste a lot of money on subscriptions? You've come to the right place, as we're going to cover the top sites to watch TV shows for free.
Some of these sites may not work in your location, make sure to use VPN software to get around the geo-restriction.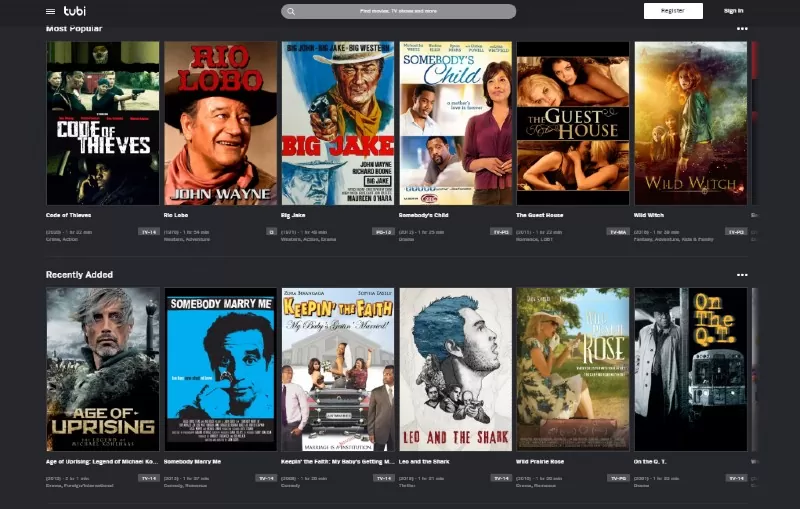 Although other blogs will have a lot of spamming sites just to make numbers, we've made sure to avoid them.
The sites on this list are definitely going to make Binge-watch your favorite TV series.
To prevent any malfunctions due to ads with malicious code, try using VPN to run these sites.
Let's find the best one for you!
Top Free TV Show Platforms
Here is a list of sites where you can watch TV shows for free.
Tubi TV came into the streaming business a few years ago and has soon become a top choice when it comes to watching TV shows for free.
You can either view the content on your website on your computer or download the software on your phone, smart TV, or laptop. From science-fiction and suspense to mystery and action movies, Tubi TV has been able to show some of the best features with ease of navigation. You'll also see a handful of advertising on this website.
NOXX is a great source to watch TV shows in high-quality HD videos. The platform has a number of premium shows that you can watch for free. You can browse through a number of different genres to find top shows.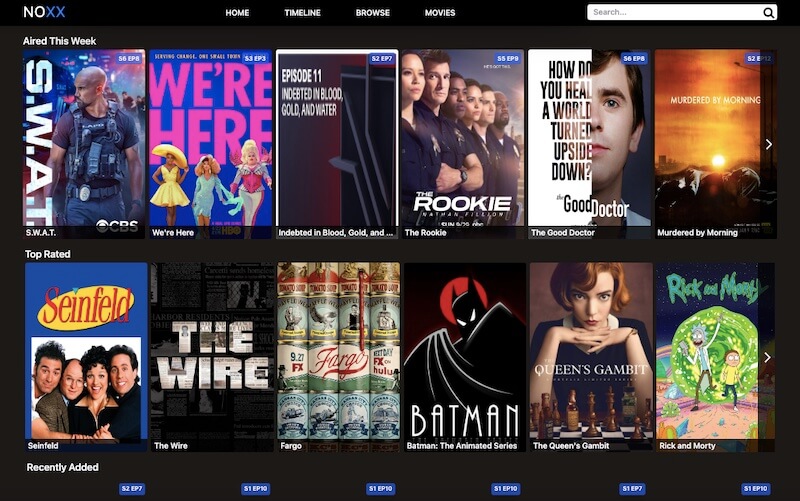 Although other platforms offer you a range of TV shows and movies to choose from, Pluto TV provides hundreds of channels to search for. So, essentially, it acts like an old-school Television.
While Pluto TV allows you to watch broadcasts of television shows, independent films, and web series, it is also known for its original material.
Looking for a platform to watch 4K HD content?
Vudu TV has a wide variety of content to offer in HD. Although you'll find some of the content labeled as for sale or rent, there is a free section where you can watch movies and TV shows for free.
The only drawback of this platform is that the free content is available only with ads that hamper the user experience.
With Soap2Day.to, you won't require any sign-up or registration to be able to watch a huge collection of TV series, movies, sports.
To search for your favorite TV series, the platform provides you with filters such as year, genre, popularity, and IMDB rating.
LookMovie is also known for its clean and organized content. The has a number of top shows that you can watch for free with high-definition videos.
The database of this platform will make sure you'll get the TV show you're looking for with a handful of filters available. The only major drawback is that the site is filled with a number of pop-up ads.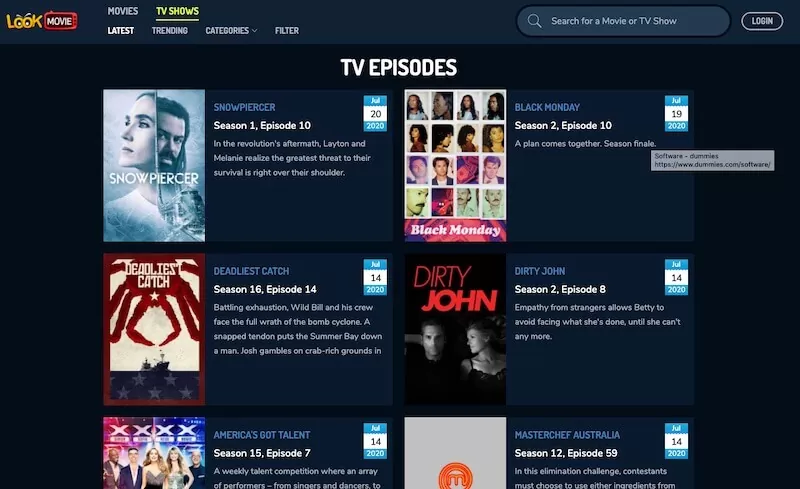 Sony Crackle has made quite a buzz in the market as it is now one of the most popular free video streaming platforms. Although you won't get the amount of the latest content that all the above sites have to offer, it still is a pretty good choice to watch classic television shows and their original content.
Crackle has a bunch of genres to offer and all the videos are of high quality.
You must be familiar with the IMDB due to its ratings of movies and TV shows. IMDB TV is a video streaming site that offers a large selection of movies, TV shows, and documentaries.
While, as of now, it is only available for the audience in the US, you're always free to use VPN.
If you're a fan of independent production videos, comics, documentaries, and anime, CON TV is here to make your life more entertaining.
In terms of user interface and experience, it is most probably the best we've ever seen as it can give tough competition to even Netflix. It also has a Live TV feature that streams tv-series encompassing different genres 24/7.
Although it is still considered a newbie in this segment, HIMovies.to is starting to gain some popularity. This site offers you the latest content in the highest quality possible.
While you'll be able to find some of the most popular TV shows, the pop-ups can cause some serious user experience setbacks. It provides filters such as genre and country to find the content you're looking for.
Another popular name when it comes to streaming movies and TV shows, 123 Movies offers tough competition to Putlocker and Watch Free.
As far as the TV shows are concerned, 123 Movies has a serious collection to offer with some of the best shows ever aired on television. The interface is nice and clean. Moreover, the content is updated regularly.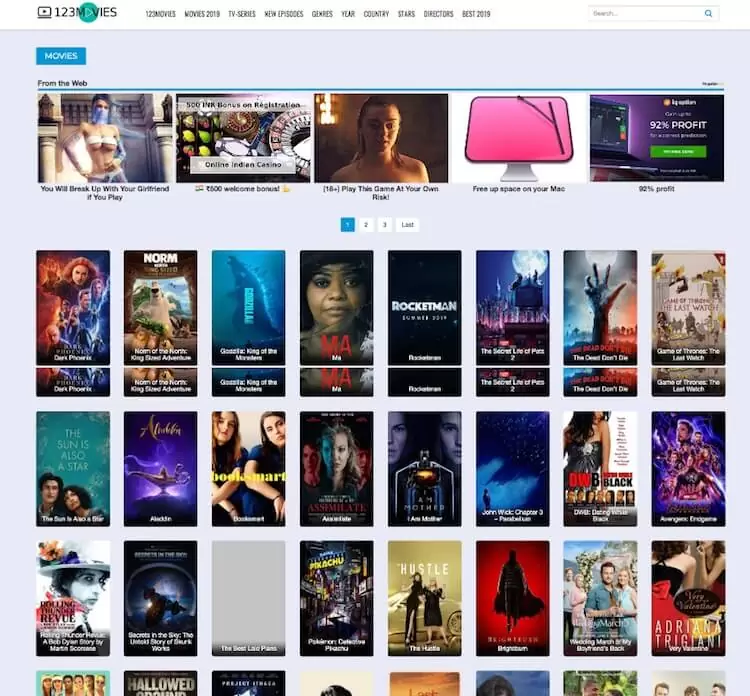 Are you looking for a site that streams top content from Netflix, Amazon Prime, and Hulu?
Yidio, short for "your internet video" has some of the most trending and popular shows to offer.
Unlike the majority of the sites on this list, Yidio provides personalized service by keeping a track of your shows and recommending them according to your watch. Moreover, the platform offers very few ads.
Putlocker not only provides a platform to watch the latest and most entertaining content but also all the latest news about the entertainment world. While the site regularly updates its appearance, you'll always have the option to choose the old design.
The home page of the site will provide the search bar and filters like top IMDB, genre, and country. While watching your favorite TV show, Putlocker would be entitled to fit in some annoying ads.
Whether it is the latest movie or the latest TV show, Yes Movies has one of the best collections to offer. With more than 25 genres to choose from such as horror, mystery, and romance and simple navigation, you'll easily get what you're looking for.
Although you'll get the latest episode within a day of its release, the ads would continue to annoy you throughout your stream.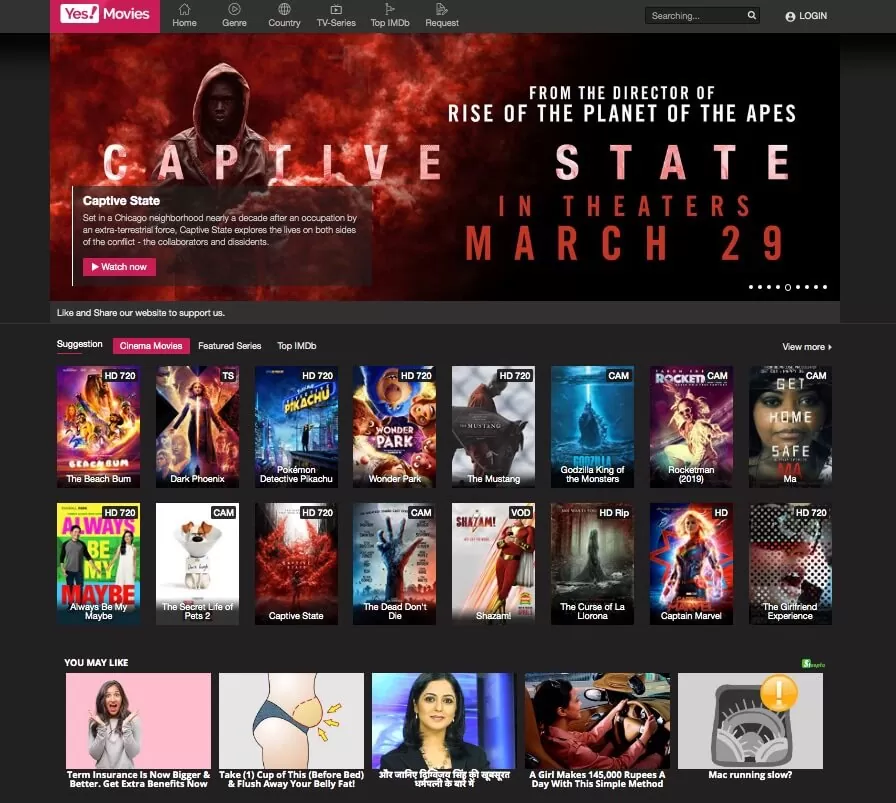 From Bollywood and Hollywood movies/shows to top-rated movies/shows of different countries, Bmovies has provided all of its content in high quality.
One of the best features of this site is that as soon as you point your cursor on a TV show thumbnail, it will show you all the required information such as IMDB ratings, plot, country, and genre. Moreover, registration is optional.
Let's be honest, we needed a site that allows us to watch online content with subtitles and ISubMovie has done a pretty good job in accomplishing it.
With a plethora of content to choose from, we're sure this site will definitely keep you hooked. Moreover, ad frequency is also very less.
Although its annoying ads made us think twice about adding this site to our list, Primewire's vast collection and simple interface made us add it.
The additional advantage of this site is that it displays all the information required, such as IMDB rating, year, plot, and genre, with a cursor point.
Yes, we're aware of the fact that it is a paid platform but the trial pack of 30 days can definitely fulfill your short-term needs.
It has some of the best content to offer along with its original shows. The platform is clean and organized as you'll get to choose from over 10 genres. Moreover, it is an ad-free platform.
With more than 200,000 pieces of content to choose from, Tiny Zone has impressed us so much that we had to include it on our list. Although it is not among the popular sites, it has some of the very popular shows under its belt.
For easy navigation, you'll get genre and country as filters. While the subtitle integration definitely makes you want to choose this platform, the extensive ads will make you question your decision again.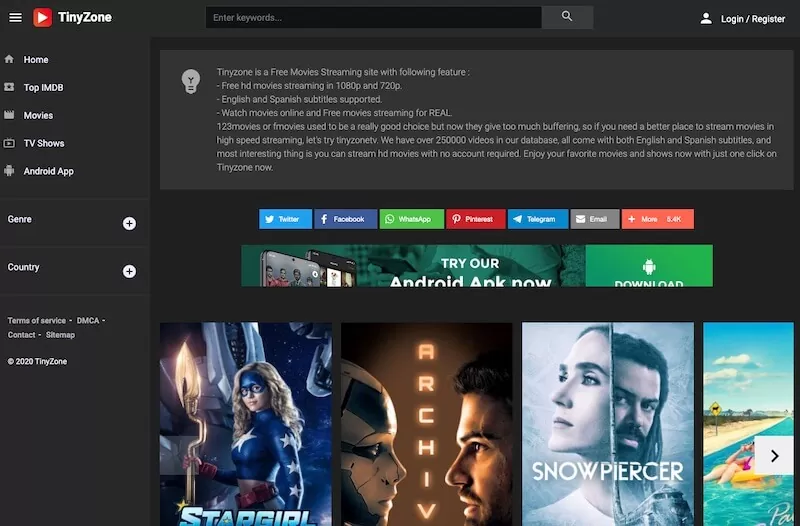 Share TV has something different to offer to its users as compared to other video streaming sites. It is a community-based website that will keep you up to date on your favorite tv shows.
Share TV will either provide you with full episodes on its site or redirect you to an external link.
Talking about video streaming sites, we can't leave YouTube off our list. This platform is more than just home to goofy videos. On YouTube, you can find tons of independent series. Moreover, every trailer of your favorite show is broadcasted there.
While it doesn't stream the full episodes, it has the ability to keep you up to date on what's happening in the TV show.
Vumoo is another great collection of free TV shows and movies that you can watch in quality videos. They give you the option to remove ads by paying some amount and have a break-free experience.
While it has a good collection of shows, the pop-up ads are annoying.
Conclusion
All of the above sites have different content and features to offer. You have to pick the one that is best tailored to your needs. While some of them offer better interfaces and limited ads, you might have to compromise with a few.
Please mention in the comments if we have missed any good site that allows you to watch free TV shows.