Scholarships are an extremely important part of a student's life because loan debt can be a nightmare at times.
There are a number of quality blogs about students and how to manage their finances, and manage debts during their college days which is really useful.
Having the right information can be a lifesaver at times. While you are planning your higher studies, you must have the information about the possible scholarships so that the entire process becomes easier.
In this article, we will look at a few platforms where you can find scholarships to finance your studies.
While private loans can be a scary affair, there are many institutions or even individuals who sponsor students these days. All you need is the information to find those at the right time.
Many colleges and universities offer scholarships to students. You can find a good list of colleges and universities here, we created that list for SEO professionals to create backlinks, but I am sure that list can be helpful to find scholarships as well.
Without further ado, let's have a look at the options we have.
Top Places to Find Scholarships for Students
---
01

. Scholarships.com
As the name suggests, this is a site where you can search for Scholarships depending on your requirements.
According to the site, about $19 Billion in financial aid is available in the form of scholarships, so you are sure to find something to pay for your college expenses.
The site gives you the option to find through 3.7 Million different scholarships that are available for students.
This site has one of the largest databases of scholarships, so make sure to go through the site thoroughly.
Create your account in a few simple steps and start finding finance for your education.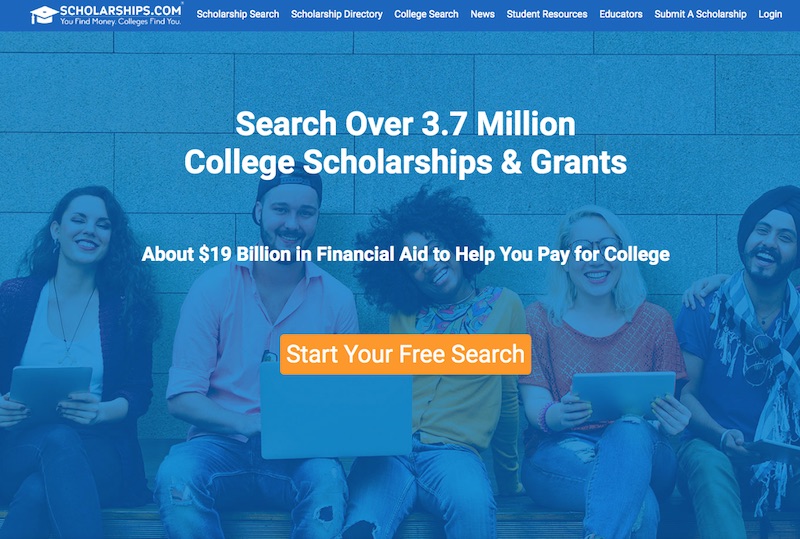 02

. Fastweb
Fastweb is another site you must have a look at while planning your college education. This site can help you with scholarships as well as a lot of information about education and possibilities.
Fastweb helps you to find the best colleges for your education and you can go through a huge database of available part-time jobs to make some extra bucks.
Fastweb has a database of over 1.5 million scholarships and $3.4 billion dollars in potential funding.
So, there is a high possibility that you will find something for yourself on Fastweb.
The site is easy to browse through. You can have a look at the available scholarships and create your own list of options that you are interested in.
You can join Fastweb for free, so get started now.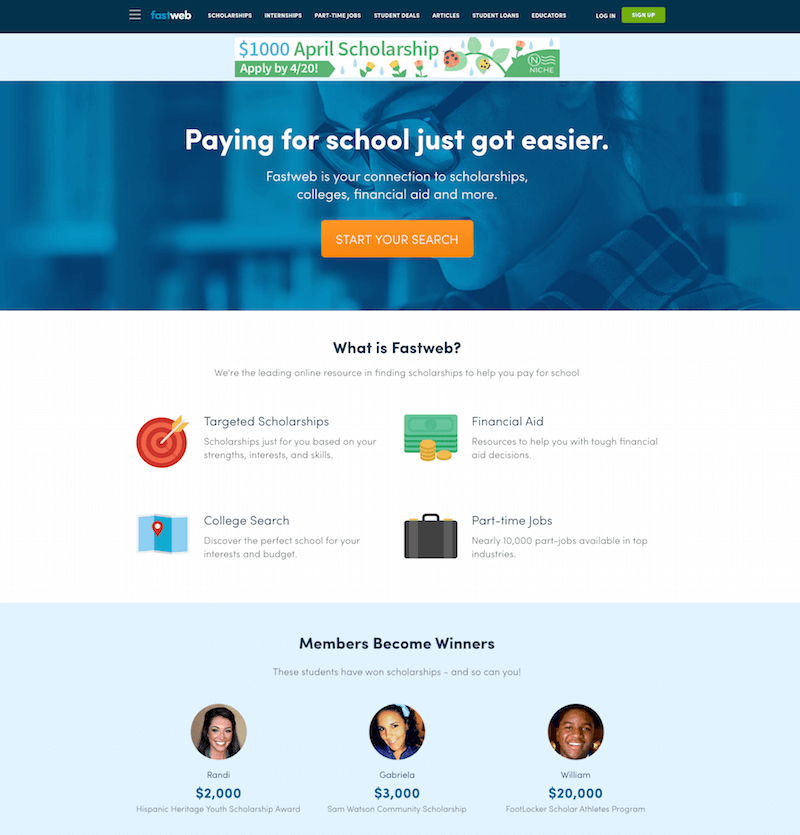 03

. Scholly
Scholly is a popular platform to search for scholarships. It is an AI-powered platform to match the perfect scholarships as per your need.
If you are a student, you must have a look at this platform. You can create your profile and get started. As per Scholly, they have already paid out more than $100 million in scholarships.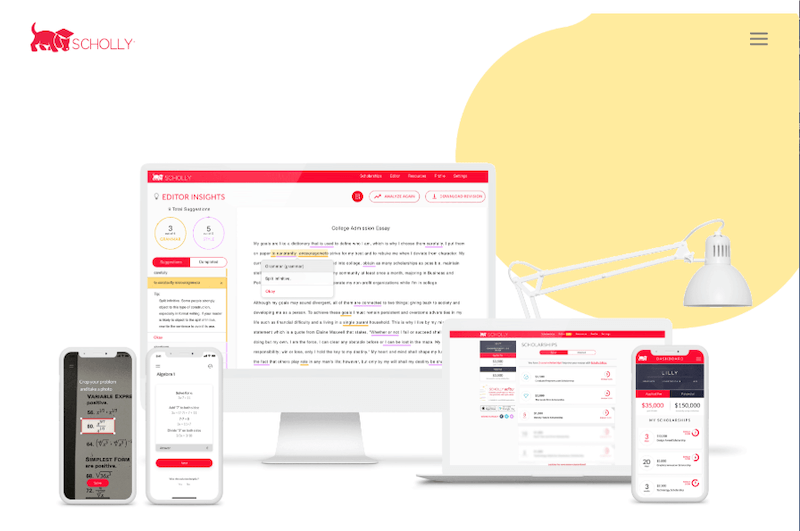 04

. College Board
College Board is another resource for the students where you can find a lot of information about colleges, scholarships, and related topics.
It is not only for finding scholarships but you can use this site for overall preparation for your college days.
As far as the scholarships are concerned, you can browse through over 2k available options and $6 billion in funding.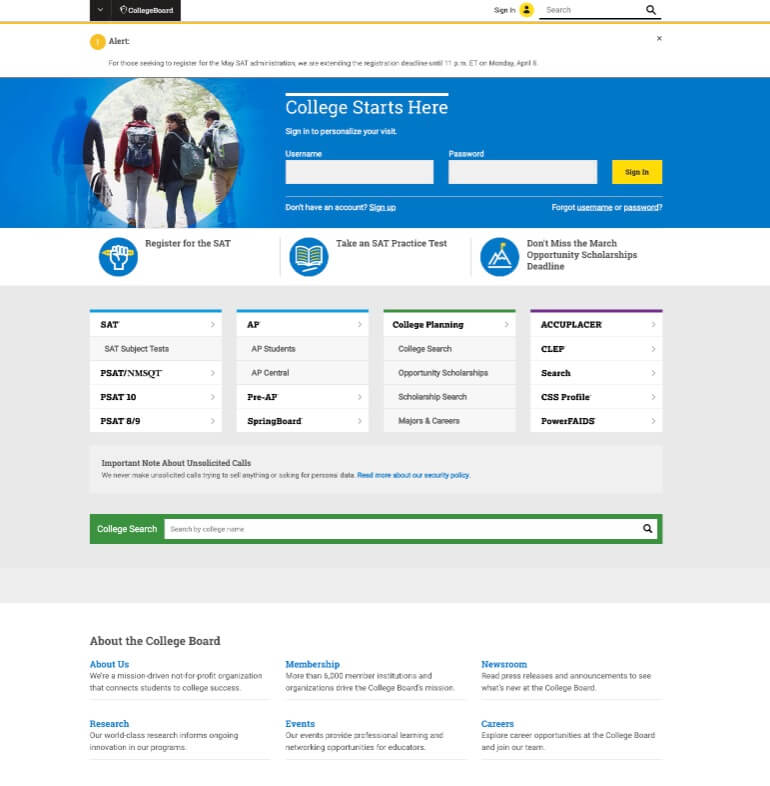 05

. ScholarshipOwl
ScholarshipOwl is another popular platform that will make the process of applying for scholarships easier. So, you can focus on your education and not worry about the process of finding and applying for scholarships.
You can go across vetted scholarships that are matched as per your credentials to make sure if you need to invest your time in those or not.
You will receive custom recommendations from the platform about the top scholarship options that you can apply for and you can send your application right from the ScholarshipOwl platform.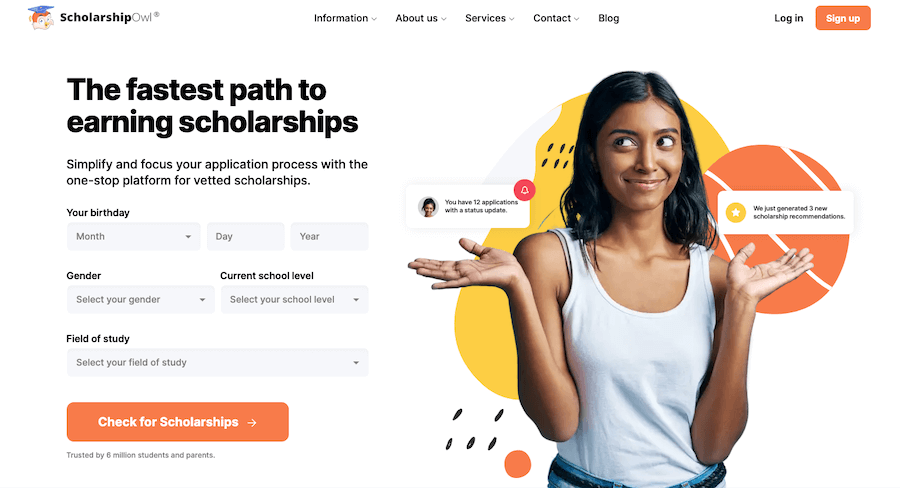 06

. Niche.Com
Niche is a big search engine for places, colleges, workplaces, and scholarships to help you through the entire process.
If you are planning higher studies and looking for scholarships, you can visit the site and search for available options to apply.
It is a quick and easy-to-use site and works like any other search engine. You can even look through the database without even registering on the site.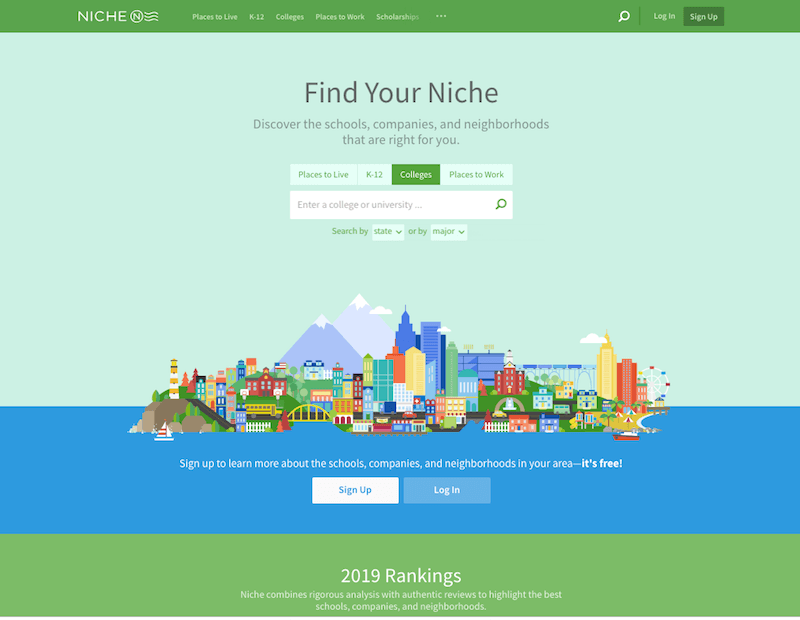 07

. Chegg
A well-known online textbook platform, Chegg is a popular site for students. Along with the books, you can use this site to find scholarships for your studies as well.
Chegg has been around for a long time, it started in the year 2003 and still going strong. In fact, Chegg is a complete solution for the students to find Tutors, textbooks, scholarships, and even internships.
So, it's good to be in touch with this site to make sure that you are aware of the updates around the education niche.
They have an entirely separate section dedicated to the scholarships and you have over 25k scholarships to go through.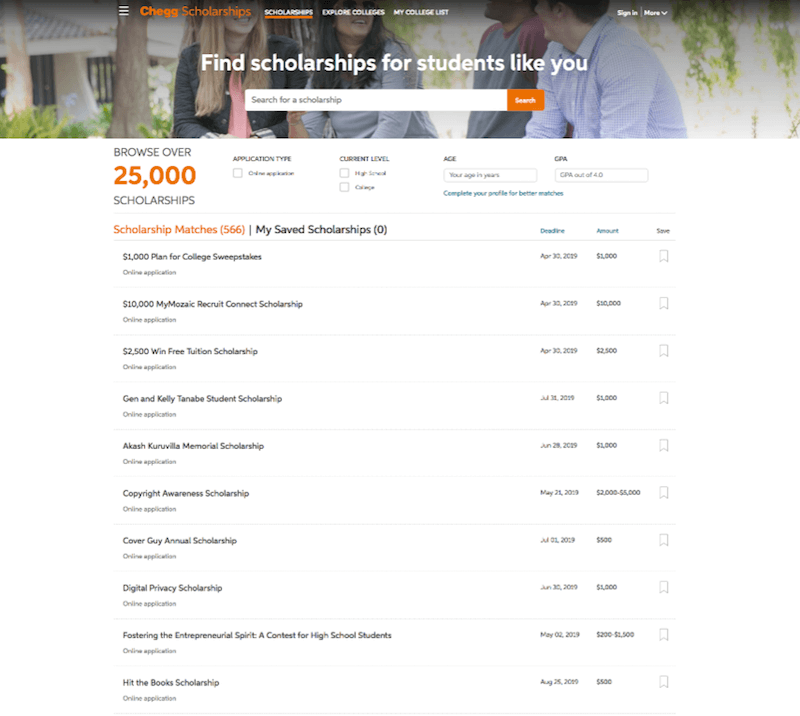 08

. Unigo
Unigo is another student finance-related website where you can find scholarships for your studies.
The site gives you access to over 3.6 million college scholarships worth over $14 billion. The site has a complete directory of available scholarships so that you can find and apply quickly.
Other than that, the site offers you a lot of informational content around financing your studies, student loan, and related topics.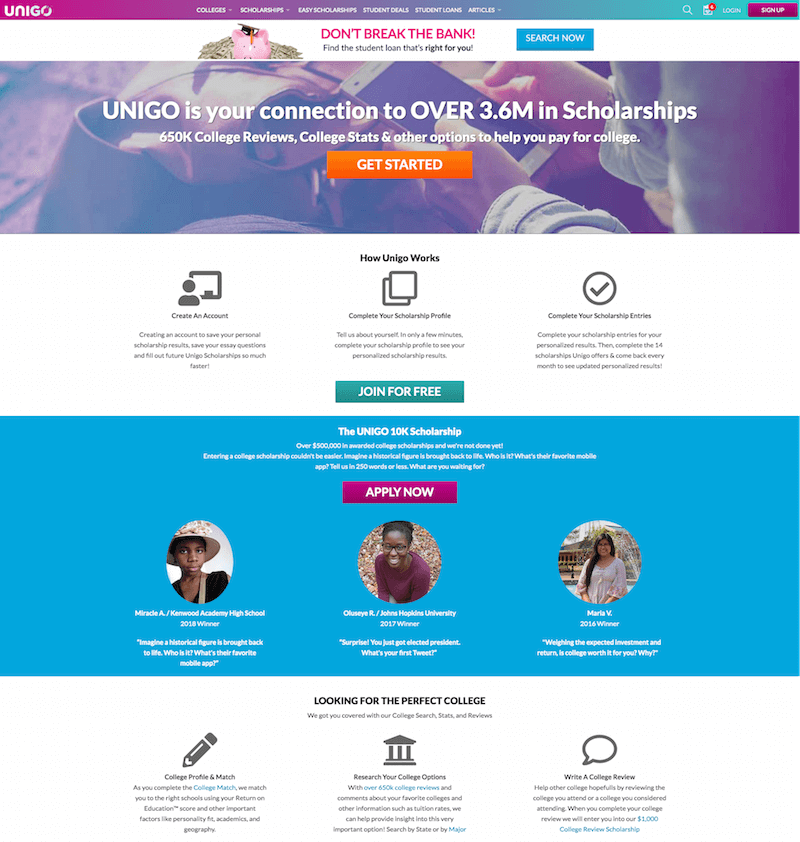 09

. Cappex
If you don't find anything suitable on the sites mentioned above, here is another good place to find scholarships for yourself.
Cappex is around for some time, and they have already served millions of students through their portal, and scholarships paid in billions.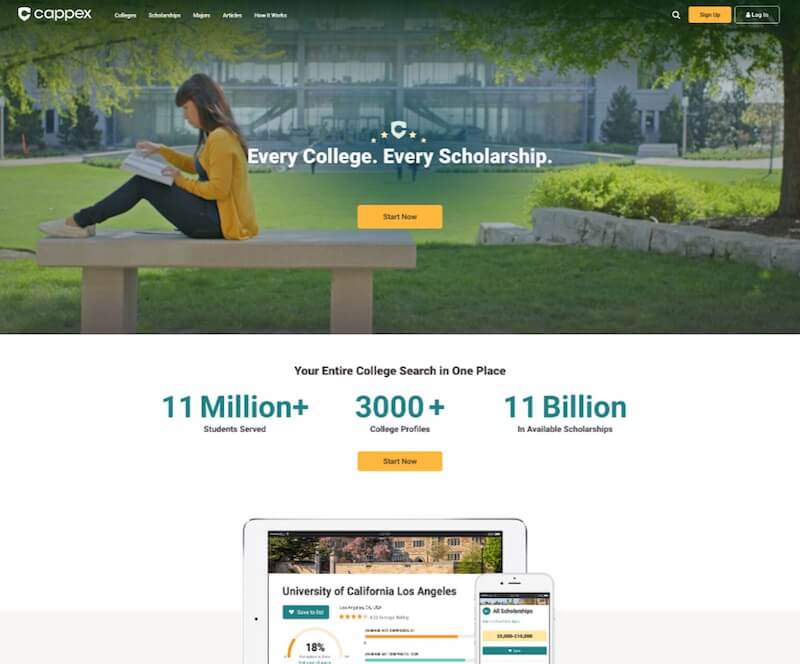 10

. Petersons
Petersons is another amazing educational site that you can use to search through different courses at the undergraduate and graduate levels.
The site also offers you a database of available scholarships that you can apply for.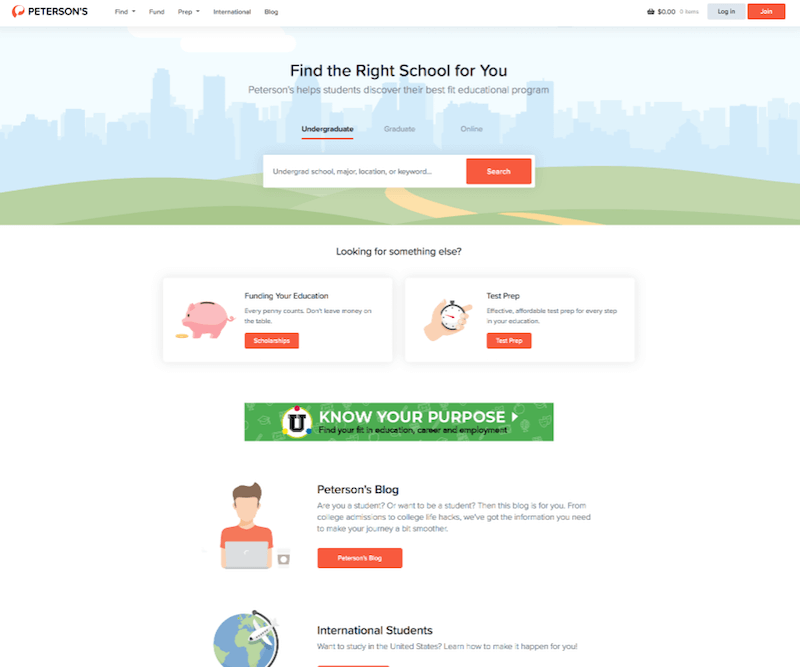 11

. Going Merry
If you're looking for a way to help pay for college, the Going Merry scholarship Finder Site can be a great resource. With this site, you can search for scholarships by keyword, state, or school.
You can also find information on how to apply for scholarships and what to do if you're awarded one.
One of the great things about the Going Merry scholarship Finder Site is that it's updated regularly. This means that you'll always be able to find the most current information on scholarships that are available.
You can also sign up for email alerts so that you're notified as new scholarships become available.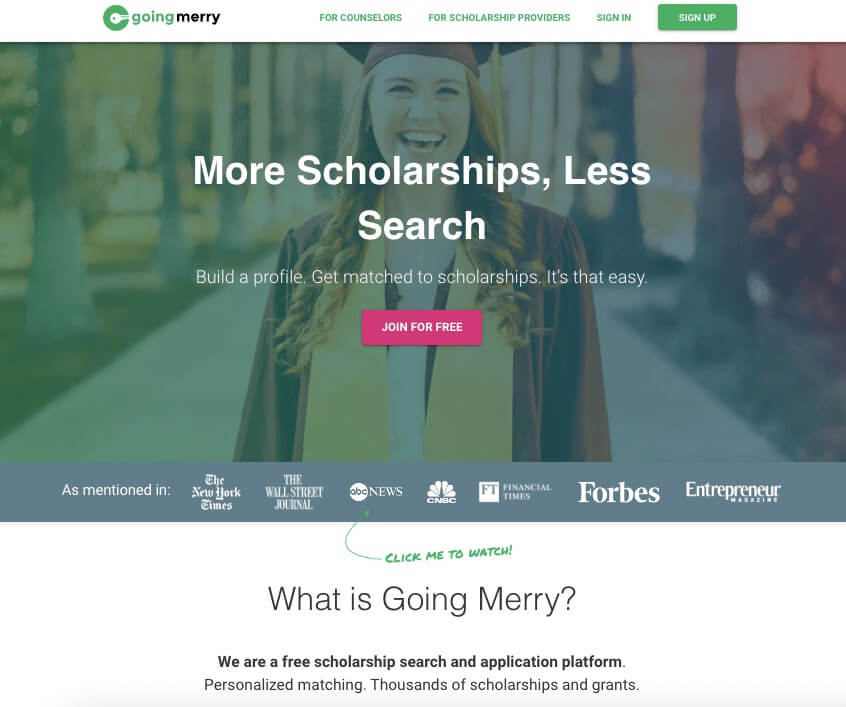 Final Word
These were some of the best places to find scholarships for your studies. If you put together all the available options offered by these platforms, you will have millions of scholarship options amounting to billions of dollars.
So, I am sure if you are consistent with your efforts; you will be able to find a scholarship for yourself.
We will be increasing this list with more new offers and options to find scholarships, so don't forget to bookmark this page. Also, share it with the students who need this information.