Even the greatest copywriters would find it challenging to create plagiarism-free content with over 100 million daily active websites online.
You may have heard about the implications of Plagiarism in writing and how it affects your Blog if you're a blogger.
Plagiarism-free writing is essential for all bloggers, and it should include in each of your blog entries.
In addition, it impacts your publishing consistency. Such a minor occurrence might hurt your total internet reputation as well as the ranking of your website.
What can we do to generate unique text in this situation? Let's have a look at it more closely!
What is a Plagiarized Content?
Plagiarism is the act of presenting someone else's work as though it were one's own without properly acknowledging the source. 
Plagiarism is considered a kind of deception. We all stand on the shoulders of others and use other work and publish it as ours.
How Is Plagiarism Harmful To Your Blog?
Plagiarism uses someone else's text on your Blog without providing a citation or other kind of reference.
You are mistaken if you imagine you may steal the text of another blog and use it in your post without the permission of the original author.
Although it will provide text to your site, this sort of post is hazardous to your site and may jeopardize your blogging career's success.
Most rookie bloggers nowadays produce duplicate content, and these postings generally do not generate much traffic.
Best Resources for Bloggers to Make a Unique Content
Proper Citation
If you can't paraphrase, you may use quote marks and replicate the exact words from the original article.
It's handy when you need to copy someone else's identical words to give your essay more weight.
Copywriters should also cite the source for any data, assertions, or facts they utilize to support their pieces.
Using quotes and references to shield yourself and your website from plagiarism charges may be quite successful.
Filling your text with quote marks, on the other hand, isn't going to improve your SEO.
So, to keep both your readers and the search engines interested, strike a balance between original text and quotations.
Moreover, there are several online citation tools available on the internet that may ease your process of proper citation.
Topic Generator for Blogs
If you need to start creating blog entries but aren't sure what to write about or what title to use, Blog Topic Generator may help you. 
Add a few keywords relevant to your Blog, and the Blog Subject Generator will provide you with a week's worth of title and topic suggestions.
It may not result in the ultimate title of your blog article, but it might help you think of fresh ways to write unique content.
Use of Paraphrasing Tools and Article Rewriters
It is a simple approach to differentiate your article or document. If you utilize a plagiarism checker and find that it contains Plagiarism, you may use a paraphrasing tool to make the text original.
A rephrasing tool is an online application that modifies the words in a piece of writing to make it appear unique and distinguish it from the source.
The most impressive feature of the paraphrase tool is that it keeps the original meaning while modifying most words.
You can use any of the online tools to make your content unique and plagiarism-free.
Prepostseo's Paraphrasing Tool
Prepostseo paraphrase Tool is a free online paraphrase tool that will help you improve your writing abilities.
This paraphrase tool uses cutting-edge artificial intelligence (AI) to rewrite information for you while keeping the central concept intact.
This application is beneficial for students, authors, bloggers, and anybody starting a blog who is looking for a free paraphraser.
The paraphrasing tool by Prepostseo uses sophisticated and extensive internet database dictionaries to find the most appropriate word substitutes. 
Bloggers, freelance writers, and academics will benefit significantly from this tool because of the careful paraphrasing.
How to use it?
This tool's operation is relatively easy. To begin, go to Prepostseo's paraphrase tool.
It will send you to a screen where you may copy-paste or upload the file from your device to any location, and that's all there is to it.
The best thing about this free online tool is that it is available in the below four versions
The basic strategy focuses just on replacing particular words with synonyms while leaving the sentence structure intact.
This tool's upgraded version also allows you to create a limitless amount of words.
It functioned nearly identically to the basic version, except that the changed synonyms are a bit more complicated. In addition, the structure of the sentences stays unchanged.
This version eliminates specific synonyms while maintaining the meaning of the statement. It may also use to correct grammatical mistakes.
Creative Mode allows you to express yourself creatively. This version is suitable for more sophisticated paraphrasing since it completely transforms the sentence structure and makes it meaningful.
Al is also used in this version to generate the unique and human-readable document.
Articlerewriter.website's Article Rewriter
This tool is very popular among students, authors, and skilled researchers. 
The rewriter uses deep spinning technology and a variety of synonyms to create unique content.
It is very efficient and completely free to use for all online purposes.
How to use it?
To use this online utility, simply write, paste, or upload a file in the input box, and click the Article Rewrite button.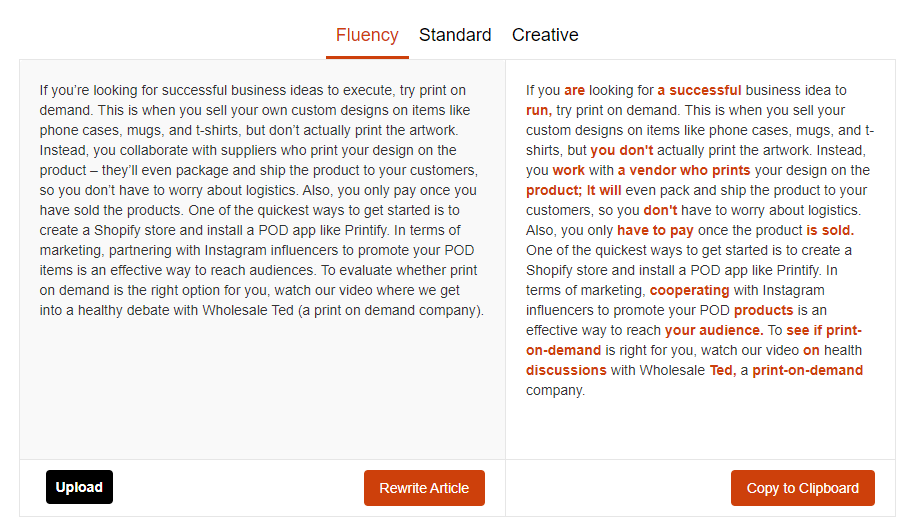 The tool will further specific words with their suitable synonyms and generates accurate plagiarism-free content.
The interesting thing about this free online tool is that it is available in the below versions.
This mode of this online tool highlights the rewritten words in red color and generates accurate plagiarism-free content within few seconds.
The standard mode help uses the medium level of rewriting and generates unique content in no time.
This mode works more efficiently as compared with the others. It also highlights the rewritten words and provides plagiarism-free content.
Another interesting thing about this article rewriter is that it provides an option to copy the result data.
Free Photos Generating Websites
It is vital to include photos in blog articles for the user's experience, but it is necessary for SEO.
Finding relevant and accessible stock pictures is a challenge that every blogger faces.
The simplest way to locate photographs is to utilize free stock pictures, which keeps your prices down and ensures that you follow copyright guidelines.
There are different royalty-free image resources where you can get high-resolution photos for free. 
Without danger of being accused of Plagiarism, you are free to use these photographs on your blogs.
You may locate a picture appropriate to your in-development blog using a simple search option.
How to check the originality of your paraphrased?
Use of plagiarism Checker
After paraphrasing your content, you should check plagiarism online to ensure that your content is unique. 
Such a program scans your document for the same text by using powerful algorithms.
It compares your content to search engine results, books, academic papers, and other online sources.
You get to post 100 percent unique content before it goes live.
You'll escape fines from search engines, as well as copyright infringement and public shame if you use the best plagiarism checking tool.
Benefits of using plagiarism tool
When utilizing a plagiarism checker, one of the benefits is examining the structures and words that match what the other author wrote.
It's helpful to create unique content since you don't have to rewrite the entire post and concentrate just on the sections.
Conclusion
Unintentional Plagiarism may happen to anybody, mainly if they copy words and ideas from other writers without proper citation.
You may not notice you're duplicating someone else's work since you've read so much before writing.
As a result, while taking notes, it's best to write down the sources so you can recall where you received your ideas.
You can prevent any uncomfortable situations by using a paraphrasing tool.