Best invoice templates that you can use for your business. Make your business look professional with modern invoice designs.
If you are working as a freelancer or a business, you already know how the importance of invoices. Regarding invoices, there is plenty of confusion among the newbies, especially when they are starting their online journey.
In today's article, we will list the best invoice templates. Not only that we will cover every aspect of an invoice that you should know before you move into your next steps.
By following the guide, you will handle the invoice more confidently and know what exactly they mean and are used for.
Our guide is detailed and will bring a clear idea of an invoice to you. After the guide, we will go forward and list the best Invoice templates.
Let's get started.
In this article, we will cover the following.
What is an invoice?

How to make an invoice

Tips for getting paid quickly and properly

Are invoices legal documents?

Revising an invoice, is that possible?

Should you go for the free invoice templates or paid ones?

100+ Invoice templates list.
What is an invoice?
Invoice is a statement of the sum due that lists the services or goods sent. It can also be defined as the itemized list of all the services or products that can be charged to the buyer. In short, is a bill of costs incurred to the buyer.
To get a clear idea of what to expect, let's understand the difference between a bill and an invoice. The basic difference between them is that the invoice lists the terms of sale whereas the bill doesn't. However, they are used most of the time interchangeably.
The choice of the term depends on the business and the culture it belongs to. Another difference is that a bill is the list of services or products already delivered whereas an invoice is the amount of work that you have done, and is yet to be reviewed and released.
Also, many newbies actively confuse themselves with "receipt" and "invoice." A receipt is an acknowledgment that the items have been paid off. It acts as proof of purchase and not the other way around.
Now, that we have cleared the confusion on what is an invoice and the basic difference between bill, invoice, and receipt, let's learn how to make an invoice.
Also Read:
How to make an invoice
Making an invoice is an easy task. Invoices can be as simple as listed items with their price, and there is no need that you have to include any legal terms to go with it.
The reason behind its simplicity is that invoice cannot act as a legal document anyway. They are a form of a request to the buyer for the payment for services or goods.
However, don't just create one and send it to your client. There are best practices that you can follow and make the best invoice for your clients.
Also, using best practices will mean that your client does not neglect your invoice in any way. They will get paid as soon as the client sees them. If you send a poorly structured invoice to your client with ambiguous terms, you might not get paid or delayed at best until you resolve the issues.
So, what elements need to be included in a well-crafted invoice? Let's list them below.
If you follow the above 10 points in mind, you will always create a fantastic invoice with high-quality standards.
Tips to get paid quicker
First of all congratulations on creating an invoice that looks professional and will help you get paid. However, some tricks will help you get paid faster. Let's list them below.
1. Be Polite
Always be polite in your invoice. Using phrases such as "Thank you for working with us" or "Please pay before due date" can improve your chances to get paid faster.
2. Mention proper due dates
Due dates can be a tricky thing to understand for clients. So, it is always a good idea to be specific on the dates itself.
Try to mention the due dates in a clear format. You can also say, the number of days before the due date will hit or indicating the date will also help.
3. Late payments should be charged
Just like other businesses, you should charge late fees on payments to your clients. Try to be as transparent as possible and mention the rate at which the late fees will apply.
For starters, it is always a good idea to clear payment terms with your client before starting your work. You can also mention the conditions in the work agreement that you will sign with them.
Revising an Invoice
It happens with all of us. You send a wrong invoice or mentioned the costs or forgot to list one product. In that case, you may want to send them a revised invoice.
Revised invoice is a great way to fix issues and it is completely found to send them.
Before you send a revised invoice, you need to be clear about the following points. Let's list them.
Free or Paid Invoice templates
If you are a business and don't have the time or experience to build an invoice, you can always use invoice templates.
Currently, you can get access to both free or paid invoice templates. If you are a small business or a freelancer, then it is wise to go with free paid templates.
Otherwise, it is better to go with invoicing software that keeps track of everything you do and helps you manage your clients in the best possible way.
100+ Best Invoice templates
Alright, we went through a complete guide on "invoice". Now, it is time to list the best invoice templates. We will list more than 100+ best invoice templates that are currently available online. Let's get started.
1. InvoiceHome Invoice Templates
An invoice home is an online invoice creation tool. It helps you to create your invoice automatically by filling in the invoice details and then choosing a template.
They boast more than 100+ templates themselves. By using them, you can also keep track of all your invoices in one place. It supports all the payment methods, is secure and is ideal for small businesses or freelancers.
They also offer great invoice layouts. Below is a screenshot of their great collection of invoice templates that you can use in your work.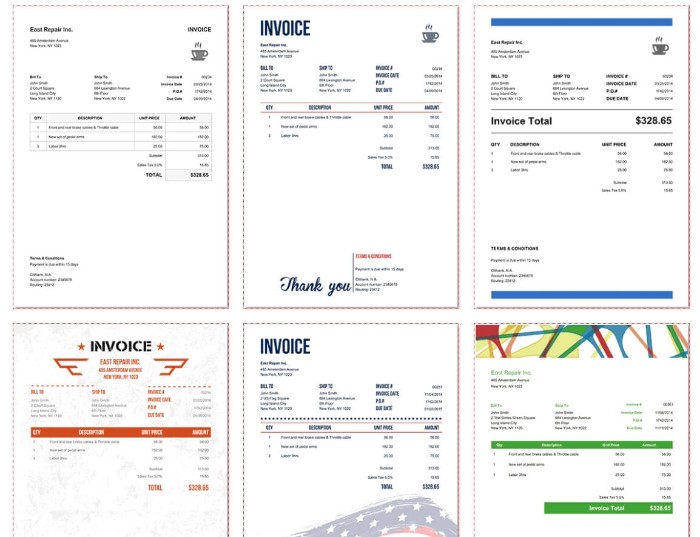 2. Hloom
Hloom is an online hub for templates. They collect amazing templates related to almost every category. This means they also have amazing invoice templates. Let's list their collection below.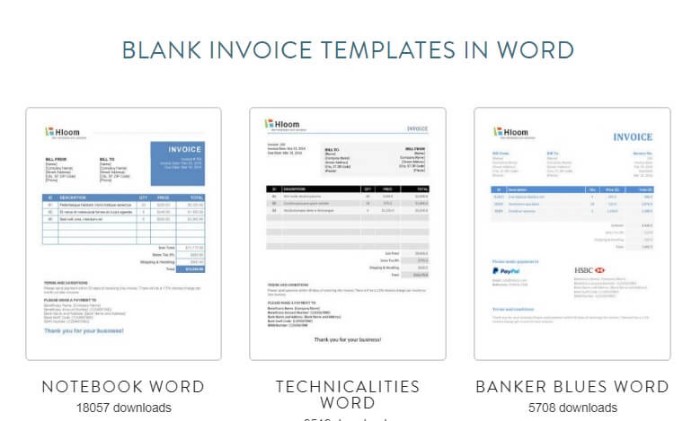 3. SmartSheet Excel Invoice Templates
Here you find a great collection of all the excel invoice templates. It lists more than 50+ invoice templates related to different use cases. All of the templates available are editable in excel.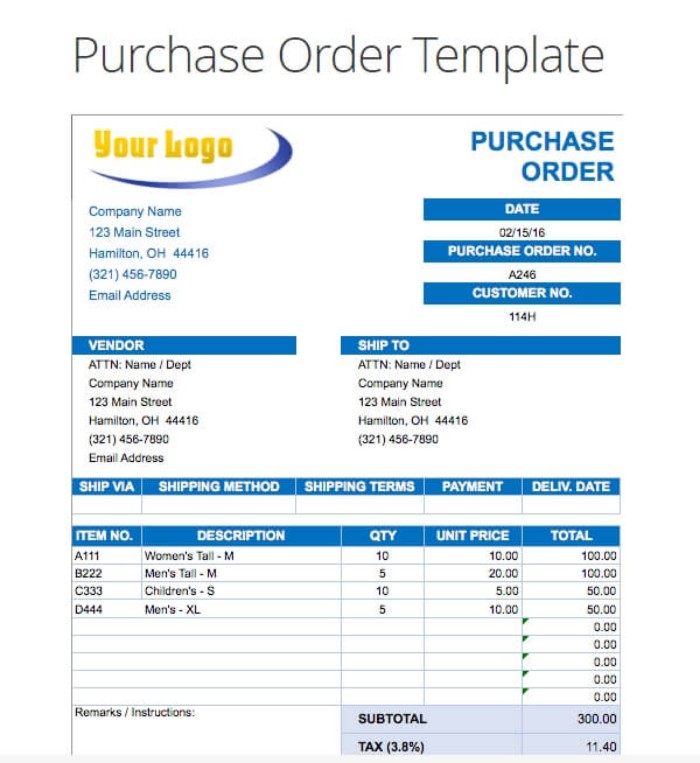 Handpicked Invoice Templates By BeginDot
Even though you may find a lot of templates above, they can be still pinpointed as the best ones out there. To make it easier for you, let's list a few of them below.
1. Sharp and Clean Design
If you are looking for a modern, clean and beautiful invoice template, then take a look at the invoice created by Aaron Dickey.
It is spacious, impressive, and professional. It uses a simple layout and keeps things as simple as possible. Some of the text is bolded with an increased font size to mention emphasis.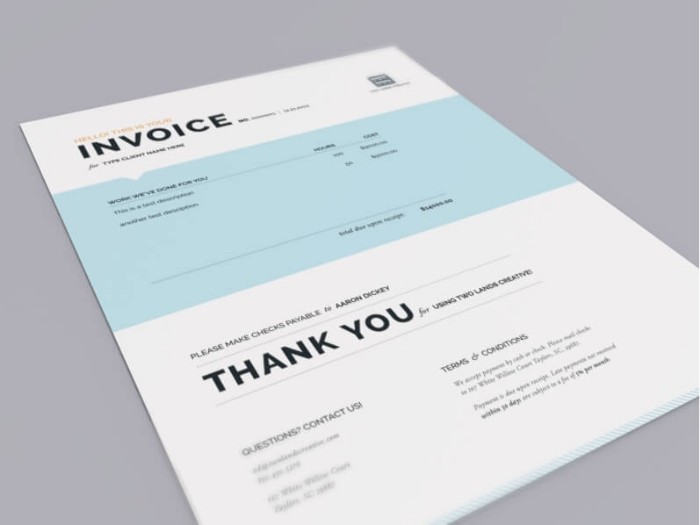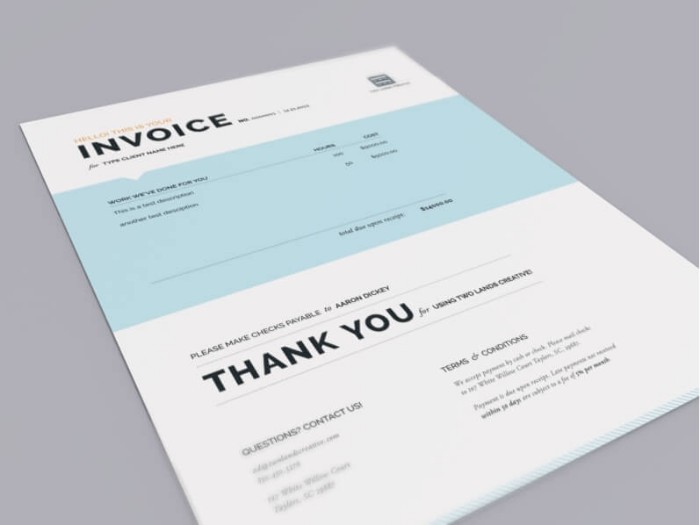 2. Classy
Cameron McAfee is the designer of our next invoice template. It is a clean design with a classic touch to it. It is also termed as "Serious Invoice design" and does look great!
The invoice template can be used by law firms or other serious business-related firms or gigs. You can add a logo or also add small terms and conditions. It is an excellent classical invoice template.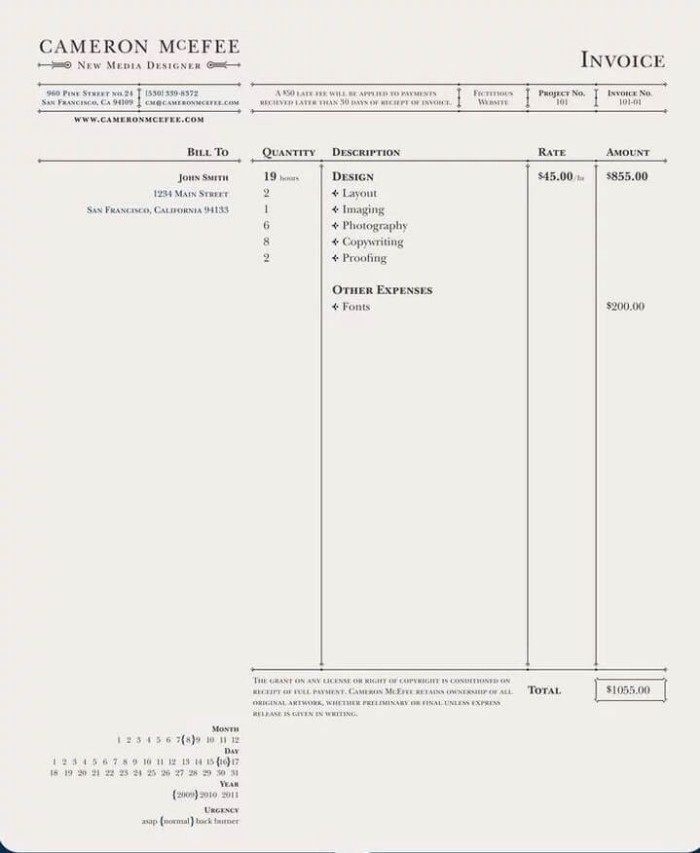 3. Origami
Origami is a fun-based invoice template. It is mainly used for service providers that are designers or kids-supply. It folds like an envelope and makes it look like beautiful art.
However, the invoice should not be used for all purposes. You should decide for what purposes this invoice template is applied and then act accordingly.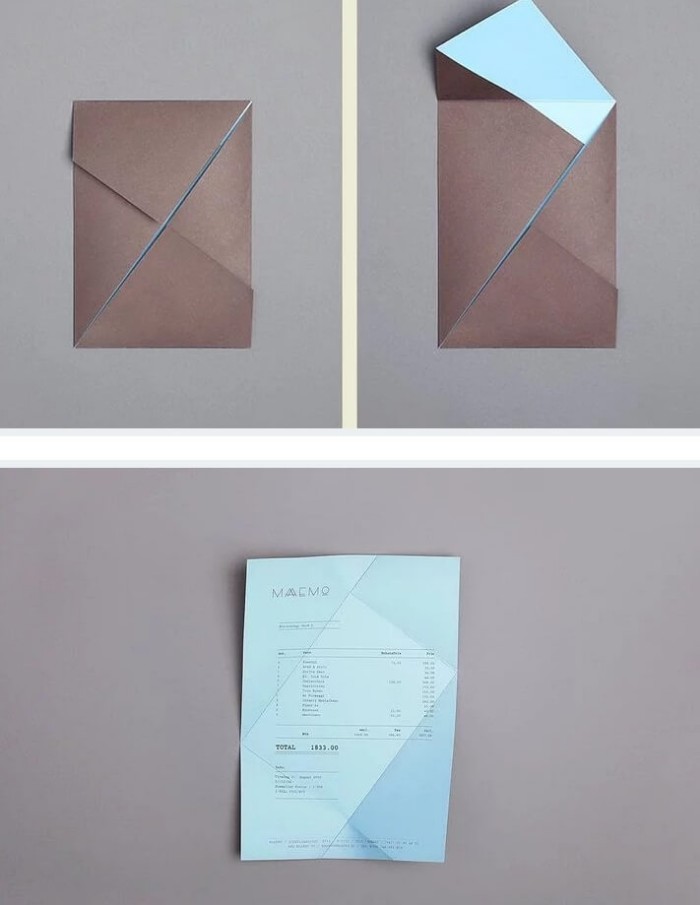 4. Line Up
Line Up takes inspiration from the notebook. It is a clean and focused design that uses a notebook as its primary design element. It is created by Dimitar Stojanov. Also, it has a paper-like design.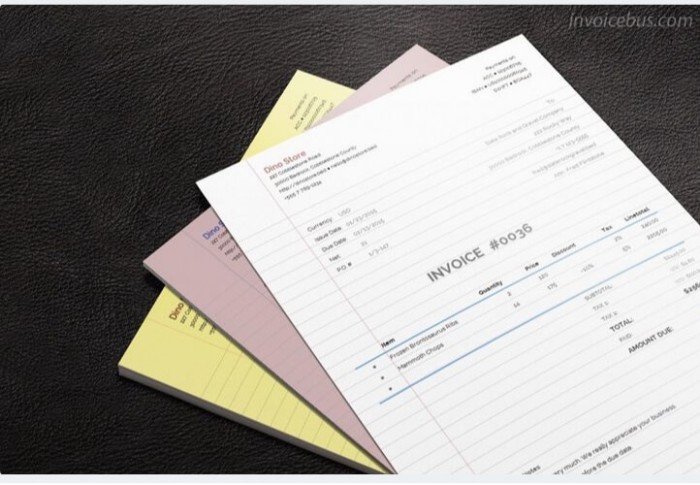 5. Color Palette
Line Up takes inspiration from the notebook. It is a clean and focused design that uses the notebook as its primary design element. Dimitar Stojanov creates it. Also, it has a paper-like design.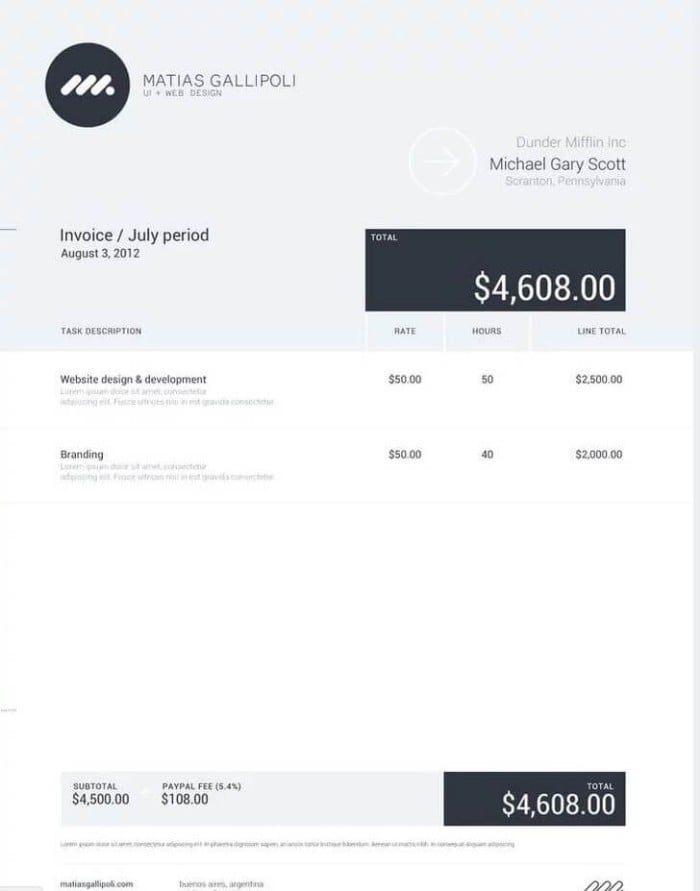 6. Graphic Template
The graphics template is all about colors and minimalism. Evgeni Yordanov beautifully crafts it. The template is also geometric in nature.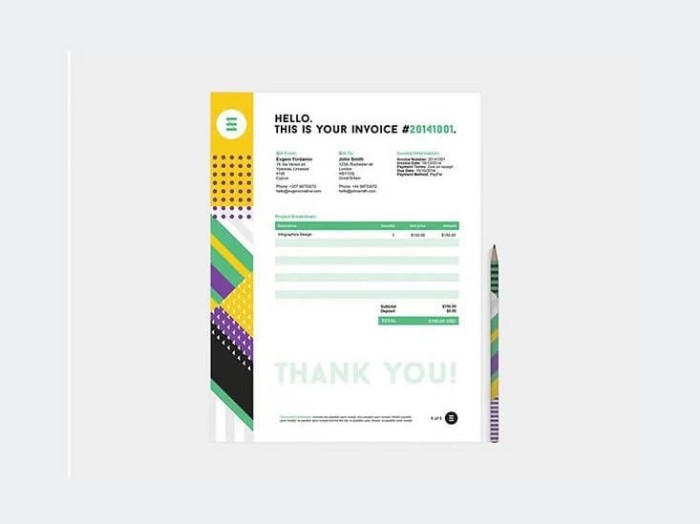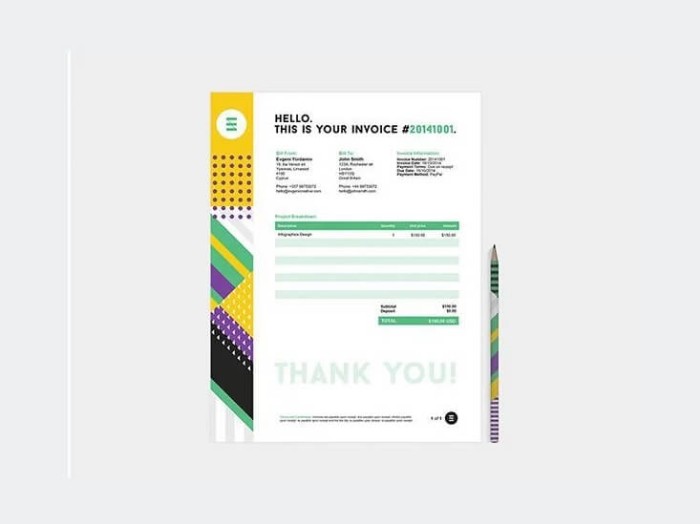 7. Vintage
If you sell vintage stuff or just want to use a vintage template, look out for this amazing template designed by Rob Brinks. It is beautifully textured and has proper color saturation all over it.
It also contains all the important invoice elements which can be edited for your work.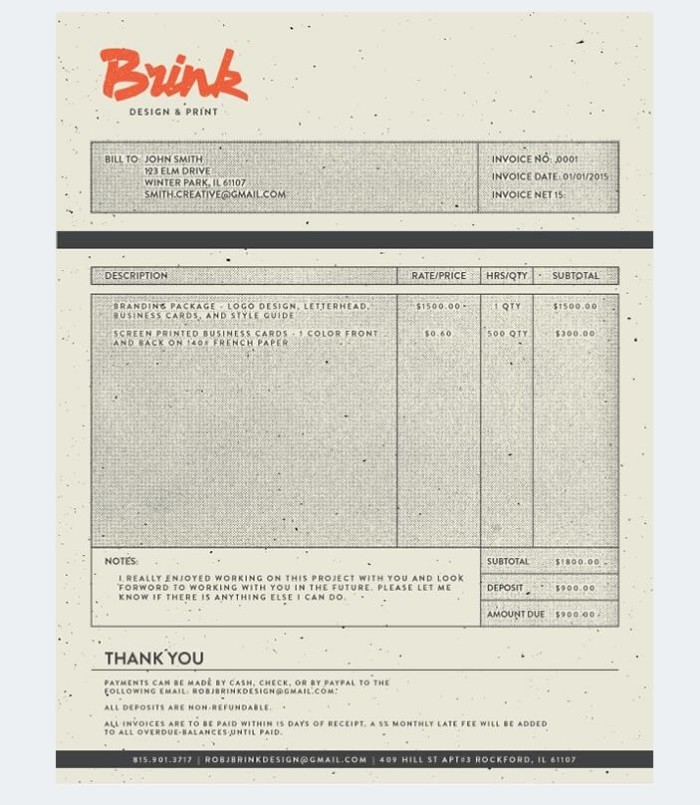 8. Friendly and Bold
Our next template is "Friendly and Bold." BGG design studio designs it. It is colorful and designed properly. You can easily list items or services and also provides quotes if you need to. The top section of the invoice is beautifully crafted with all the vital info.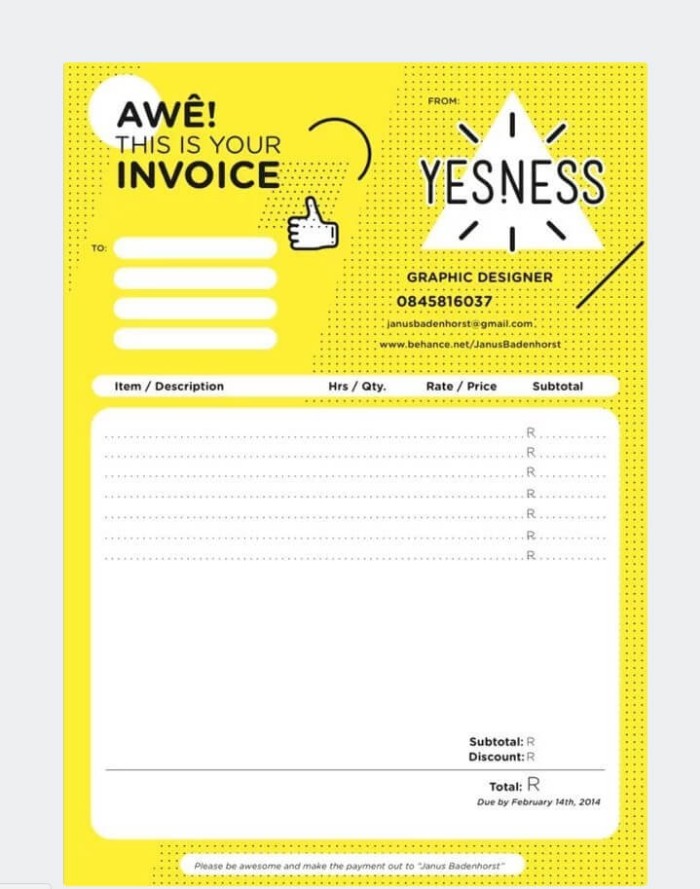 9. Typographical
Typographical is our favorite invoice template. It is heavily dependent on typography, and this is why it shines. It looks professional and provides the necessary design elements that make it a perfect template for your project.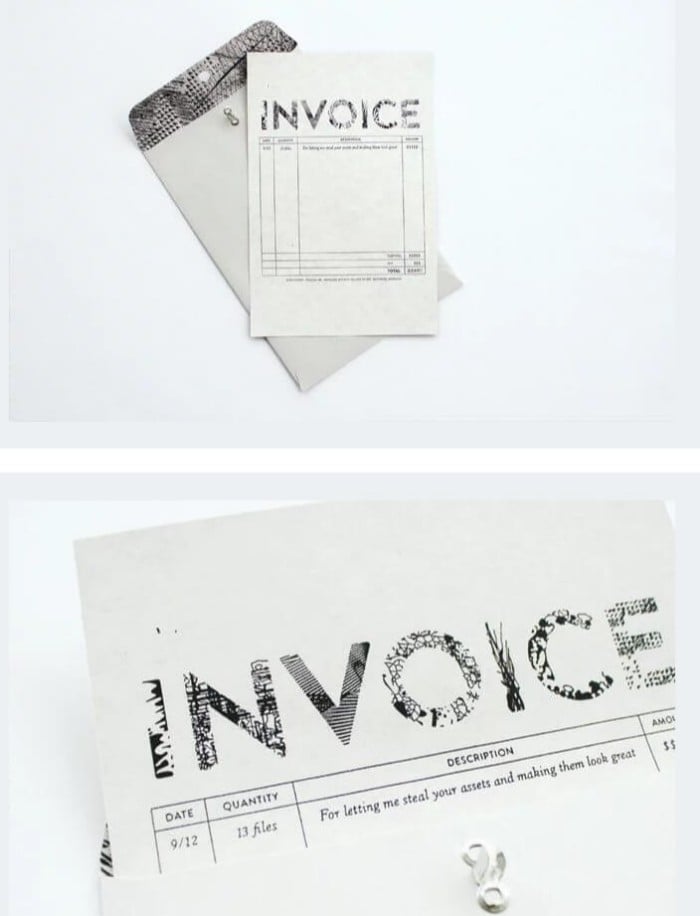 10. Ink and Paper
Our last pick is "Ink and Paper." A wonderful template was created by Lisa Polsinelli. It is completely editable and has a good mix of a modern and vintage touch.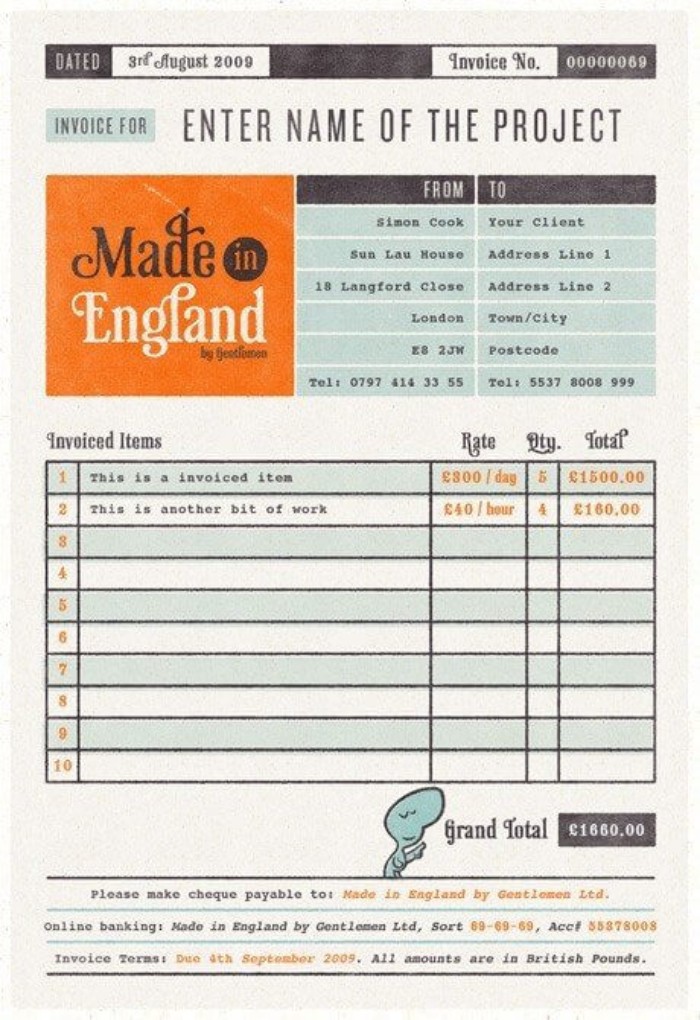 Conclusion
In today's article, we focused on exploring invoices. The reader will surely benefit from the information shared by us. Also, at the end of the article, we listed more than 200+ templates from different sources.
To make things even better, we picked 10 of the best invoice templates that you can use. If you liked the article, please don't forget to share it with your friends.
Also, share which one you liked? We are listening.