Are you looking for the best HubSpot alternatives, we have listed some of the top options in this article.
Your one-stop shop for marketing, sales, and customer service software- HubSpot, when used with CRM, can yield tangible benefits in the form of analytics, email and market automation, tickets, and so on.
It also eliminates the problem of clients and employees monitoring their extensive activities and engagements.
There is a need for a singular platform where you can streamline all your business activities, while simultaneously keeping a watchful eye on all the operations.
As great as HubSpot is, it is not always the go-to choice; which is why we bring to you the best HubSpot alternatives that can replace this software with other equally efficient, if not better ones!
01

. EngageBay
One of the best HubSpot alternatives, EngageBay is the single software that you need to manage your entire sales, marketing, and support activities.
It offers you all the features and tools that you need to manage all the day-to-day business activities from a single dashboard.
EngageBay platform offers a completely free plan to start with, if you are managing a small business with a small team, the free plan to good to go. If you need all the features, you can go for any of the premium plans.
When it comes to the CRM features, you can manage your entire sales process on automation. Other than that, you can use EngageBay to manage your contacts, manage deals, schedule appointments.
It comes with a complete marketing automation feature, form & landing page builders, email templates, and more.
Sales & marketing automation
Complete customer support system
Live chatting system
Appointement scheduling option
Contact and Deal management
Helpdesk tool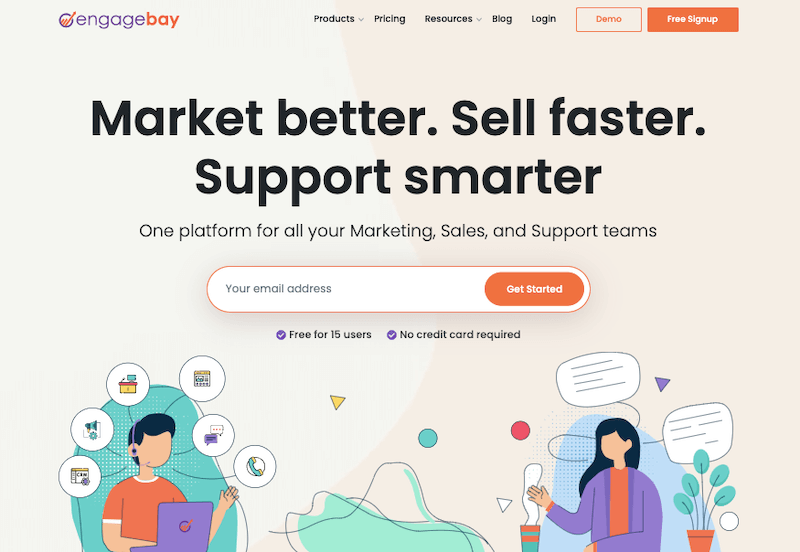 02

. The Aritic PinPoint
With a simple and legible interface, the Aritic PinPoint is designed exclusively as a marketing automation tool for larger and growing businesses.
Its inclusion of account-based marketing tools, sandbox testing, push notifications, with features like video manager, CMS add-ons and in-app messaging relieves your task burden ten-fold.
It also houses a multi-channel marketing feature where one can condense multiple marketing channels to reach your target audience successfully. You are also at liberty to monitor the spam score.
With its vast CRM and CMS integration, it is unstoppable and thus makes an effective alternative for HubSpot.
It is also moderately priced when compared to HubSpot, therefore you will not be pinching your pockets in order to harness the benefits of this software.
Email and SMS automation
Campaign across multi-channels
An inbound marketing automation device in itself
Data security and safety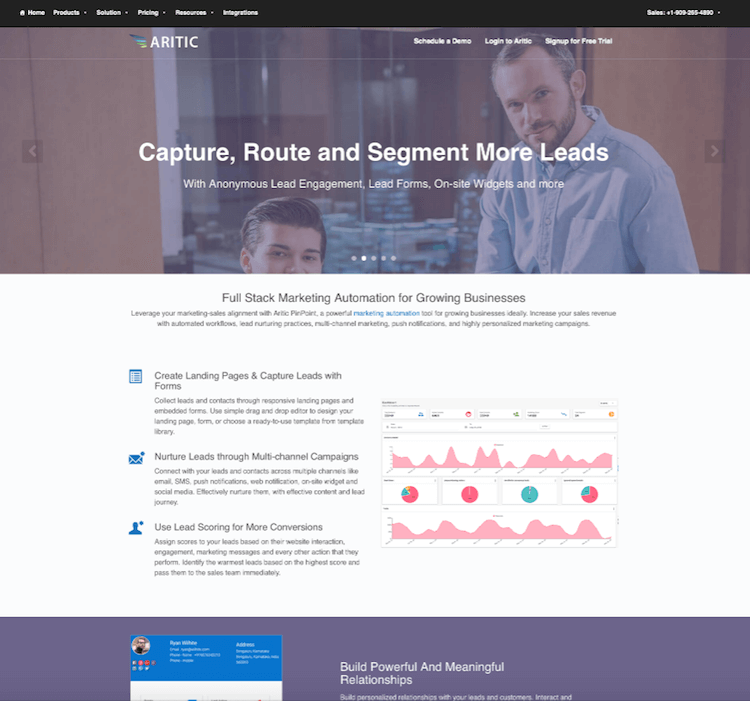 03

. Ontraport
Our second conquest on the list of alternatives is the stellar Ontraport system, backed by eCommerce and sales automation.
Scaling a business can be excruciating as well as an exhilarating experience, and it is imperative that you have strong market automation software to fall back on.
Ontraport here fits the bill clearly. Its publishing feature allows you to categorize your content, draft blogs, emails and modify your information to meet the growing needs of the market.
It is equipped with CRM, giving you a holistic and comprehensive view of your marketing activities and business engagements.
What is impressive is its vast network of integration with household brands such as PayPal, Facebook, NMI, and WooCommerce. This is an exception software to launch your brand and expand your dream business son.
PayPal, wooCommerce and Facebook integration
Attracting customers for the long haul
Buyer-seller relationship
Helps you in creating groups based on common factors like demography and preferences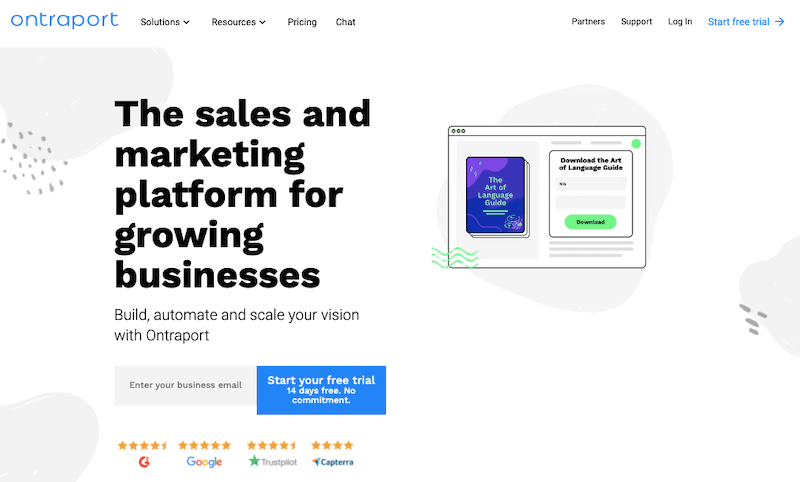 04

. Kajabi
A simplified system with an easy-to-operate interface, Kajabi has a subtle sophistication and is highly functional. It is highly recommended for online corporations or those businesses explicitly dealing with content curation and management.
It is also widely preferred by bloggers. Here, one can offer to sell their online courses, products, and digital counseling without any hassle.
In addition to this, this domain is expertly crafted to accommodate your videos, images, run training or coaching portals, and membership sites.
A pre-installed feature where you can start your own blog with a simple click can help you launch your own blog, complementing your website.
Around 3 million satisfied customers worldwide
High conversion templates suited for online businesses
Single platform for all your marketing needs
Email automation
No transaction costs
05

. Active Campaign
Active Campaign makes your business as approachable to your target consumers as possible with its innate built-in features and comprehensive tools.
Active Campaign lets you establish a solid connection with your customers through effective message delivery and discussion.
This tool reorganizes customer data, consolidates your communication channel and fuels sales automation.
With a singular window for all emails and chrome extension, Active Campaign gives a head-on competition to HubSpot.
The presence of an email tracker increases transparency between the buyers and sellers, it allows senders to view when their message was received and read by you, with high responsiveness.
Fuelling day-to-day interaction with your audience through social media platforms and messaging, helping you segregate your audience and specifically tend to their needs.
Its pricing scheme is diversified into plus, professional and expertise- you can choose the package based on the size and nature of your business.
Equipped with CRM and sales automation
Customer-seller interaction made easy with messaging
Personalized emails
Dynamic content and effective segmentation
06

. Drip
Epitomizing on email automation, this software emphasizes the email marketing of your brand and establishing a direct channel of communication.
This will personalize your interactions with the customer, giving you're an approachable outlook.
Relying on heavy automation, Drip monitors every minute action of the users and helps you cater to their short-term and long-term needs.
It also identifies those prospective leads who are in for the long haul after comprehensive analysis and data collation.
The API integration throws your business open to Shopify, Segment.com, and PayPal and its full feature of Javascript and server-side APIs is impressive.
With its visual workflow feature, Drip charts your interactions with your customers in accordance with their behavior, preferences, and actions.
Heavy automation in terms of sales and marketing
Intuitive and customizable
API integration
Can handle little over 2000 contacts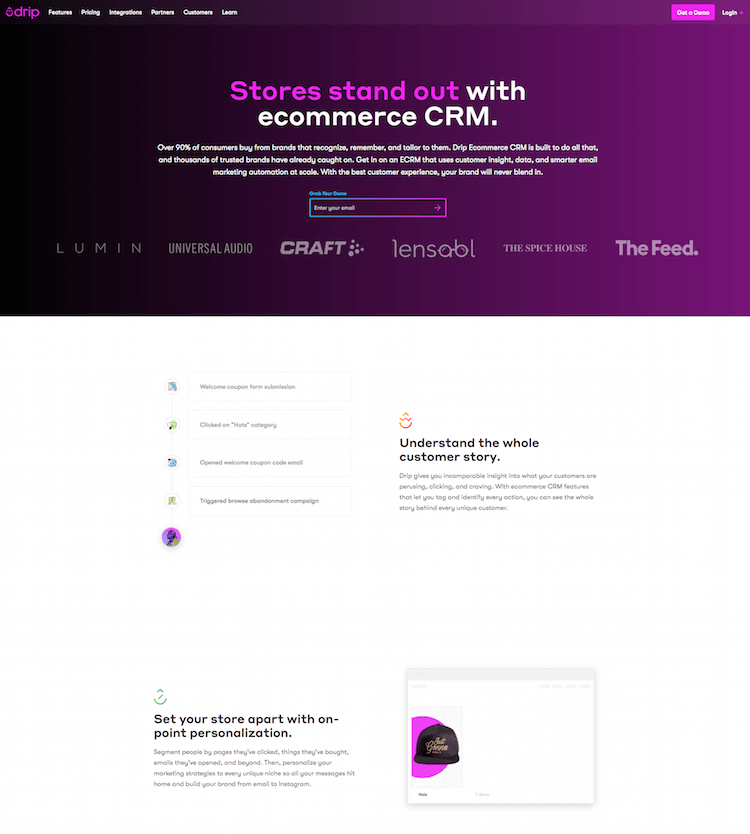 07

. Infusionsoft
As quirky as the name is, this software and its heightened functionality, usability and versatility make it a befitting contender for HubSpot.
For those of you who are brimming with ambition for your business, this domain helps you take charge and put that plan into action.
Automated lead capture refers to segmenting your consumer leads, personalizing your communications with them and chart their preferences. This is possible with the wide array of tools available such as form submissions, email surveys, and open click rates.
Infusionsoft serves as a single roof to encompass all your sales activities, monitor your sales meetings, tasks and engagements.
In addition to this, it also provides insightful analytics regarding your marketing efforts, tracks your customer interactions, and allows you to curate membership, subscription, and discount offers.
Infusionsoft can be easily accessed across devices and servers.
Categorization of your prospective customer base
Simple flowcharts to explain your sales activities and management
Mobile- friendly
Receive membership payments with ease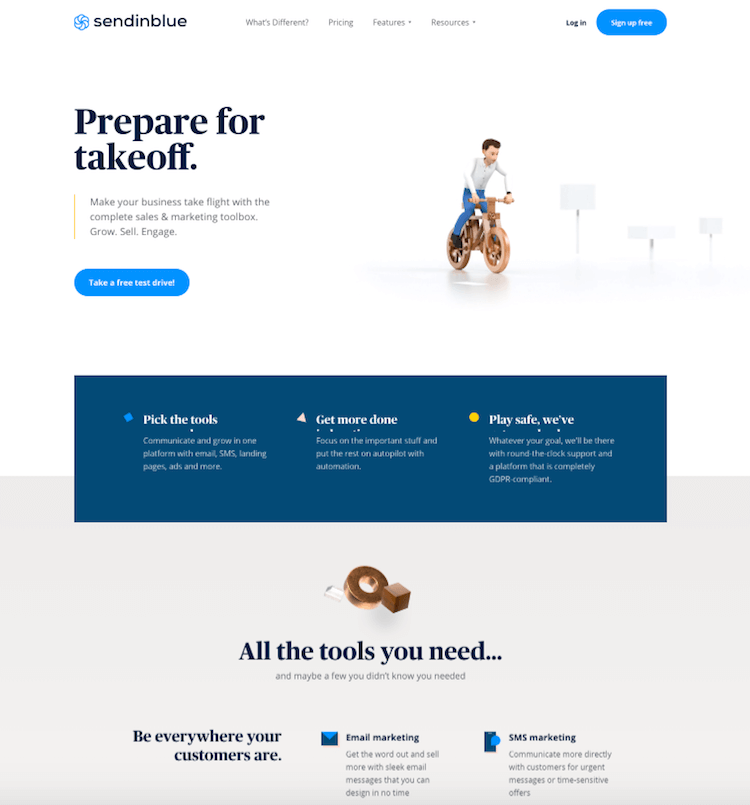 08

. Insightly
This increasingly intuitive software boasts clear visibility of sales, wide collaborations and task management that can give you a bird's eye view of your business proliferation.
Swift analytics provide you with a comprehensive view of each of your customers and serves as a lens to view your business from the micro as well as the macroeconomic perspective.
With over 5,00,000 satisfied customers worldwide, Insightly is one of the top CRM software owing to its holistic profiling, beforehand detection of upcoming businesses and competition and tracks your leads through social media engagement.
It precedes HubSpot with its qualities to incentivize start-ups and easy scalability for all types of businesses and ventures; making it a viable alternative and replacement.
CRM supported
More than 2 million satisfied customers worldwide
Supports business collaborations
Effective task and sales management
09

. Freshworks
With a whopping 99% user satisfaction, Freshworks is a qualitative CRM interface that streamlines all your contacts and controls thousands of possible leads.
With the aim of optimal consumer experience that has paved the way for increased functionality, this software has carved out a niche for sales and email marketing likewise.
It has the ability to formulate custom reports based on analyzed and summarized customer and market data and can verify the leads and commercialism them.
Its inexpensive affordability is also one of the reasons for its wide preference amongst entrepreneurs and small-scale start-ups.
With effective integration with third-party applications to boost your e-commerce, Freshsales also has a navigable and easy-to-use framework and therefore, is much less intimidating to operate.
Deal management software
AI based identification of leads
Can create tasks, workshops and schedule engagements
Automated data entry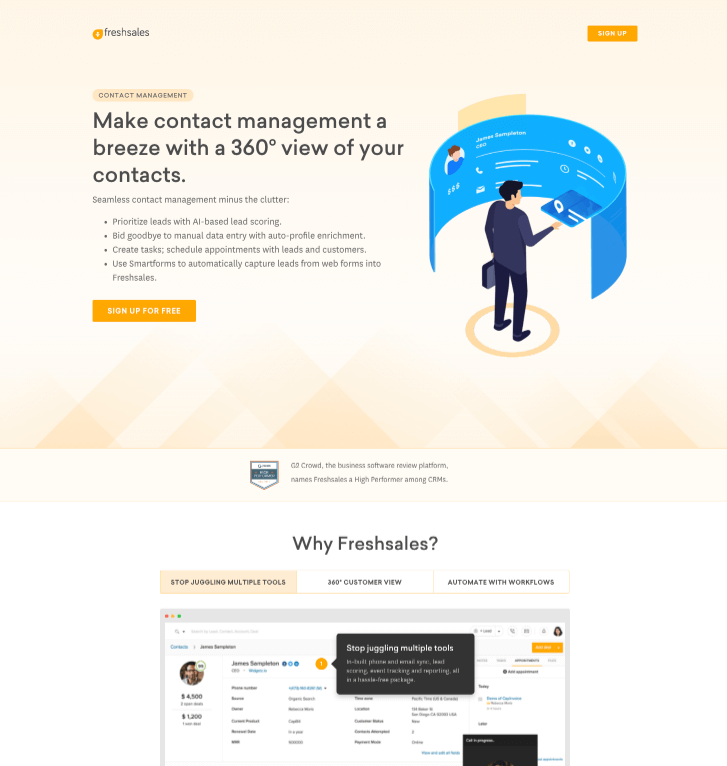 10

. Pipedrive
One of the most sought out CRM domains, Pipedrive is one of the user-friendly interfaces which presents you the comprehensive details regarding your sales and marketing deals.
This, in turn, enables you to divert your focus on the leads and thus prioritize your deals. With the availability of a 30-day free trial, you will realize all of the sales management features and simplified import and export of consumer data.
This software with its numerous tools and widgets can close your deals quicker, in addition, to ease your operations and processes with you having to individually modify them.
It has an upper hand in comparison to HubSpot due to its extensive data enrichment functions which drive it to effectively manage all your marketing proposals, pitches, meetings and schedules.
Extensive organization of your sales
Uninterrupted speed
Receive qualified and verified leads
Personalized sales tips
11

. Wishpond
One of Wishpond's alluring features is its concept of pop-ups, which capture the audience's attention effectively and direct them towards what they're looking for.
A mixture of tools and widgets, this software generates leads through the analysis of social media traffic and also the market automation allows you to personalize your emails to clients.
It also boasts unlimited user accounts with landing pages, forms, and layouts. It is extremely easy for the user to instigate contests or promotions on the home page solely for engaging their customers.
With the addition of a referral suite, you are free to create viral referral campaigns for consumer interaction and to further brand awareness.
Creation of viral campaigns and publish video content 
Easily accessible pop-ups and form submissions
Formulation of contests and extension of promo offers to customers 
Landing pages that are functional on multiple devices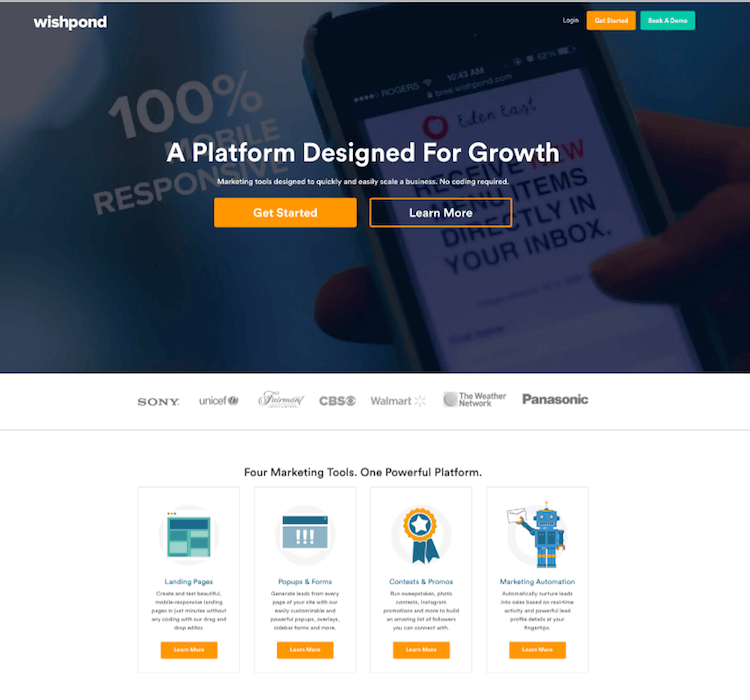 11

. Salesforce
Salesforce is a comprehensive CRM software that offers a complete view of your customers. It gives sales teams the ability to track and manage customer interactions, from first contact to purchase and renewal.
Additionally, it offers lead management, opportunities, quotes, orders, product catalogs, campaigns, and analytics.
Salesforce is one of the top alternatives to HubSpot because it offers a number of similar features, including automation, that can help sales teams boost their productivity, and manage the entire business from a single dashboard.
Top Features of Salesforce:
Customer 360: Get a complete view of your customers, including their contact information, interactions, and purchase history.
Lead Management: Track and manage your leads through the sales pipeline, from first contact to conversion.
Opportunity Management: Monitor your sales opportunities and track their progress through the sales cycle.
Quotes and Orders: Create and manage quotes and orders for your customers.
Product Catalog: Manage your product catalog, including pricing, inventory, and product data.
Campaign Management: Plan, execute, and track your marketing campaigns.
Analytics: Gain insights into your sales and marketing performance with data-driven reports and dashboards.
Pricing:
Salesforce has a flexible pricing model that is customized to fit the needs of your business. Contact Salesforce for a custom quote.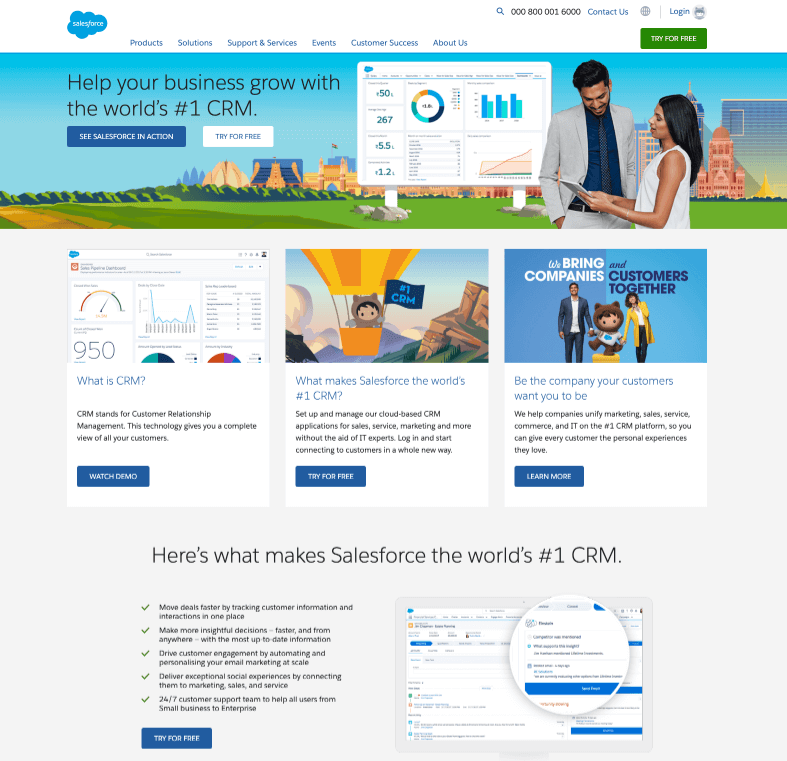 Final Words
So, if you are looking for the best HubSpot alternatives, here are the top options that you can use for your business.
These are built specifically to accommodate the needs of full-fledged digital marketers as well as budding businessmen.