We have collected the best event calendar WordPress plugins in this article that will help you to create the event section in any WordPress theme.
WordPress is the top-rated content management system out there, but can it handle events?
In short, the answer is Yes. It is built with an open stance and can be used for multiple purposes.
However, it is easy to figure out the best event calendar WordPress plugin? Well, not that easy as you might think.
Currently, there are some quality event calendar plugins on the market that you can use to create your event site. Choosing the best plugin from the huge list can not only be time-consuming but can also deter your ability to choose one.
That's why, in today's article, we will cover the best Event Calendar WordPress plugin. These plugins will help you customize your website so that if anyone can register for an event, purchase tickets and do other activities such as set alarm in Google Calendar.
Also, have a look at our comprehensive collection of best event WordPress themes here.
So, without any delay, let's get started.
Event ON
Free plugins are limited to a certain extent. This is where "Event ON" comes in. Event ON is a premium plugin with over 34,000+ sales.
It is also a trending plugin and the number one bestseller event calendar plugin out there. So, what makes it so popular?
The first thing that you will notice about the plugin is the event calendar designs. The minimalistic approach fits with modern themes, and you can always customize it whenever needed.
Title layouts are also made aesthetically and align with the modern layout. Just like other plugins, Event ON also lets you use shortcode, supports a unique shortcode generator.
You can create repeat events on autopilot with this plugin. You can set events on a daily, weekly, monthly or yearly schedule.
You will love how the events are being displayed with the featured image, it looks modern and trendy. Your visitors will surely be attracted to click on the event and check them.
Visitors can also get help using Google maps or use calendars to add events. Overall, the plugin is a great buy for anyone who is looking for a paid plugin.
You can club this plugin with a powerful theme like the Divi Theme to make sure that your event business site is safe and successful.
Price: $23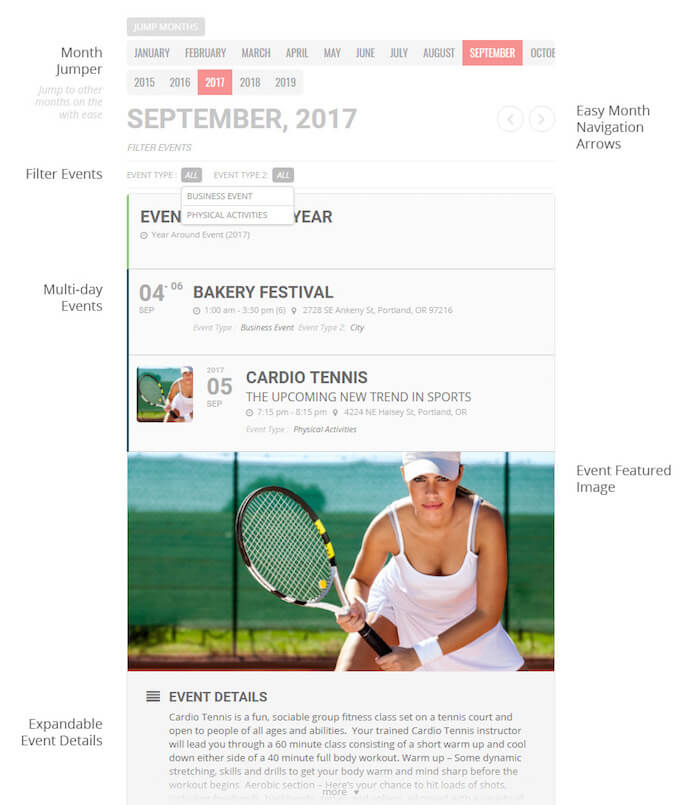 Stachethemes Event Calendar
It is one of the most comprehensive event calendar WordPress plugins listed in this article. Stachethemes Event Calendar plugin is loaded with features and options that will surely help you to create a successful event site.
With this plugin, you can allow your users to submit events on your site making it a complete community event platform.
You can show the schedule of the events, complete location details with direction, weather forecast, you can set an email reminder for the events based on the calendar.
You have the option to show the special guest list who all are coming to your event. You have the option to show daily, weekly and monthly events in the calendar with a great modern design.
As this plugin is compatible with the WooCommerce plugin, you can easily bring in the eCommerce features to your event site.
Price: $26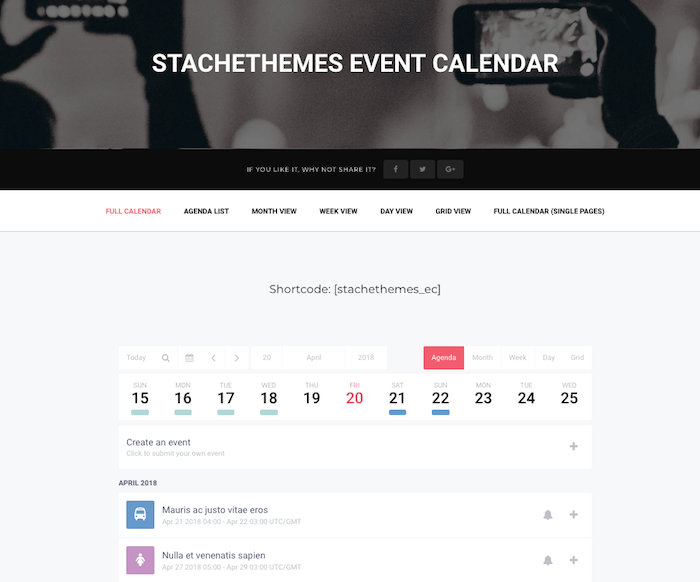 Events Manager
Events Manager is one of the most popular events plugin out there. It has over 100,000+ installations. And the good news is that it is free to use.
The plugin is a complete package when it comes to event handling. With the plugin, you can easily do events that require registration, planning, booking management, and so on.
The main reason behind its popularity is its feature set. It has almost everything that you will ever need, ranging from simple event registration to the support of Google Calendar and Advanced categories.
The plugin is also easy to use and you can create an event in a matter of minutes. However, if you really want to make the most out of the plugin, you need to buy the PRO version. The free version, as you might have guessed it, is limited in functionality.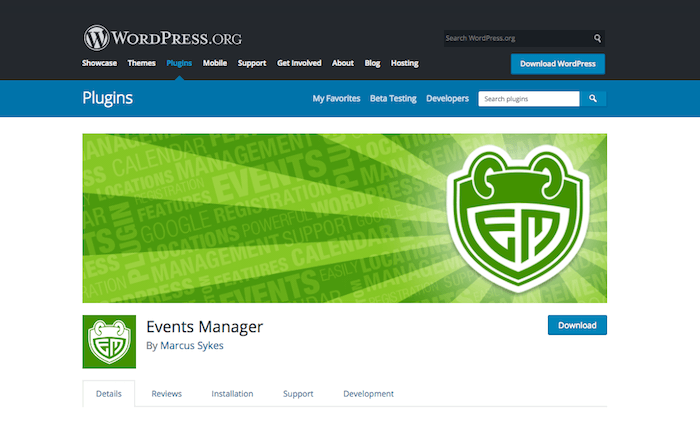 The Events Calendar
Our next plugin is "The Events Calendar." Just like the "Event Manager," this plugin also comes with all the bells and whistles.
It is free to use, however, a paid PRO version is also available. The plugin lets you do almost everything that you will need at the initial stages.
However, don't expect too much from the plugin as the free version is limited.
The plugin comes with the support of free extensions. Not only that, it has detailed documentation that is crafted by keeping developers in mind. This approach makes the plugin ideal for both normal users as well as developers.
One more aspect of the plugin that makes it a great plugin is its scalability. It can scale on multiple networks and can handle thousands of events.
The plugin offers event search, day view, calendar support such as Google Calendar, taxonomies support and much more.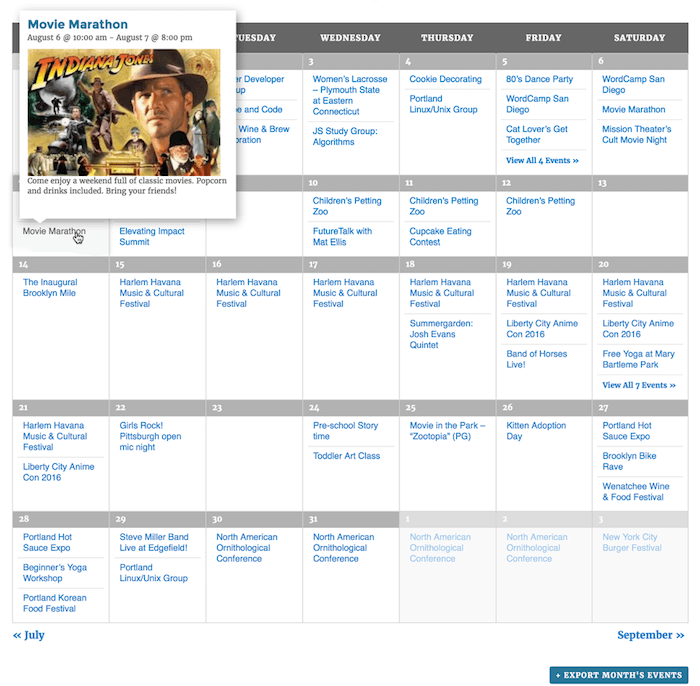 My Calendar
With over 30,000+ active installations and support for the latest WordPress version, our third plugin is "My Calendar." My Calendar is an easy-to-use free plugin that lets you build highly customizable events.
It works for both single and multisite, giving you the ability to create events across multiple domains. Another key feature that the plugin offers is customizability and flexibility for designers and developers.
This means that it can be used to create a custom calendar if needed.
So, what features the plugin offers? Firstly, it comes with an easy calendar listing. Moreover, you can use the shortcode generator or widget to put the calendar anywhere you want.
Custom templates can also be created and used. Other common operations such as recurring scheduling events, email notification, location manager are also available within the plugin.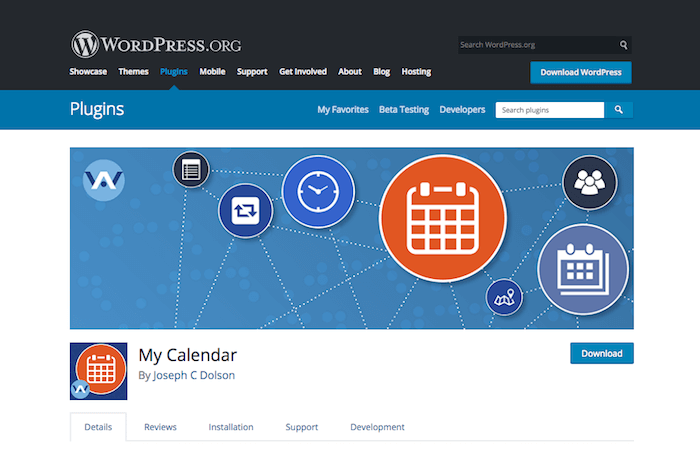 Eventer
Eventer is also a paid plugin. The plugin is relatively new to the marketplace, but we listed it here because it looks promising.
Eventer also gets a special mention because it comes with the support for WooCommerce out of the box.
This gives the website owner great functionality benefit even when he is not using WooCommerce at the initial stages.
Eventer comes with all the necessary features that you will ever need. Some of the key features including full-width support, support for paid registrations, listview, multiple tickets booking, ticket barcode generator, email notifications and so on.
Price: $24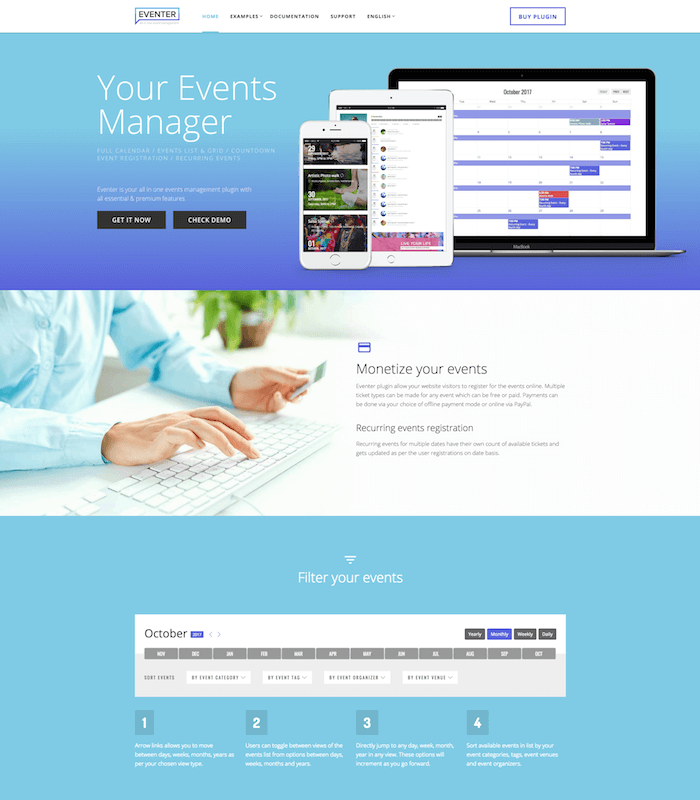 Events Schedule
Our last plugin is "Events Schedule." Events Schedule lets you create events from 10 available events styles. The plugin also comes with a visual builder so that you don't have to write a single line of code.
The new 2.0 release also made the plugin faster and less complicated than its initial release.
The plugin comes with the support for WooCommerce. This means that you can sell tickets and booking to the customer.
It also supports different payment gateways and calendar settings. Also, the Events Schedule is compatible with almost every theme out there including the most popular ones such as Avada, Be, Enfold, X theme and so on.
Price: $34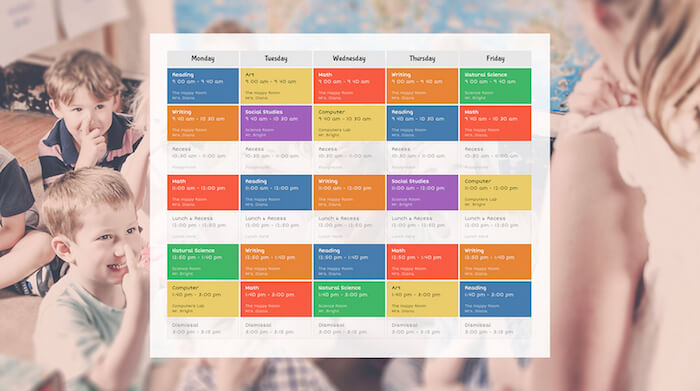 Modern Events Calendar
A free-to-download plugin with all the features and options that you expect in a top-quality event plugin. It offers you the pro version as well with a lot more features.
The plugin offers you multiple design options for the calendar that you can choose depending on your website design. The templates are ready to use, so you just have to choose the design and your event calendar is ready in no time.
With this plugin, you can create a single-day event, multiple-day events, all-day events depending on your event business niche.
It is one of the most comprehensive solutions to create an event site. Along with the calendar, it will offer you the deep Google Map integration, PayPal integration, booking system, shortcode generator, event widget, featured image option and a lot more.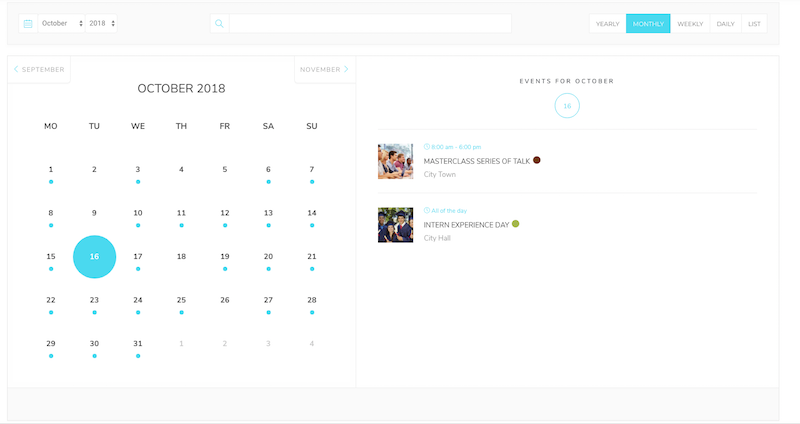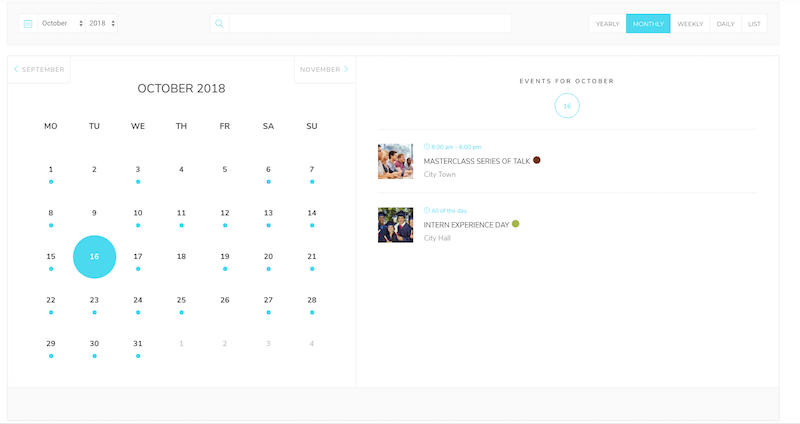 WordPress Pro Event Calendar
As the name suggests, this is a premium event calendar plugin that you can use to showcase your event schedule.
It's a fully responsive plugin that will make your events look great on all devices. With this plugin, you can set recurring events on daily, weekly, monthly basis.
Also, you have the option to allow your users to submit events on your site. This plugin makes use of the Google Map to set the event location and make it easier for your users to find the direction.
This is a complete calendar plugin with multiple calendar options and you have the option to generate shortcodes for your events to place them anywhere on your site.
Price: $24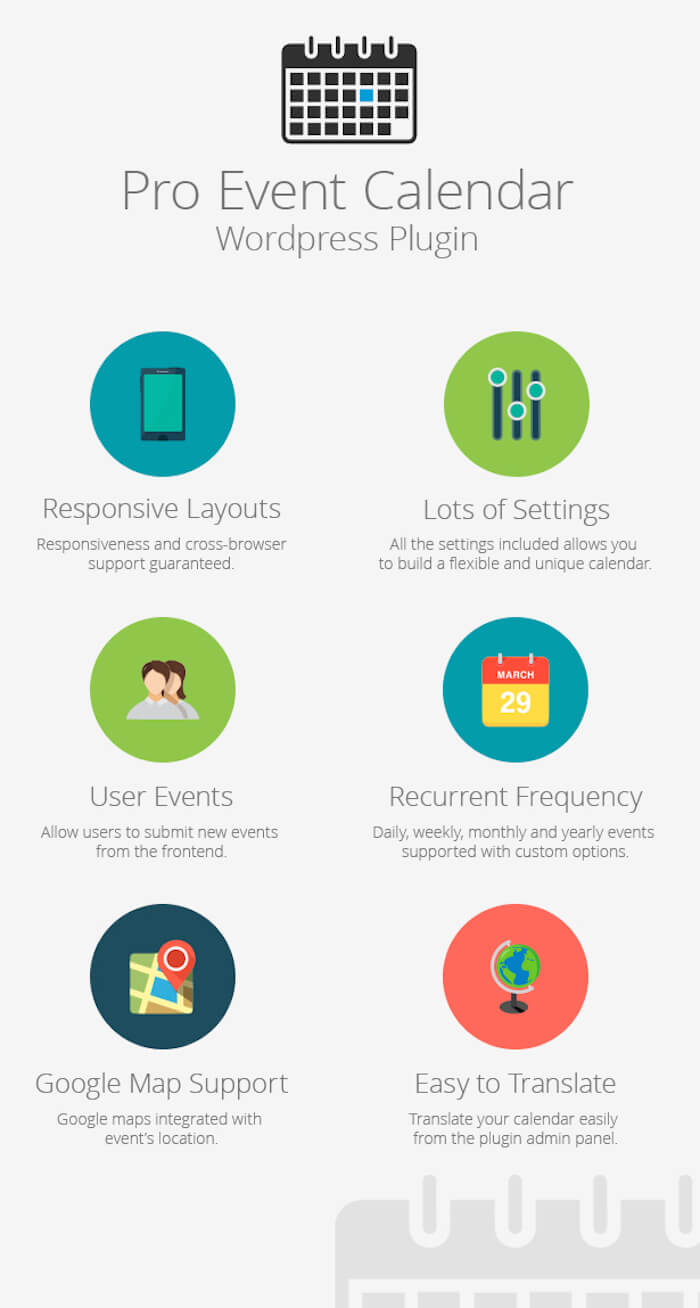 Tiva Events Calendar For WordPress
Another quick and easy-to-use event calendar plugin. It's a relatively simple plugin that gives you the option to set and show the events on the calendar
You can set up the events on the admin backend of your WordPress site, so even a newbie WordPress user can setup the events quickly. There are no complicated settings for this plugin.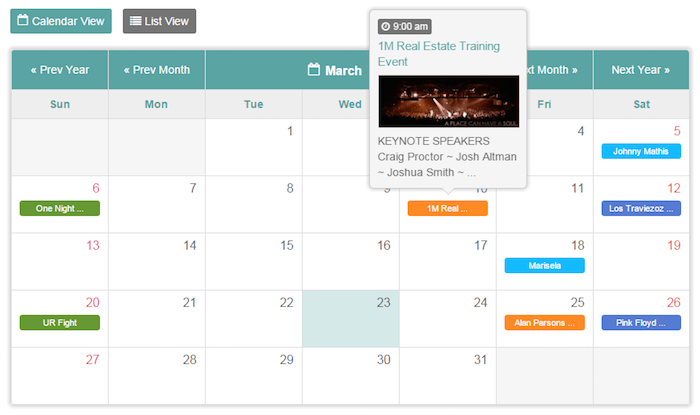 Timetable & Event Schedule Plugin
A simple yet comprehensive event calendar plugin by MotoPress, you can use the Timetable & Event Schedule Plugin to create a colorful event calendar with a custom heading and background.
You can use this plugin to create your event schedule or for booking appointments for any kind of business.
You can also integrate it with the Elementor website builder and use it on your business site. It's a fully responsive plugin to make sure that the calendar looks perfect.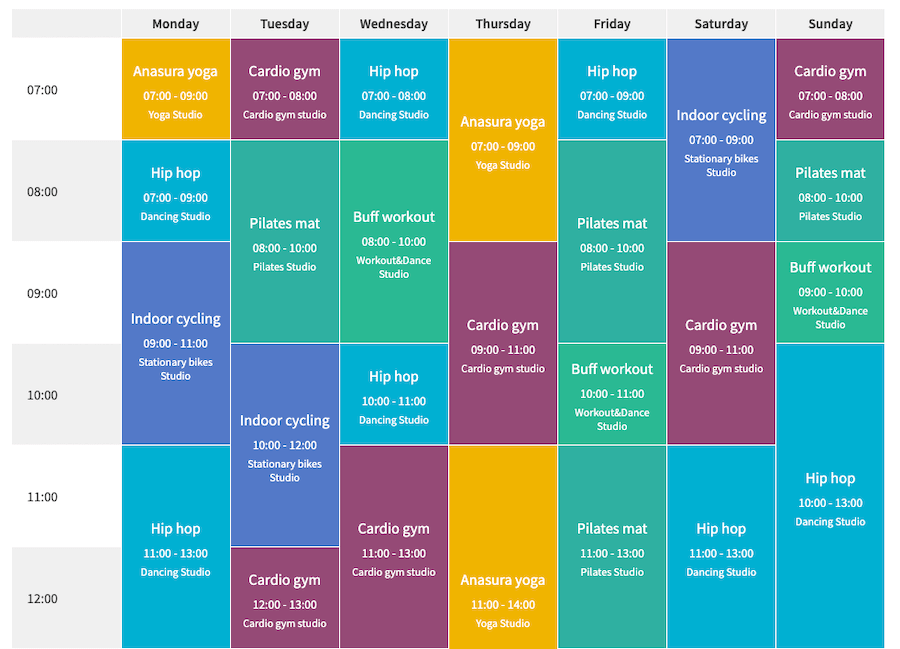 Simple Calendar – Google Calendar Plugin
This is a simple Google Calendar plugin for WordPress sites. It's a fully responsive plugin and very quick to set up.
You can show events that are set on the Google Calendar, there is no need to set up your events on your WordPress site separately. This plugin can show any event on the public Google Calendars.
You can style it to match your WordPress site perfectly. You can categorize your events and show them based on the categories.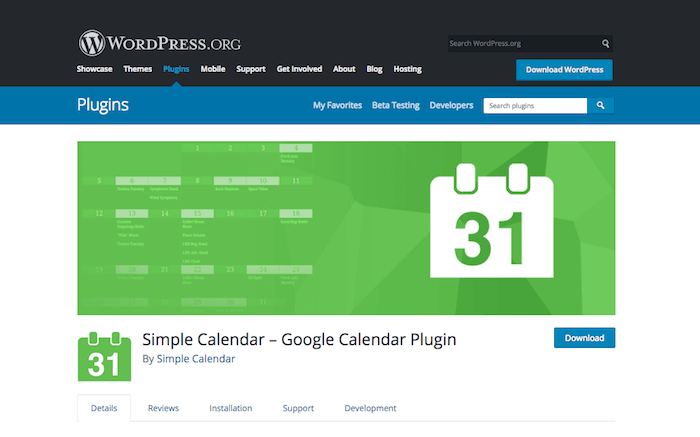 Conclusion
Businesses need to have an event calendar on their website. This enables them not only to communicate their events to the audience easily but also help visitors to book tickets for them easily.
Event plugins offer a plethora of features to make life easier for both the business and the visitor by providing an interface that takes care of everything from the onset.
In this article, we listed both free and paid plugins. It is advisable to start with a free plugin and then change to a paid one if you need to.
So, which plugin you are choosing? Comment below and let us know.