If you are looking for best business corporate fonts for your next design, business card, corporate blog, business-related article or for any kind of business-related project, you have landed on the right page
Typography is not about the good looks, and neither it is only about the legibility.
Your visitors and viewers notice everything. We all know what level of communication and excellence can be achieved through written text.
The internet is filled with a ton of different fonts. The ones who don't deal with fonts and typography may feel overwhelmed with the number of options available.
So, to make your choice a lot easier, and to help you make the perfect mark on your clients and customers, we bring you a well-curated list of the 25 best business corporate fonts. Check it out.
1. Garamond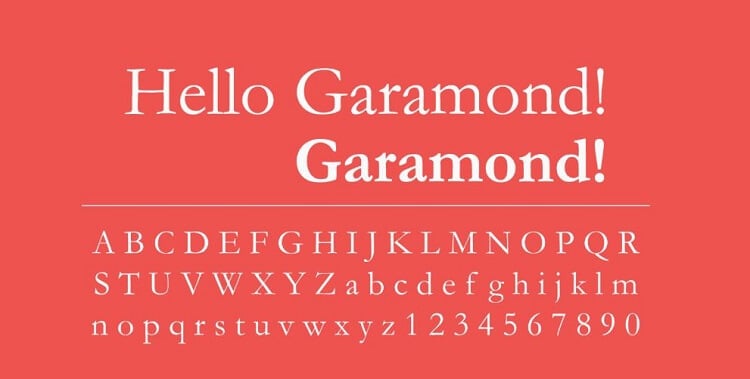 Garamond is one of the most famous corporate fonts used by professional business houses these days. Designed by two French designers, Claude Garamond and Jean Jannon, Garamond is not a single font, rather a group of typefaces.
Garamond and the font family is considered ideas for business-related magazines, blogs, and corporate web content.
Due to its amazing readability and classy corporate appeal, Garamond is an easy pick for all corporal needs.
2. Haptic

The Haptic is another very popular font family in the online corporal world. This is a sans serif typeface font family.
Haptic was designed and optimized for use in small and brief text parts. This font family is available in seven different weight types and is available in Roman and Italic as well.
Designed by Henning Skibbe, Haptic offers fourteen different font styles. For gaining quick attention and make a headline, this is a good choice.
3. FF Meta Serif

This one might look similar to FF Meta font, but the metrics of FF Meta Serif is a lot different from FF Meta.
Designed by an experienced team of designers, namely Erik Spikermann, Christian Schwartz and Kris Sowersby. FF Meta Serif is available in four different weights: Book, Bold, Medium and Black, all available in Italic.
Also, FF Meta Serif also includes a large range or arrows, and other special characters.
4. Futura

If you are well familiar with fonts and online typography, you would surely have heard of the name Futura. One of the few fonts available having a geometric design, Futura is an industry favorite.
Overall this design would look and give a feel that it is made up of circles, squares and triangles. Designed way back in the 1920s, this masterpiece by Paul Renner's is still one of the most popular corporate fonts available.
5. Media Times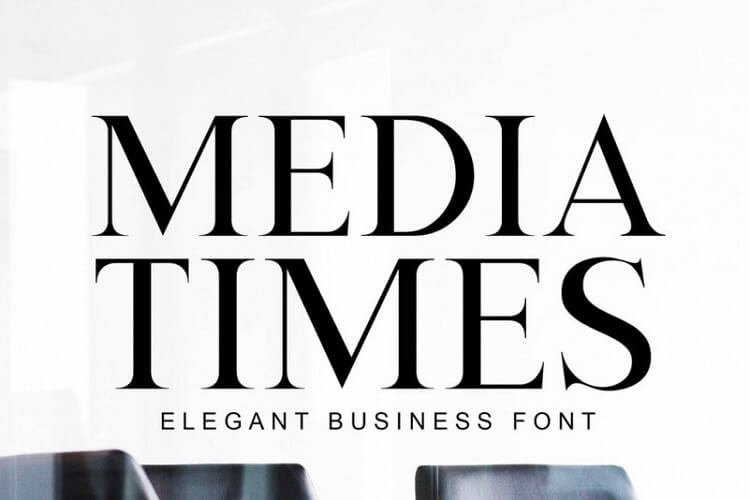 One of the most classy and elegant fonts in this list, Media Times is a great option to give a professional and classy feel to your business profiles.
The modern and timeless design of this font makes it perfect for all kinds of businesses. If you are aiming to give a classy look, and don't wish to change your font for a long time, then this font can be your perfect pick.
6. Prelo

Prelo is something you should definitely try. Prelo is actually a large sans-serif font family, having 18 different weight options, with additional ligatures, alternates, superscripts, and small-caps as well.
The wide range of accessibility also involves scientific inferiors, swashes, old-style figures, lining figures, ordinals as well.
The simple design, the multiple weight options and the modern feel this font gives, makes Prelo a must-try.
7. Malaga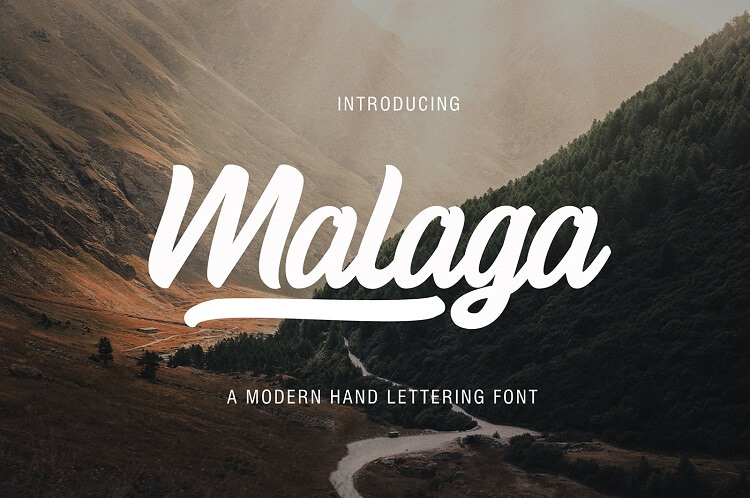 Malaga might look a little over the top for business blogs and corporal uses but is actually being used by some of the best corporal houses in the business.
The minimalist and eye-striking design hold up readers pretty well. Short ascenders and descenders, large x-height, and comparatively healthy spacing give the font a pretty professional feel.
And especially for border sentences and larger headlines, Malaga can be a great choice.
8. Objektiv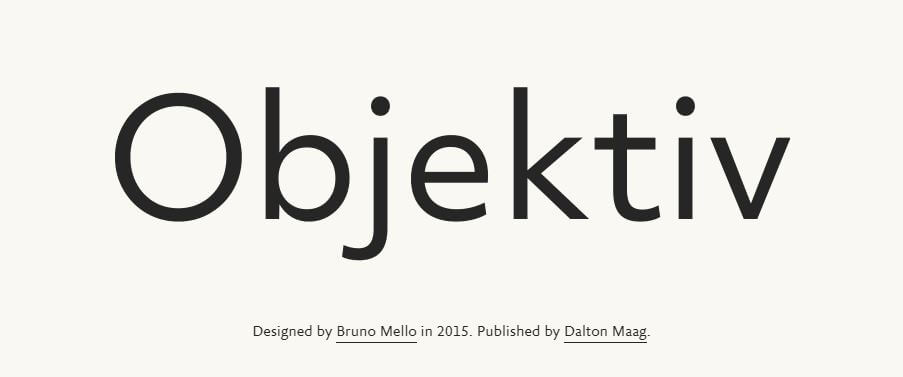 Another font having geometrical and symmetric formations. Crisp and sharp sans serif typefaces and geometrical design gives your texts a very professional feel and look.
The best part here is that even though you are being offered symetrics, the overall look remains clean and simple. This helps quite a lot in keeping the interface user-friendly.
Objektiv is, and can be used in precisely in branding banners, blogs, display graphics, and packaging designs.
9. Buffet Script

Designed by the famous American designer Alf Becker, Buffet Script is all about its calligraphic design and classy look.
The font has OpenType programming. Buffet Script contains discretionary stylings and contextual alternates. The look and feel of this font allow the typography to have a modern and classy look.
If elegance and styling is your goal, then Buffet Script is the one for your business.
10. Metrisch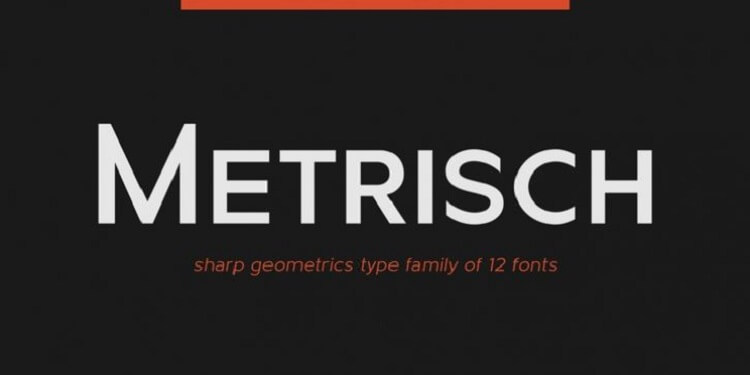 Metrisch is the one if you need a very simple and easy to read corporal font. This creative and simple design is quite famous for its minimalist design.
The font is available in multiple weight types and also offers styling alternatives. The font is used in various business logos and flyers but is equally flexible for blogs and articles.
X-length height changer, geometric construction, and clean vertical cuts make this font a great choice.
11. Publico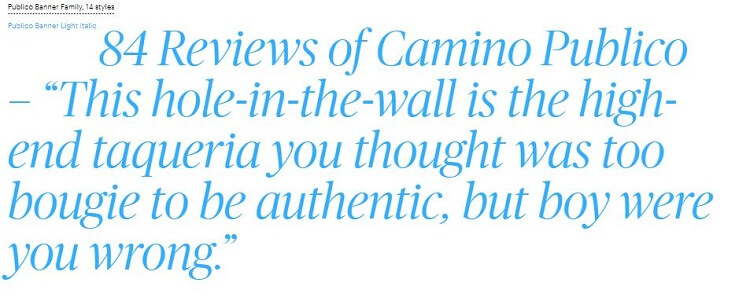 Designed by famous designer Paul Barnes, Publico is a very straightforward looking, simple font type.
Designed by the same minds that designed Guardian Egyptian, Publico was specially designed for the newspapers and flyers. It was designed to last strongly against the harsh printing conditions.
The design of Publico is quite fresh and doesn't have that old newspaper feel to it. If you are looking for something simple and easy-to-read, this is a great choice.
12. Raxtor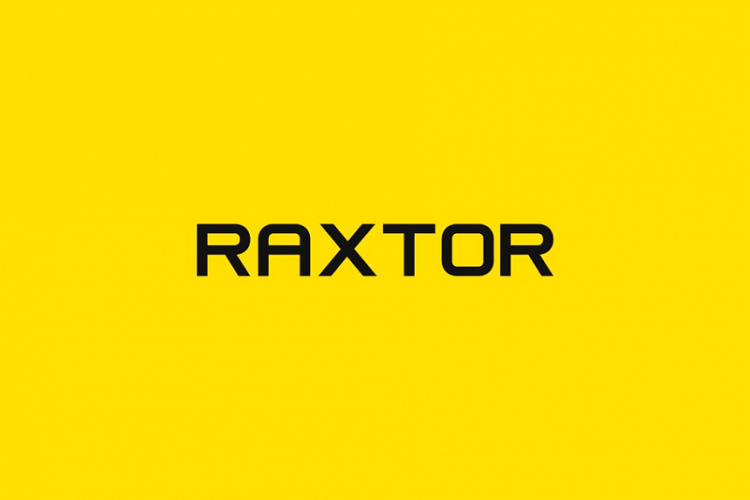 Raxtor has a very modern and unique design. This one has a unique typeface for headlines, display usage, branding, and title type.
Raxtor fonts is an all-caps typeface and is also used in web content, marketing content and graphics, such as logos.
This font is enabled with two different weight sizes, Bold and Regular, and has three different styles; Normal, Italic and Outline. You also get the desktop font type, as well as the Web font type with the Raxtor font.
13. FF Tisa

FF Tisa is also a very famous font in the online business world. The sole purpose and design revolved only around editorials in mind.
One of the initial fonts used in the online industry, FF Tisa's sturdy design and flexible design was and is clearly visible on all kinds of screens.
One of the few fonts that look and feel great on both print and digital spaces, FF Tisa is a great option if you need a font with regular and simplistic bold design.
14. Museo Slab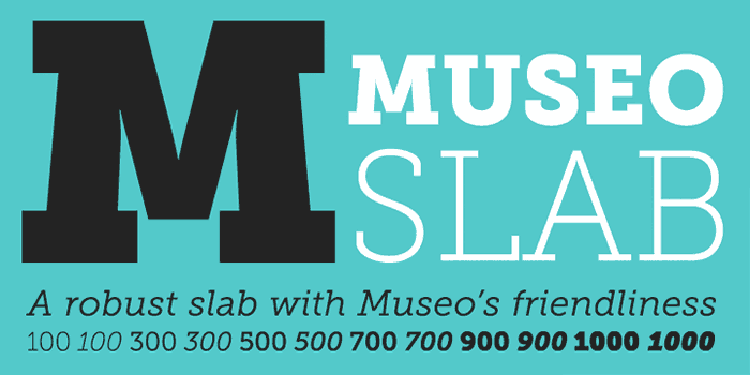 The trend followed here is simple and rounded design. The letters are wide-proportioned and fit with the popularity of geometric sans serif typefaces.
The slab serif layout and design applied here makes the overall text very easy to read. The font applies softness to its letters and gives a very simple user interface.
15. Henriette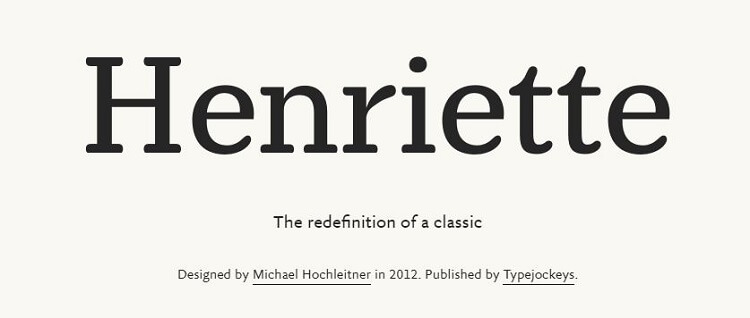 Henriette is bold and serif. The modern and up-town design is heavy and eye-catching.
The font is quite prominently used with black italics and offers real vigor and zest. Overall a great choice advertisement corporates can go for.
16. Bondie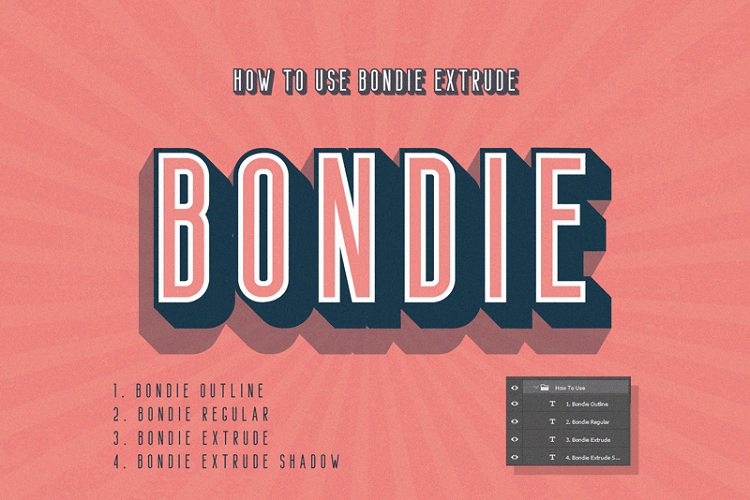 Bondie, quite a famous name in the industry, is a great option for all kinds of businesses. It offers both thick and thin lines.
Created by Italian designer Giambattista Bondie, this font also gives a good feel of geometric shapes and edgy look.
17. Trajan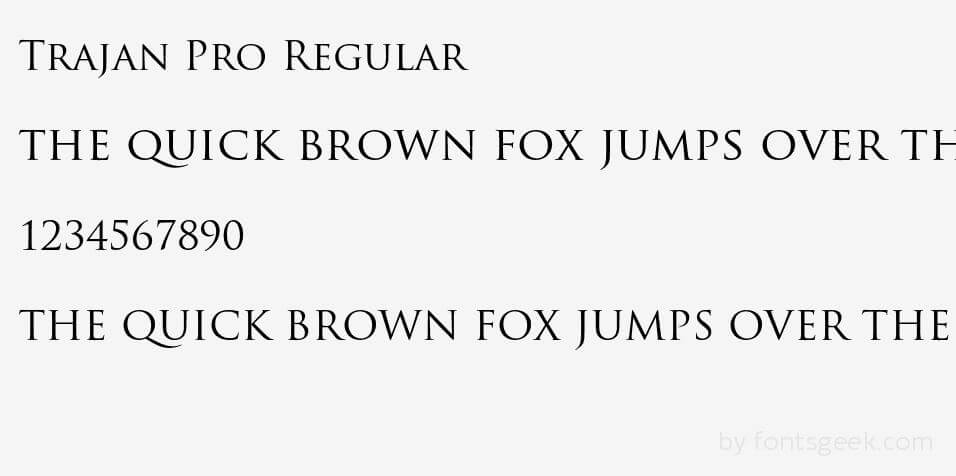 This font is a hot favorite of graphic designers worldwide, and especially in designers of Hollywood movie posters. This is a serif typeface of a retro feel.
Designed by Carol Twombly in 1989, the design and typeface are based purely on Roman Square capitals. The fonts and its features ensure versatility of designs and articles.
18. Bobber

Bobber is the one for you if a serif slab font is what you are looking for. A one of its kind, Bobber font is actually designed with keeping the Bobber motorcycles in mind.
A great choice for multidimensional businesses, Bobber's grid-like design gives your text a rich professional feel.
19. FF Avance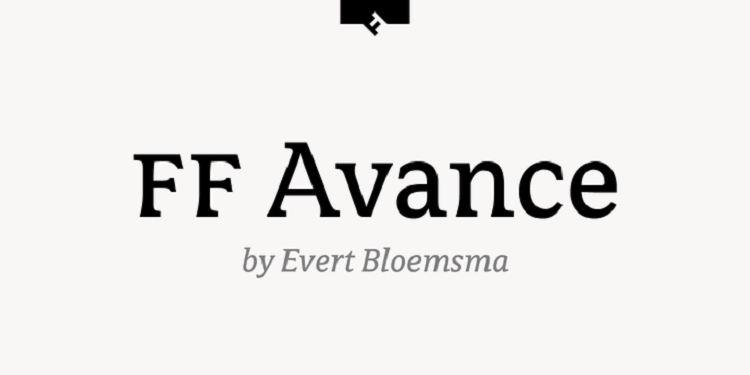 FF Avance is a very elegant and simple font style. An asymmetrical serif font is all about that modern design and professional look.
The modern yet classy letter, the multiple weight options and easy to read design, makes FF Avance a great choice for all kinds of users.
If you want to give a sporty and active layout to your overall layout, FF Avance is a great option to go for.
20. FF Din

FF Din is a classy and elegant sans serif typeface font. Designer Albert Jan Pool designed the font back in 1995.
The primary thing you'll notice in this font is the use of oval geometric shapes, rather than the old ordinary circles. All the letters in this font are very sharp and produce an elegant feel.
21. FF Meta

Another FF font family member on the list, FF Meta is a very famous corporate font. A much curvy form of Helvetica font, the letters and characters are much easier to read and sharp.
The font appears to be very smooth and rhythmic. Irrespective of the business you are in, FF Meta is great for all your blogging and branding needs.
22. Foco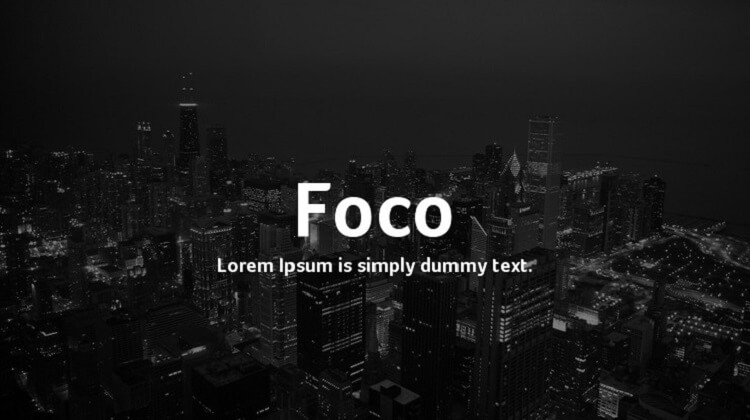 Designed back in the late 1900s, Foco is still a hot favorite in the modern internet era. The current business era is of font styles and weight mixes, and Foco delivers the same.
The clear readability, the ease of understanding, and the well-balanced weights make Foco a great choice for all kinds of businesses.
23. Bodoni Egyptian Pro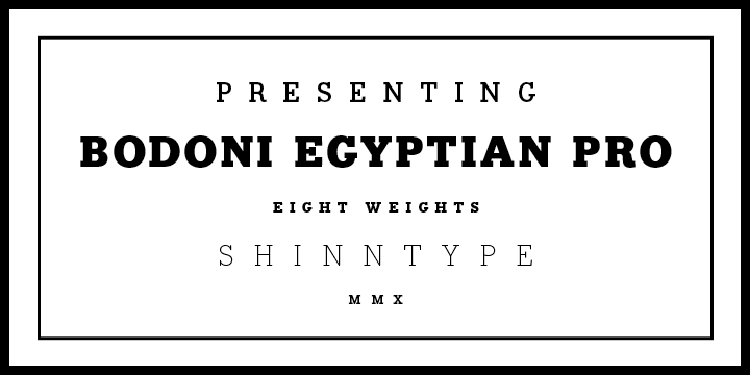 Quite a new style in the serif fonts, Bodoni Egyptian Pro is designed by Canadian designer Nick Shinn.
The sole purpose of designing this font, and what it delivers is to remove the unnecessary weight on letters. If you are looking for sleek designed fonts, this is the one for you.
24. Axis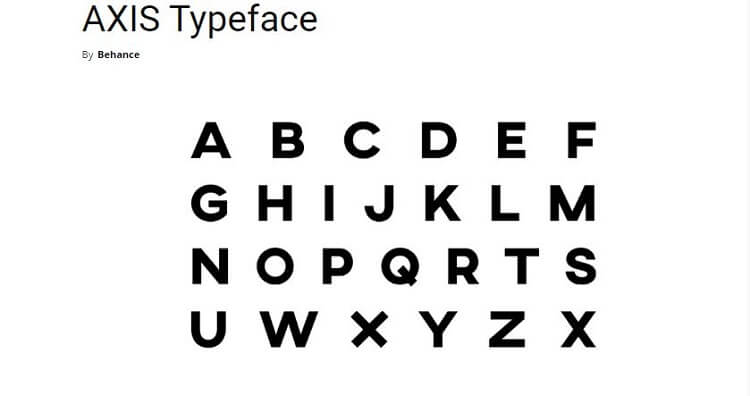 Axis has a very modern and geometric feel to it. The sleek design and modern geometric look gives a very uptown feel.
Mostly used as a logo font, but it is equally feasible for banners, articles, business profiles and so on.
25. Elegant Lux Pro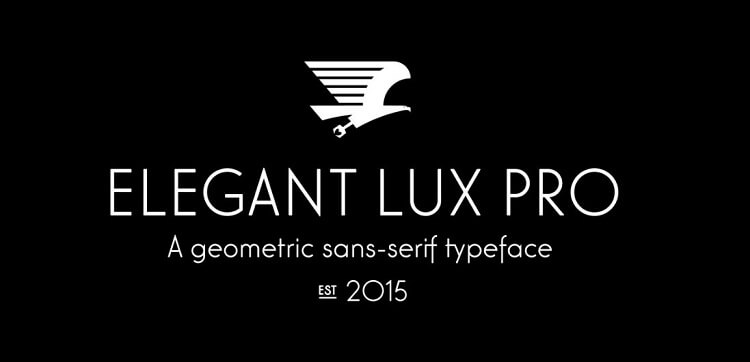 Designed by Schoener, the font justifies its name quite perfectly. The font looks and feels inspired by the design of Grotesque font of the late 50s.
Rounded corners, elegant feel, classy look, minimalist weight and business-friendly layout make this font a good pick for all kinds of corporate houses.
Conclusion
This was the list of the best business corporate fonts available out there. The list is curated with a lot of expert opinions and business review.
Choose the one perfect for your business niche and give your business a big boom!