Your search for the best blackletter fonts ends here. If your aim is to give your content a royal and ancient elegance, you have landed on the right page.
Ancient texts and scripts are filled with blackletter fonts. Did you know that the first few printed books in Europe, which were mostly the Bible, we all printed in the blackletter fonts?
To help you make an elegant mark with your blackletter content, we bring you a list of the best blackletter fonts.
Check it out!!
UNLIMITED DOWNLOADS: 50 Million+ Fonts & Design Assets
All the Fonts you need and many other design elements, are available for a monthly subscription by subscribing to Envato Elements. The subscription costs $16.50 per month and gives you unlimited access to a massive and growing library of over 50 million items that can be downloaded as often as you need (stock photos too)!

01

. Cambridge – Bold Decorative Gothic Font
A trendy Gothic font design from the Envato Elements platform, you can get this professional font for your project. This can be every handy font option for various projects be it personal pr commercial.
You can use this font on greeting cards, event flyers, logos, and all other related designs.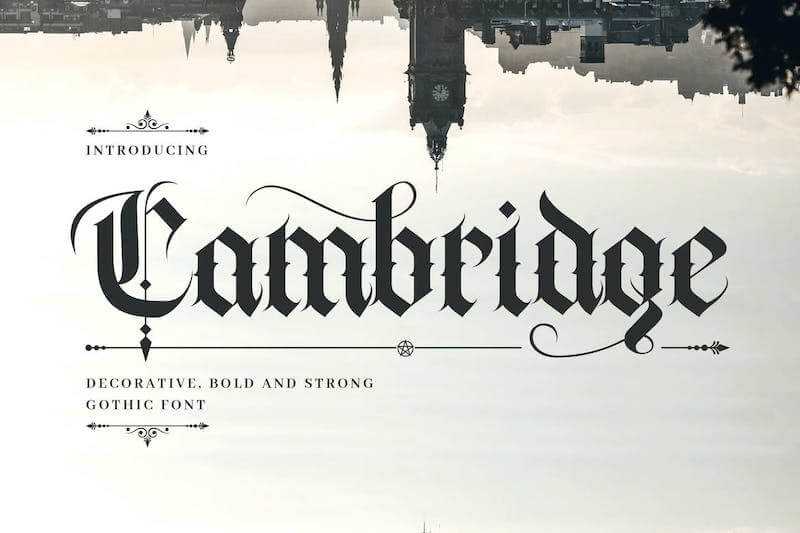 02

. Granberg
Granberg is a modern and fancy blackletter typeface. This can be a very handy font option for any project that needs a vintage look with an attractive modern feel at the same time.
This font can be used for logo designs, restaurant posters, greeting cards, brand designs, and other related projects. You can get this font on the Envato Elements marketplace.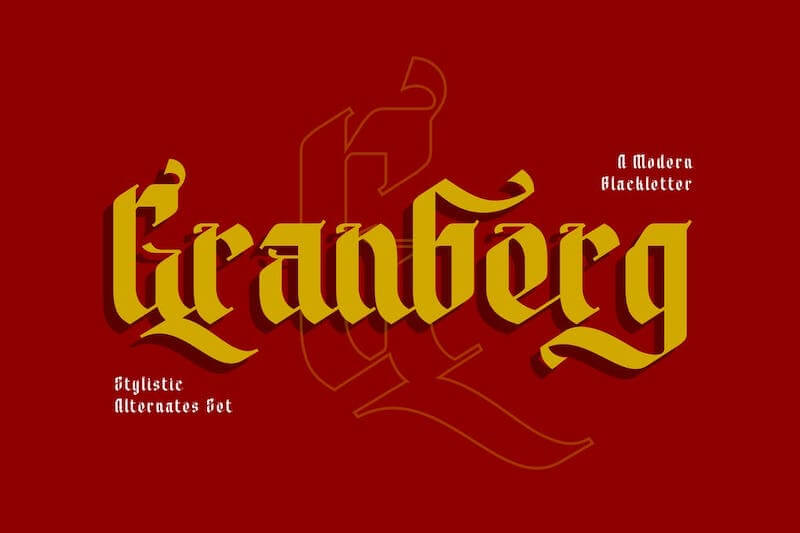 03

. Aceking Font
A beautiful vintage style block letter font that you can use on your site to make it look different from all general designs. The font is available to download in multiple formats such as OTF, TTF, WOFF and others.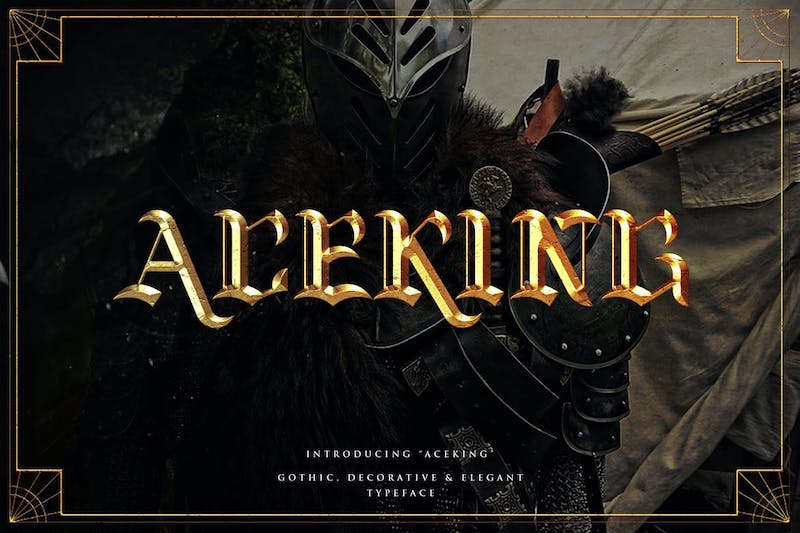 04

. Old Charlotte
Old Charlotte is a very attractive old-style vintage Gothic font design that can instantly grab attention. This font is suitable for any gaming-related content, logo, restaurant name, greeting card, billboard, etc.
05

. Black Cameo
This blackletter font is a hot favorite choice of designers worldwide.
The best part here is that Black Cameo gives you that ancient feel, as well as it also has a rock and roll touch it too.
Black Cameo offers both uppercase letters and lowercase letters. You also get more than 525 Glyphs.
All the alphabets consist of initial and ending stylistic sets giving the font a very expressive feel.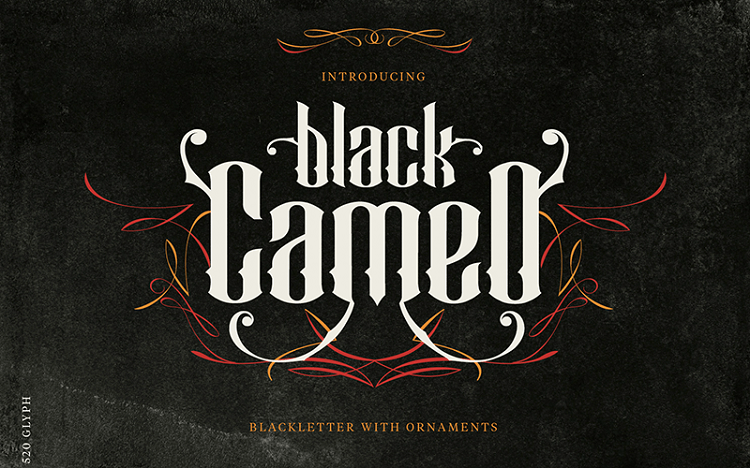 06

. The Liquor Collection
Designed by Bart Wesolek, The Liquor Collection is one of the most used and famous blackletter fonts, especially in western countries.
The look and feel of this font are all vintage. The Liquor Collection is not a single font style but is a bundle of blackletter fonts.
The Liquor Collection consists of 19 exclusive display fonts, as well as 15 premade logo templates. You also get a character map in this font bundle.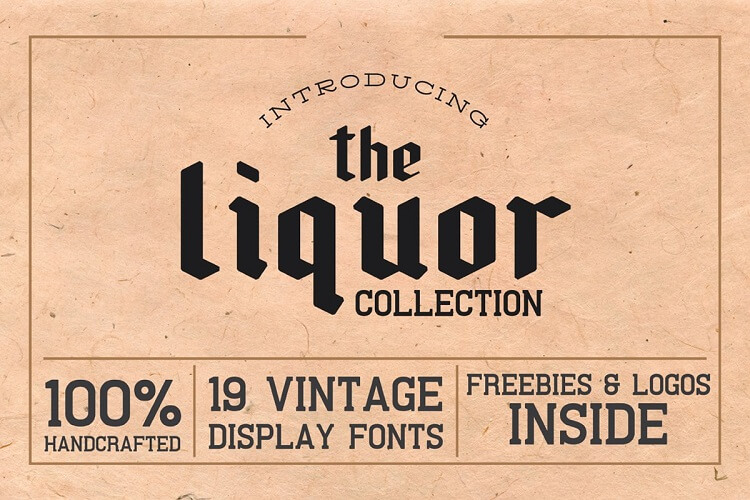 07

. Darklands
As the name might be suggesting to you, this font is beautiful and dark. The Darlands font is inspired by the old gothic script fonts.
The font is quite suitable to give your content a classy, as well as vintage English text feel.
The serif font type, minimal spacing, and large-sized characters make Darklands a good choice for designers.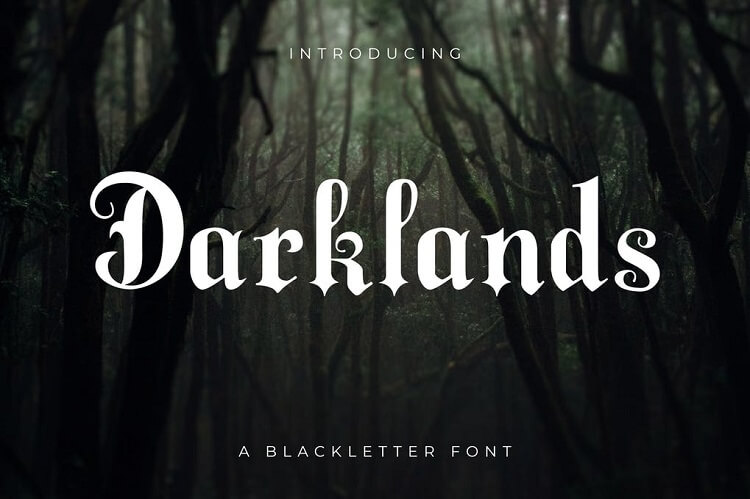 07

. Incognito
Incognito is another very popular gothic blackletter font. You might have seen this font being used in many different "rock and roll" tattoos and logos.
The best part here is that the font is available in both the major formats, namely TrueType and OpenType format.
Inspired by the kustom and modern tattoo culture, this is a great option for designers, as well as artists.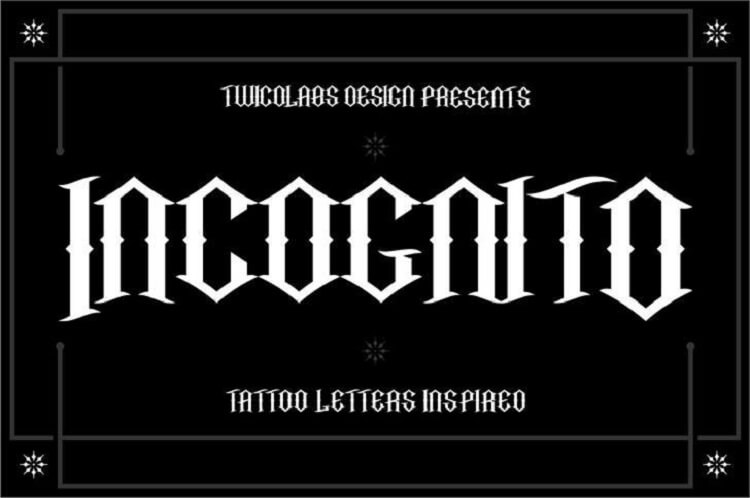 08

. Rochester
One of the most famous fonts in this list, Rochester font is undoubtedly very classy and modern.
Designed back in 1993, by a famous artist and font designer Roger White, the font was made using scanning of Roger's artwork.
A good option to create subheadings, as well as to highlight eye-catching sections, Rochester is a great option for all kinds of blackletter font lovers.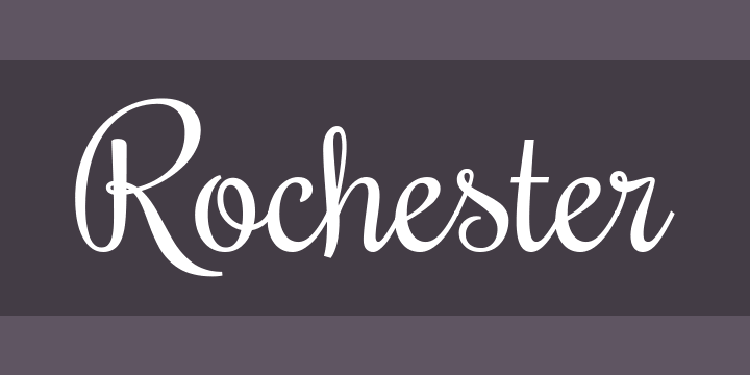 09

. Archive Copperplate Text
This ancient font was found back in the early 20th century in an American specimen and its inception is to date unknown.
The design and layout it gives to your content are all classic and medieval. You get that ethnic and shaddy, as well as rustic look in the Archive Copperplate Text font.
The font consists of no extra characters and letters, especially so that it can preserve the old medieval look.

10

. Ozymandias
Quite a young font in this list, Ozymandias is a free blackletter font. As per the designer, the font uses lines and diamond shapes to create alphabets and characters.
The letters and text look amazingly balanced and simple in the Ozymandias font.
To have a continuous and medieval feel in texts, this one is a good choice.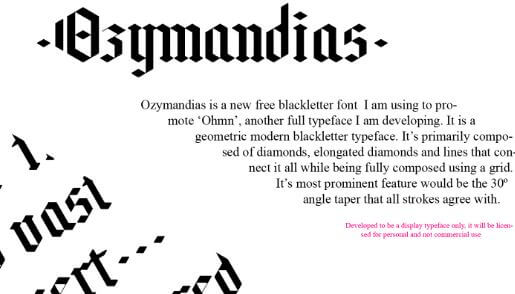 11

. Bjorke
A beautiful, yet very simple to read font made specially in the blackletter design, Bjorke is a great choice for all your blackletter designs.
The best part here is the versatility it offers to all kinds of designers. From blog writers to t-shirt designers, this font has a lot to offer.
The font also offers amazing versatility in both the regular, as well as alternative styles.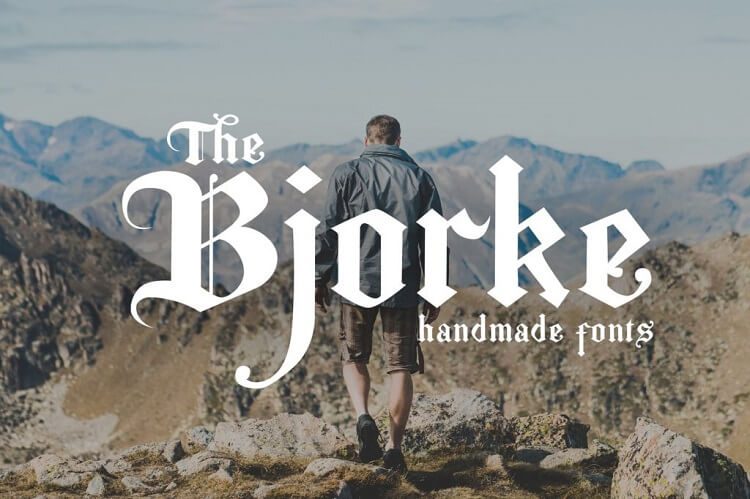 12

. Holy Union Font
Another very simple and elegant design, the Holy Union Font is an amazing blackletter font that you can make use of in any kind of digital content.
As the name might be suggesting to you, the look and feel of this font are quite holistic and ancient.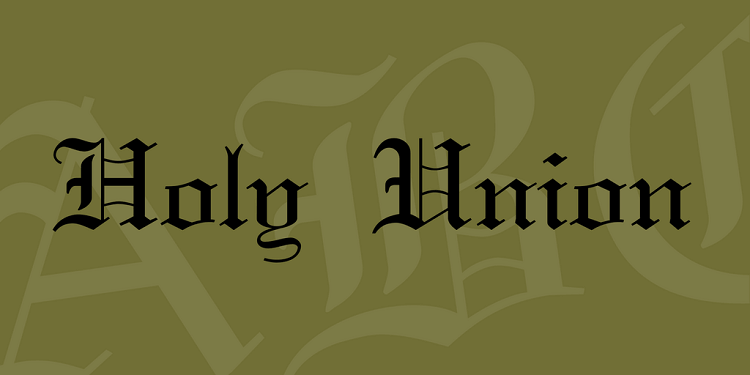 13

. Ole Ingrish
As the font says, it is inspired by PixelMoshpit. Using Ole Ingrish, you get to create an unexpected Gothic style of work.
And the best part is the lesser default weight the font comes in. This helps the font to be used beyond the headings and titles.
The font can be used in modern and lighter designs, such as logos, shirts, and greeting cards. For a multidimensional business, this is a great option.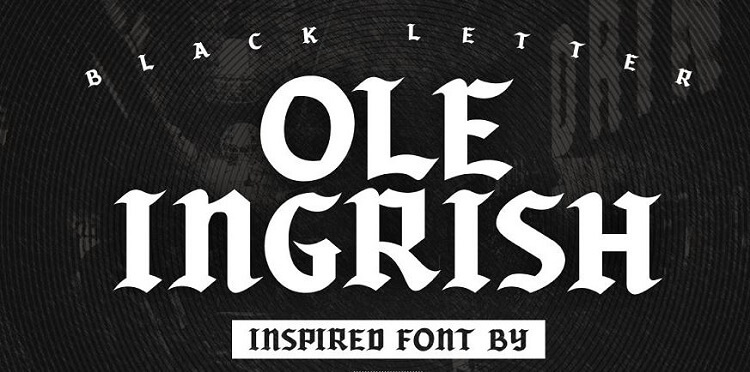 14

. Millenium Blackletter Typeface
An amazing product of the Mcraft Studios, Millenium Blackletter Typeface is a multipurpose and versatile blackletter font.
The font is and can be used in giving an urban and modern feel to your content. This blackletter font offers two different font styles, the rounded and the regular style.
The gothic feel and look that is being offered here can be used to create amazing logos, articles, and posters.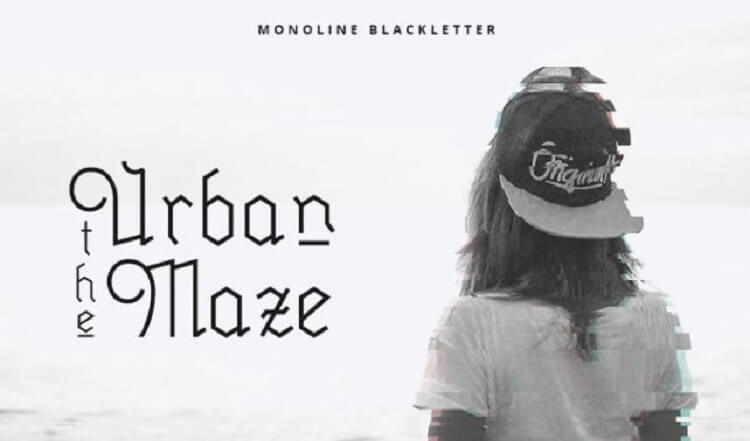 15

. Helmswald Post
A quick look at this font would remind you of the logo of the Washington Post. A good mix of flamboyant caps, curves, and negative spaces gives the font a very intimidating look.
Any size optimization, romanized capitals, and ancient serif styles make this blackletter font a great choice.
The important thing to notice here is a mixture of old and new alphabets that will give you a feel of both time periods equally.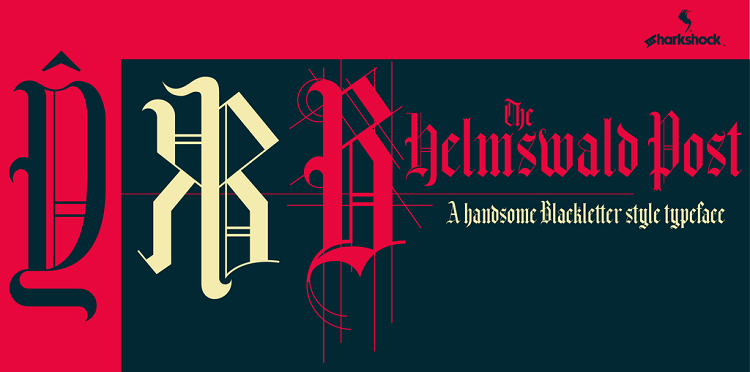 16

. Amstrong Typeface
Designed by Rvq technologies, the new font type Amstrong Typeface is a great option for blackletter font designers.
Each and every character set has a unique and vintage feel. You can also mix the modern and vintage character sets to create amazing designs and looks.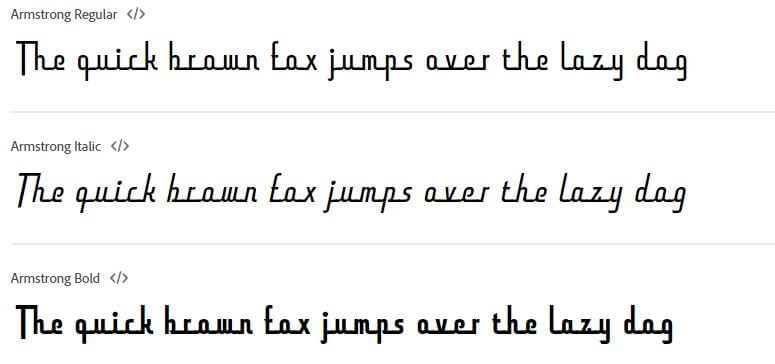 17

. Jabin Blackletter Font
The Jabin Blackletter Font is all that you need if you have that artist alive in you.
Jabin Blackletter is a very versatile font that is packed with 12 different options of typefaces, as well as offers different weights and contrasts.
The blend of modern and vintage feel and its availability for free makes this font a profitable deal.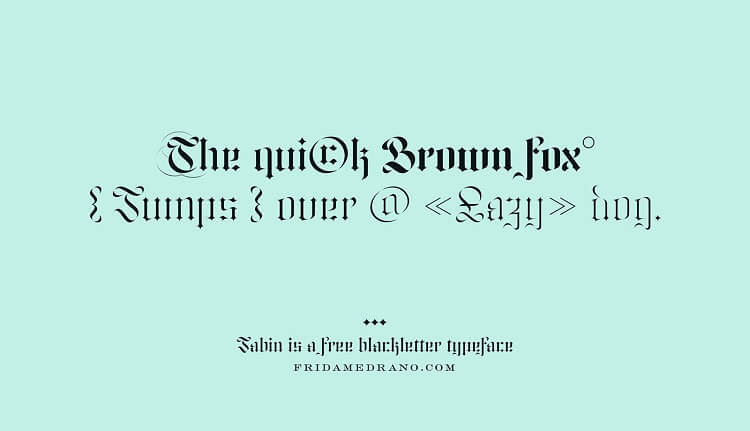 18

. Eagles
The multipurpose font designed by Noah Kinard offers one of the sharpest and most vibrant blackletter fonts available for use.
This is a font pack comprising of original fonts, as well as some beautiful counterpart fonts. Eagle is available in two different iterations.
You can make use of this font in standalone form and tandem form to achieve your perfect desired result.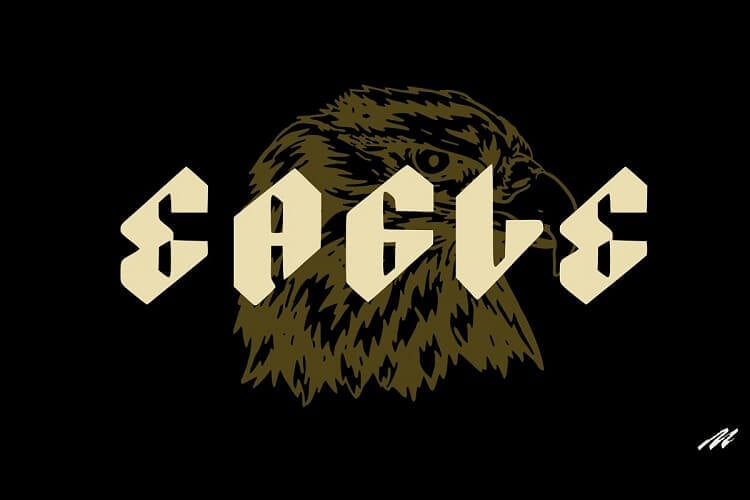 19

. Glaive
If you are a fan of rock and roll music, then you might have seen this amazing font in one of those rock band logos.
Glaive blackletter font is might look a little similar to Blackletter Schwabacher family font group, but with a touch of urbannes to it.
The font is quite suitable for logo designs, as well as for header and title designs. Uppercase letters, numbers, and punctuations make this font a great deal.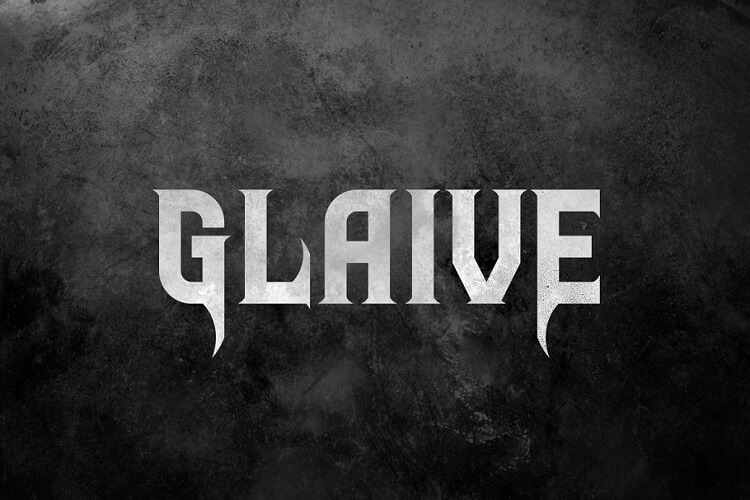 20

. Wall Axe
One of the first typefaces from Tirta Craft, Wall Axe has the classic, vintage, and clean feel to it.
Packed with two style types, regular and inline style, Wall Axe is offered in both the uppercase and lowercase standard.
You also get Glyphs, punctuation, and numerals. A range of multilingual characters is available as well. For creating logos and blogging projects, this is a great option to go for.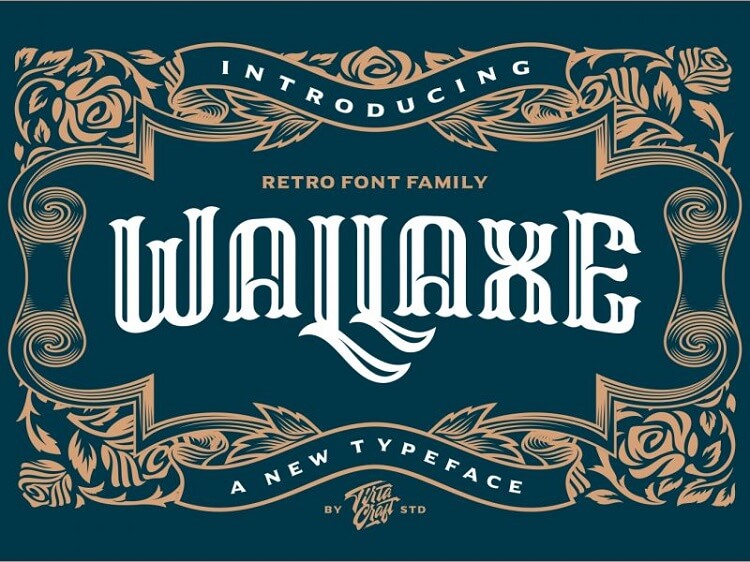 21

. Ravenholm
Gothic designs are said to be difficult to read, but that's not the case with Ravenholm font. The new typeface blackletter font is quite simple and eye-catching.
For advertisements and banners, this is a great blackletter font option you can choose.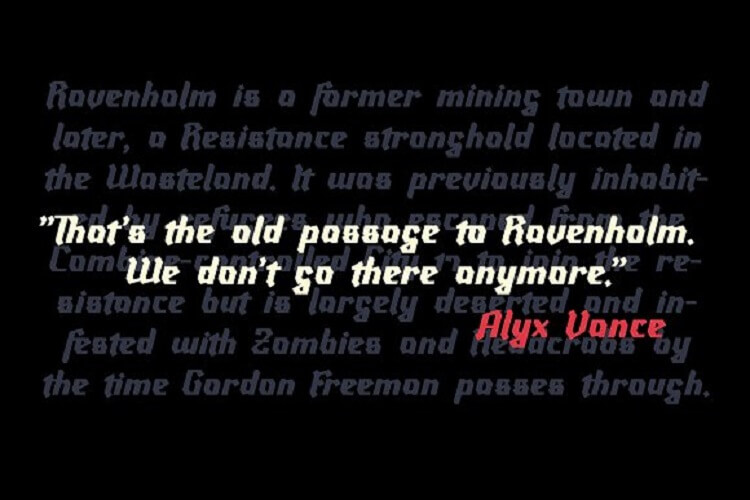 22

. Arthouse
Arthouse is a very popular font, was most famous for its use on recordings and music labels.
The stylish look, vintage feel, and proper blackletter use of characters give your content that perfect 60's look.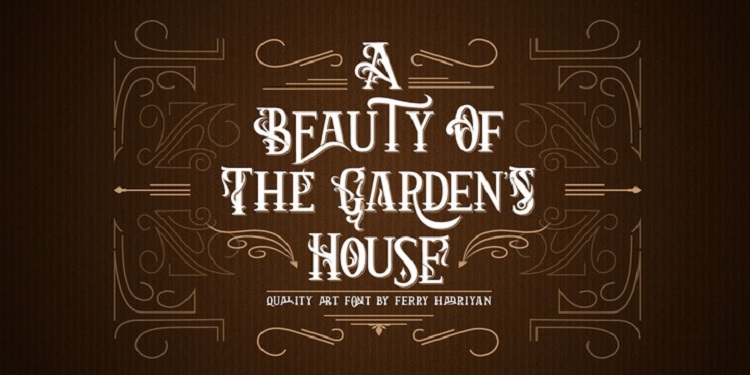 23

. Odd Times Typeface
Odd Time Typeface, designed by Gleb Guralnyk, is said to be inspired by old calligraphy styles.
The texture in the font, the vector illustrations, and letter compositions formed with this blackletter font is just so vintage.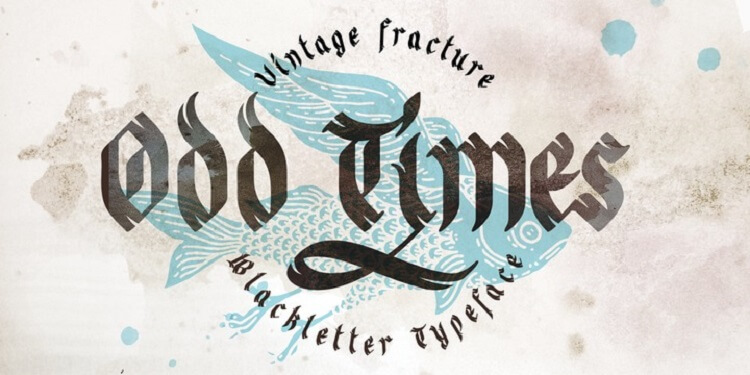 24

. Backyard
A very famous blackletter typeface, Backyard offers a clean and simple-to-read look to your content.
Designed by Mans Greback, the rounded edges and 4 beautiful variations helps your content to adapt to any kind of need and formations. Overall a great choice for designers.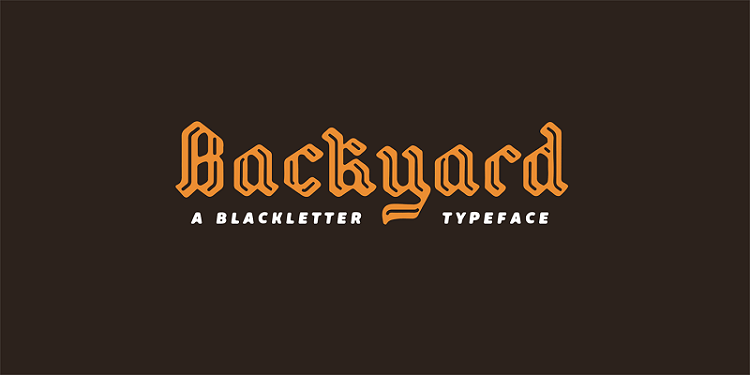 Conclusion
So this was the list of the top 20+ best blackletter fonts trending these days. Got any other font in mind?
Do let us know in the comments section below.