ARForms review, one of the best form builder plugins for WordPress that you can use to create any kind of form for your business.
Have you ever wondered why Contact Forms are so important? Why can't you use your email address instead? It can get your job done equally well.
You can definitely do that but you will have to miss out on the positives that a Contact Form can bring to your business.
From adding professionalism to your website, saving your inbox from unnecessary spams, organizing your contact lists in one place, acting as your substitute to answer people's queries the list goes on and on.
But not everyone can code their way to create a brilliant Contact Form packed with great features. That's when plugins come to your rescue.
It is an all-in-one form builder plugin that has been loaded with fantastic features to help you create the most advanced Contact form for your business.
In this post we will review the plugin, so you know exactly how it works and benefits your business.
So let's begin.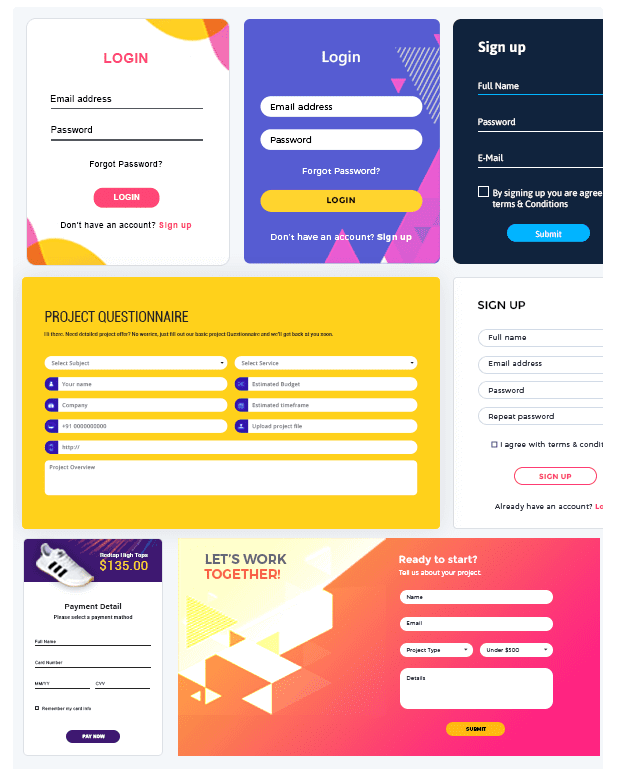 Features of ARForms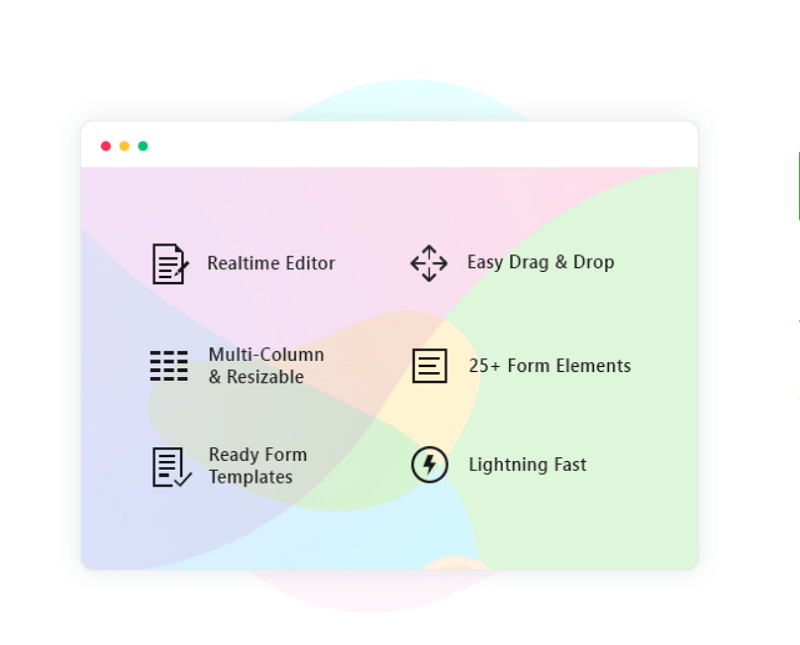 ARForms is loaded with tons of amazing features that can help your business in a positive and constructive way. Let's check out some of its features. But before that, you can check the sample forms here.
Real-Time Form Designer
The Real-time Form Designer of the plugin is a true attraction. With this feature, you can create tons of responsive forms that look stunning in screen sizes of all types.
The plugin comes loaded with a cool tool kit that lets you create the fanciest forms with just a few clicks of the mouse. For non-tech savvy people, this feature comes as a boon.
If you are not happy with your form design, just don't worry. The plugin has got you covered.
Use all your imagination and style your form with the array of fonts and an unlimited number of catchy color schemes to match your brand design.
You even have a collection of 15 ready-to-use colors so it's easier and quicker for you to get things done.
And not to mention, you can even take a step forward and add a great background image, form buttons and awesome icons to bring out the best in your forms.
Want more? No problem! If you are a coder and can do better, who's stopping you? The plugin lets you do that by allowing you to use custom CSS as well.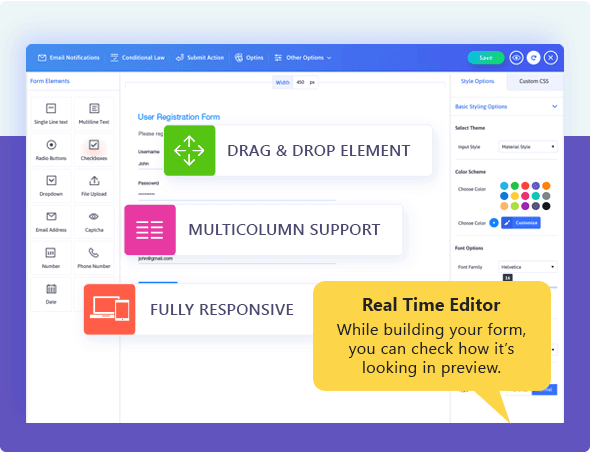 User-friendly Form Editor
With its form editor, you can now seamless work with the drag and drop option to create as many beautiful fields as you want. Once you are done you have the option of connecting it to your favorite email marketing service.
The form can be styled and customized in real-time to fit your needs. So you can see the changes in real-time exactly as you are working on it.
It works as a perfect WYSIWYG plugin and lets you edit your form fields right from the editor itself. So you do not have to go back and forth to see the changes every-time you make one.
30 Advanced Field Types
The plugin comes loaded with as many as 30 form field types. You can easily set your hands on them to customize every bit to fit your needs.
From adding buttons, signatures, star-ratings and more you can have a complete form in less than 5 minutes.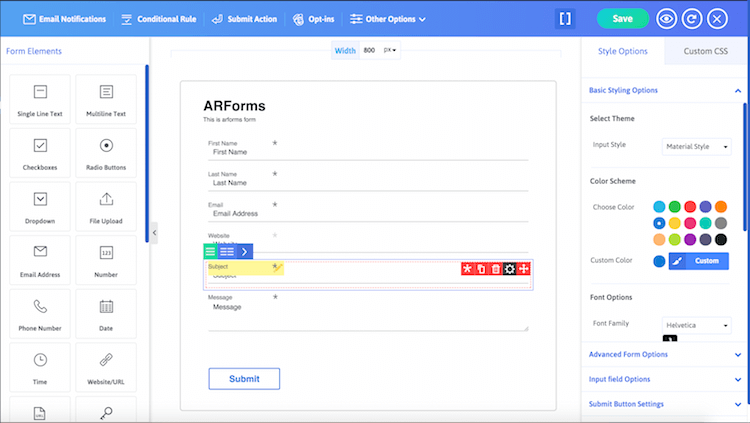 Advanced Forms
With ARForms, it is even possible to create complex forms like ones for registration. You can easily create forms of any length and even split it up or use the multi-step technique to give it a wizard-style.
Multi-column
If you think your form can have just a single column, try out ARForms. It lets you create up to 6 different columns each of which can be easily resized to meet your requirements.
You can use the drag and drop feature to give a neat structure and arrange them strategically to make it look stunning.
Embed Files
Your forms do not have to be just a means to contact you. You can use your creativity to draw more people to your business and turn your potential clients to customers.
A great way to do that is to embed files which can either be Google Map to locate your office or a Youtube video to make things more interactive. ARforms lets you do all of it in a jiffy.
Convert Your Form Field
Now you no longer have to worry about your errors while in the process of creating your form. The plugin lets you take care of it by changing your field types and converting them into forms by keeping your existing data intact.
Incredible Form Templates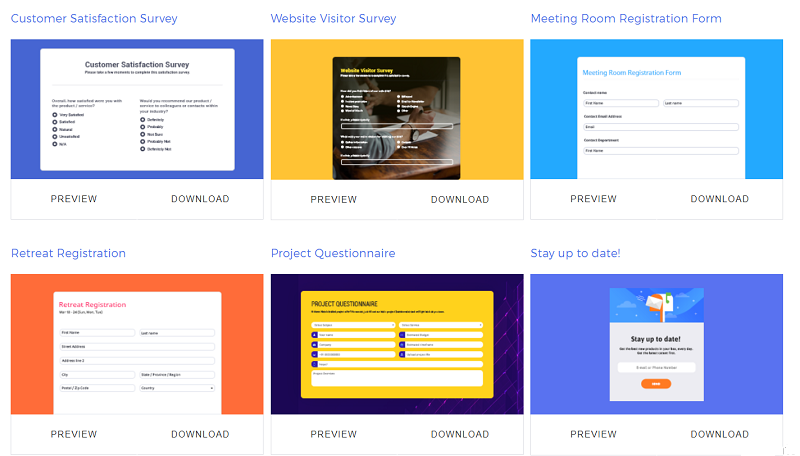 The plugin offers a range of striking form templates that are ready to use right away. You can browse through them and pick the best one to meet your business standards.
Whether you want an RSVP form, a Subscription form, Feedback form or Job application, it's all there for you.
You can have a collection of 40 of them, each with a unique style, purpose, and feel. If you are not satisfied with its looks, take control of it and make the changes you want. You can customize every bit of theme as well.
Tool and Publishing
ARForms offers you great options for publishing. You can control your forms based on the interaction with your site visitors.
This includes hiding or displaying fields to specific customers. The plugin will automatically study the visitor's behavior on your site and decide which fields to show to them. Depending on that it might display all or some of the fields on the forms.
You can enable the Math logic on your forms in case you want them. Sometimes these features may come handy if your visitor wants to do a quick payment calculation in real-time.
Progressive Upload, Autosave and Autofill Fields
This is a brilliant way to let your visitors know that their file upload is in the process. This has been made possible due to the smart Ajax submission that has been incorporated with the plugin.
Besides, it also lets you auto-fill the form fields based on the visitor's history. If the visitors leave the page mid-way, the data gets auto-saved and the user can resume from where he/she left.
Import and Export
You also have the option to export or import data to or from another website. Here too you can pick either your forms or entries or both depending upon your requirements. This helps you get rid of unnecessary clutter.
Security
ARForm comes with an intelligent spam protection mechanism. It automatically tracks any suspicious movements on the site and identifies and protects your site from malicious submission.
If you still have doubts on your website security, then go ahead and use the free add-on to use the classic CAPTCHA before any kind of submission.
You can even use its restrict submission method. This can be configured around specific dates, the maximum limit of entries reached etc.
It also offers a duplicated form entry control using the IP address for an added layer of security.
Auto-responder
It may not always be possible for you to be available to respond to queries all the time. That's when this feature comes to your rescue.
Just figure out what you want to tell your clients, draft it in words and set the auto-responder on. Your clients will automatically get the emails in your absence.
Analytics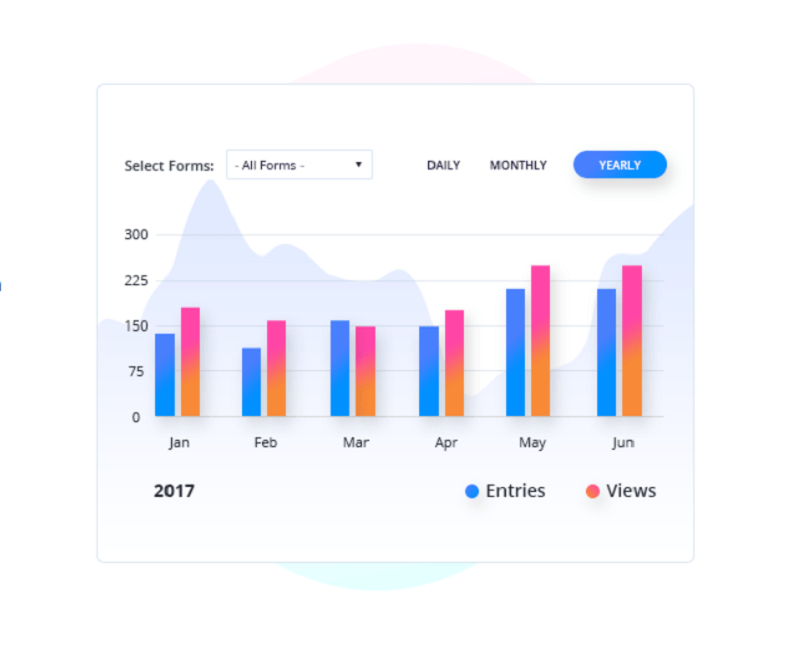 Use the analytics feature to know exactly how your business is doing. It lets you track views and entries ratio, analyze the global entries submission rate by country and generate the needed chart reports.
This can help you strategize a better business plan apart from knowing what exactly where it is going.
Compatibility and Integration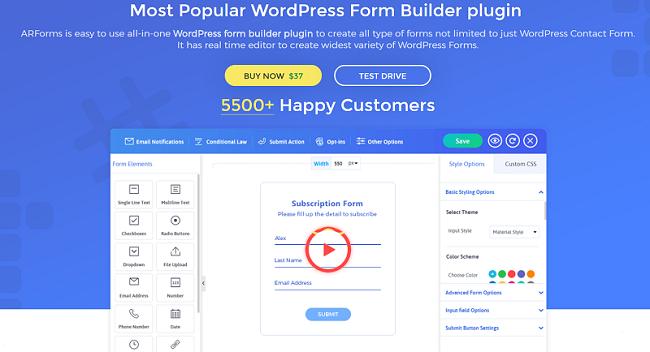 The plugin is compatible across browsers and works wonders with any kind of WordPress themes and page builders. You can also use it very efficiently with the new Gutenberg Editor.
ARForms adapts beautifully with on-demand extensions, is GDPR compliant and offers WPML & RTL Support as well. This makes it possible for you to reach out to people across the globe.
The plugin takes automatic updates on a regular basis and can surprise with something awesome every time it does so.
Easy embeds and Shortcodes
Using this plugin does not mean you can add your forms to posts and pages only. You can also display them on your widgets, sidebars, and footers. What more is that you can even add polls, surveys and other kinds of forms too if you wish to.
Suggest A Feature
Although the list of features seems extensive and endless, the plugin team leaves more space to add many more features to it.
So if you think that it still misses out on something, go ahead and tell them what more you want. If the suggestion appears constructive they might as well get it added to the list.
Add Ons

You might as well want to extend the functionality of your plugin by using their Addons to your site. It currently has 18 amazing plugins out of which 2 can be downloaded for free.
For the rest, you will just have to pay a little extra, but every penny will be worth its value. Here are the add-ons that you can go for.
PayPal ($16) –

Integrate with PayPal to accept donations and payments

PayPal Pro ($17)

– Make Payments easier with PayPal

User Signup ($17) –

Make user signups easier and allow them to edit or create profiles and change and retrieve the passwords in a jiffy.

Stripe ($18) –

Accept credit cards directly without having to deal with any third party.

PDF Creator ($18) –

Makes creating PDF copy of your forms quicker and easier.

Authorize.Net ($16) –

Makes accepting credit cards an easier and smoother process.

MailPoet ($16) –

Allows you to quickly create subscribers for your MailPoet mailing lists

Mailster ($16) –

Allows you to quickly create subscribers for you Mailster listing after form submission with ARForms

Signature ($13) –

Makes it possible to seamlessly collect signatures from your customers.

Digital download($15) –

Digital downloads are no longer a trouble.

SMS ($15) –

Use either of Twilio, Nexmo, Clickatell, SMSGloba to send a quick SMS notification to your clients.

ReCaptcha (free)

– Protect your site with the amazing Recaptcha feature

Post Creator ($16) –

Use data captured by ARForms and turn them to posts and pages.

Zapier ($18) –

Integrate different triggers using different forms fromARForms

Active Campaign (free) –

Creating subscribers from your active campaign list is so much easier now.

Mail Chimps ($17) –

Working on your email list has never been so easier.

Google Sheets ($18) –

Converts your form entries to Google sheets as soon as the data is submitted.
Support and Documentation
The plugin has been extensively documented, which can be easily accessed by both novice and professionals alike. They also have a brilliant support team and you can raise a ticket to address your issue which is resolved by the team in no time at all.
Pricing
The plugin is available at a reasonable $37. If you want to extend your functionalities, then go ahead and pick the plugin that will do it.
You will have to chip in an extra amount for that. But trust me with that extensive list of features it comes with, your money is worth every bit of it.
Conclusion
If you are looking for a Contact Form Plugin, after reading this post, I am sure you will stop your search right here. At such a value, you can never get what ARForms has to offer. So think no further and get ARForms now.