Do you have a small business? If yes, do you think that simply having a website will suffice? If yes, you need to think again.
No matter how big or small a company is, the owner always plans to create a website to mark their online presence. In short, creating a website in a crowded space will mark your existence but it won't help you to stand out.
It is important to have an app too for your small business. And let me tell you, it is simply not for standing out but also for many other fulfilling reasons.
If you are wondering whether you should invest in making a business app or not, we have the answer for you. It is a resounding yes!
There are freelancers who can help you to create your app or there are custom app development services that you can use to get your app up and running.
Today, we will look and understand how creating an app for your small business will help you.
How Can an App Help Your Small Business?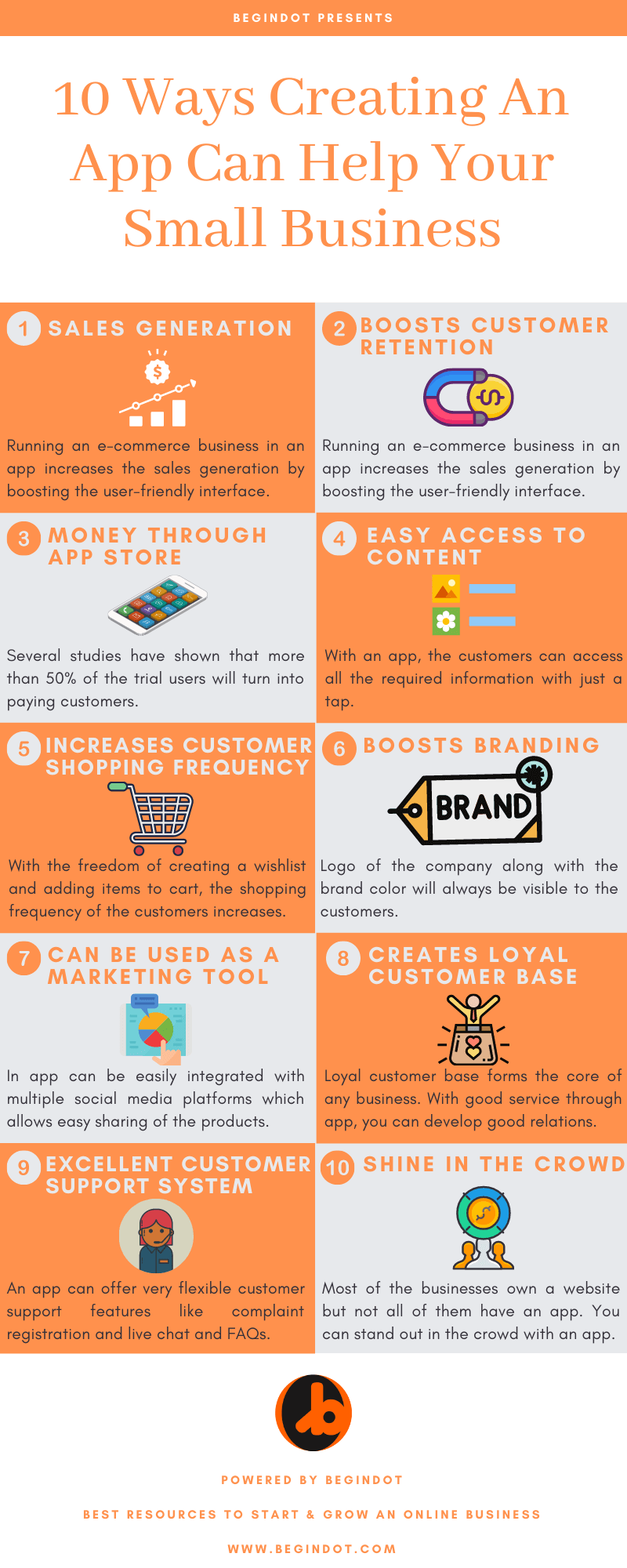 01

. Helps to Increase Sales

If your business belongs to the e-commerce niche, having an app is a must. Running your e-commerce business only on the website will limit the number of sales. This is the reason why Amazon runs both a website and an app.

The user-friendly interface and quick access that an app provides help the users to shop even on the go. Also, the add to cart rate
02

. Improves Customer Retention

Often an app manages to give a better user-experience to the customers. When the customers love your app, they won't be able to stop themselves from coming back to your app. In short, an app will improve the customer retention rate.

Also, the mobile payment option that comes with an app, allows the users to do a quick check out!.
03

. Make Money Through the App Store

If your website runs in a subscription-based business model, then having an app in the app store will help you to earn some extra bucks.

For the start, you can allow your users to experience the trial version of the services that you are offering in the app. Several studies have shown that more than 50% of the trial users will turn into paying customers.

You can take the example of Spotify. The company has managed to grow its entire business on this model. Not only the free trial users have become paying customers, but the customer retention rate has also grown.
04

. Access The Content Easily

Apps help you to create and develop easy-to-access content. Also, it provides a new way for the customers to access the content of your business.

Not to forget, refreshing the pages of websites, again and again, to lay the hands-on new content can be an irritation. On an app, that will never be a problem.

Also, filtering the content with flexible options like filter and sort makes the entire process of accessing content extremely easy.
05

. Increases Customer Shopping Frequency

Several studies have shown that while shopping in an app, one particular consumer behavior that stood out was adding items to the cart. It means that an app prompts the customers to buy more.

Also, customer shopping frequency receives a huge boost when shopping through an app. For acquiring a customer, a certain expense is made. The expense can only be justified if the customer keeps coming back to buy more and more.
06

. Boost Branding

In an app, the logo of the company along with the brand color will always be visible to the customers. And when you expose your customers with your brand logo and color, it will be impossible for them not to recognize a product or service that you deliver.

Also, this business strategy gives a competitive advantage by boosting your brand.
07

. Use It As A Marketing Tool

Did you know that you can use your app as a marketing tool too? Are you wondering how? Well, an app can be easily integrated with multiple other social media platforms like Foursquare, Twitter and Facebook.

With just a tap, the customers would be able to share products and services that they like from your company to these platforms.

Also, in an app, you can include the option of push notification. The push notification will help you to quickly push promotions of your company.
08

. Creates A Loyal Customer Base

As a business person, you should aim at creating a loyal customer base. Your customer base forms the core of your business. All successful businesses across the globe know this fact and therefore, the utmost priority for all of them is not only in creating but also in maintaining a loyal customer base.

With your business app, the customers would be able to engage with your brand on their smartphone. Let's talk about the number now!

The open rate of emails is only 25-30%. However, when it comes to push notification, the open rate was nearly 90%. Also, running a referral program is an easy job with an app.
09

. Excellent Customer Support System

Your business should always be able to provide round the clock customer service. The customer support system is one of the most important components that form the backbone of the business.

A mobile app can offer very flexible customer support features like complaint registration and live chat and not to forget, FAQs.

With helpful and supportive customer care supports, you will be able to provide the customers with a great experience.
10

. Shine In The Crowd

Having a mobile app for your brand will help you to stand out from the crowd. If your business is one of its kind, then you have the advantage of capturing a whole lot of customers through your business.

No matter what you sell, you should have an app to compliment your website. Having an app brings all the products at the tip of your customers with just a tap.
Wrap Up
No matter what kind of business you run, a mobile app will provide a sure shot way for its growth. Let's talk about you. How many hours do you spend on your smartphone? I am sure the answer is significant.
When a smartphone plays such a vital role in your everyday life, you cannot let go of the opportunities that an app will create for you. A business app will create brand awareness, boost customer loyalty, and retain the customer.
The concept of having a business app is prevalent in large-scale businesses. However, it is equally important for a small-scale business too.