Customer relationship management softwares are in great demand worldwide.
Gone are the days when each and every separate piece of information related to lead management, sales management and so on need a lot of Excel sheets and actual paperwork. CRM's are offering all that is needed under one common software.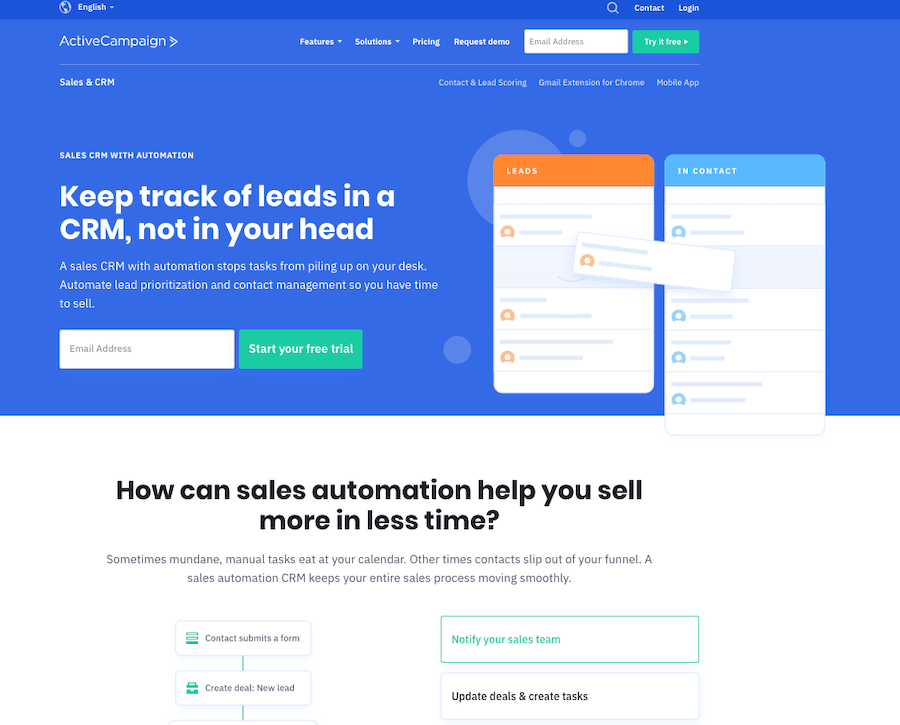 A name that is quite famous in the email marketing campaign solutions market and one that has made email marketing simple and possible for small businesses, ActiveCampaign, also offers a very simple to use CRM software.  
Since 2003, ActiveCampaign has been a platform for businesses making their overall lead and customer management much simpler.
ActiveCampaign has created some of the most popular and powerful tools in the business. ActiveCampaign has a customer base of over 80,000+ users worldwide.
The most noticeable thing about this CRM is the amazing automation possibilities it offers. The "Deal" system, which is the name ActiveCampaign has given to its CRM system allows you to automate all your customer management problems in the simplest way possible. 
Major Features
The list of features offered in this CRM is pretty long. Let's take a look at some of the major features of the product. 
01

. Integrations

ActiveCampaign offers a lot of possible integrations for this CRM. You get to integrate over 250+ different apps and tools into your CRM and increase your productivity.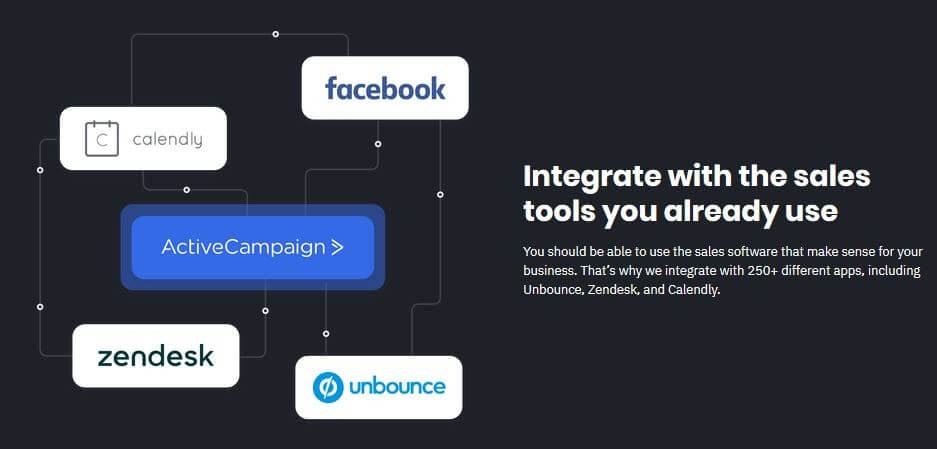 Along with options to integrate apps and tools from ActiveCampaign itself, you also can integrate tools like Zendesk, Unbounce, Calendly, of course, Facebook. 
02

. ActiveCampaign CRM for iOS

ActiveCampaign also offers a completely easy to use and lightweight iOS app to manage the complete software from your phone.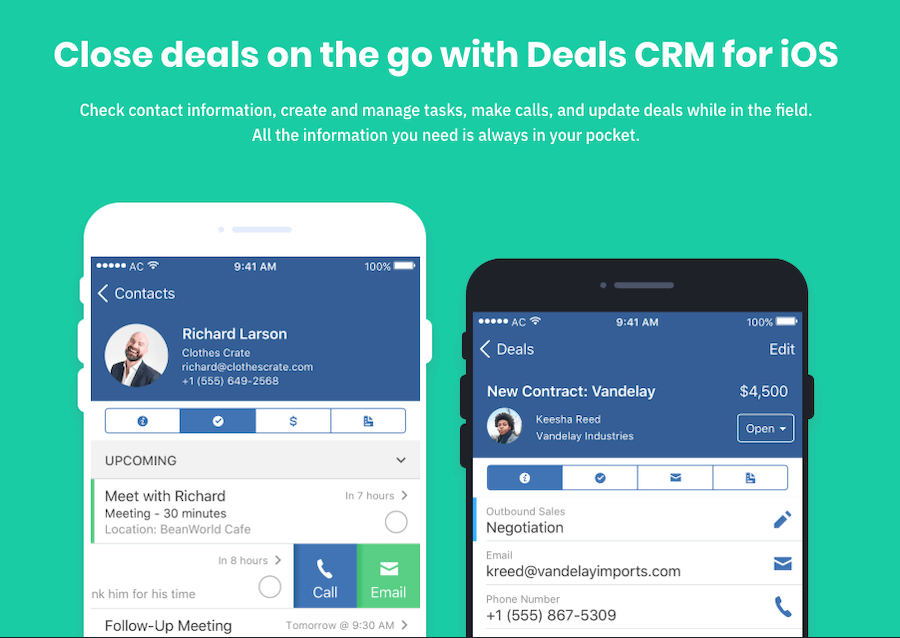 03

. Email Management

Connecting with the most famous names in the email industry is possible with this feature. Gmail, Outlook, Yahoo or any other email provider can be integrated with this CRM. 

04

. Priorities Lead

With the automation working there for you all the time, you can easily manage and see all the major leads that are working best for you. 

How to Use ActiveCampaign CRM Deals?
Understanding how ActiveCampaign CRM works are pretty easy. The process involves three major things.
The pipeline, the deals, and the stage. Let's take a closer look at how ActiveCampaign actually works.  
Deals: Creating and Displaying Deals
Deals is a way of recognizing qualified leads as sale and business opportunities. They are simply the leads that don't just sit ideal in the contacts lists. 
ActiveCampaign automatically priorities deals and creates them for you automatically. You can also manually create deals with the "Deals" tab.
Click the "+New Deal" icon on the right corner. Simply fill out the information and click the "Add Deal" button. 
Pipelines: Creating Pipelines
Like in any other CRM, pipeline here also has to be created matching with the sale process of your business. 
Stages: What is Stages?
The pipeline contains stages and these are basically the steps of the pipeline. Click on the "Add Stages" in the upper left corner and create new stages in the pipeline. 
You need not worry a lot here in this CRM as most of the processes in this CRM are automated. Simply create your Pipeline, add stages and manage your deals in the CRM. ActiveCampaign is one of the easiest to use for sure.  
ActiveCampaign Pros and Cons
---
Pros
01

. Most Powerful Automation Features

ActiveCampaign has the most powerful automation feature available out there in the business.

From leads management to adding contacts, to generate reports, and so on are automated to a very vast extent in the ActiveCampaign CRM system.

A point to note here is that not only it makes automation possible, but it also makes it very easy for new users, as well as for the experienced ones, unlike the others who do offer some sort of automation but end up making the overall system complexity. 
02

. Reporting to the Depth

One of the most interesting and useful features of this CRM is the level of depth in reporting it offers. And not just deep reports, you also get reports from some of the areas where other CRM don't report.

Some of these areas include click-maps, geo-tracking, and page click-throughs.

Users having higher and premium plans can also get reports from their Shopify, BigCommerce, WooCommerce campaigns also, which makes your overall business and customer management much easier.  
03

. Personalization

Personalization features are available throughout this CRM software. From personalization options available in creating new contacts, to sending a re-engagement offer to past customers, getting your CRM personalized in your personalized way is amazingly possible in this CRM. 
04

. Simplicity in Use

With so many features and a ton of automation all over the CRM, things could have gone a lot complex in the matter of usage.

But on the contrary, ActiveCampaign's "Deals" CRM is very easy to use. Even people with no past experience in using a CRM will find it super easy to use and manage. 
05

. Support

With that many users all around the world and with so many features included, you definitely need a strong and super fast support system. And that's exactly what ActiveCampaign does here.

Apart from all those regular sources of support, ActiveCampaign also offers video tutorials and webinars (yes, including live), and one-on-one training with the 'plus' plan.
Cons
01

. Overwhelming Amount of Features

Many of you might not consider this as a con but think of all those startups and newbies in the business who hardly have any technical experience. The number of features provided here can be very difficult to use altogether.  
02

. Little Expensive

After a certain amount of contacts, the price curve takes a steep price curve. The amount just rises pretty quickly and that can be very difficult to tackle for new ones. 
Pricing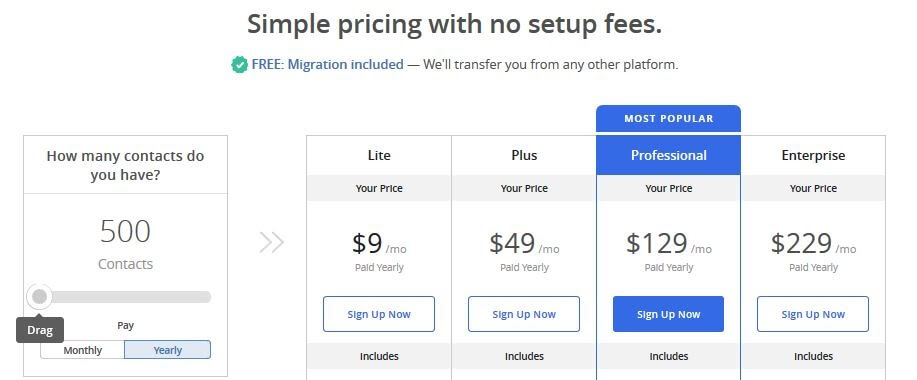 Pricing is one area where this CRM can be considered a bit pricey and on the heavier side.
Definitely, the newbies and the startups will try to search for a cheaper and feasible option.
But for the ones who are looking for a lot of features and are ready to invest a little higher than the average in the market, the prices would not look much of a problem.  
The prices start from $9 per month for up to 3 users and go up to $229 per month for unlimited users. All of them vary in the number of different features and the number of users to include. 
All of the packages include the basic and must-have CRM features and all the packages are billed annually, which is a bit to ask from small and new businesses.