9anime has always been a fan-favorite due to its interface and easy access to thousands of anime movies and shows. If you are looking for the best 9anime alternatives, here is the list you need.
If we were to talk about the eastern side of the globe, anime could possibly be one of the most searched content. Gradually, even the western part of the globe is giving attention to this animated content.
There are various online platforms that allow you to stream anime content either free of cost in exchange for a certain premium. While some are ad-free, others hinder the experience through pop-up ads.
So choosing the right anime streaming platform can be a tough task. You don't have to worry as we have compiled a list of the best 9anime alternatives. Happy anime watching.
Picking the best 9anime alternative was a tough task but due to the simple interface and a variety of content in the display, KissAnime takes the first position.
The online streaming platform is a dream for every anime lover who wants to see more visualization of the relationships between the objects and even abstract ideas. Although you would be encountered with ads and redirect links, a simple registration can handle this problem.
Best Features:
The categories are divided into the newest episode, most viewed, most favorited, and most rated.
You can add to the content on your favorites list.
The majority of the content is available in high definition and English subtitles.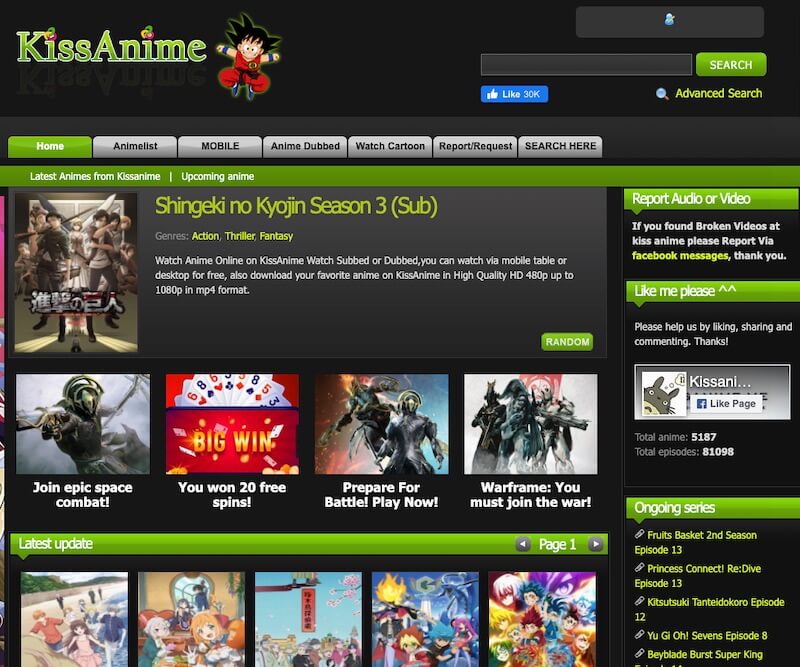 Another huge library of anime content, along with the latest news associated with anime makes Crunchyroll one of the best anime streaming platforms.
You can select either anime or drama while watching your favorite shows on the platform. Moreover, a gaming section will allow you to enjoy some of the best anime games. Although there is a free version, you have to buy a premium version in order to unlock all the content.
Best Features:
The anime content is divided into categories such as popular, updated, genres, and seasons.
A release calendar will give you a rough idea about the shows and episodes of upcoming dates.
There are dubbed versions as well as the availability of subtitles.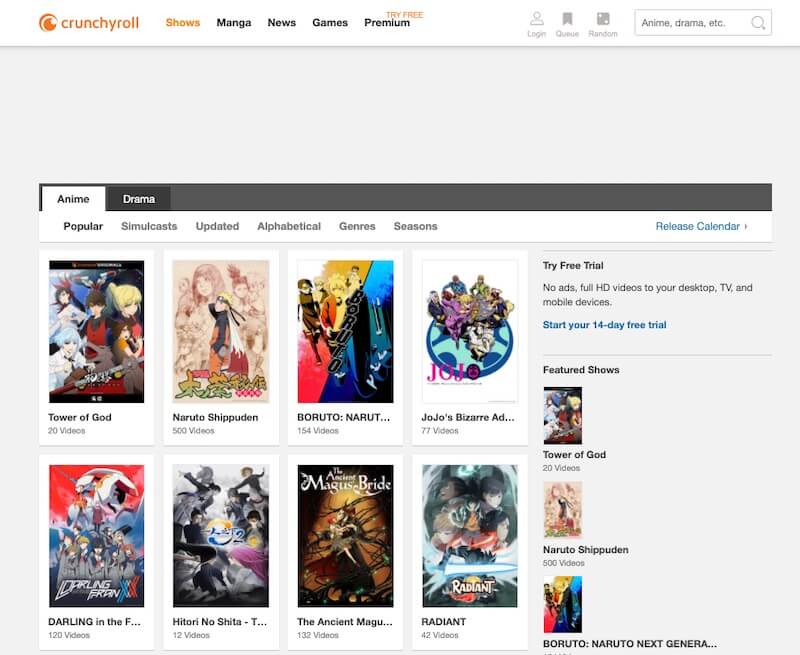 A completely free and ad-free platform will provide you a mesmerizing experience while streaming your favorite anime shows and movies. AnimeHeroes is one of the best in the streaming business as you can watch the high-quality content not only from your laptop but also from your smartphones.
Best Features:
You are free to select either 720p or 1080p quality.
You can browse free anime games on the platform.
The ratings of the content are displayed for easy selection.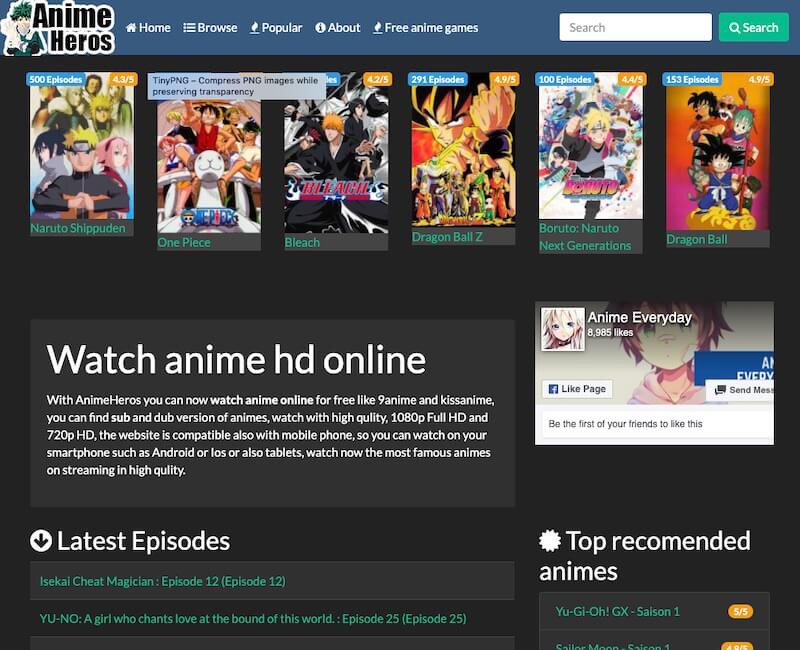 If you are searching for more than just anime shows and movies, Chia-Anime will put an end to your search. Chia-Anime not only offers free movies and series but also soundtracks and Asian dramas.
This platform is filled with high-quality content but the pop-up ads will hurt your experience. You can stream the English dubbed anime as well as the ones that have English subtitles.
Best Features:
There's a special section for English subbed anime.
You can browse through the categories either via alphabetical order or via genres.
You can also download the content from the platform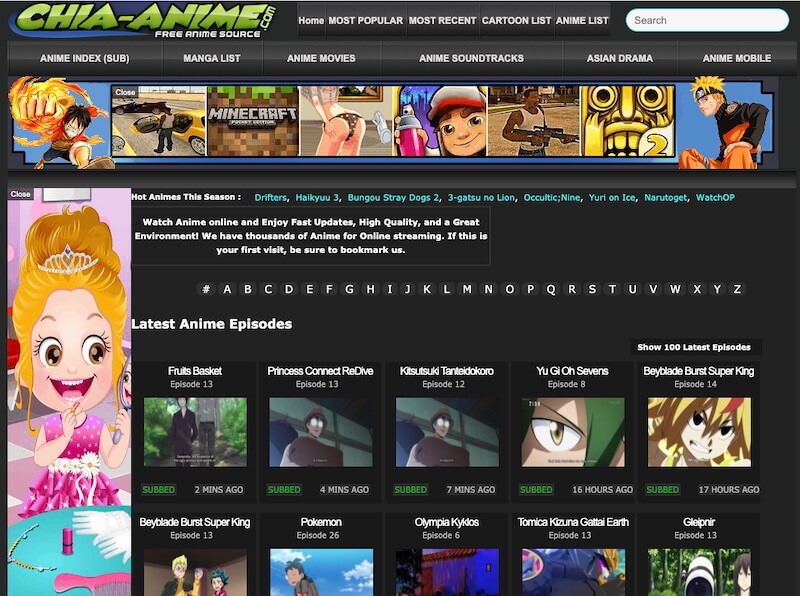 Another free platform that drives millions of monthly traffic from all over the globe, AnimePahe can be a wise choice while selecting your favorite anime episodes.
The site not only stops pop-up ads but also provides free use of its content. One thing is for sure that you won't get bored streaming content as the platform is known for its huge library.
Best Features:
The content is arranged in alphabetical order.
High-quality content with English Subtitles.
The interface is pretty neat and simple to use.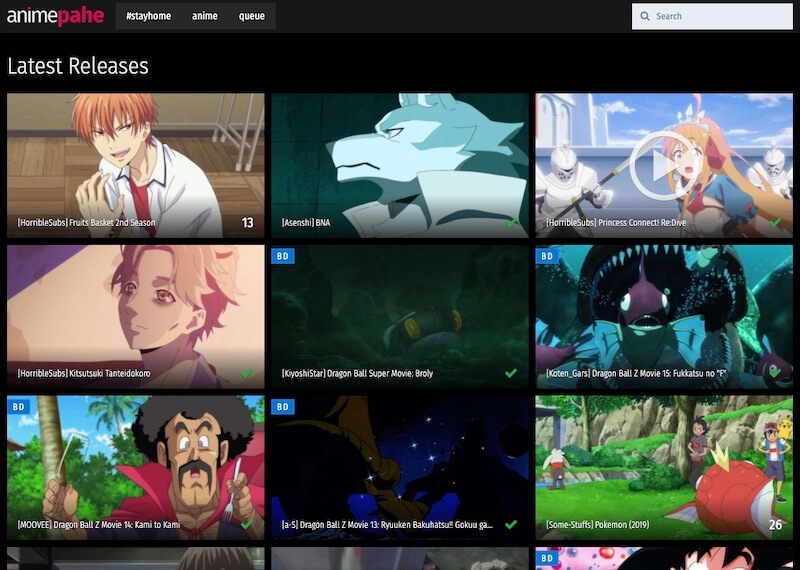 Only die-hard anime fans can relate to the need for the new content as soon as it is released. Animefreak is the best platform if you want to watch the latest updated content.
The user-interface is pretty simple and attractive. You can either browse through to search for your favorite shows or choose the popular anime section. It is a free platform that gets millions of monthly users, especially from the U.S.
Best Features:
It allows you to browse by Genre.
A special category is listed for the ongoing anime series.
High-quality content that is updated regularly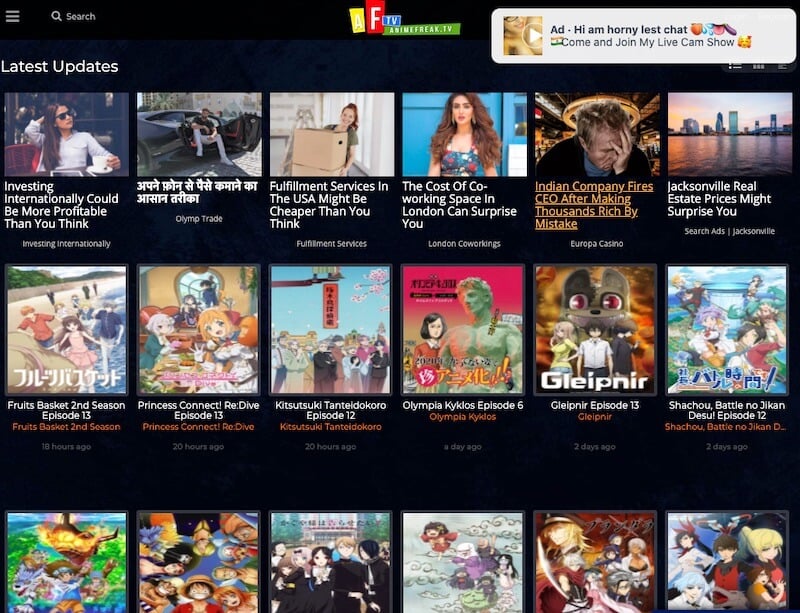 Just like some of the other 9anime Alternatives, Anime-Planet also offers occasional pop-up ads but overall, you'll definitely enjoy more than 45000 free episodes of anime.
Anime-Planet allows you to not only enjoy the anime selection but also the huge library of manga collection. You can enrich your experience by registering on the platform that will help you add your favorite content to your personal list.
Best Features:
You can either browse or select the top anime list on the platform.
The browsing is simplified through a large range of filters.
A community established by anime reviews and challenges.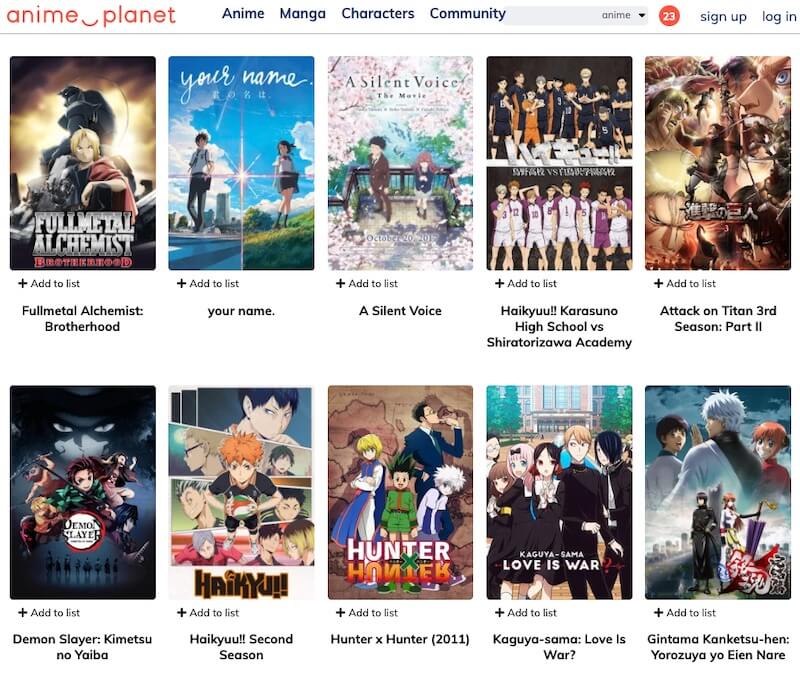 One of the easiest to use platforms, AnimeShow drives huge monthly traffic from countries like the U.S and the U.K. The only major setback of using this platform is the number of pop-up ads.
There's no doubt related to the huge library of AnimeShow as well as the content available for the ongoing shows. The user-interface is also quite-simple. Overall, a pretty usable site.
Best Features:
High-quality content divided into different segments.
More than 35 genres to choose from such as comedy, action, and drama.
New Anime are updated regularly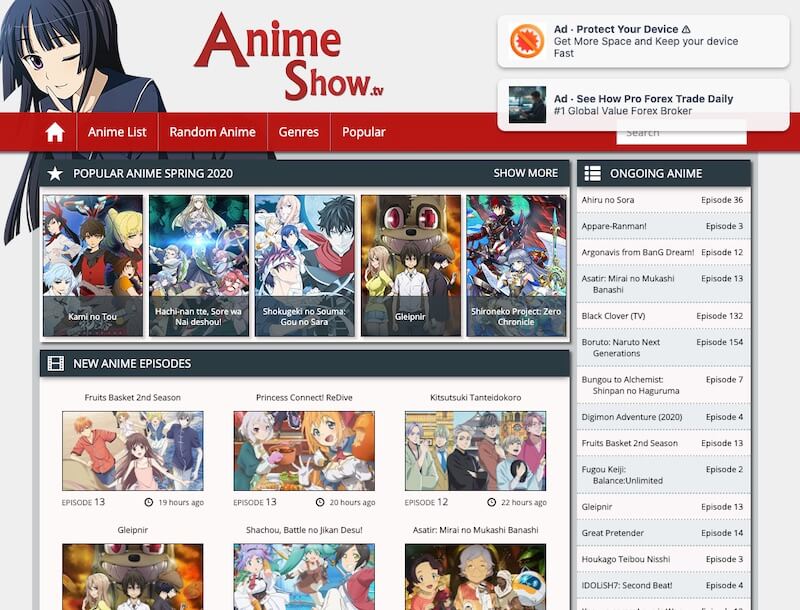 The interface of DarkAnime will give you a similar feeling to that of 9anime. You can either make use of the free version or can pay for the premium version in order to unlock all the features.
DarkAnime offers a high definition of English subbed content. Moreover, the content is regularly updated, so you won't miss any new episodes of your favorite anime show.
Best Features:
A new section of dubbed anime series is specially allocated for international viewers.
You can select from more than 40 genres on display such as action, adventure, and fantasy.
A limited number of pop-up ads.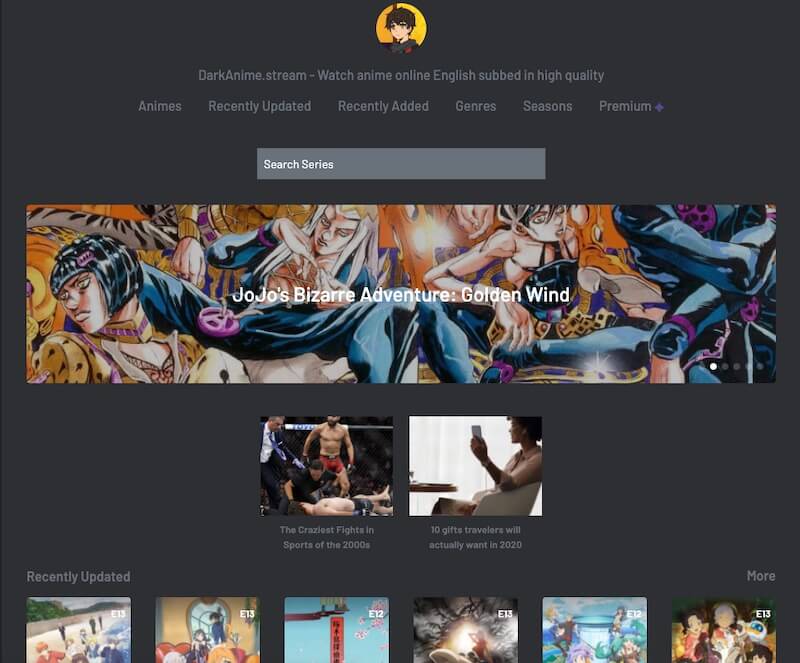 You can use Anime Ultima not only on your laptops but also on your smartphones. Being one of the best 9anime alternatives, Anime Ultima has one of the most-user friendly interfaces in the anime streaming platform segment.
There is more than 2000 anime content to choose from that can be easily browsed with the help of various filters. A community has been set up in the platform that provides you with trending posts.
Best Features:
A night mode to protect the eyes.
The content is divided into categories such as popular shows, latest episodes, and trending shows.
You can watch all-time popular shows with their rating displayed.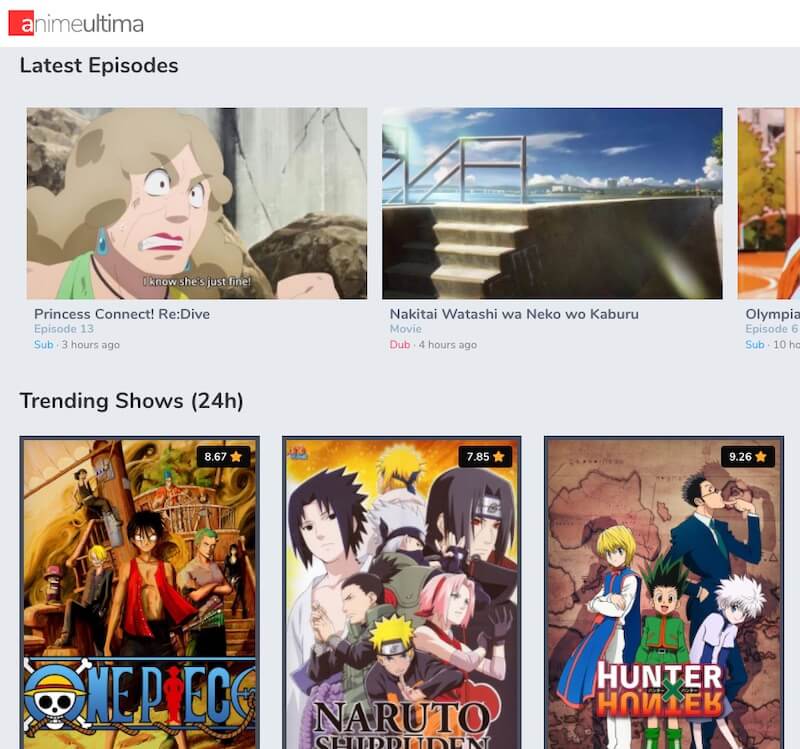 GoGoAnime is the anime streaming platform that has been gaining some popularity. It allows you to watch the content for free. Moreover, people from all around the world can easily understand the anime with English dubbed and subtitled versions.
Whatever anime you wish to watch, you just have to type it on the search bar and GoGoAnime will get your desired results within seconds. You can use this platform from your mobile app as well.
Best Features:
A discussion platform to discuss new ideas.
The content is divided into categories such as anime list, new seasons, popular, and movies.
Regular update on the new content.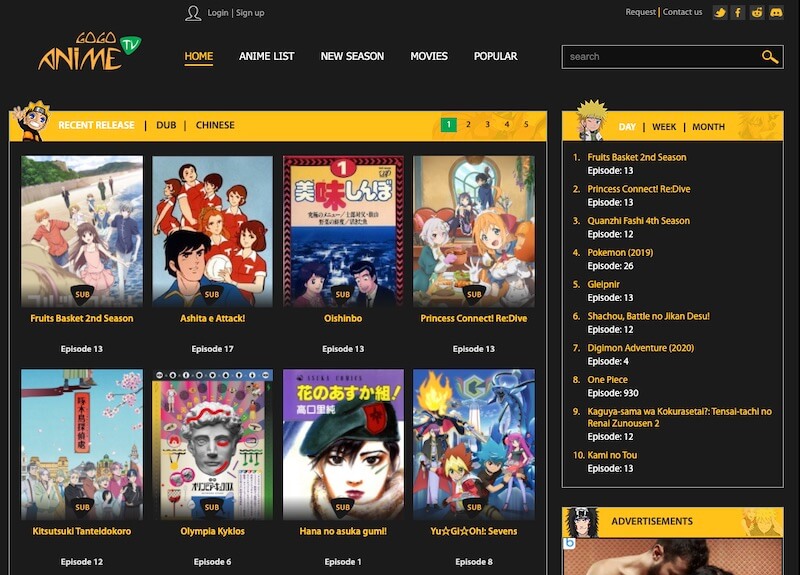 We all know how much the ads on the sidebars troubles the user experience. 123animes is one of those sites that are free from ads on the homepage, therefore, providing a perfect user experience.
The easy navigation and one of the cleanest interfaces make it one of the top prospects. You can take advantage of some of the most popular and ongoing anime shows through this platform.
Best Features:
For easy navigation, you can make use of different genres and different release dates.
You can also use the status bar (ongoing or finished) to search for appropriate content for yourself.
The content is divided into 3 categories – dubbed, subbed, and full list.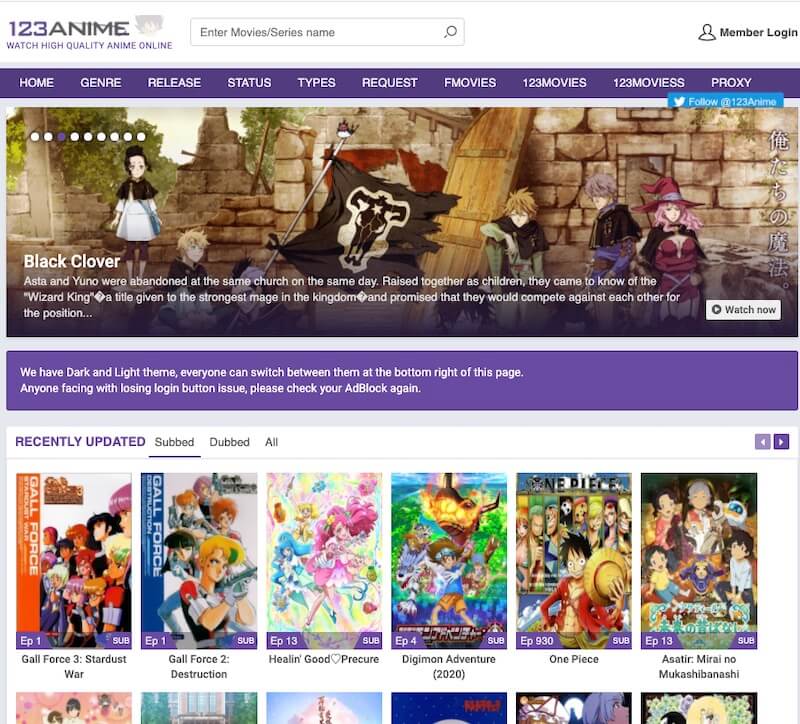 DubbeAnime is an online streaming platform that allows you to watch free dubbed and subbed episodes of anime shows and movies. It provides HD content on all devices such as PC, mobile phones, and tablets.
Not only can you stream the latest episodes but also DubbedAnime enables you to join the discord community and be part of the anime world.
Best Features:
A true add-free platform without any pop-ups
It allows you to download the content for offline streaming.
A wide range of filters for browsing such as language, year, and genre.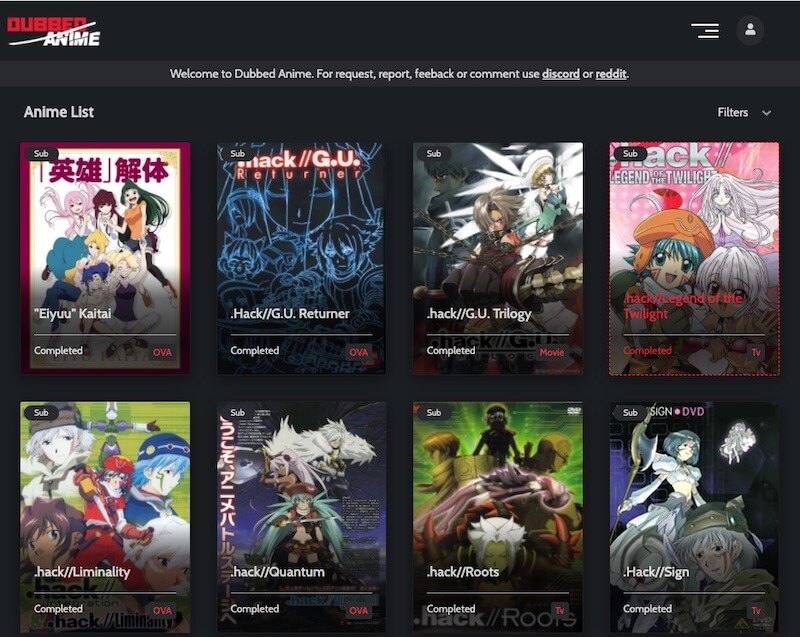 You can't ignore the undisputed king of content in any genre. Although Netflix does not offer a huge variety of anime shows and movies, it still does a good job of organizing some of the best anime content.
The user-interface of Netflix is unmatched, along with the ad-free experience. The only drawback is that you have to pay for its services but you can take the benefit of the trial period.
Best Features:
Netflix allows you to search the content directly from the search bar.
This platform is free from pop-up ads.
High-quality streaming service.
The aforementioned list has the best 9anime alternatives that provide the best service to their customers. Anime is not just restricted to Japan as it has made its way all around the globe. This list will help you binge-watch your favorite anime content.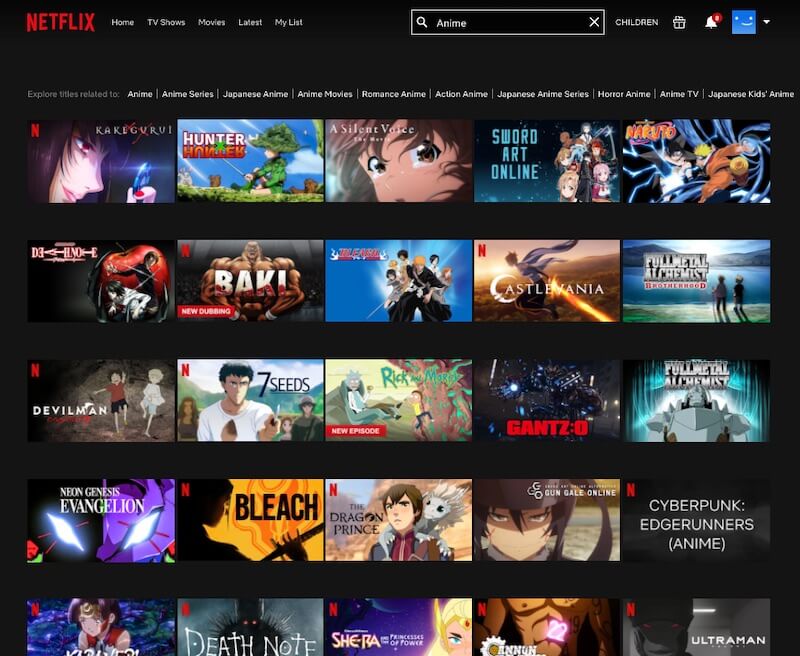 FAQs About Best Anime Platforms
Answer – From the aforementioned list, these platforms charge a premium for its services:
Netflix
Crunchyroll
DarkAnime
Question 2: When was the first anime launched and by whom?
Answer – Astro Boy was the name of the first anime created by Osamu Tezuka
Question 3: Which of these platforms in the aforementioned list provide an ad-free experience?
Answer – Out of the various alternatives, these platforms provide a completely ad-free experience:
Netflix
AnimeHeroes
AnimePahe
DubbedAnime
Question 4: Which anime has the record for the longest-running show?
Answer – with more than 7000 episodes, Sazae-san has the record for the longest-running show. Apparently, it is still ongoing.